Trying to create your family beach vacation packing list? After taking dozens of family beach vacations and trips, I recognize that this list can be a bit unique for many. Yet, making sure that you have the right things on your list is important. I totally get it.
There are so many great beach destinations, I'm always planning ahead to our next trip.
Venice, a FL town on the west coast of Florida, is a great place to find beaches with shark teeth and soft sand. While the Florida Keys beaches are also fun to visit as you can relax on the sandy shores or go snorkeling among the Florida Reef. Hawaii of course, has incredible beaches and recently, I visited several beautiful beaches in Puerto Rico that I hope to go back and visit again.
Whether you're planning a getaway to beautiful beaches for a day, or weekend or visiting a beach house, there are some essentials that you'll want to be sure to pack on your family beach vacations.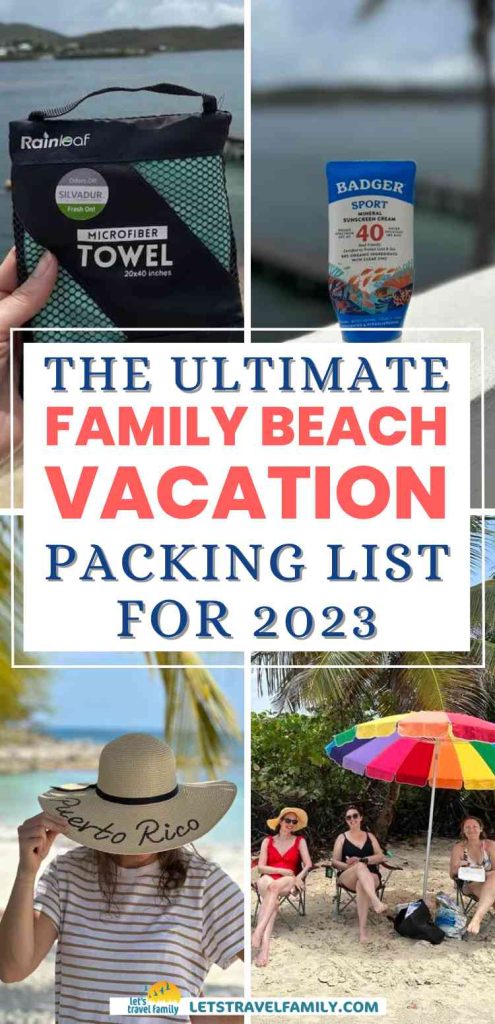 I'm usually the mom who tries to pack light, such as my list of road trip essentials, but it's also important to make sure that everyone has what they need to make their time at the beach fun. So below, I list what I think are the most important items to include on your ultimate beach packing list.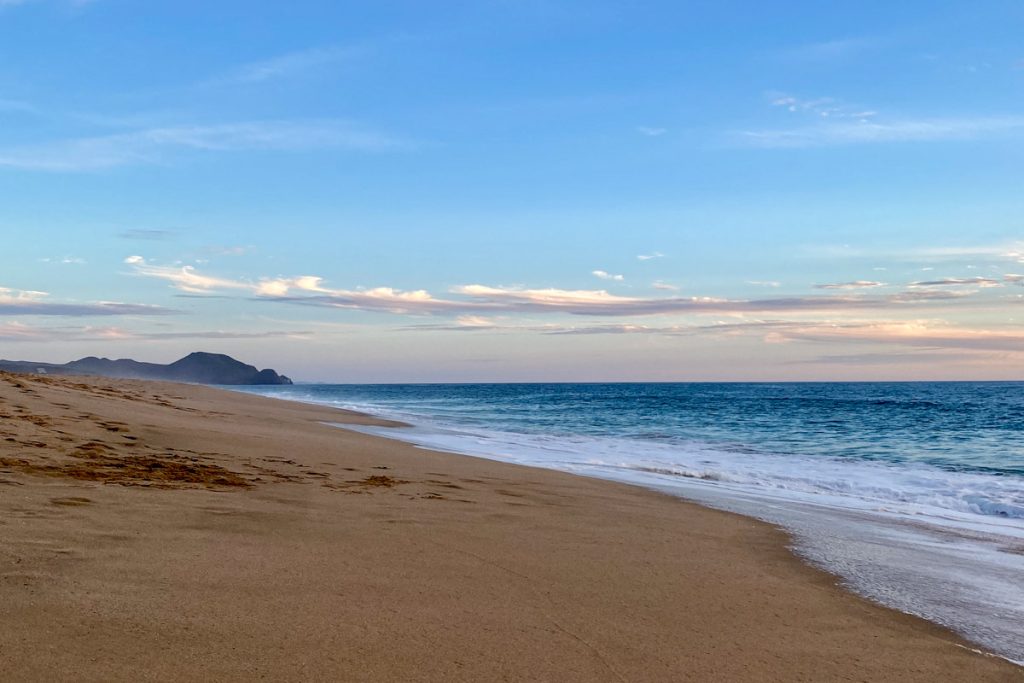 THIS ARTICLE MAY CONTAIN COMPENSATED LINKS. PLEASE READ OUR DISCLAIMER FOR MORE INFO. THIS POST WAS WRITTEN BY JILL GREISING-MURSCHEL, A FAMILY TRAVEL AND RV LIVING EXPERT.
Sun Protection for Your Family Beach Packing
Sun protection is essential for a day at the beach. It's important to keep your family safe from sunburn, so be sure to pack some of the following items:
Reef Safe Sunscreen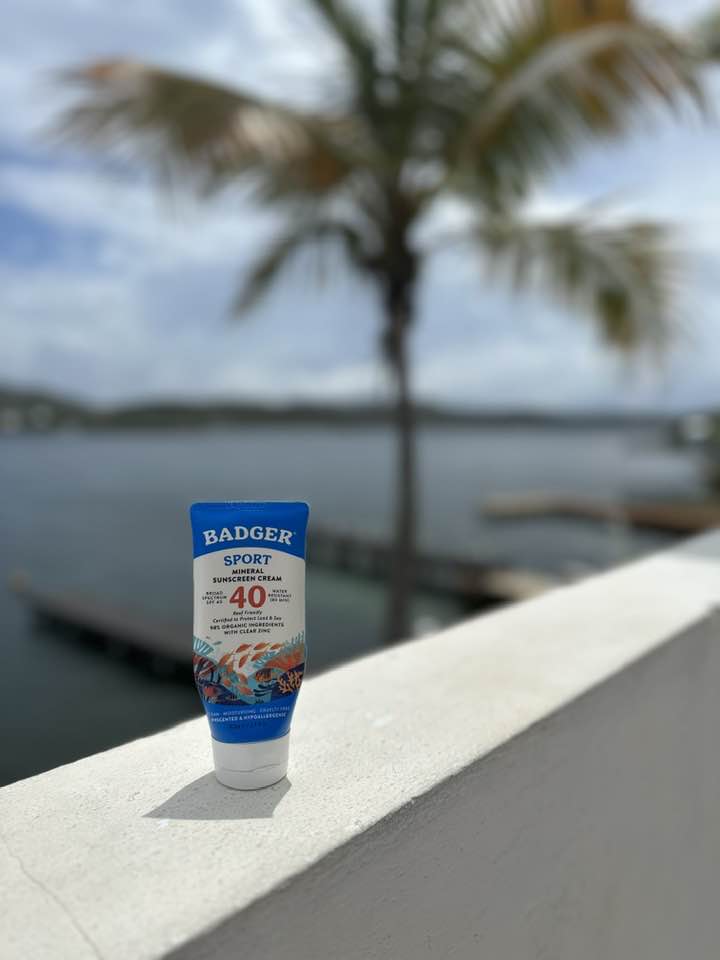 Initially, if you're planning on going swimming on a beach, wearing reef-safe sunscreen can help you and the environment.
When it comes to choosing your sunscreen, make sure to look for products that have an SPF of at least 30. This one from Badger has SPF 40 and Broad Spectrum UVA/UVB protection. This is to get extra sun protection to avoid sunburn.
Sunglasses
To keep your family from squinting in the sun's glare, be sure to pack a few pairs of sunglasses. Make sure to pick ones with UV protection for extra safety.
Any sunglasses are good, but I've been using this sunglasses from Amazon. They are polarized, and I like that they provide extra protection for my eyes against UV rays, wind, dust as well as glare.
Sun Hat
Sun hats are an essential item to shield you from the sun and keep you cool on a hot beach day. Look for one that is wide-brimmed and has UPF protection (which stands for Ultraviolet Protection Factor).
I love this sun hat from Columbia and it comes in different colors and sizes! It's lightweight, breathable, and provides 50+ UPF sun protection. What makes this hat really great is that it has an adjustable drawcord and chin strap so you don't have to worry about losing your hat in the wind.
Beach Essentials
Once you've got the sun protection items taken care of, it's time to pack your beach essentials. Here is the beach vacation packing list for all your beach essentials:
Swimsuits
Finding the best swimsuit can be so hard. I honestly just told my friends that swimsuit shopping is one of my least favorite things to do. Yet, when I find a good one then I want to grab more than one. The two brands that I have loved for women's swimsuits are Prana and Roxy.
Beach Towels or Sarong
Pack a few beach towels for everyone in the family. Honestly, if you are trying to save room in your suitcase, then a sarong like this might be the way to go. They are thin, lightweight, can roll up small, and dry quickly.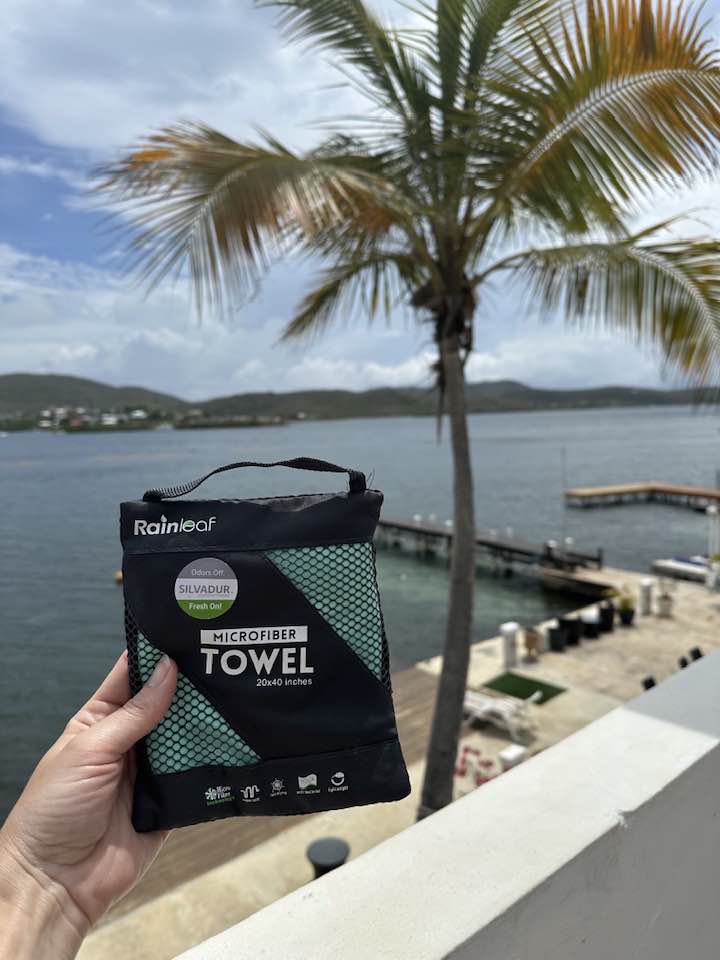 I also have quick-drying beach towels so that they can dry quickly after we've been swimming. This one from Amazon is super soft and lightweight, and it even comes with a storage bag — perfect for fitting in your suitcase.
Beach bag
Beach bags are great for carrying all your beach essentials like sunscreen for tanning, sunglasses, and towels. Look for ones that are lightweight, waterproof, and easily foldable.
For me, it's all about storage, and this mesh beach bag is a great option! It has a top zipper closure that can keep all your beach gear inside the bag, and it's made of lightweight mesh material so everything dries quickly if it gets wet. Be sure to add it to your family packing list for beach vacation.
An additional tip is to add a wet bag to put all your wet bathing suits and towels.
Beach Tent
Depending on your beach destination and if you're road tripping or flying, bringing a beach tent might be a good idea. The shade from the tent can provide some much-needed relief during a hot beach day, especially if you have a baby who needs to nap.
This beach tent could be a game-changer for your beach trips. It's lightweight and comes with sand pockets, stakes, and guidelines to hold it in place.
Related Post: Check out these baby shower captions
Beach Chair
A beach chair is great for lounging in the sun and keeping your bottom off the sand. If you plan to drive to a beach, then bringing a beach chair is ideal.
These Tommy Bahama beach chairs are my favorite as they have straps that let you carry them like a backpack. And best of all, these chairs are lightweight and easy to fold up for storage when you're ready to head home.
Beach Blanket
A beach blanket is a must-have for picnics on the beach or just relaxing in a group. Whenever I'm shopping for a beach blanket, I make sure to get the large one so that my whole family can fit comfortably.
For reference, I have this beach blanket which is made of 100% cotton and is machine-washable. It's really soft, lightweight, and perfect for the beach. Plus, it comes in different colors to match your beach style!
Cooler
When it comes to coolers, you can bring the large bulky ones or this insulated bag cooler instead. It's lightweight and easy to carry, plus it keeps all your cold drinks and snacks nice and cool.
For my cooler bag, I get this one from Amazon that comes with a waterproof lining and multiple pockets for all my food and drinks. It's perfect for bringing to a beach trip; no matter how hot it gets outside, my food is always cold and fresh!
Flip Flops or Sandals
And last but not least, no beach vacation is complete without a pair of flip flops. Look for ones that are lightweight, comfortable, and easy to pack.
My go-to sandals are those from Xero Shoes. I wear them daily and used them as my main shoes while traveling around Puerto Rico and visiting many beaches.
They're lightweight, have good grip, and most importantly, they are made well. I always include this to my family beach packing list as me and my family never forget sandals!
Related Post: Bali Packing List
Fun Beach Items
No beach trip would be complete without some fun activities to keep your family entertained. Here are some beach packing list for family to add on your next family beach vacation: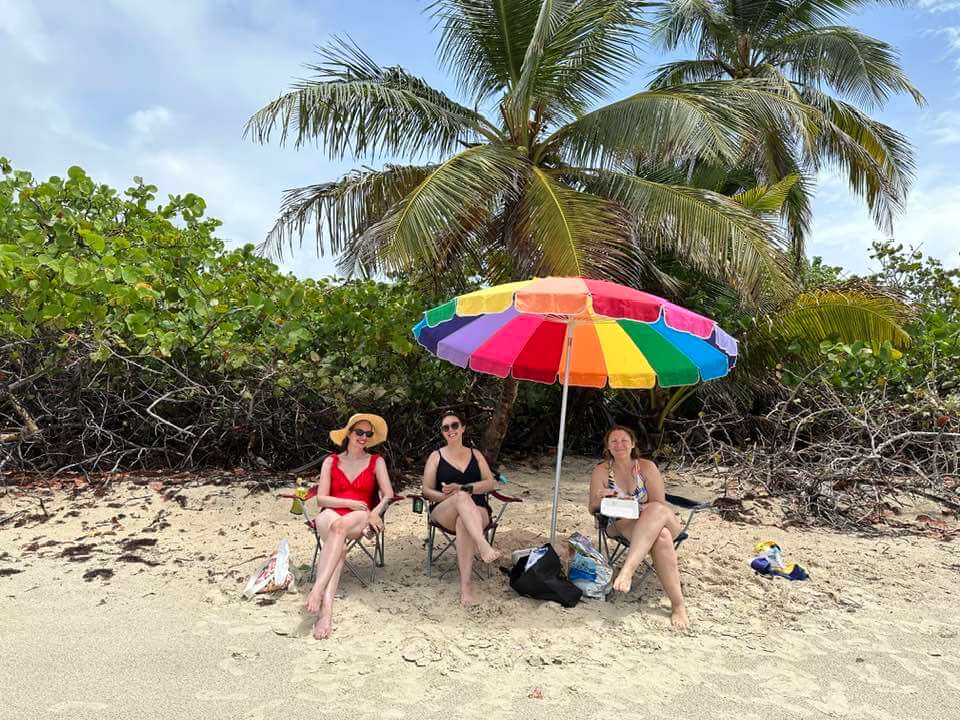 Beach toys
If you have kids, don't forget to pack their beach toys! Sand buckets and shovels are essential for making sandcastles, and beach balls or frisbees are great toys during a family beach vacation.
We always bring this set of beach toys that are perfect for little ones who are just starting to explore and play in the sand. The set includes a beach bucket, shovels, rakes, sifters and other sand toys — it's a great way to get your kids connected with nature, and it's fun for the whole family!
Beach Ball Games
Beach ball games are a great way for the family to bond and have fun in the sun! You can play catch or even set up a tournament with teams.
For the beach ball games, I usually get these beach balls from Intex. Not only are they fun and colorful, but they are also affordable and easy to store.
Beach Gear
Don't forget to bring some beach gear like goggles and snorkels so that you can explore the ocean together. These are some best beach gear for families you should totally add to your beach trip packing list: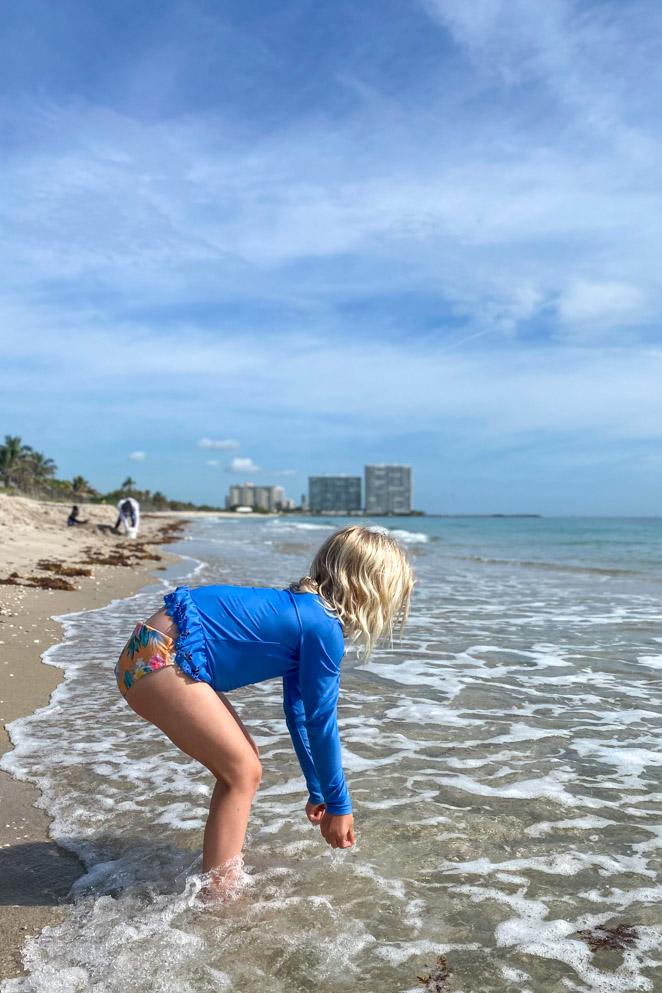 Swim Goggles
Kids are fascinated with the sea creatures that are under the surface, so bringing a pair of goggles for each person is a must. This pair from Aqua Sphere Seal is perfect for kids — they're adjustable and come with an anti-fog coating so that the kids can get a clear view of all the ocean life. I also enjoy speedo as a great pair of goggles if you won't be snorkeling.
Snorkel Gear
If you're planning on doing a snorkeling adventure, then don't forget to pack the right gear! I recommend this set from Amazon, it includes a mask and snorkel, along with fins and a mesh bag. The lenses are shatter-resistant, and the adjustable straps make them easy to fit for all sizes.
Water Shoes
These shoes are great for protecting your feet from sharp rocks or shells while playing on the beach.
I recently got these water shoes from Racqua, and I love them! They have a breathable and stretchy design to keep your feet cool, and their anti-slip sole gives you a secure grip so you can move around confidently in the water. Plus, they come in multiple colors and styles, so you can find a pair that matches your beach style! Definitely a must haves for family beach vacation!
Electronics For the Beach
Beach trips can also be a great time to relax and unwind. Whether it's listening to music, playing games or watching movies, make sure to add some of your favorite electronics items to your family beach packing list.
Portable Speaker
A portable speaker is a great on-the-go electronics you can bring not only for a family beach vacation but also for camping trips and outdoor excursions. We love this JBL Bluetooth speaker so much, it's perfect for days spent on the beach. It has a long battery life and great sound quality, plus it's waterproof so you don't have to worry about it getting wet in the sand.
Tablets and E-readers
If you're looking for a way to relax and read, an e-reader is perfect. I love my Kindle Paperwhite e-reader — it's lightweight and the battery life is amazing, perfect for days spent at the beach. Two of my kids also love reading in their Kindles and bring them on every family vacation we take.
Power Bank
Don't forget to bring a power bank, too! This is something you'll want for keeping your cell phones charged, so you can take photos all day long without running out of battery life. We've been using this power bank for quite some time and the battery life is great!
Hope you liked this family beach vacation packing list! We're sure that with these items, you'll have the perfect beach day!
Cell Phone Waterproof Case
If you plan to do any snorkeling while at a beach, you can use this waterproof case and bring your iPhone with you in the water! It's crazy but true. I own one and used it several times while snorkeling in Puerto Rico and it works amazingly well. Honestly, even if you're not going to be in the water with your phone, it's a great idea to have a waterproof case like this to keep your phone protected from splashes, accidents, and even the sand at the beach.
Family Travel Tips and Tricks
Now that you have a better idea of what to pack for your family beach trip, have you decided if your trip will take you on the road or in a plane? If you're flying, then be sure to check out my list of the best travel accessories for long flights.