Looking for camping gifts for couples? Maybe you're buying a wedding present for a couple in your life who loves the outdoors. Even if you don't do a ton of outdoorsy things, you can still surprise the outdoorsy friends in your life with these unique camping gift ideas for couples.
Now, if you are part of the 'couple' and you'd like to find a fun gift for your partner that you both can enjoy, then this is also the post for you. He may be surprised by some of the thoughtful camper gifts you find for him for his birthday. Or, she may book your next weekend of camping together once you gift her something below.
Below you'll find fun and unique ideas, not necessarily the camping must-haves you'd need for everyday camping. These are the camper gifts for couples that will be sure to impress.
THIS ARTICLE MAY CONTAIN COMPENSATED LINKS. PLEASE READ OUR DISCLAIMER FOR MORE INFO.
Best Camping Gear for Couples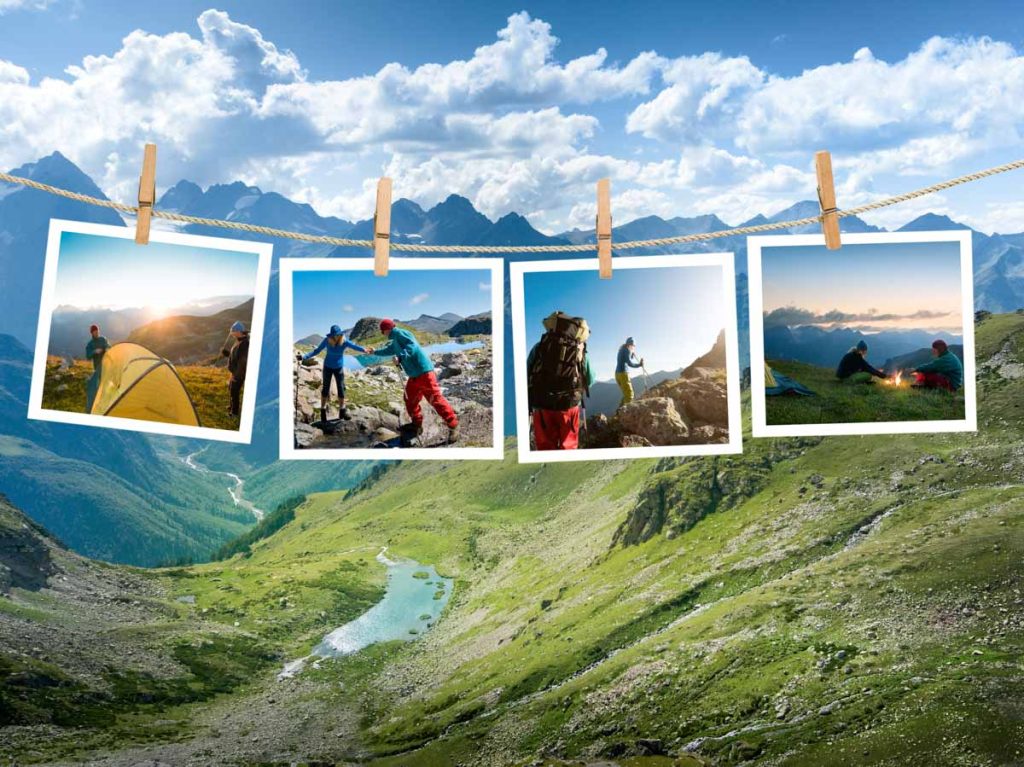 1. Camping Hammock
Great for lazy summer days spent in the outdoors, a camping hammock is one of the best camping gear for couples. It's lightweight, easily transportable, and the perfect way to relax in nature.
This ENO DoubleNext Hammock from REI is the perfect couple hammock that is spacious enough for 2 people. Or, you can buy 2 ENO hammocks so each of you can have one of your own.
2. Double Sleeping Bag
Nothing's more romantic than having a double sleeping bag during a camping trip!
Keeping warm and cozy in the outdoors is essential, especially when it comes to sleeping. And with this double sleeping bag, you can't go wrong!
3. Two-Person Inflatable Camping Mat
This camping mat is made for couples. It's double in size and works great with a double sleeping bag. The fact that it folds up small and inflates easily is a good reason to pair this with the double sleeping bag.
4. Portable cookware
When cooking outdoors, good quality cookware is a must-have item. Look for something light, durable, and easy to store.
Portable camping cookware made of aluminum or stainless steel are great options for couples who love to cook while camping. Most portable cookware now are designed with extra features such as folding handles or lids for easier storage.
5. Camping chairs for couples
Consider grabbing a double camping chair for the outdoorsy couple. This one is perfect as it folds up nicely and has high ratings.
6. Solar Powered Charger
Going camping usually means going off-grid, and having a solar-powered charger makes for a great camping gift idea.
A solar-powered charger is a great way to power up phones and other gadgets when camping. Look for one that's lightweight, durable, and can charge multiple devices at once.
7. Yeti Cooler
Described as an over-engineered cooler, this Tundra Yeti Cooler would make any camping couple thrilled!
It is not only durable and keeps ice frozen longer than any other cooler out there, but it now has wheels to make it easier to move.
8. Backpacks for Him and Her
Consider gifting the outdoorsy couple a set of excellent backpacking packs. The Osprey Atmos 65L is a highly rated pack for him. The Ariel Pro 65 is a great backpack for her that has many 5-star reviews.
These are great packs for friends who love to go hiking. You may also want to check out our list of the best hiking gadgets to give you a few more great ideas.
9. First-aid Kit
Safety first! A practical gift idea is a first-aid kit with all the basic necessities for any minor cuts, burns or scrapes you may get while camping.
This includes basic things like bandages, antiseptic ointment, and painkillers. Your first-aid kit should also include any medications you normally take on a daily basis.
This Lifeline first aid kits has 53 pieces of basic first aid supplies that you can easily carry during your camping trip. What's awesome about this kid is that it has a hard shell casing that is sturdy and wouldn't damage the supplies.
Best Camping Gifts for Couples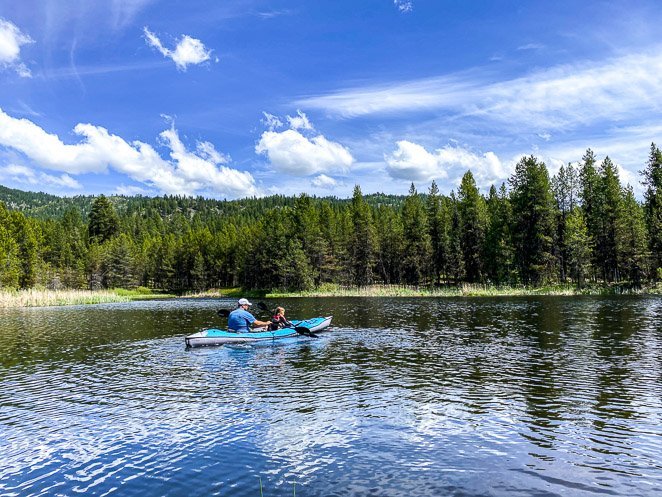 10. Two-Person Inflatable Kayak
A great camping gift idea for couples is a two person inflatable kayak! This is a lightweight and compact version that would make for an excellent wedding gift for an outdoorsy couple.
11. Outdoor games
Spice up a camping trip with some outdoor camping games such as Spike Ball.
Or, grab this card game called Toasted or Roasted that's great for playing around the campfire. The goal is to be the first to start your campfire and road your marshmallows.
12. Camping Fire Pit
Consider getting one of the best portable fire pit options for the happy couple. Run by propane and easy to pack up and bring along on a car or RV camping trip, this propane fire pit is a great option.
13. Dutch Oven For Camping Meals
Another great outdoorsy gift idea is a Dutch oven for camping. Cooking a meal outdoors over the campfire is a fun way to relax and enjoy a camping evening. This dutch oven is a great pick.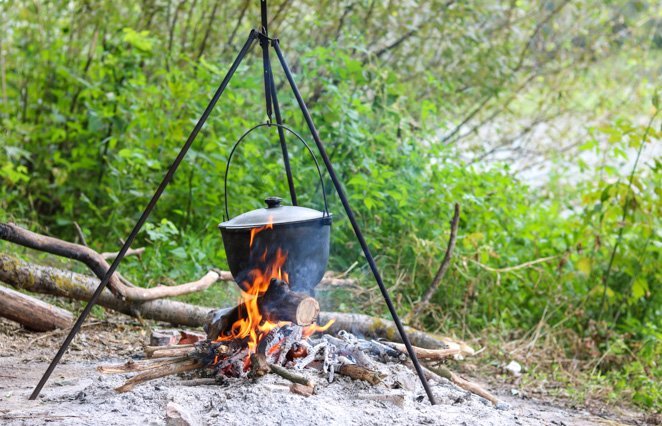 14. Camping Lanterns
When camping, you need to be able to see your way around after dark. Camping lanterns would make for perfect gifts.
Choose a camping lantern that has adjustable settings and is bright enough to light up the campsite. Look for one that is also rechargeable and can last a long time without needing to be recharged.
15. Picnic Backpack
A picnic backpack is a fun and romantic gift for that special someone or couple. It's great for a day trip to a beautiful lake, river, or even mountainside creek with a view. This picnic backpack comes with
16. Campfire s'mores
What's a camping trip without s'mores? It's one of the no-brainer gift ideas for outdoorsy couples, and I'll tell you, they will love it! It also makes for creating a great campfire gift basket bundle as a gift.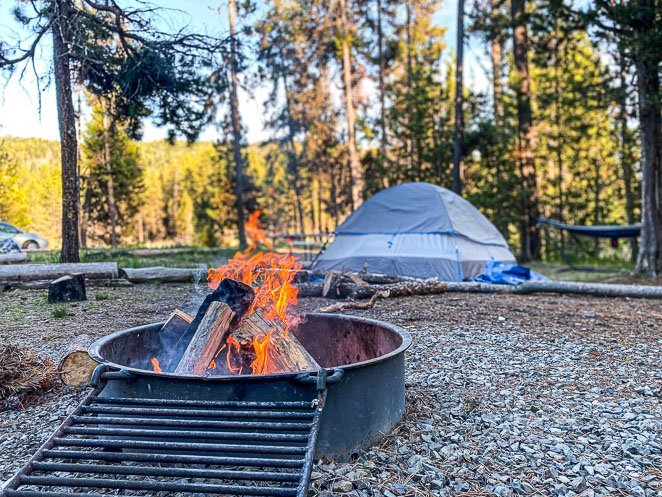 Stock up on all the ingredients for the perfect s'mores: marshmallows, chocolate, and graham crackers. You can also get gourmet ingredients like peanut butter cups or caramel chips for a delicious twist on the classic.
This s'mores set from Amazon is one of our favorites when going camping.
17. Spork Eating Utensil
Sporks are a part fork and part spoon and are great gift ideas, especially if you're looking for something small. They're often made of plastic, ultra-lightweight metals, and even titanium.
Sporks are a great example of unique gifts from the category – "less is more." You can find them in camping stores and major retail stores for less than $10.
I recently loved this UCO utility spork that is 3-in-1 combo, spoon-fork-knife, and the material is made of nylon. It is lightweight and strong and can also be used in a variety of cooking tasks. It's dishwasher safe too!
Hiking Gifts for Couples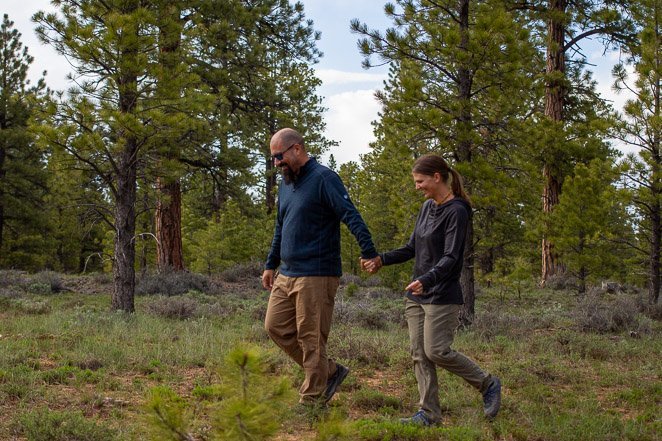 18. Emergency Paracord Bracelets
Paracords are small and useful for anyone out hiking. These paracord bracelets have a compass, whistle, fire starter, and a 10 foot rope all in one. Grab one for both of you!
19. Bug spray
Keep the bugs away with some bug spray. The Eucolpytics Lemon spray is my top pick.
Look for one that is plant-based and non-toxic so that it won't harm you or the environment. You can also find natural alternatives like citronella candles to help keep the bugs away from your campsite.
20. Insulated mugs
Who doesn't want to stay warm and enjoy a cup of coffee or hot cacao with their loved one using matching his and hers camping mugs like these?
Now if you want to go for better quality and with a lid, then I highly recommend getting two of these Yeti camping mugs that come with a leak-proof lid. The double-wall vacuum insulating technology makes these mugs worth grabbing. They come in so many colors too!
Best Camping Gifts for Him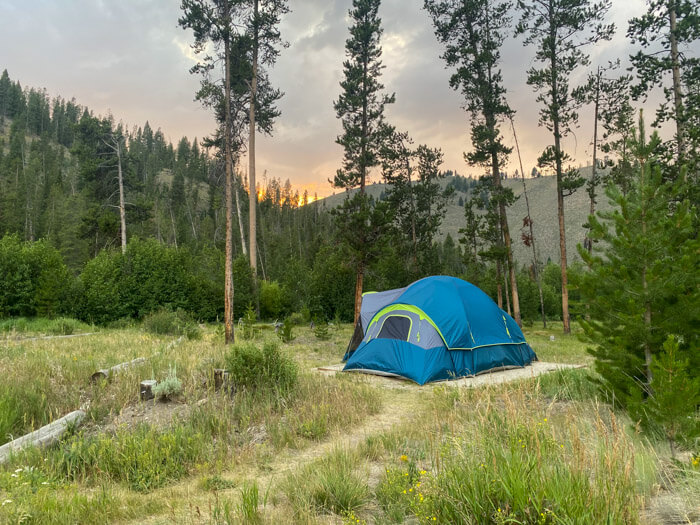 21. Waterproof watch
If you're searching for the best camping gifts for him, a waterproof watch won't disappoint!
A Fitbit or Garmin would make for a great camping gift for him. Most come waterproof and will track heart rate and fitness activities.
22. Campfire tools
Having the right campfire tools to stoke a fire can make the difference between a good and a great camping trip. It's one of the best camping gifts for dads that he would love!
Look for tools that are durable and easy to use, like a fire starter, a tinder bundle, or even a camping grill. You can also get tools that help you keep the campfire going longer, such as an adjustable fire grate or a spark arrestor.
23. REI Gift Card
If you're still stumped about what to get your camping buddy, why not a gift card? An REI gift card is the perfect choice for any outdoor enthusiast.
Let them choose the perfect gear for their camping trips and get whatever they need, from tents to sleeping bags to camping cookware. With this REI gift card, they can get exactly what they need without any hassle.
24. Bluetooth Speaker
Bluetooth speakers are a great way to listen to music while you're camping.
Look for ones that are water-resistant and rugged. This way, you can listen to your music and podcasts while out in nature without having to worry about it getting damaged. Bluetooth speakers are a great addition to any camping trip and can help make your experience even more enjoyable.
Best Camping Gifts for Her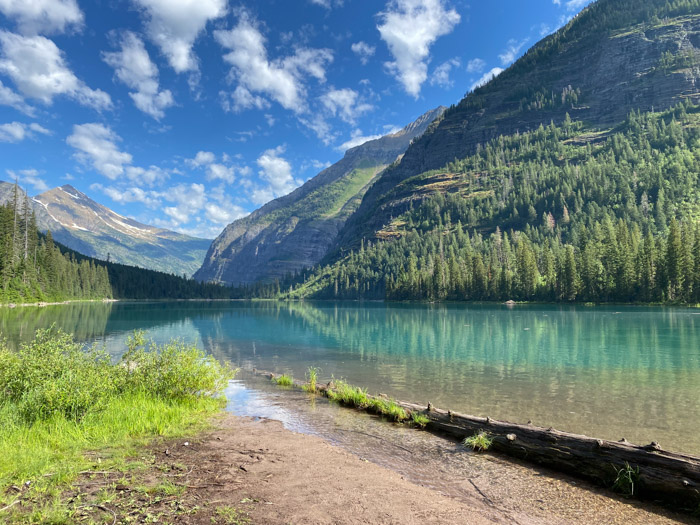 25. Fairy light
Fairy lights are a great way to add some ambiance to your campsite. I'm sure your camping-loving gal would love one of these.
String up some fairy lights around trees or inside your tent to create an enchanting atmosphere that will help you relax and unwind. Look for ones with adjustable settings and battery-operated LED lights like these so you can keep the magic alive all night long.
26. Lip Balm
Don't forget the lip balm! These are some of the simple camping gift ideas for her will help keep her lips moisturized and protected from the elements.
Nothing is worse than dry, chapped lips when you're out in nature. Lip balm is a great stocking stuffer and is perfect for the outdoor adventurer in your life. Look for one with SPF protection so you can keep your lips safe from the sun's rays.
27. Sunscreen
Sunscreen is a must-have when camping – even on cloudy days!
Choose an all-natural sunscreen that is free of harmful chemicals. Look for one with broad-spectrum UVA/UVB protection and a minimum SPF of 30. This will help protect her skin from the sun's harmful rays so she can stay safe and comfortable on her camping trips.
28. Reusable Water Bottle
Staying hydrated is key when camping, so gifting a highly-rated reusable water bottle is a great idea.
This Aquaflask insulated water bottle is always our go-to for trips. It can keep your beverage cold or hot for hours! You can also find ones with built-in straws or insulated bottles that keep your drinks cold for up to 24 hours.
Making sure you remind her to drink plenty of water is one of the best gifts you can give her!
29. National Park Pass
Consider getting your camping friend a National Park Pass. This America the Beautiful pass will give them access to most of the parks in the United States, as well as discounts on camping gear and other activities. Plus, it's a great way to show your support for our national parks!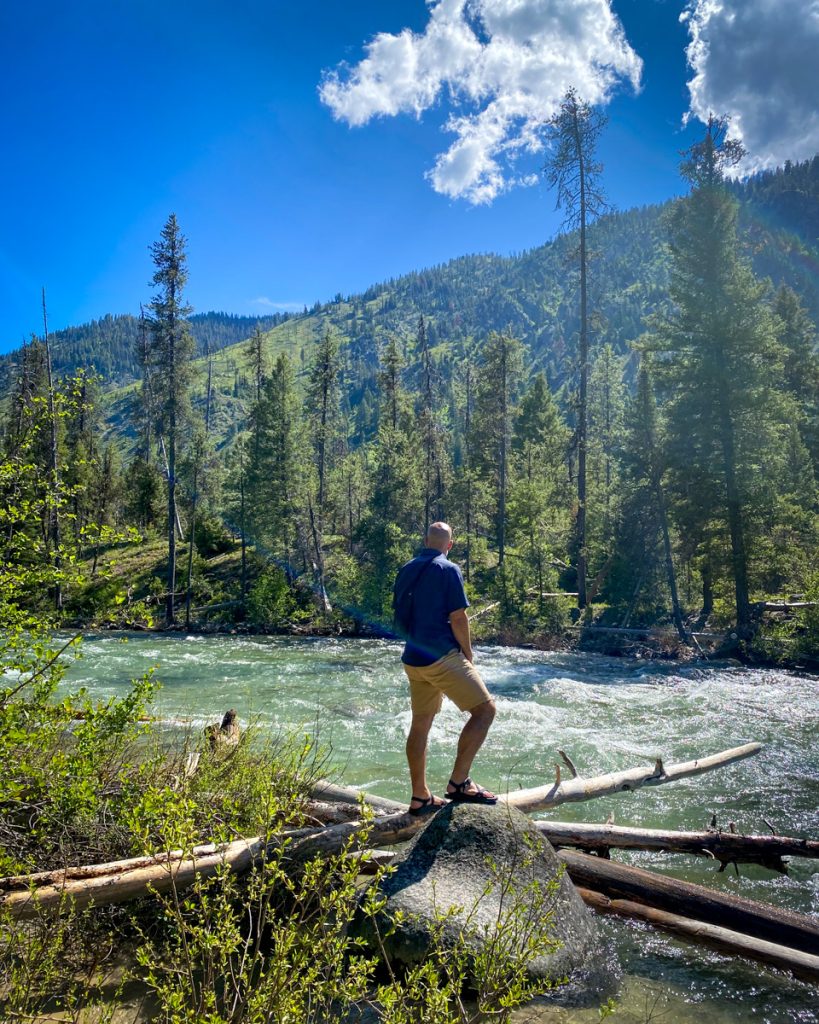 If she loves camping in National Parks, this is the perfect gift for her. With one pass, she'll be able to explore most of America's beautiful parks and make some amazing memories!
30. Camping Cocktail Shaker
This Stanly camping cocktail shaker set makes for a great gift for her. It includes two 7oz cups, the shaker, and even a juicer, that all stack inside each other when not in use for easy storage.
That's it! With these camping gift ideas for couples, you're sure to find the perfect present. Whether they're experienced or just getting started, these gifts will help make their camping trips even more enjoyable.
Looking for more outdoorsy gift ideas? Check out our related posts:
Best Camping Gifts for Everyone