Have you ever heard of glamping accessories? If so, you're probably aware of how amazing glamping can be! Glamping has all the joys of camping without any of the hassles. Rather than ordinary camping accessories that you would usually bring on a camping trip, these luxury glamper accessories will help you make your next glamping experience one to remember.
Glamping or glamorous camping is the best of both worlds – the fun and adventure of camping combined with luxury and comfort.
You might think, where does the essence of the struggle of a regular camping trip lie? The answer is in the quality of your glamping gear. With the right glamping accessories, you can enjoy all the comforts of home without sacrificing the adventure of camping. Trust me, you can still enjoy the outdoors and all its beauty with a few of these luxury camping gear thrown in.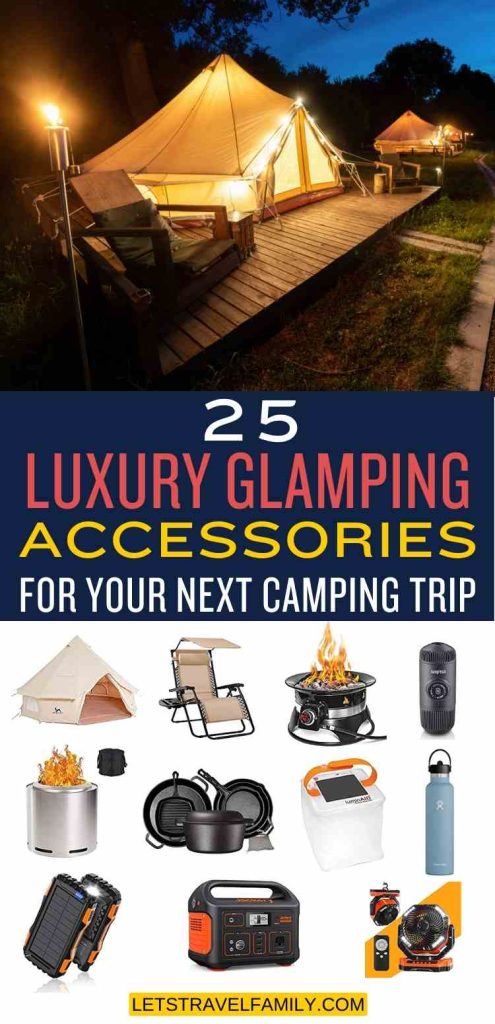 From stylish outdoor glamping furniture to luxury sleeping bags, here are 25 must-have glamping accessories that will make your luxury camping experience to the next level!
THIS ARTICLE MAY CONTAIN COMPENSATED LINKS. PLEASE READ OUR DISCLAIMER FOR MORE INFO.
25 Best Glamping Accessories for Luxury Camping
1. Bell Glamping Tent
Unlike regular tents, a bell tent is a luxurious alternative that's spacious and comfortable. They come in various sizes and work great if you want to set them up in your backyard or on your vacation rental property to use on several occasions.
This MC Canvas Tent Bell Tent Yurt is a popular Bell Tent option that won't break the bank. However, if you want a higher quality option that this fully waterproof then this Baralir inflatable tent is a great option. This is a great option for that glamping in groups, or as a family tent. It's durable and waterproof and looks very glamorous, and can absolutely level up your luxurious glamping experience.
2. Camping Hammock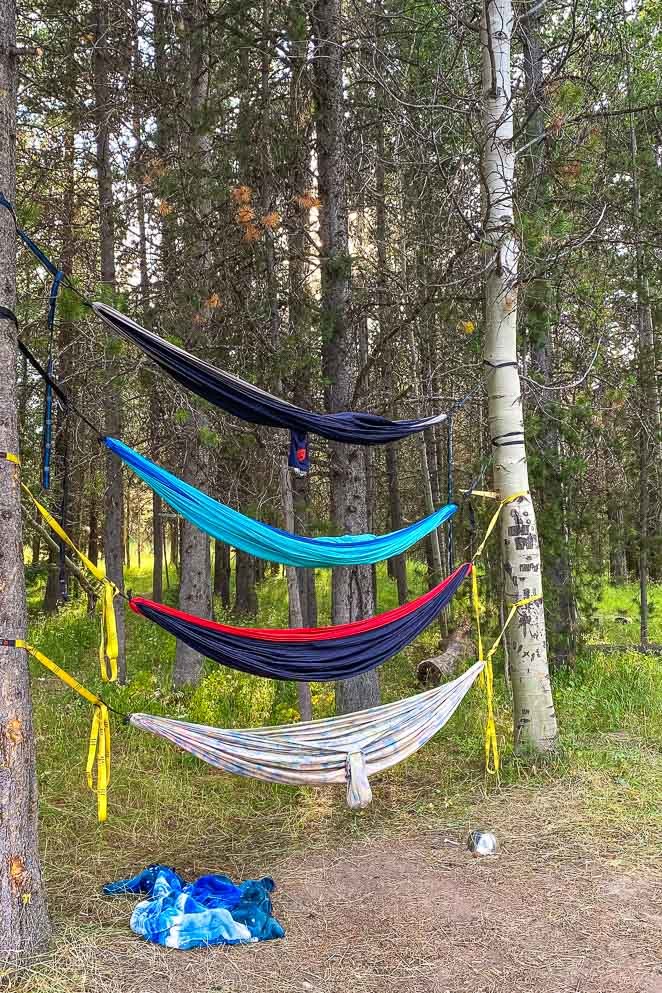 Nothing says luxury camping like a hammock! This ENO SuperNest Hammock from REI is a great option. It's big and cozy, perfect for relaxing in luxurious comfort while listening to the sound of nature all around you. Honestly, hammocks are some cool camping gear to have any time you're planning on adventuring outdoors.
There are different types of hammocks, and what makes this hammock a part of our top accessories for glamping is it has a cushiony base and a built-in headrest, making it perfect for snuggling up with your favorite book or just lounging around. It's both comfortable and functional as it folds up into a compact size for easy transport. You should definitely add this to your glam camping accessories list.
3. Portable Camping Chair
When you're glamping, it's important to make sure that you have plenty of comfortable seating options. This GCI Outdoor Freestyle Rocker Chair is a great option as it's lightweight, easy to assemble, and perfect for any glamping adventure. It's also incredibly comfortable, with a deep-seated design and a mesh back for maximum comfort.
If you want a reclining chair, a zero-gravity chair like this one can provide a very comfortable glamping experience that is both relaxing and supportive. The adjustable headrest will make sure your neck has the perfect support while you take in the beautiful scenery around you.
4. Luxury Sleeping Bag
Another important piece of glamping gear to add to your list is a sleeping bag. REI has a wide variety of sleeping bags depending on your size, comfort preferences, and budget.
For luxury camping, I recommend the NEMO Forte 20 Sleeping Bag, this one is for women but you can definitely go for other models depending on your needs. It's incredibly comfortable and warm, with PrimaLoft RISE insulation that will keep you snuggly even on the chilliest of nights.
5. Portable Fire Pit
Consider getting one of the best portable propane fire pit options for a luxury camping experience. A fire pit is a great way to enjoy an evening outdoors with friends or family on your glamping trip. For this luxury camping equipment, our top pick is this Outland Living fire pit, and it's on our list of must haves for camping. You may also want to include a few campfire accessories.
6. Smokeless Firepit
If you want something that is smokeless and isn't that bulky, then this smokeless firepit stores easily in a bag. Plus, you can double it as a heater during cold nights. It is also very light and portable, so you can take this glamping equipment anywhere with you.
7. Air Mattress or Camping Pad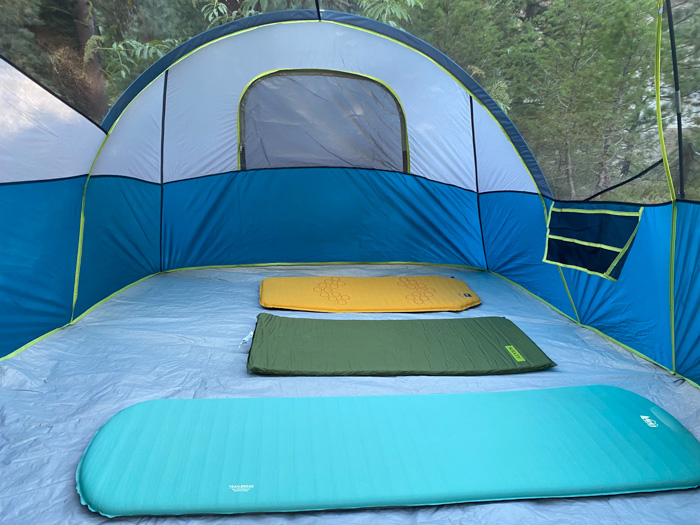 Spice up your glamping bed with an air mattress or a high quality camping pad. If you're glamping and not comfortable, a high-quality air mattress will do the trick.
This Airbed we found is the best and most comfortable option. It's made with sturdy construction and has a built-in pump for easy inflation and deflation.
8. Portable Shower
Taking a shower while camping can sometimes be a hectic thing. It will really depend on where you plan on camping. Do you jump into a nearby lake? Or, are will you be staying at a campground such as a KOA with really nice shower house?
Now, if you plan to camp in a National Park or somewhere without shower houses, a luxury glamping outdoor shower is just what you need. This one is a simple camping shower with a pump. Yet, I feel like this one is better as it will warm u pin the sunshine during the day. Just be sure to bring your shower pop-up tent so that you can have some privacy during your glamping trips!
9. Portable Fridge
When you're glamping you are going to want a convenient way to keep your food and drinks cold. A Dometic portable fridge and freezer is a luxury camping accessory that you will love having.
We recently went camping with friends who brought their Dometic fridge and freezer, and they were kind enough to bring ice cream treats for my daughter's birthday. We were able to have ice cream around the campfire on our second-night camping, all thanks to their portable fridge/freezer.
Related Post: 25 Luxury RV Accessories
10. Portable Power Station
To keep your Dometic refrigerator/freezer running while camping, you are going to need a portable power station. Our top pick is this Jackery Portable power station. It can keep your portable cooler cold for days and charge your cell phones. It even has the option to connect a portable solar panel to it on a sunny day to help recharge it if you'd like.
Related Post: 10 Solar Powered RV Tips and Tricks
11. Marshmallow Roasting Sticks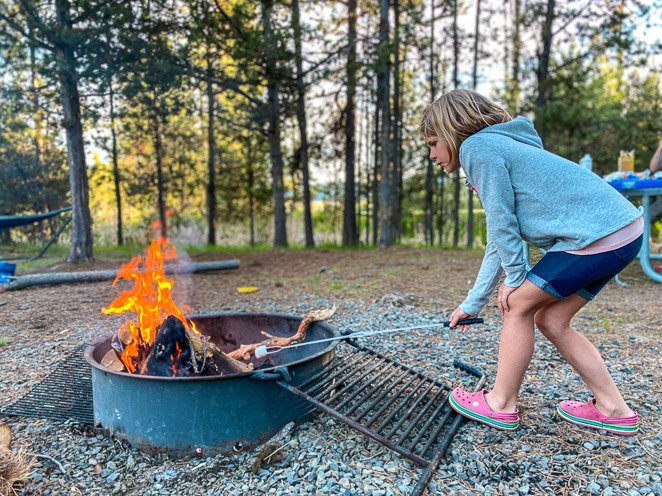 Instead of using wooden skewers, use these steel marshmallow roasting sticks on your next camping adventure. It's safe to use and the telescoping length allows you to roast food from a distance. Plus, this glamping accessory comes with built-in forks for extra convenience.
And of course, don't forget the marshmallows!
12. Cast Iron Cookware and Campstove
When we talk about camping luxury, having a cast iron cookware set is a must. It's durable, it heats evenly, and it's ideal for slow-cooking recipes. We love using cast iron, and it's the best type of cookware to have on a glamping trip!
You'll want a high quality, yet easy to pack up campstove. This Cascade campstove is a 3-in-1 providing a griddle and two burners. Such a great glamping stove idea.
Related Post: Tips on How To Cook While Camping
13. Wool Blanket
If you're looking for a cozy and warm blanket to add to your glamping experience, this Smartwool Anchor Line Blanket is perfect. It's incredibly soft, wrinkle-resistant, and lightweight, so you can bring it anywhere with you. Plus, it comes with a removable carrying handle and straps to carry wherever you go!
Related Post: Best Camping Clothes to Keep You Warm
14. Solar and LED Lanterns
This solar-powered lantern is a great source of light for any camping adventure. They are eco-friendly and allow you to recharge during the day using the sunshine. Or, consider getting a Biolite lantern that not only dances if you shake it up, but it lasts for hours without needing to be recharged.
15. Foldable Picnic Table
A picnic table is a must have for your glamping setup. This Keencamp Bamboo camping table is not only water resistant, but it comes with a detachable mesh storage area.
Now, if you're looking for something more lightweight, then this foldable picnic table from Coleman is perfect. Be sure to read our deep dive into the best camping tables here.
16. Insulated Water Bottle
An insulated water bottle is so nice to have when you are set up glamping. The hydro flask is our family's top pick as it keeps our cold water very cold for a long period of time, and it is such a great quality over so many other water bottles. With its 24 oz capacity, it can hold a lot of water!
17. Sport Berkey Water Filter
Bringing a water purifier/filter that you use to make sure your drinking water is safe can be necessary in some camping situations. In our previous blog posts, we've mentioned how much we love Berkey water filters, and this portable Sport Berkey Water Filter is no exception! It's perfect for camping because it is lightweight, easy to use, and can be filled with 22 oz of water right from the river. It's totally safe and purifies your drinking water!
Related Post: Best Hiking Gadgets
18. Portable Espresso Maker
If there's one thing from this list that I would make sure I had, it would be a portable espresso maker. For many people, coffee is a daily ritual, and enjoying a nice cup of espresso while glamping is a special treat. For Tony and I, it's a necessity! This Wacaco Nanopresso Portable Espresso Maker is perfect because it's light weight, and it makes a cup of frothy espresso with pressure and hot water. We have owned ours for well over 5 years and have not only used it while glamping, but when we travel overseas, we bring this in our suitcase and use it in our hotel rooms and vacation homes.
19. Portable Bluetooth Speaker
Singing around the campfire is all fun, but a portable Bluetooth speaker is a nice addition to any campsite. It's our must-have glamping gadget. It's also water resistant, has Bluetooth connectivity, and a long battery life for more music time.
20. Portable Outdoor Grill
A campfire grill is always nice to have when camping. Grilling up some chicken, salmon, or veggie kabobs always tastes great when glamping. This portable outdoor gas grill is compact and has a large grilling area that can fit up to 15 burgers at a time.
Related post: Best Camping Utensils Kit
21. Solar Battery Charger
If you're not a fan of using a camping generator, a small portable solar battery charger can come in handy. This solar battery charger we have comes with a flashlight and two USB ports for charging your cell phones or Kindles. Plus, it's eco-friendly and comes with a built-in solar panel for charging throughout the day.
22. Mosquito Repeller Bug Spray
On an outdoor adventure like camping, you may want to consider how you're going to keep the bugs away. This Thermacell Mosquito Repellent creates a 15-foot zone of protection against mosquitoes without the use of DEET. You can also bring some organic bug spray along as backup. Badger is our favorite brand of safe sunscreen and bug spray that is non-toxic.
23. First Aid Kit
Safety first! That's why having a first aid kit is always essential when camping. It's important to be prepared and have the right items in your kit to help treat minor injuries.
24. Night Vision Binoculars
Have you heard of night vision binoculars? These would make any luxury glamping trip worthwhile to have on hand. With inferred mode lasting 6 hours when fully charged, these could be so fun to use at night. They also work for up to 17 hours during the day without infrared mode being turned on. Click here to check the price of these night-vision binoculars.
25. Glamping Tent Fan
Whether you're looking for a fan to keep you cool during the hot summer months or just to circulate air throughout your tent, this glamping tent fan is perfect. It has a powerful motor for maximum air movement, can recharge your phone at night, and comes with a remote!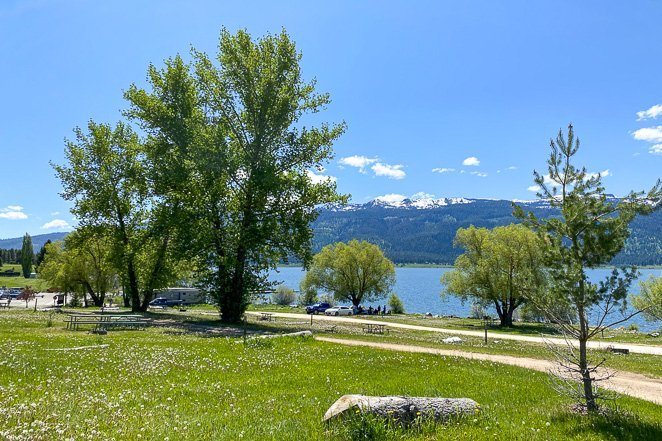 That's it! With these items, you can have the perfect glamping setup and experience. So, what are you waiting for? Start packing your bags and get ready for the glamping adventure of the great outdoors!
If you're into glamping, make sure you check out our Glamper Camper blog, where I shared some of my best tips and tricks into the glamping lifestyle.
Have you found your must-have glamping accessory? Let us know in the comments! Happy glamping! 🙂