Luxury RV accessories are designed to enhance the comfort, convenience, and overall experience of traveling in an RV. For many people, RVing is a way to explore the great outdoors and enjoy the freedom of the open road while still having access to the comforts of home. The 'freedom' to explore is often considered one of the biggest pros of RV living full time.
Whether it's a high-end mattress, killer RV upgrades, or a state-of-the-art outdoor kitchen, luxury camping items can make a significant difference in the quality of your RVing experience.
These luxury camping accessories for your RV are often made with high-quality materials and advanced technology, allowing you to enjoy the finer things in life even while on the go. For those who value luxury and convenience, investing in essential RV camper accessories for inside can take their travel adventures to the next level.
Luxury camping gear can also help make life a bit more comfortable if you plan on RV living full time. By investing in luxury RV upgrades and high-quality accessories, you can make your RV feel more like home and enjoy all the benefits of life on the road.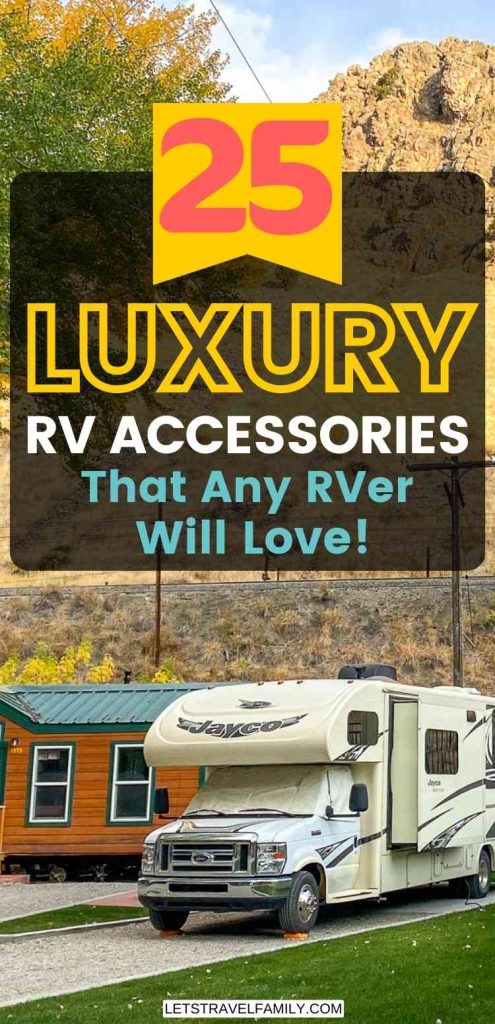 Read on to discover unique luxury RV kitchen ideas, high-end RV upgrades, luxury RV gifts, and the best luxury camping items that you can find.
THIS ARTICLE MAY CONTAIN COMPENSATED LINKS. PLEASE READ OUR DISCLAIMER FOR MORE INFO.
Luxury RV Kitchen Ideas
The kitchen is the heart of any home, and this is no different if you're living or traveling in an RV. Including a few of these luxury RV kitchen accessories can make all the difference in creating a comfortable and functional living environment on the road. If you want to truly enjoy the RV life, then consider a few of these RV kitchen items.
Ice Maker
A countertop ice maker like this one is a luxury while RVing!
RV refrigerators and freezers do not come with ice makers. In in all hoesty, there isn't much room in a small RV freezer for ice cube trays. So having this RV kitchen appliance is a great addition to your camper kitchen.
Espresso Maker
If you are a coffee drinker, then treat yourself to this high-quality espresso maker that won't take up too much space.
RV Dishwasher
A dishwasher for your RV is absolutely an RV luxury and might be worth considering!
Berkey Filter
A countertop Berkey water filter is not only a luxury RV accessory, but some consider it an RV must-have. Learn more about Berkey filters in our deep dive into countertop water filters.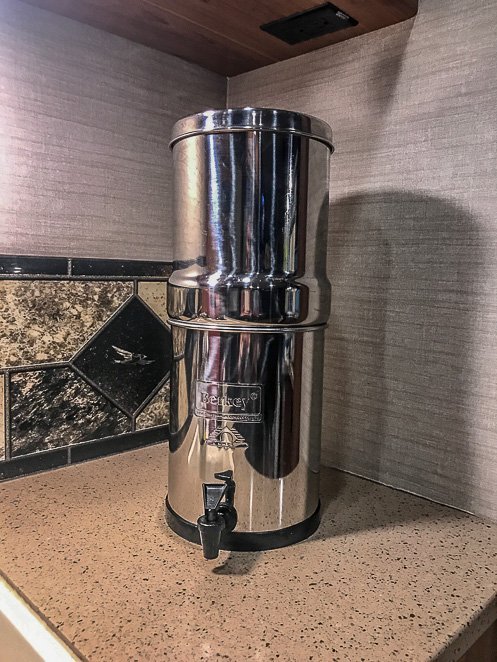 Luxury RV Upgrades
Investing in luxury RV upgrades can not only improve the safety and reliability of your RV, but it can also provide peace of mind while RVing. Consider some of the RV gear listed below.
Indoor Fireplace 'Cutout'
Install a fireplace like this one inside your RV living room so that you can sit around and snuggle together on a cool fall evening. Or, consider spending Christmas in your RV and having a place to hang those stockings!
Shower Head
This shower head will provide you with much more water pressure than a typical RV shower head, and you can easily conserve your hot water by pushing the on/off button while showering.
Battery – Lithium Battleborn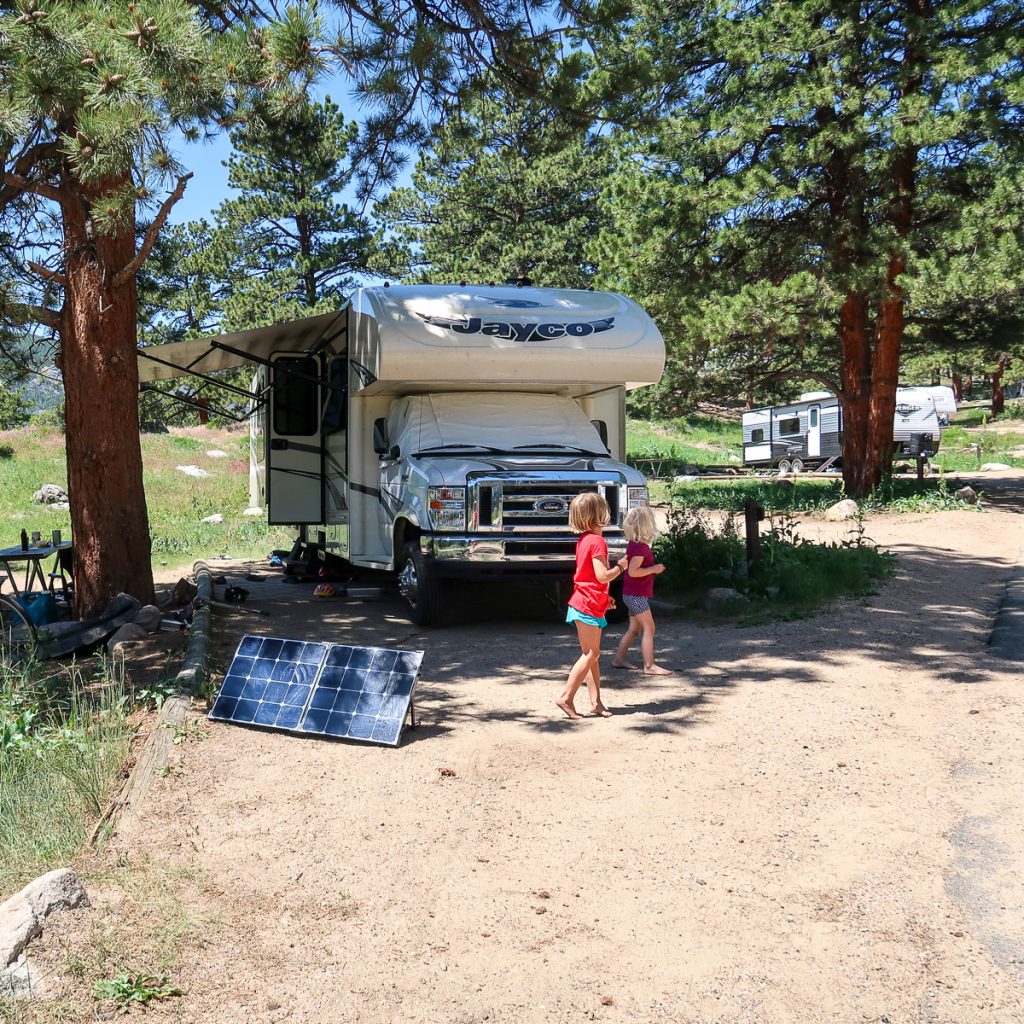 Upgrade your RV power set up with solar and this high-quality Battleborn Lithium Battery. This will help in situations where you want to use solar while camping at a National Park or you decide to do some RV camping in Baja.
RV Washer/Dryer Combo
Consider installing a washer/dryer combo in your RV to make life easier. No need to go to the laundromat if you have this compact washer-dryer combo.
Keyless Entry Lock for the RV
One of the best upgrades you can give your RV is a keyless entry lock like this one.
Tire Pressure Monitoring System
Another great upgrade for your RV is a tire pressure monitoring system. Rather than having to manually test your tire pressures on each travel day, this tire pressure monitoring system will alert you to any low-pressure issues.
High-Quality RV Mattress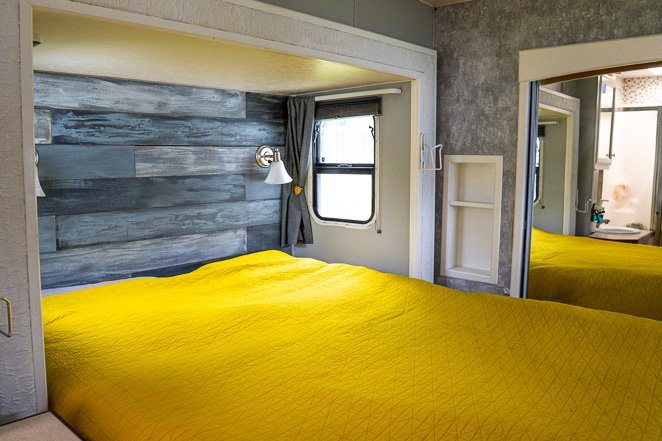 Upgrading your RV mattress is one of the first things you're going to want to do if you ever decide to find the best RV for full time living. Not many new or used RVs come with quality mattresses.
Our top pick for a truly luxury RV mattress is from Wilderness RV Mattress. They are made in the USA by a family-owned company who have been avid RVers their entire lives. Not only that, but they give you a 100-night trial and free shipping.
Click here to learn more about Wilderness RV Mattresses.
Backup Camera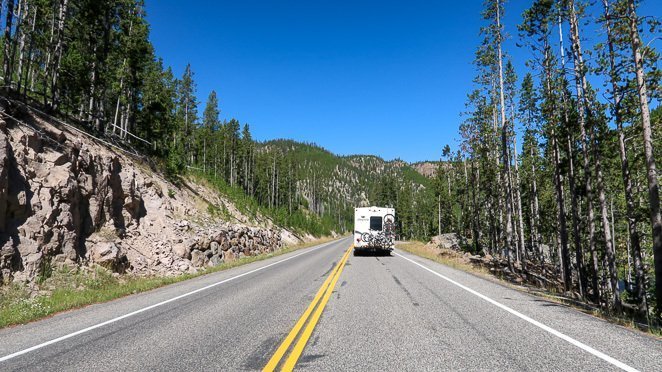 If your motorhome or camper doesn't come with a backup camera, then this is an upgrade you don't want to forget about. Using a backup camera can prevent you from having mishaps. Click here to grab an RV backup camera now.
Luxury Camping Gear For RVers
Luxury camping gear can transform an ordinary RV camping trip into a truly memorable and comfortable experience. If you're learning how to prepare for full time RV living, then investing in quality luxury camping gear can provide greater durability and reliability, making sure that your gear will last a long time.
Screened In Gazelle Tent
A screened-in tent can provide you with so much outdoor living and dining space while keeping you safe from the biting insects at your campsite. A Gazelle tent is just that and is a great luxury RV accessory.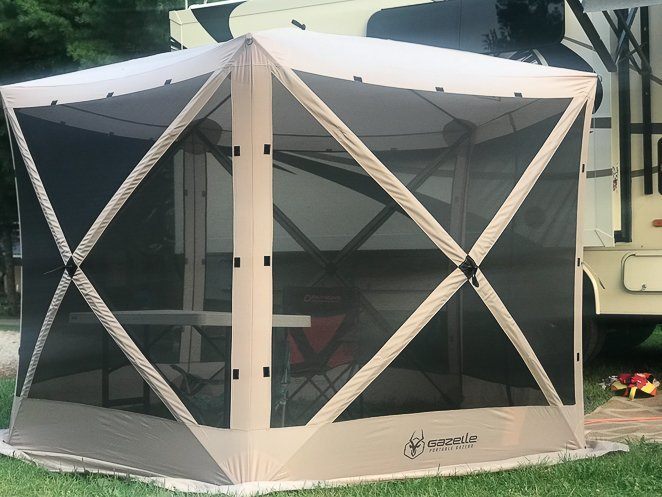 Propane Fire Pit (link to it)
Consider getting one of the best portable propane fire pit options for your RV campsite. Our top pick is this Outland Living fire pit.
Smokeless Firepit – Wood Burning
If you decide against a propane firepit, consider this smokeless firepit that stores easily in a bag.
Zero Gravity Chair
A zero-gravity chair like this one can provide for a very comfortable RV camping experience.
Luxury RV Outdoor Kitchen Ideas
Outdoor RV kitchen setups can help keep your RV's interior clean and free of cooking odors and provide additional space for meal prep and storage. Whether you have an outdoor RV kitchen built into your camper or you use a kitchen station like this one, it's nice to be able to cook and prepare food outdoors.
Deep Freezer-Refridgerator Cooler
Add a Dometic refrigerator-freezer combo to your outdoor kitchen setup. Plug it in and turn both sides to the refrigerator settings if you want to have cold beverages for the company you plan to have at your campsite. Or, consider having one side turned on to the freezer setting so that you can have some ice cream Sundays late at night around the fire.
Portable Smoker
Be the talk of the campground when everyone around can smell your deliciously smoked ribs or pork roast in your portable Z GRILLS electric smoker.
Portable Pizza Oven
Make the best pizza in your outdoor kitchen set up with this portable pizza oven that's heated by propane.
Luxury RV Gift Ideas
Luxury RV gift ideas are perfect for those who love to travel in style and comfort. These are more 'extreme' than our list of the best gifts for RV owners.
Inflatable Portable Hot Tub
If you're looking for a luxury RV gift that will be sure to make your friend or loved one excited, this is it. An inflatable portable hot tub is definitely a luxury RV gift!
Movie Projector and Screen
A movie projector and screen can pack up small and still bring so much fun to a night of RVing. This would make a great gift for any RV owner.
High-quality kitchen pans/nesting
Looking for a great RV Christmas gift that will fit under the tree this year? Consider gifting these nesting pots and pans sold by Camping World.
---
I hope you were inspired by these luxury RV accessories. Would you include something else on the list? Let us know!