Boondocking, dry camping, wild camping, moochdocking. It can be called many things and as a full-time RV living family we've recently begun seeking out the best boondocking locations all across the US while working hard to create this boondocking guide to free camping.
RVing full time has opened up the possibility of traveling to some very remote destinations. Dry camping has allowed us to set up camp without needing any electricity or water hook-ups, and best of all, for FREE!
How exactly?
Well, keep reading this boondocking guide where we'll explain all there is to know about dry camping, give you some of our top boondocking tips, and even share a few of our favorite boondocking GPS locations in the US.
THIS ARTICLE MAY CONTAIN COMPENSATED LINKS. PLEASE READ OUR DISCLAIMER FOR MORE INFO.
Where To Stay In Puerto Rico
One of the best places to stay in Puerto Rico is the Caribe Hilton in San Juan. It's not only oceanfront, but it has its very own private beach with calm waters for snorkeling, an incredible outdoor pool area, and several restaurants on sight. I stayed here during my visit to San Juan, Puerto Rico and used it as a great central location. It's only a 10-minute Uber ride to Old San Juan or a 15-minute Uber ride to the international airport.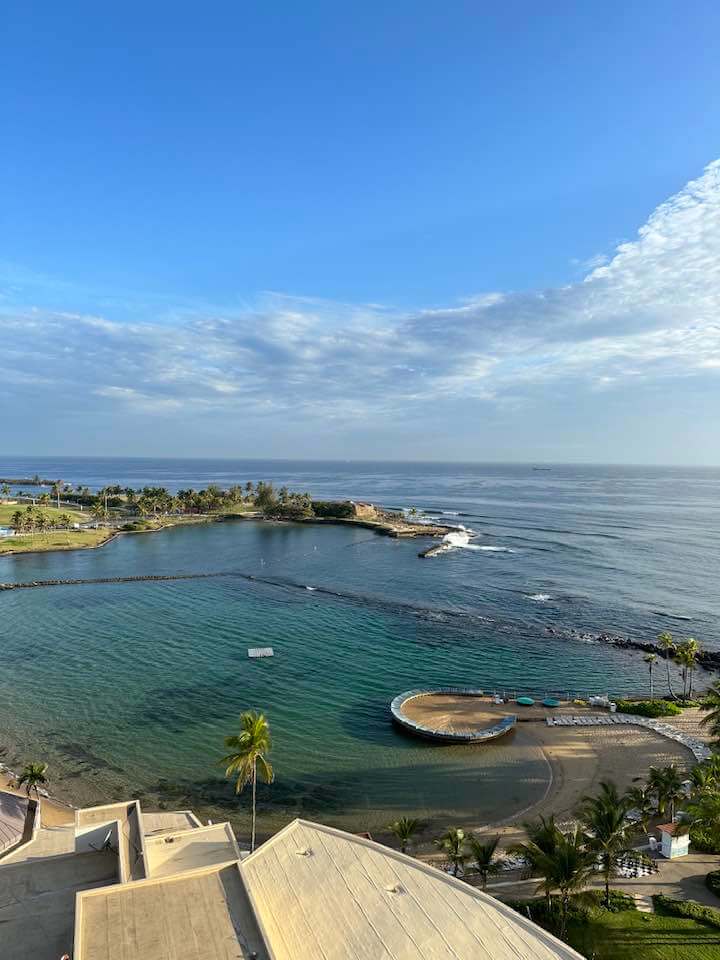 Click here to check rates for Caribe Hilton.
If you're looking for more fun in Puerto Rico beyond the adventurous experiences, then you may want to consider combing your trip to be part-adventure and part-relaxation and book a few nights in one of the top Puerto Rico resorts for families.
Our Boondocking Guide to Free Camping
This boondocking guide is full of many details, so give yourself some time to get through it. Or you can bookmark the post to save it to reference back to or Pin the image below to Pinterest.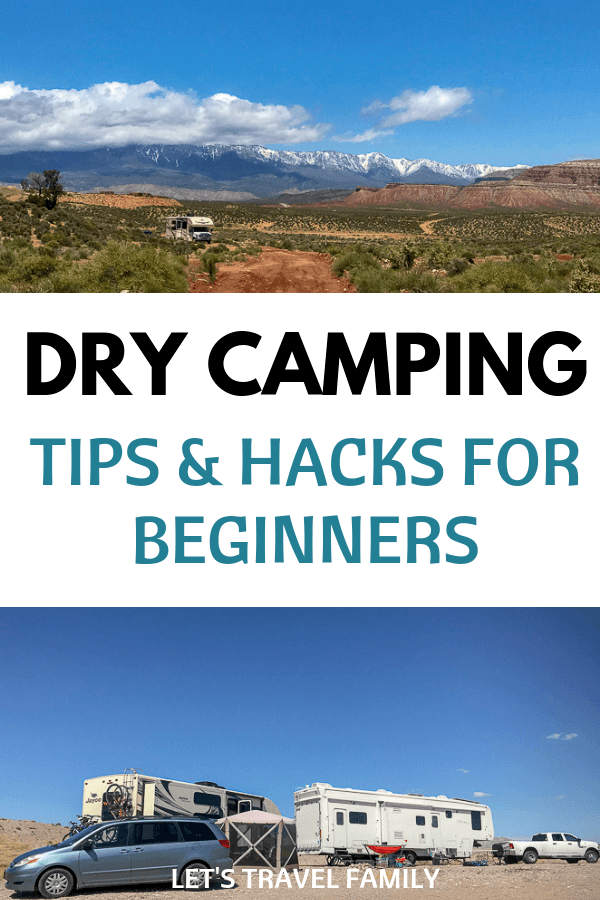 First, we're going to dig into some of the most frequently asked questions when it comes to dry camping.
Then we'll share our best tips for having a successful week of boondocking.
Lastly, we'll share our GPS coordinates of some of our favorite spots to camp.
Now, if you're looking for a list our top dry camping essentials then click here.
What Is Boondocking?
First, let's go over the many different ways RVers talk about boondocking.
Some talk about boondocking as finding overnight RV parking at a rest stop or Walmart. Others say that in order to truly be boondocking you have to do some off grid camping. I've also been asked if finding free campsites is what boondocking is all about.
In reality, boondocking is a term that RVers use to talk about camping in your RV without being connected to any water, electricity or sewer. That's where the term 'dry camping' comes in.
So yes, finding free RV parking in the back of a Walmart parking lot for a night is considered boondocking. Yet, most RVing people would say that to experience 'true' boondocking, you need to set up on land somewhere for a few days to see how life is like without hookups for more than just a night.
Is Boondocking Always Free?
No, there are many campgrounds across the nation that charge a small fee for a campsite with no hook ups at all. For instance, most National Parks have campgrounds that do not provide any hook-ups at your campsite. They do, however, often offer a dump station and fresh water on site somewhere.
In this case, Tony and I usually use the term 'dry camping' when staying inside Glacier National Park's campground. We paid for a night to have a campsite, but there are absolutely no hook-ups.
Click here to check out our top RV campsites in the first 2 years of travel.
Is Boondocking Legal?
Yes, if you park your RV overnight in an area that allows it, it's completely legal in the United States.
Where Can I Camp For Free?
To give you a more detailed explanation as to WHERE to find free camping spots, I'm going to explain a few things.
Most people who arrive to this blog post are looking for camping in the USA. If that's you, then keep reading because that's what I'm going to dive into.
Now, if you are interested in learning about finding wild camping in the UK and Europe then click here.
Okay, let's dive into where in the USA you can camp for free.
The United States has 2 types of public lands where you can camp for free for up to 14 days without getting a permit.
National Forest Or National Grassland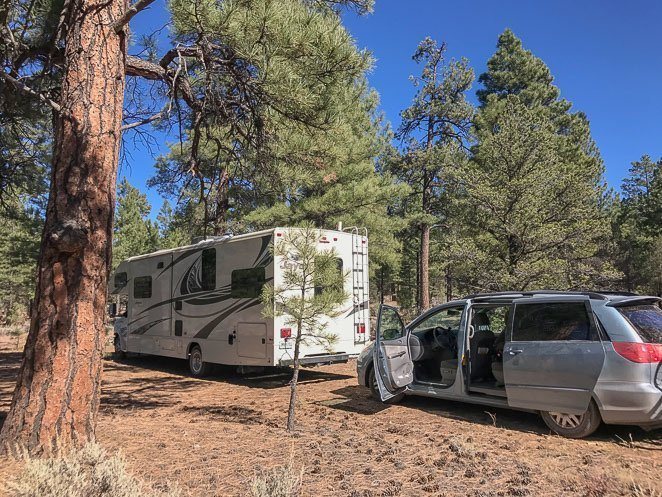 In many National Forest and Grasslands you are permitted to camp for free. Now, finding RV parking is the tricky part. We love using Campendium and word-of-mouth to find the exact GPS coordinates as to where a great spot is.
If you're hoping to do some dry camping in a National Park campground, then be prepared to pay some money.
BLM – Bureau Of Land Management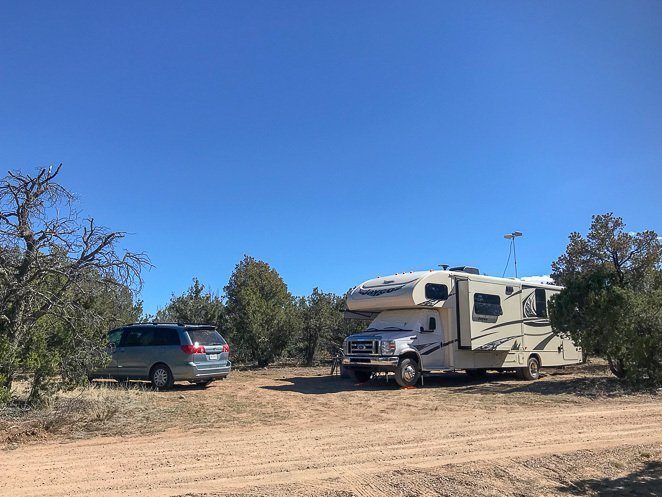 We've found some of the best boondocking on BLM land which is found all over the US but more so in the western part of the country. Just like National Forest land, we'll use Campendium to find a great spot or suggestions from friends on great GPS locations.
The government allows up to 14 days of dry camping at a particular space on BLM land. Be cautious as you'll often have dirt roads that may not be maintained to tow your RV down.
Free Camping Near Me – Not Public Land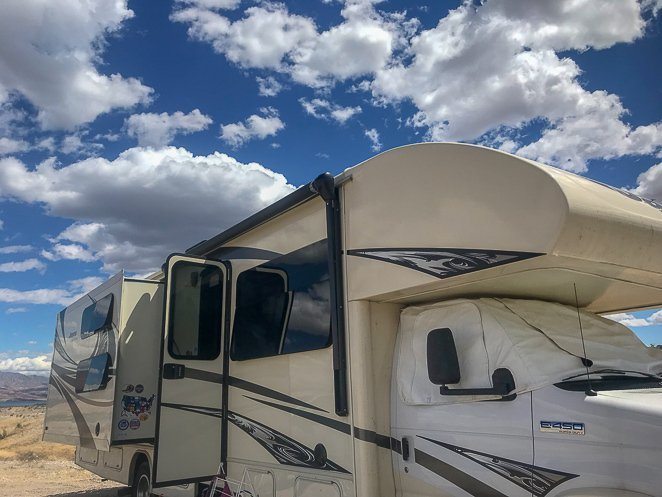 Sometimes when you're planning a road trip across a long distance in your RV, you may just need a quick stopover for the night. If that's the case, finding an out of the way BLM spot may not be what you're looking for. Instead, you can often find a parking lot that's easy to access to just park for one quick night before getting back on the road.
So, here is a list of businesses and ideas of places to park your RV for just one night.
Walmart
Did you know that you can find free overnight RV parking in a Walmart parking lot? There are many Walmarts across the US that allow RVs to camp for free overnight in the back or side of their parking lot. However, don't assume that all Walmarts allow this. It all depends on the city or county regulation, and the discretion of the supervisor at that particular Walmart.
We use our Allstays app to find other people's comments and reviews about getting permission to stay in a particular Walmart location for the night. It's always recommended to go inside and ask once you arrive.
Cracker Barrel
Most Cracker Barrel restaurants across the nation have 3-6 parking slots for RVs and buses. This allows large groups in tour buses, and RVers, to visit their restaurant and go in for a meal. If the parking spots are open by evening, it's understood that you can park your RV for a quick overnight stop.
If you're camper or motorhome is too long, or you have a truck pulling a longer trailer or fifth-wheel, you may not fit in a Cracker Barrel parking lot. Our 33-foot class C fits great so we frequent Cracker Barrels across the country.
Be warned though, the convenience of having a home-cooked breakfast the next morning (without having to do the dishes) doesn't always save you money by boondocking. Just because you found free RV parking for the night doesn't mean you won't spend the money on breakfast the next day before taking off.
Cabela's
Cabela's has allowed RVs to camp overnight in many of their parking lots for years. However, we've recently learned that that's no longer the case. Many stores are turning RVs away. Be sure to call ahead to see if you have permission before planning to drive out of your way or depend on a Cabela's parking lot for the night.
Casinos
Many casinos will allow you to park overnight for free like Walmart does. Or, if you're willing to pay a little for hookups, there are actually a few casinos throughout the country that have very inexpensive RV campgrounds.
If you want to look specifically for casinos that allow RV parking, then this is a great resource. Otherwise, I've found our Allstays app to work well too.
Truck Stops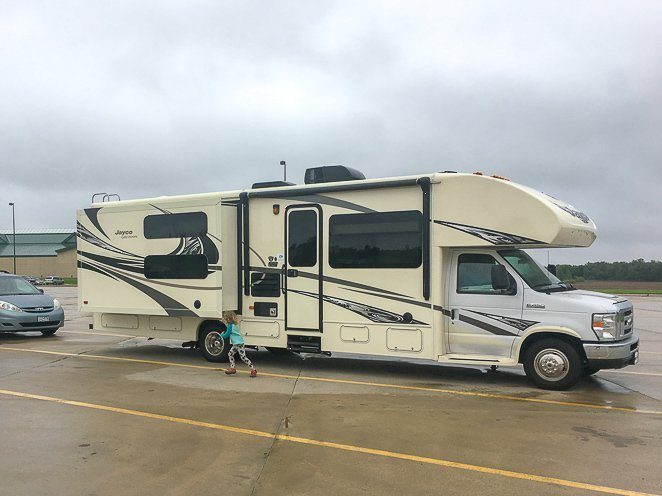 Truck stops are gas stations that cater to semi-trucks found along busy interstates throughout the country. They cater to truckers, but some have special features and amenities for RVs such as a dump station, water fill area, easy in and out gas fill for RV's, and a weighing station to check your RV's weight. In addition, they'll offer RV and truck parking where you can sleep for a few hours.
We've found both Pilot and Flying J to be great RV gas stations.
Just be aware that most trucks stops have parking that is specific for truckers to rest and sleep so that they can drive safely, not specifically for RVs. It might be best to call and ask if they allow RV overnight parking as well.
Rest Stops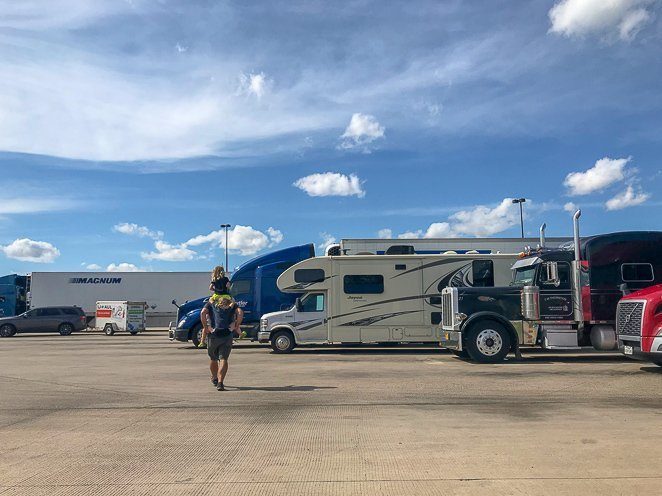 Along many US interstates, you'll find rest stops with parking designated for drivers to rest so they don't stay on the road while they're too tired. Usually, this is where many semi-truck drivers stop to sleep before finishing their drive.
If there's space to park your RV, you can park in most rest stops for the night, but don't expect to be able to open your slides. The parking slots are narrow and trucks come in and out all night long.
Where Can I Find The Best Boondocking Locations?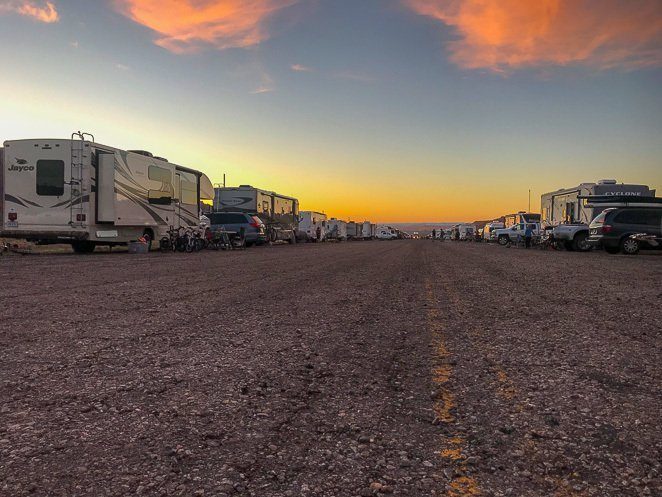 Okay….so how do you actually find the best boondocking locations. There are some great resources to help you find some amazing boondocking locations, but really the best resource you might have are FRIENDS!
Now, maybe you don't have any RV friends that boondock right now. That's okay, check out these apps and resources below and keep reading to learn about our favorite boondocking spots across the country. Or, read about our RV family's favorite RV trip planner app and tools here.
Campendium
Campendium is our favorite resource outside of asking friends for great spots. It's free and works on most browsers with a map view that allows you to search for 'free' or price levels on camping nearby. I also appreciate reading people's reviews of the GPS designated boondocking location to learn about easy in and out tips and if there's good cell signal.
AllStays
Allstays is another great app that lists all the National Parks, Walmarts, Cracker Barrels, Truck Stops and more. What Allstays lacks is BLM specific spots that other boondocking campers frequent. That's where Campendium does much better.
Boondockers Welcome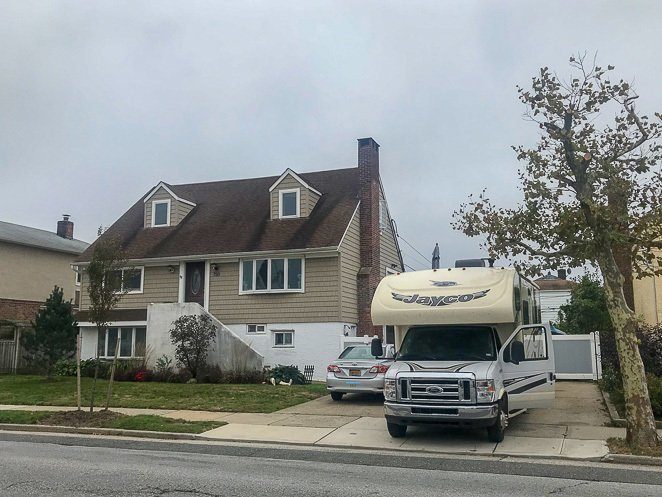 We often use Boondocker's Welcome to find a driveway of a fellow RVer to Boondock in. After paying a small fee for a membership that lasts a year, we then login to their online platform and find free boondocking spots on people's land throughout the US.
Our family has stayed in a driveway of a nice couple just outside of NYC once, and also a driveway of a couple outside of Rochester, NY for an entire weekend.
Sometimes the owners will even allow you to hook up your hose to fill your fresh water supply if needed. There are some really nice people in this world and having membership with Boondockers Welcome opens up many possibilities.
Harvest Hosts
Some other great RV boondocking locations are found with a Harvest Hosts membership. This membership is similar to Boondocker's Welcome, in that you pay a yearly fee to have access to their online platform where you can search for free overnight parking near me.
The biggest difference with Harvest Hosts is that you'll be specifically finding winery's, farms, breweries, and businesses where they'll allow you to camp for free on their property for one night, and hope that you will be a patron at their business in exchange.
We haven't used Harvest Hosts yet, but I've heard amazing things about it and you can receive 15% off your membership if you use this link to learn more of the details and to grab your first year's membership.
10 Tips For Successful Boondocking
So, you found a spot to go on your first boondocking adventure…what do you need to know to be successful?
There are a few 'big picture' things to consider to make boondocking for more than one quick overnight work well for you. I'm going to break them into 4 categories—Power, Fresh Water Input, Waste Output and Connectivity.
Power – Tips for Boondocking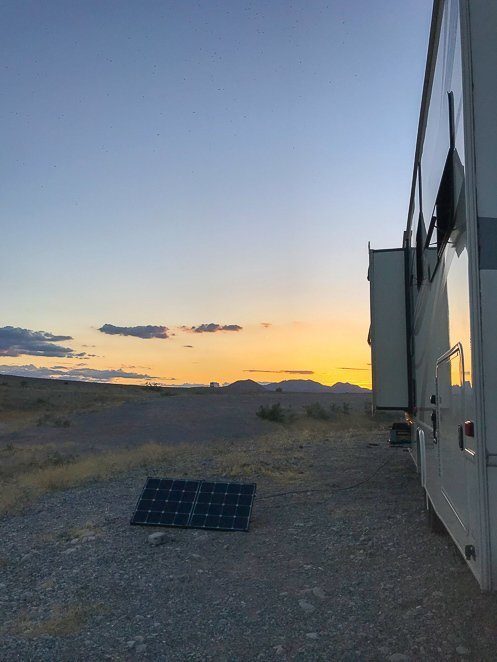 You see, at some point you are going to need power to cook a meal, turn on a light, and maybe charge your laptop. Especially if this is a full-time lifestyle for you and you need to work on the road. So, let's dive into the different ways you can obtain power when you're wild camping.
Solar
Having a small solar panel that connects to your RV's battery can often give off enough amps to charge your laptops and work the lights in your RV, as long as there's sunshine.
If you're just starting out, I don't recommend you invest in a full solar set-up with a large battery bank quite yet. Get a feel for boondocking and see if it's right for you and your family. Otherwise, you'll need a generator.
Generator
Using a generator is pretty common among most boondocking RVers. There's bound to be a cloudy day even for big solar fans, so if you don't have an onboard generator like most motorhomes do, we recommend this generator.
So many of our RV friends swear by the Honda and how powerful, yet quiet it is. Or, if you'd like to read our complete review on the best generators for camping and RVing then click here.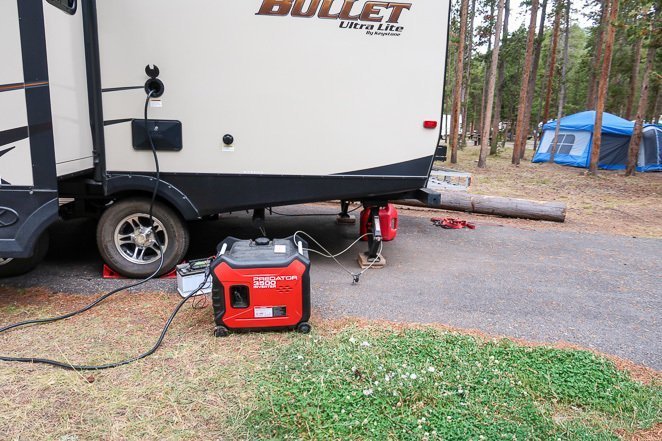 Keep in mind that your generator will need gas so bring a gas can full and be ready for a little noise, as they aren't silent.
Propane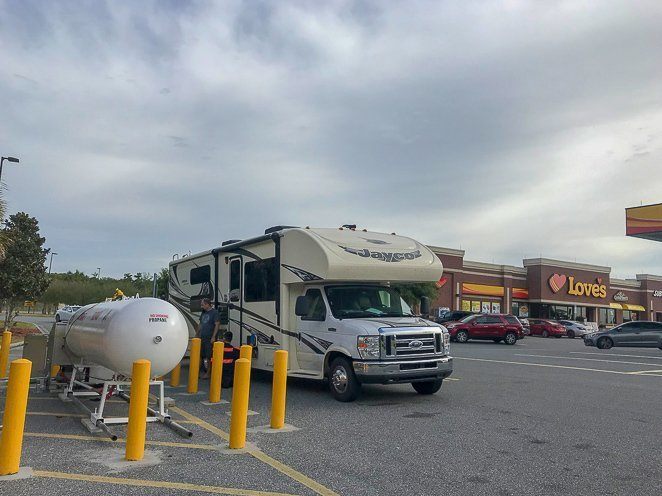 Propane is another source of power that many campers use for their stovetop, oven, heat and sometimes hot water heater. So be sure you have a full propane tank before you set up for a week or two.
Freshwater Input Tips For Boondocking
It's safe to say that if you've never boondocked before, you may not realize how much fresh water you go through on a regular basis!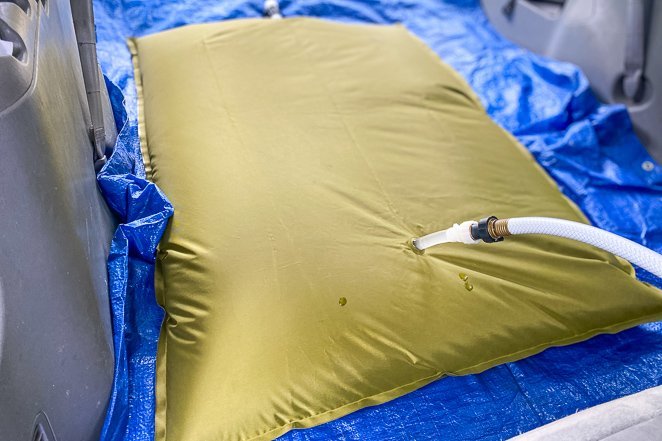 Not only for drinking, which if you're out west in the desert you'll go through more drinking water than you realize so be prepared, you'll also use a LOT of water to do dishes.
Oh, and please don't expect to be able to shower daily.
We dive into our top boondocking essentials here, and talk a little about purchasing a freshwater bladder like the one pictured above. Once we bought this, and a transfer pump, it was a game-changer for us.
Drinking Water
Plan for about 1 gallon per person per day for drinking water. We fill our fresh tank and then run the kitchen faucet into our Berkey for our drinking water supply, which is an amazing water purifier. If you haven't checked it out yet, click here and see for yourself.
You can also buy bottled water….but be ready for the added space it'll take up, not to mention the trash it produces. Oh, and you'll have to find a way to dispose of the new trash. (keep reading to learn more about that aspect of boondocking).
Dishwashing Water
You have a few options when it comes to conserving how much water you use to wash your dishes. You can choose to buy paper products and use less dishes…so less to wash. Yet, more to throw away. Or, you can learn to wash and RINSE your dishes with very little water.
We've learned that boiling a pot of water on the stove keeps us from running our faucet until hot water comes out….letting all the cold fresh water just go down the drain! I'll use that hot water and fill our dish washing basin with soap and get to work.
One last tip about washing dishes. Try to plan means that don't use as many dishes to prepare it. One pot soups and stews or grilling can cut down on dishes.
Another great tip is to install an aerator on your faucets and you'll use less water overall!
Shower Water
This is the part where I tell you to get used to being a bit dirty while you're boondocking. If you have a family of 6, like we do, and a small fresh water tank…then showering everyone in one night will usually use up ALL of your fresh water.
So what can you do?
We buy baby wipes and dry shampoo to help clean ourselves so that we don't have to shower often.
You can also boil a pot of water and bring it with you into the shower. Then stand there with a washcloth and soap and do a quick 'bath' from the pot of water. That way you're only using half a gallon of water per person.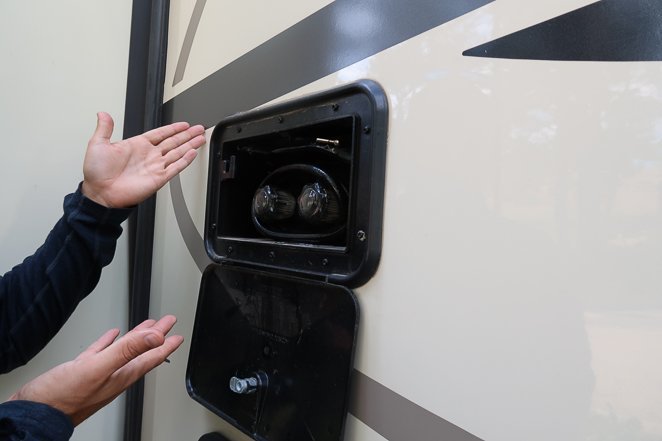 Or, if you have an outdoor shower you can slap on your swimsuit and take a shower outside. Just plan to fill your fresh water again.
We've also been known to visit family and friends in the area and ask if we could take showers at their house during our visit.
Or, if you have a friend with a HUGE freshwater tank and grey tank in their RV that you just happen to be camping next to, they might share and allow your family to take quick showers at their place.
We just did that this week and it was amazing! It's all about being creative and resourceful.
My last boondocking tip when it comes to showering is to consider showering at the dump station. How do you do this exactly?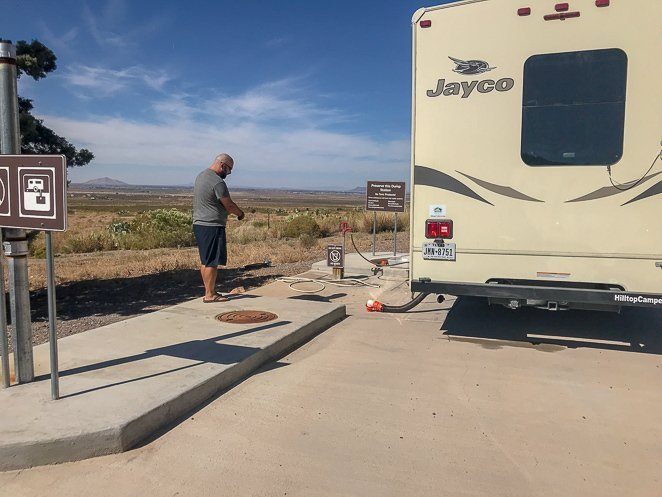 Connect your fresh water to fill at the same time you connect your sewer hose to dump. Then rush your entire family through the shower inside the RV while your connected!
As long as nobody's in line behind you at the dump, you can have everyone clean and ready to go set up at the next boondocking spot!
Waste And Output While Dry Camping
It's eye-opening to see how much waste your family produces in a week of boondocking. Not only the waste water in your grey tank or sewer waste in your black tank, but also the amount of garbage.
How can you lessen the waste and what do you do with it? Let's dive in to that now.
Gray Water While Boondocking
If you can hold off on taking regular showers in your RV, and lesson the amount of dishes you do, your grey water tank will not fill as quickly as you think.
How? Well, don't let the kitchen faucet run while rinsing dishes. Instead, use an extra bowl or dish washing bin to add a few inches of clean fresh water as a second bath for your dishes to rinse off in after leaving your soapy water bin.
Depending on where we're boondocking, I'll often take my dishwater and go outside to water the nearby desert plants. Then our gray tank doesn't actually see much waste in it.
Now, if your kids get super muddy and you just HAVE to wash them off….but you want to conserve what goes into your gray tank, then you have a few options.
You can boil a pot of water on the stove and go outside to give them a washcloth bath. Or, if you have an outdoor shower like our RV does, you can make them take fast showers outside.
You'll go through a lot of fresh water this way, but you won't be filling your gray tank and you can always add more fresh water to the tank later by bringing a 7 gallon fresh water jerry can.
Black Tank While Boondocking
Here comes the 'gross' talk…but we have to have it. You have waste that comes OUT of your body every day. While boondocking, that waste needs to go somewhere.
You have a few options and things to consider.
How large is your black tank and how long can you go before you need to drive your RV to a dump station? Or, do you want to invest in a compost toilet? Read this post to learn more about finding the best composting toilet for RV life.
Some experienced RVers who want to boondock a lot will install a compost toilet, which allows them to actually get rid of their black tank altogether. Our friends have one and it works really well for them and keeps the smell down in their bathroom, surprisingly.
The liquids go in one area that is added to their grey tank, and the solids go in a different area that is composted and doesn't smell because no urine is mixed in. They have no black tank to empty!
We have a regular black tank, so we've learned to pay attention to how long we can last without needing to dump it.
Our family of 6 can usually make it 8-9 days of boondocking before our black tank needs to be emptied. Now, I think we can stretch it beyond 5 days because we no longer put toilet paper in our black tank. Instead, we have a garbage can with a lid in our bathroom just for toilet paper. This saves on a lot of room and clog issues in our black tank.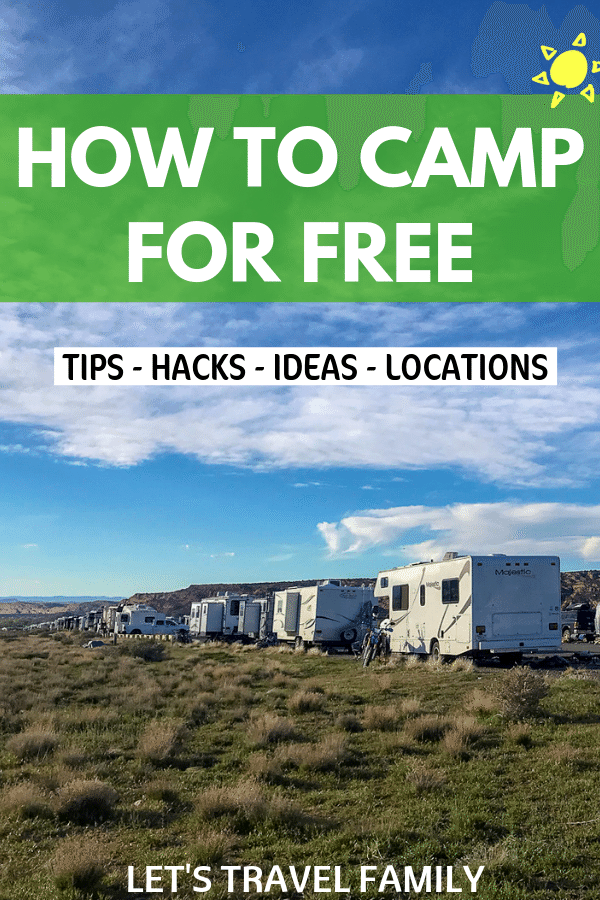 Garbage While Boondocking
It's crazy how much garbage one family, or even one person, can produce in a week. When you don't have access to a campground dumpster, you learn quickly how much you produce. I think it has a lot to do with the amount of packaging that's used for the food we buy at stores.
A few helpful tips we've learned is to break down your cardboard boxes and use them to burn if you plan to have a fire that week at your campsite. Or, better yet, if you have time in the grocery store parking lot take all your food boxes you can and add them to the garbage or recycling at the grocery store.
For example, if you buy a box of granola bars dump the bars out into your reusable cloth grocery bag (to save on having MORE paper bags at the RV) and get rid of the box before you drive back to the RV.
Now, with all these tips on decreasing how much trash you make….you'll still make trash. What do you do with it?
Find a dumpster at a gas station when you drive into town or at the Walmart you are grocery shopping at and fill it up.
Yet, between trips into 'town', you'll need a place to store your stinky garbage. Especially if you plan to boondock for several days and your indoor trash is full.
If you have a truck, you can put your garbage bags in the back of the truck to keep it off the ground and away from animals that might want to dig into it overnight, but also outside so it doesn't cause an odor anywhere.
Our family has a minivan….so at times we've had to place our trash in the back of the van for a night or two and it really adds a bad smell to the van for days after we get rid of the trash. So, another idea was to use one of our empty plastic totes with a lid to put our garbage bag in overnight to help keep the animals out. Or, we've been known to place it on top of a table inside our screened in porch with it zipped shut.
Connectivity – Cell Service While Boondocking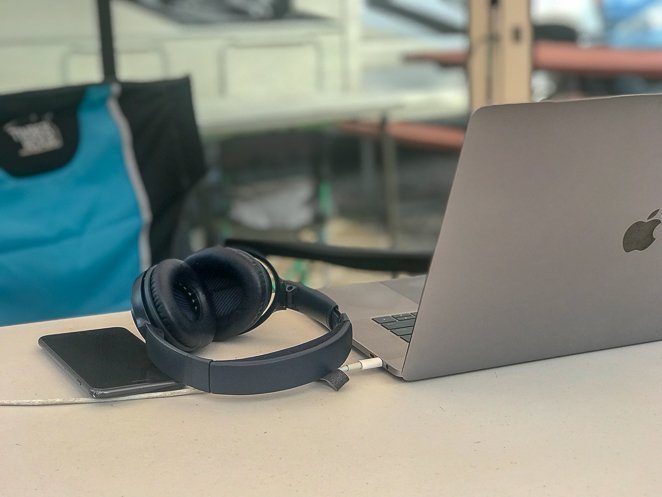 If there's any reason you feel you need to stay connected to the outside world while you're dry camping, then knowing if there's cell service in the area you plan to camp is a good idea.
Whether you live like a digital nomad like our family, or you just want to be able to make phone calls to check in with family and friends, learning a little bit about how you'll stay connected will be helpful.
When we're picking out a boondocking spot, we always do speed tests before we actually park the RV. Speedof.me is a great website to use on your cell phone to do a quick speed test.
Yet, even before we drive to a particular BLM or National Forest, we'll read reviews on Campendium or learn from other RV friends what their cell signal was for different carriers such as Verizon or AT&T, and more specifically what the upload and download speeds were.
Tony created a very detailed post all about internet on the road here that will help you understand it better than I can explain here.
Let's just say that having cell signal is important to us and I know it is to many others, even if they're boondocking. So be sure to consider this when you're picking out your campsite.
Click here if you want to learn what NOT to do while living in a camper in the Winter.
Our Favorite Boondocking Spots
So, do you want to know our favorite boondocking locations in the US? I'll list a few here and soon I hope to write a few more posts about the particular states we've been visiting and which boondocking areas we loved the most. So keep checking back.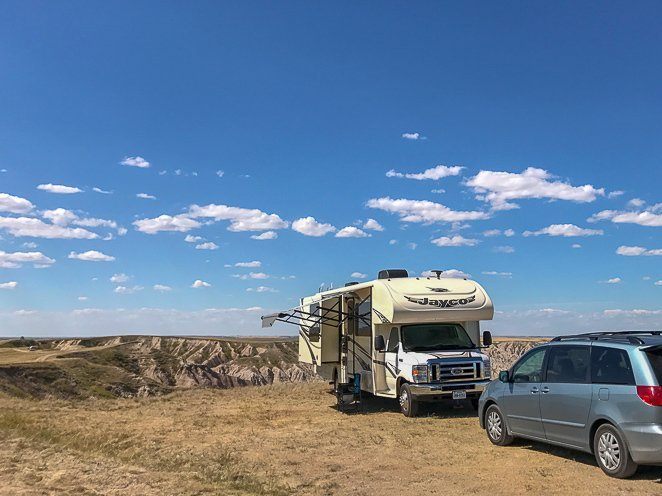 Boondocking Outside Badlands National Park
Our very first boondocking experience was for only 1 night, but it's still one of our favorites! This location is just outside of Badlands National Park in South Dakota just south of Wall. The GPS coordinates were 43.8898, -102.227.
Another favorite of ours is just outside of Moab, Utah and only a few minutes drive to Arches National Park. We had relatively good cell service and loved to experience the high desert feel here. 38.7536, -109.7296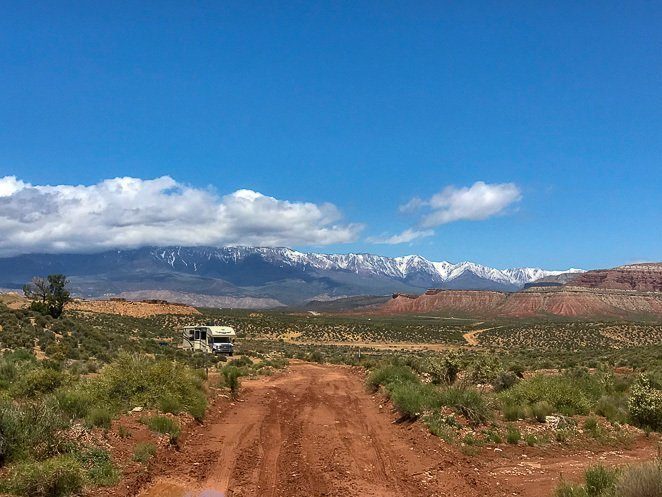 Boondocking Outside Zion National Park
More recently, we spent a month visiting Zion National Park in Utah. During that time we were able to stay in the Watchman Campground in the National Park for awhile, but we also enjoyed time boondocking outside the park with great cell service here. 37.1866, -113.2228
Get Out And Start Boondocking!
With all these ideas, tips, locations and suggestions it's time for you to get out and start boondocking today. Try it and see if it's for you.
Now, if you've been dry camping before we'd love to hear about any other helpful tips below in the comments.
Related or other helpful reading: