Are you looking for the best things to do in Bryce Canyon National Park? Awe-inspiring landscape and unique rock formations are just some of the things you'll see at Bryce Canyon NP.
Where else would you find the best of both worlds other than one of Utah's national treasures, Bryce Canyon National Park?
The park promises plenty of opportunities for excellent sightseeing; you can observe and take pictures of the local wildlife, take hikes and appreciate the landscape, and at night, when the weather allows, aspiring astronomers can kick back and do some stargazing.
If you can't decide on which activities to take on when visiting Bryce Canyon, then read on to see a list we've made of the best things to do in Bryce Canyon National Park.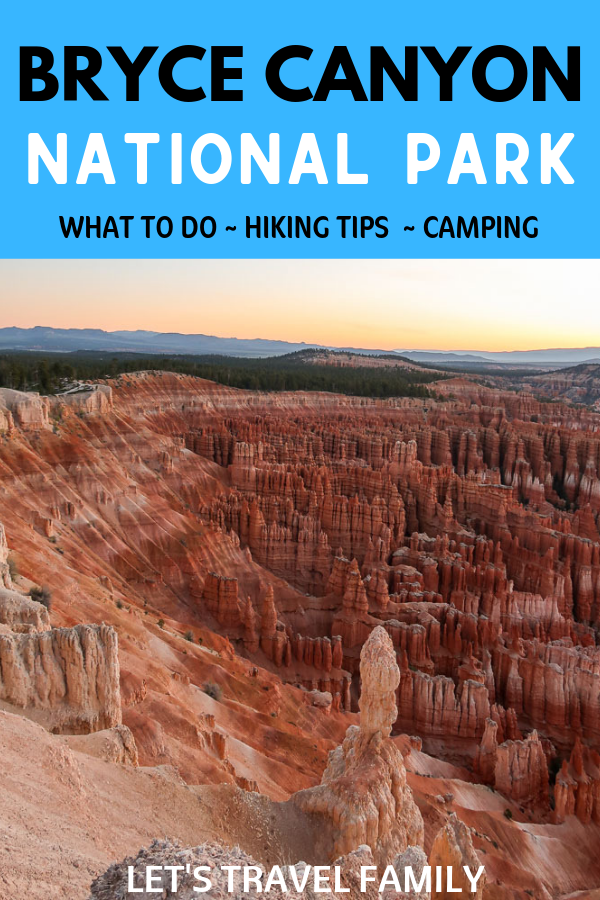 Where Is Bryce Canyon National Park?
​It's located north of Zion National Park and southwest of Capitol Reef National Park in Western Utah. One thing to note is that it's at a much higher elevation than Zion, so if you plan to visit both parks during the same trip be sure to bring warmer clothes for Bryce.
8 Best Things To Do In Bryce Canyon National Park
Thinking about what to see in Bryce Canyon during your visit? Let us help you with our tips and guides on the wonders of Bryce Canyon Utah we think you should visit.
Bryce Canyon National Park is perfect for embarking on an adventure with your family. For the kids, there are many fun activities to take part in, depending on the season. From special programs to enlisting as a Junior Ranger, there's never a dull moment for the kids.
The best time to come visit the National Park is from April-October, where favorable Bryce Canyon weather conditions are abundant during both daytime and nighttime. Summer is the most popular time to visit, so another great idea is to plan on visiting Bryce Canyon National Park in the off season of winter.
See A Hoodoo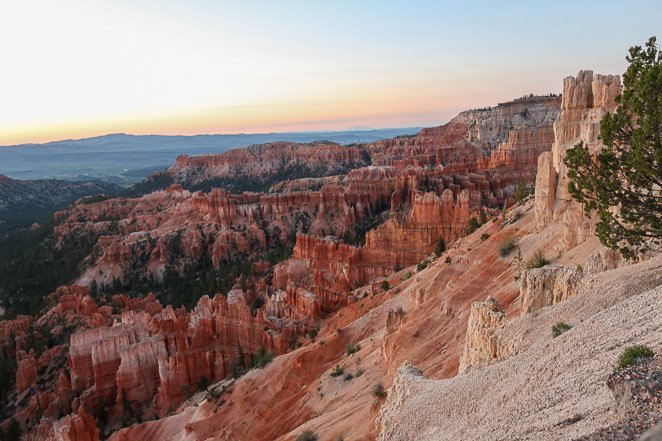 One of the must-sees in Bryce Canyon are their infamous hoodoos, which are rock formations that are made up of weathered rocks.
The National Park has dedicated a program to their hoodoos, "I Hiked the Hoodoos", where you can earn special rewards for hiking at least 3 miles of Bryce Canyon trails or finding at least 3 benchmarks at specific locations within the Park.
To claim your reward, you need to approach the Visitor Center's front desk and present either selfies with 3 different designated benchmarks, or pencil rubbings of them. Only the following benchmarks qualify for this program: Mossy Cave, Rim Trail, Tower Bridge, Queen's Garden, Navajo Loop, Peekaboo Loop, Wall of Windows, Sheep Creek, and Bristlecone Loop.
Who knew that taking a picture with a hoodoo can give you a prize and a much needed family bonding experience?
Stop At The Bryce Canyon Visitor Center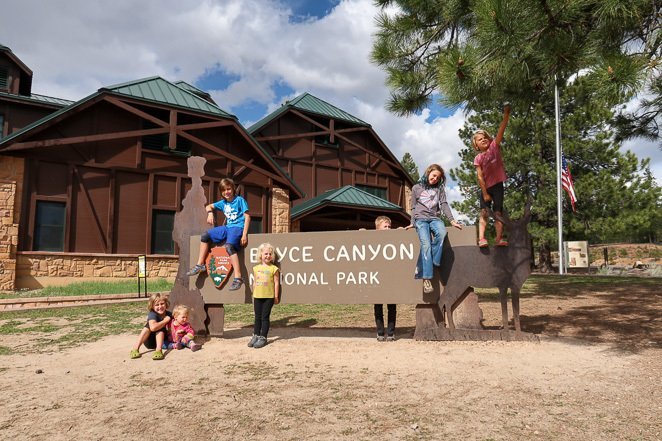 One of our recommended things to do in Bryce Canyon is going to the Visitor Center. During our visit to Bryce Canyon, we brought the kids there to watch their video and explore the inside exhibits.
Besides claiming your rewards for the "I Hiked The Hoodoos" program, there's plenty of activities and services available at the Bryce Canyon Visitor Center.
Any questions regarding Bryce Canyon can be answered at the front desk, where the pamphlets and guides are also handed out.
Here, you can also ask about things such as lodging, post office, use of campgrounds, and more. The bookstore offers a wide assortment of goods besides books, such as postcards, CDs/DVDs, T-shirts, mugs, hiking gear, and other souvenir items perfect for you or your loved ones.
Go On One of the Popular Bryce Canyon Hikes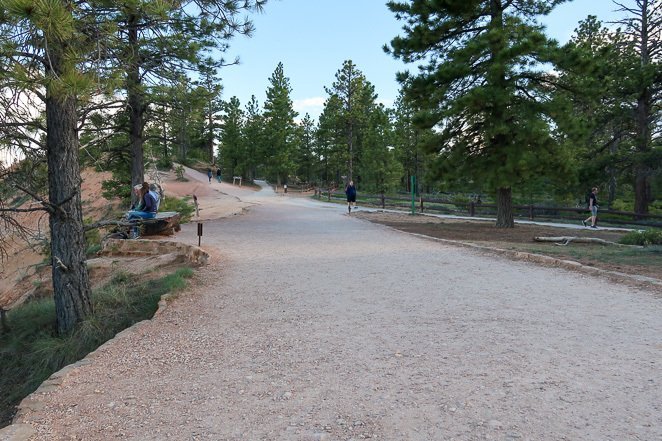 Going for a hike? There are many options when hiking in Bryce Canyon, ranging from easy to strenuous hikes. So if you want a chill walk or you opt to go for a challenging one, hikes in Bryce Canyon can give it to you.
If you've got little time and want to go for the best option, we suggest that you go for the popular Bryce Canyon hikes that the rangers will tell you about.
Among the 15 trails offered, Queen's/ Navajo Combination Loop is the most popular! Because most of the trails are interconnected, combination hikes like this one are the most popular ones. Queen's and Navajo Combination Loop boasts of it being a sunset and sunrise point and being one of the moderate hikes of Bryce Canyon!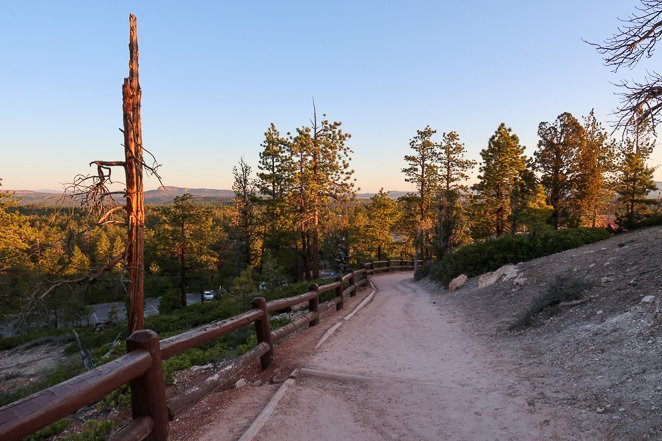 All trails involve steep climbs be sure to wear hiking boots with good ankle support, bring plenty of water, stay on maintained trails, and be mindful of your own safety.
Other strict reminders can be found on their official website.
Check out our tips on the best hiking clothes here or our list of the best gift for hikers so that you can be prepared.
​Watch the Sunrise at Sunset Point
Rim trail Bryce Canyon, at the rim of Bryce Amphitheater, is paved between Sunrise and Sunset Point. Watching the sunrise at the Amphitheater was one of the highlights of our trip to Bryce Canyon and we recommend that you see it, too!
A half-mile hike from Rim trail will take you to Sunset Point, one of the areas that will give you the best views. From here, you can see the numerous hoodoos and the crowd favorite, Thor's Hammer!
Just be mindful if you have little ones with you, as there are not many areas with rails to keep them back from the edge.
​Go Horseback Riding At Bryce Canyon
From Spring to Fall, horseback riding in the park is permitted for a fee. As one of the fun Bryce Canyon activities, my friend Clementine took her daughter horseback riding in the park during our visit.
This adds to our list of what to do in Bryce Canyon and is something that many people look forward to doing when they get to the famous National Park.
Bryce Canyon horseback riding is an even better idea if you want your kids to go on Bryce Canyon tours to learn more about the area. Let them see the beauty of Bryce Canyon while enjoying a horseback ride!
​Go Camping Near Bryce Canyon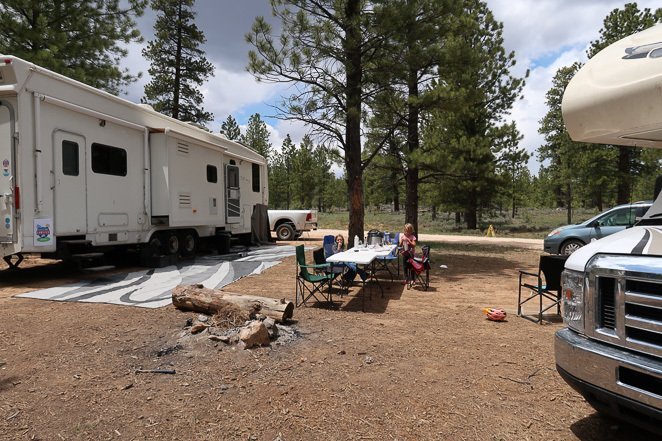 We spent one week boondocking (dry camping for free) just outside the park on National Forest land. If you love free things, we suggest you do the same! Just don't forget to bring your camping must haves and you're good to go.
If you want to learn more on boondocking, you can check out our boondocking guide to free camping here.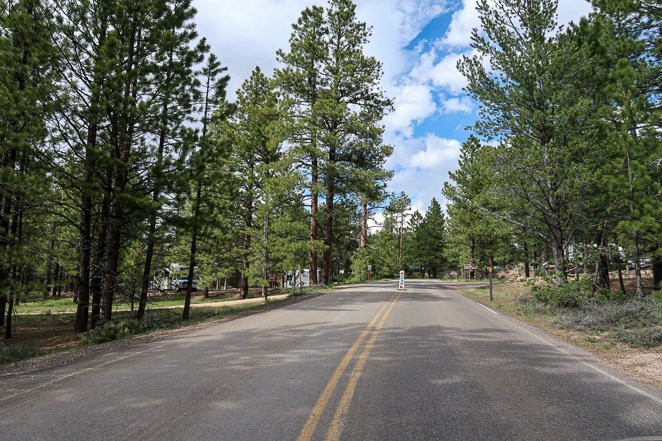 If you want to camp IN the National Park, then keep on reading.
More than 200 campsites are available for first-come first-serve at the North and Sunset campgrounds, with restrooms and water close by. There are only 13 RV sites that are available for reservation at the North Campground. A group site and 20 tent sites are available at Sunset Campground.
To reserve a site online, click here.
Hammocks are only allowed if you bring your own free-standing support for it, do keep that mind.
For RV owners like us, there is a dump station at the South end of North Campground but do note that these will be closed for months with freezing temperatures.
If you want to experience backcountry camping in Bryce Canyon, you must get a permit at the Visitor Center. And remember that backcountry camping is only allowed in selected campsites!
Go For A Scenic Drive to Rainbow Point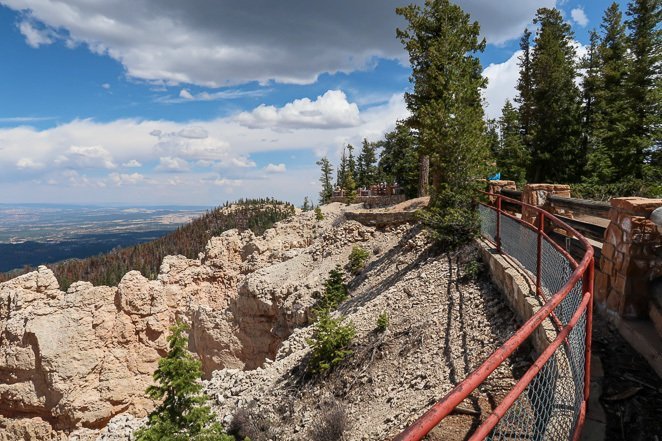 We took a day on our trip to drive the kids all the way to Rainbow Point, which is at the southern end of the National Park. When the kids got out, they found snow to have a snowball fight while it was warm enough for t-shirts!
Rainbow Point is also an ideal destination point for day trip through the park. If you are hoping take a 1 day drive to see most of what Bryce has to offer, then I do recommend you make it all the way to Rainbow Point.
Make sure to walk to the Yovimpa Point to have a good look on the rock layers known as the Grand Staircase. The view there is a Bryce Canyon must see!
Additional Bryce Canyon Attractions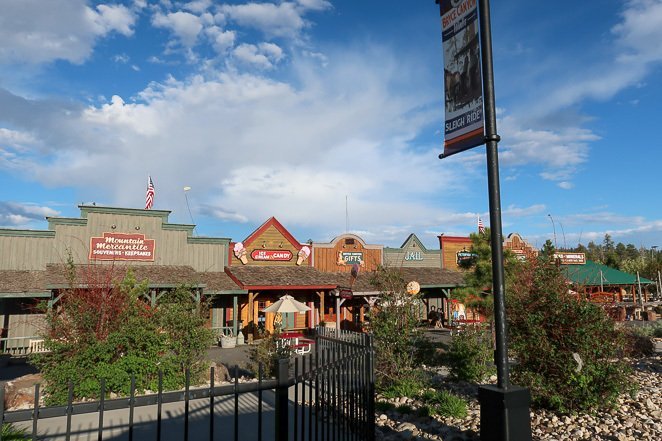 If the 3 hour maximum horseback riding experience Bryce Canyon National Park offers is not enough for you, you can go visit Ruby's Inn which offers another set of things to do near Bryce Canyon.
Ruby's Inn, one of the lodgings in Bryce Canyon City, has a Rodeo Season that goes on for Wednesday through Saturday the whole summer.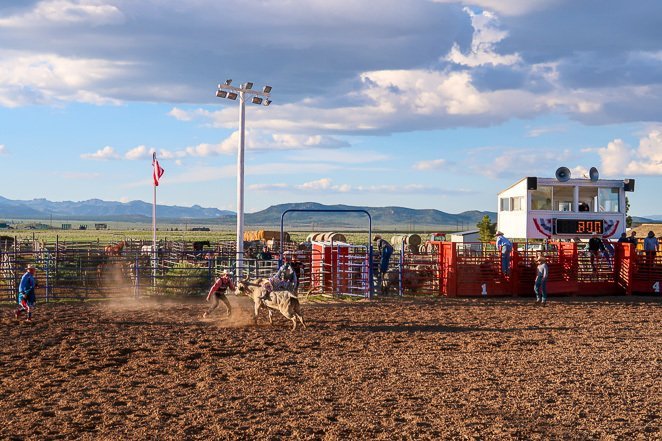 We spent one evening visiting the local Rodeo. It was our family's very first experience at a rodeo too!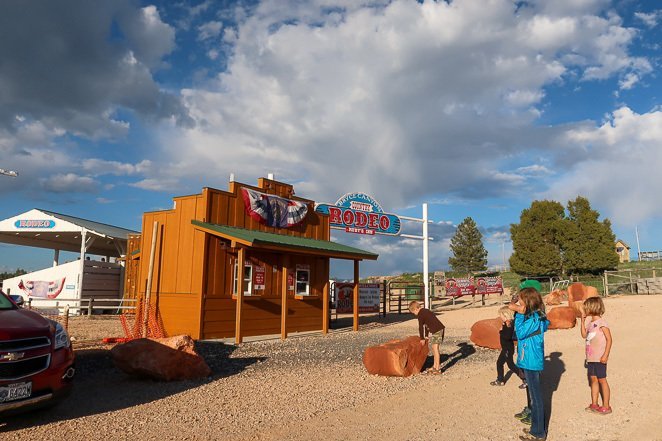 If you want to read more on what Bryce Canyon has to offer, you can check their official page.
Hotels Near Bryce Canyon National Park
After an intense hike or a calm road trip, you HAVE to find a place to stay the night.
Looking for hotels near Bryce Canyon? It won't be very hard because there's quite a lot. For the full list of places to stay near Bryce Canyon, check out this page.
We've mentioned the Ruby's Inn for their Rodeo activities. Only a mile away from Bryce Canyon, this inn is close to other attractions Utah has to offer. There's the Grand Staircase National Monument, Cedar Breaks National Monument, and the Kodachrome State Park.
Another great option is a bed & breakfast inn called East Zion's Arrowhead Country Inn and Cabins. It prides itself for being close to three national parks namely Zion, Bryce Canyon, and Grand Canyon North Rim. Stay here and be relaxed by the picturesque farm setting.
​What is the Most Memorable Thing About Bryce Canyon National Park?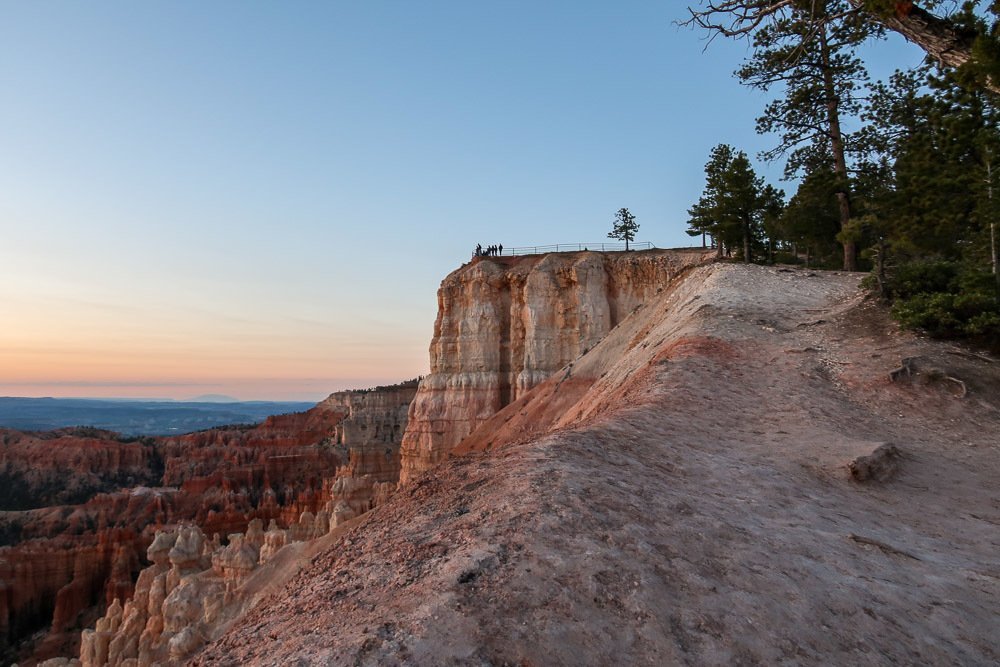 It was June and we were often in our long sleeves and pants because we were at a much higher altitude than other areas of the country, so that surprised us a bit. But we absolutely loved the place and the experiences it gave us!
If you're worried about visiting Bryce Canyon with kids, you can read why we believe that traveling with kids is good for you here.
If you're already in Utah, why not visit the other parks there? Read our posts about our the best hikes in Zion National Park and the best things to do in Arches National Park to get some tips!
We had such a good time, the week-long stay there was worth it!
Do you have more questions about Bryce Canyon National Park? Ask away in the comments below!