Looking for the best camping gifts for your outdoor family members? Being surrounded by nature is one of the best things you can experience after a long winter. That's why so many people plan ahead for some great camping trips.
If you're looking for some cool camping gifts for that person you know who just loves to get outside more, then look no further.
Camping can be considered pretty common to some but is often a new experience for many. If you want your camping presents to be unique, then you've come to the right place.
From gifts for outdoorsy moms to the best camping gifts for Dad this Father's Day, you will have so many options for your camping gift guide.
We listed 24 of the best camping gifts to make your shopping easier. We hope that these great camping gifts can help you get a new idea or two.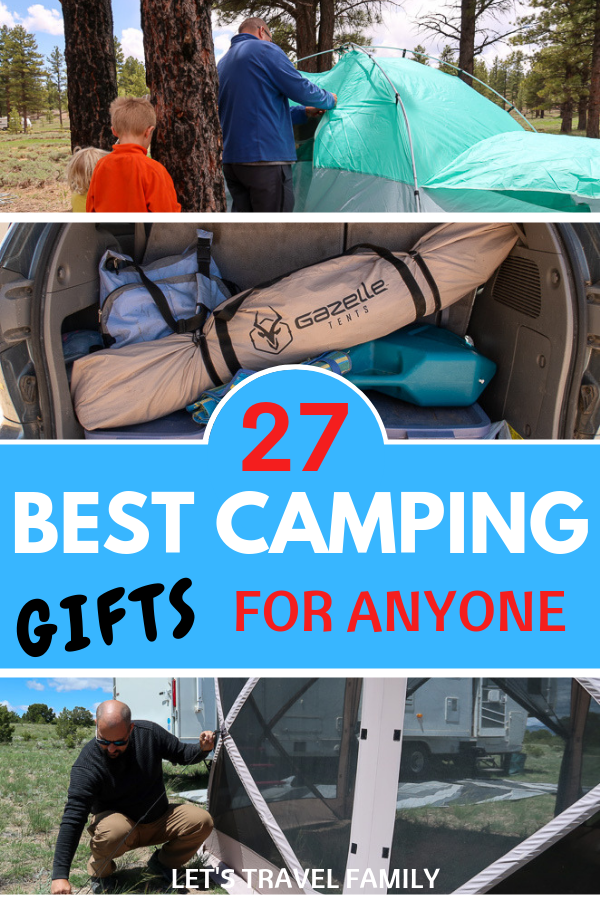 THIS ARTICLE MAY CONTAIN COMPENSATED LINKS. PLEASE READ OUR DISCLAIMER FOR MORE INFO.
Top 10 Camping Gift Ideas for 2023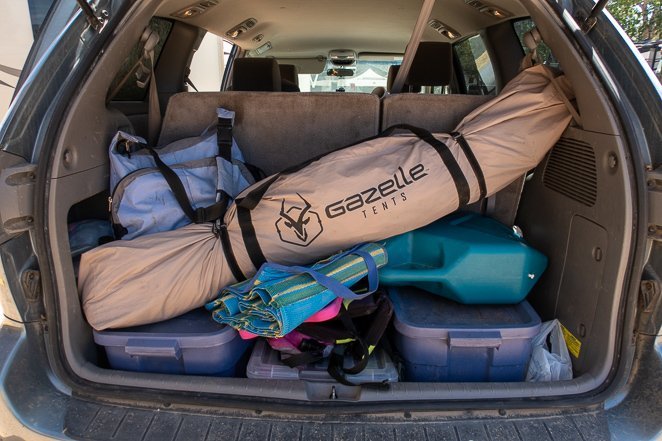 1. Tent
Tents are a must have for most campers. They are the most basic yet essential item for any camper we know. Even if you own an RV, you might want a screened tent to keep the bugs away like the Gazelle tent we have.
Gifting a great tent to your friend or family member might be a perfect idea.
It's best to find tents with inside pockets that are well made to keep the water out, and lightweight. Better yet, you can go for a minimalist one, edgy but convenient.
2.
Hammock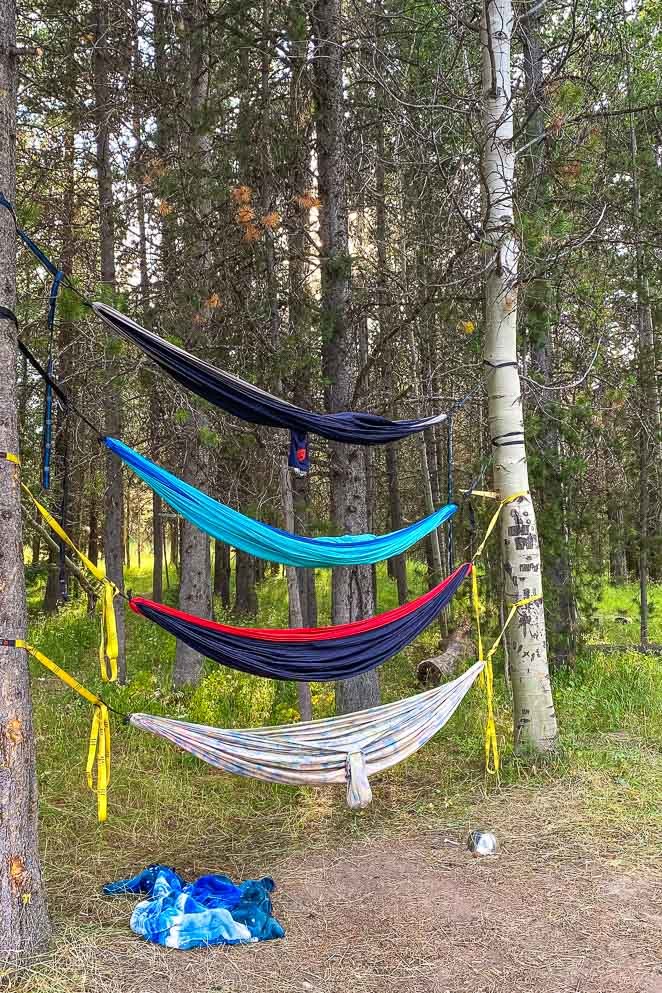 A hammock makes for the coolest camping gifts for just about anyone who loves to camp. They fold up small and don't take up much space, and are a great place to lay around and relax.
Click here to see our top pick on Amazon.
Now, if you're looking for one of the best camping gifts for couples, then consider getting a double hammock like this one!
3. National Park Pass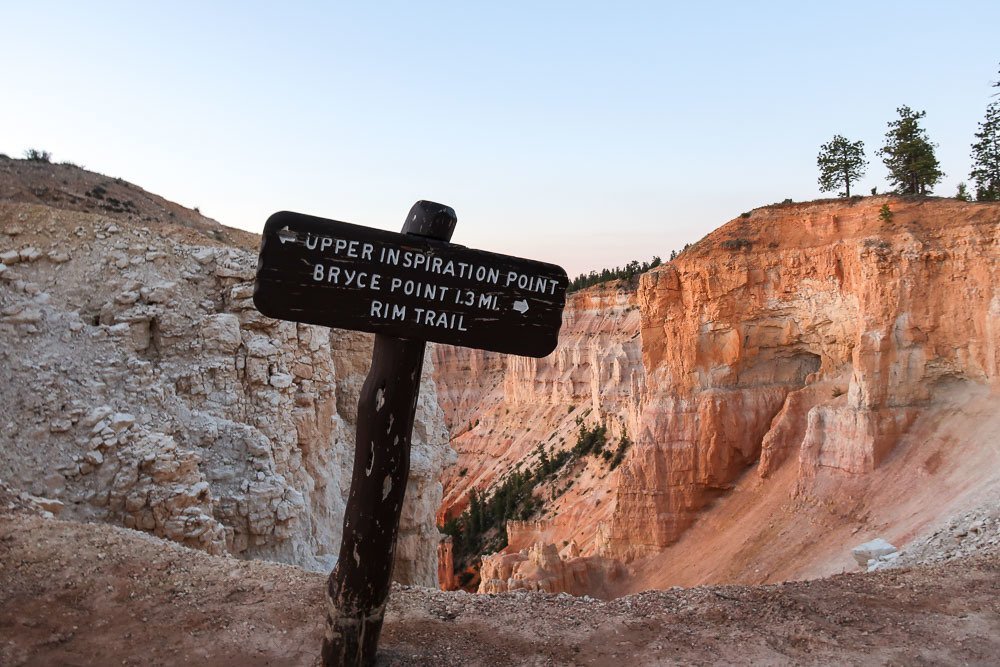 Camping in National Parks can be such a fun bucket list experience as a family. Going on the great outdoors and seeing the country together is one of the best ways to make memories.
If your friends or loved ones enjoy road trips and camping, then grab them a National Parks pass here! This will allow them to get into any US National Parks as many times as they want this year.
4.

Grayl Water Bottle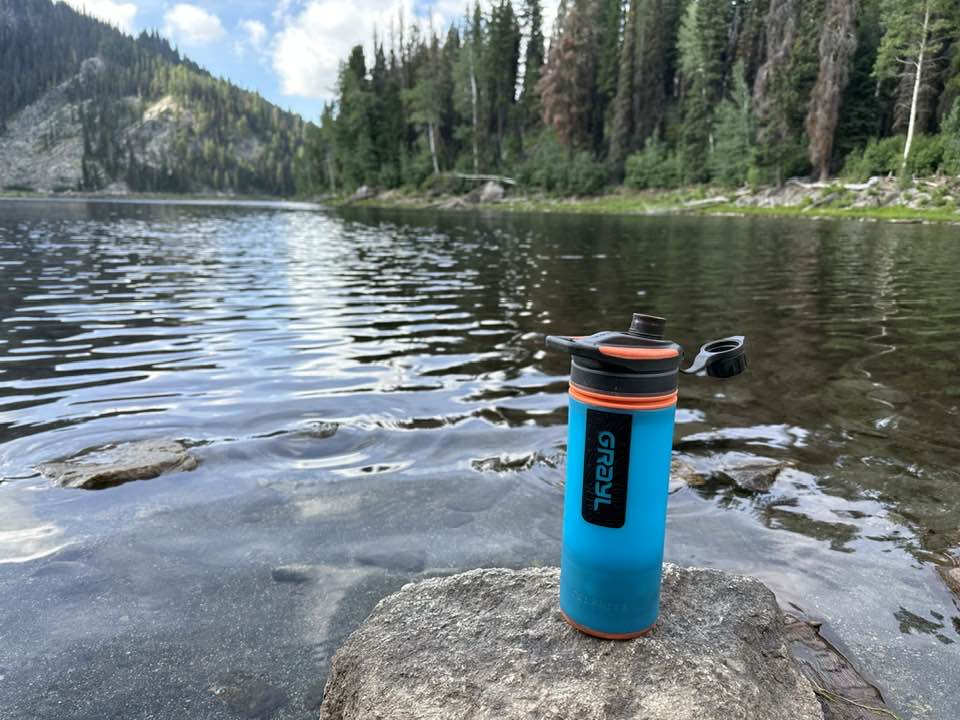 This water bottle is perfect for camping lovers. From backpacking to tent camping, or anyone who loves the great outdoors, this simple water purifying water bottle is a perfect camping gift. The Grayl water bottle is designed as the most versatile, fastest, and easy-to-use water purifier ever! You can scoop up water from the nearby lake or river, press down, and you have drinking water in seconds!
5. Grill Kit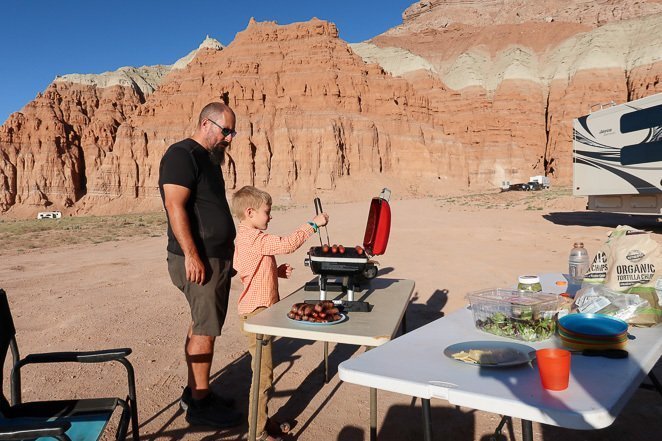 Here's us grilling on our car camping, or should I say, RV camping trip!
Camping just isn't the same without grilling up some delicious food. This stainless grill kit might be just the thing your friend needs.
With this set, they won't have to ask for more. The case that comes with it is also portable and easy to carry making it one of the useful unique camping gifts on our list.
Related Post: 15 Best Camping Utensils and Multi-Tools for Camping
6.

Hand Warmers or Body Warmers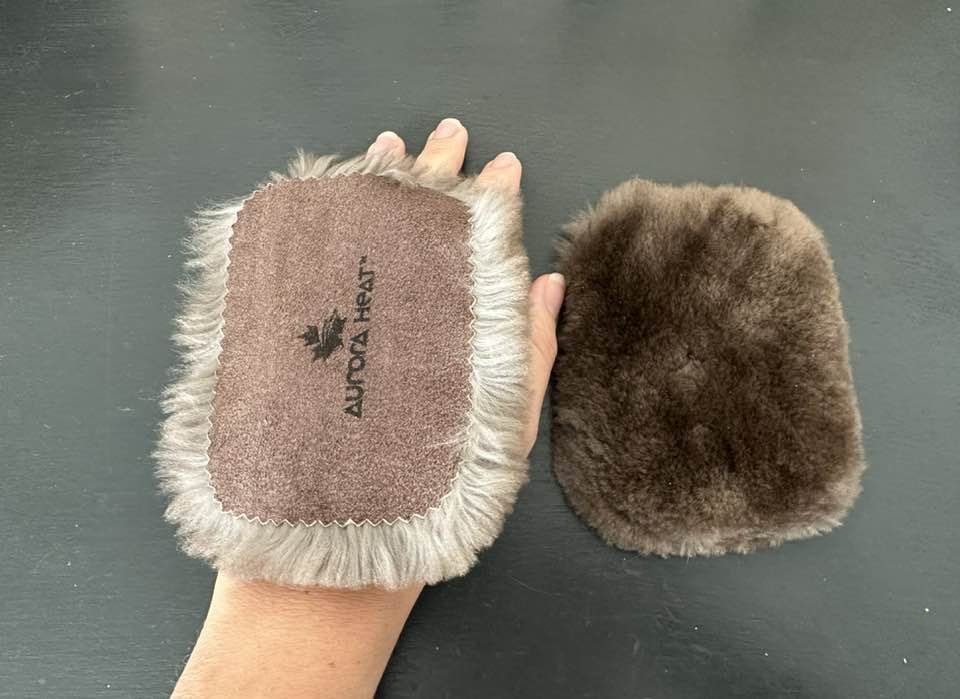 A unique yet thoughtful and fun camping gift is a set of Aurora Heat reusable hand warmers and body warmers. They are comfortably warm, sustainable, and easy to use to stay warm on those cold camping nights. These are INCREDIBLE and work for years to come!
Click here and use the code: LETSTRAVELFAMILY to save 10% off your purchase.
These are great for cold nights of camping, and also for great ski clothing too!
7. Camping Tables
Help your friends eat comfortably by gifting them a camping table. Not every campsite has picnic tables for campers like us, so we have to be ready and bring our own.
If you think bringing one is hard and impractical for your camper friends, think again because we found this folding table that can support many plates but can also be packed in the carrying bag that comes with it.
Check out our 2023 Guide to buying the best camping table here for a more detailed post.
8. Sleeping Bag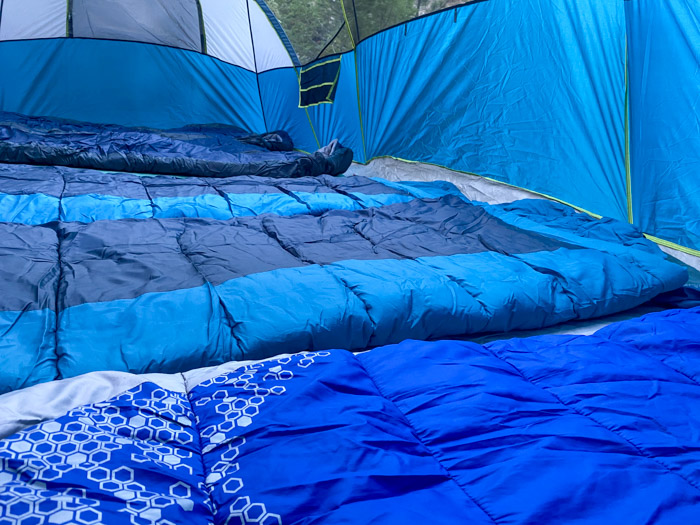 Second to a tent, sleeping bags is a must-have for camping. Now, your camping friends might have one already, but you could gift them a higher quality sleeping bag such as the 20-degree rating Marmot sleeping bag here.
Or, you could consider this fun double sleeping bag for a couple in your life. This is one of the best camping gift for camping lovers in your life.
It's unique and a way to stay warm in a tent together, either as a mom with a co-sleeping toddler or a couple who wants to share a sleeping bag or sleeping pad.
9. Water bottle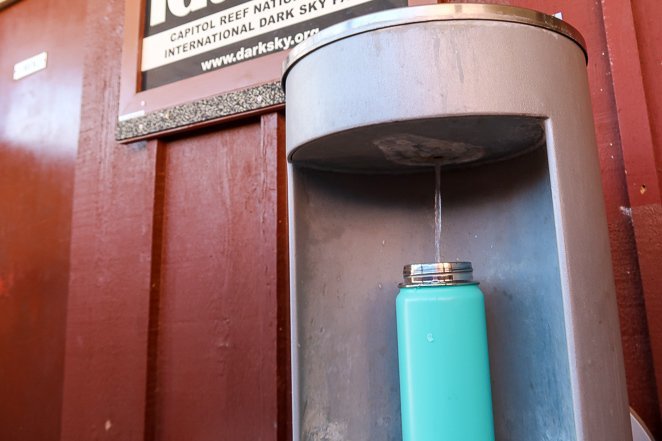 Campers have to keep hydrated, so gifting a useful water bottle is another great idea.
If you're looking for a small, yet very useful camping gift, then we recommend well-insulated water bottles made of stainless steel, which help keeps hot and cold drinks for a long time. Click here to see our favorite one.
Another fun water bottle idea for a camper in your life would be a collapsible water bottle like this one.
10. Lantern
One can't go camping without a lantern in hand. Lanterns are great tools to guide a camper's way and assure their safety while outdoors.
Stay safe with this waterproof and long-lasting camping lantern.
Or even better, you could gift your camping friend this solar powered collapsible lantern to take with them on their next camping trip.
Camping Gifts For Him
Wait, what about camping gifts for dad? We've got you covered with these different camping accessories that'll make a camper's day. Here are our three perfect camping gifts for men.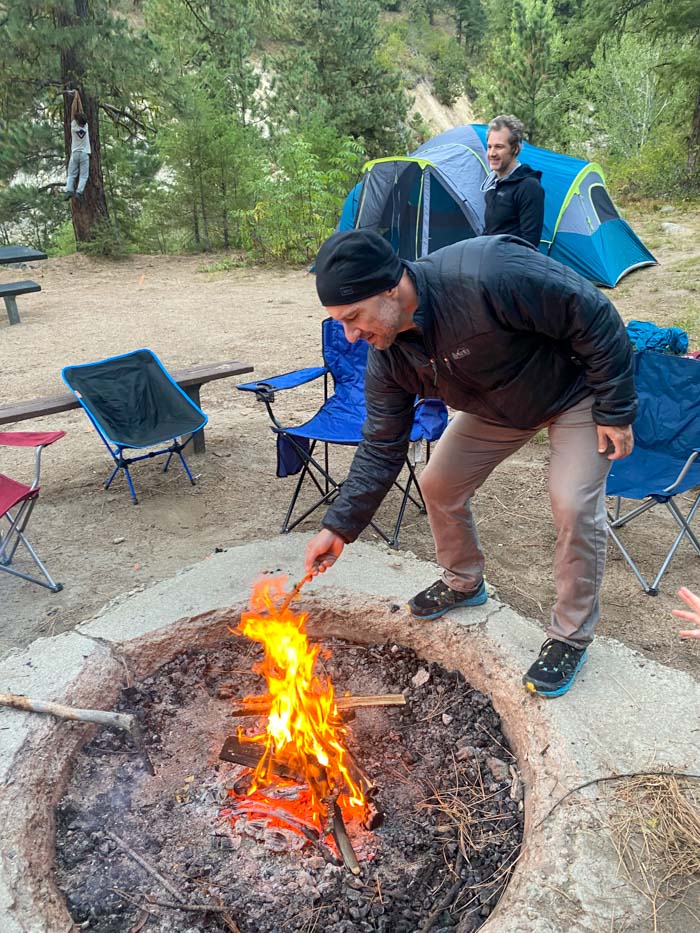 11. Fire Starter
Campers almost always make a fire each night to either stay warm by or to cook their food. A flint fire starter like this one can make a great stocking stuffer or small camping gift for him.
Or, a simple stormproof match kit can also be a great addition to your gift list.
12. Kuhl Clothes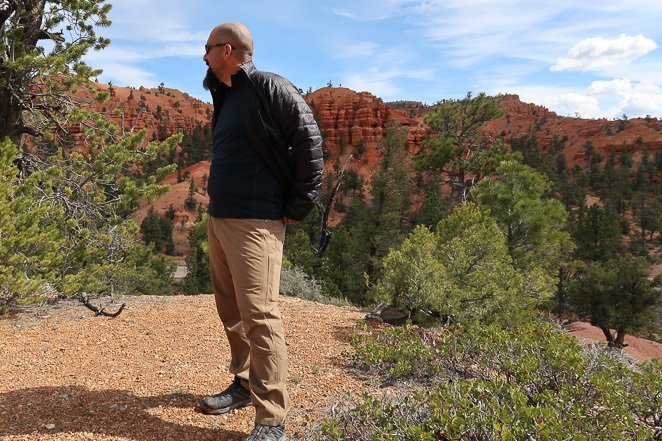 If you've been reading our blog posts, you'll know that we're fans of Kuhl clothing. Check out our tips on finding the best hiking and camping clothes here to get a more detailed account of hiking wear.
Clothes are part of the basic camping gear for anyone. And basic items like these should be given more attention than what it seems.
To play it safe, campers usually choose pants as their go-to hiking clothes, which makes it a good camping gift for Dad and your brothers. They'll love it.
Kuhl sent us the Kühl Radikl pants and Tony loved them!
The pants were cleaned easily with a damp towel when a melted energy bar dropped on it, we didn't even need to wash it to remove the stain. Find pants like this for camper dads you know and check out their wide variety of outdoor pants by clicking here.
13. Tool Kit
When enjoying outdoor activities, every camper should be ready for the unknown.
May it be a broken tent rod or a jammed camping table, you can fix it with the right tool kit!
Camping Gifts For Her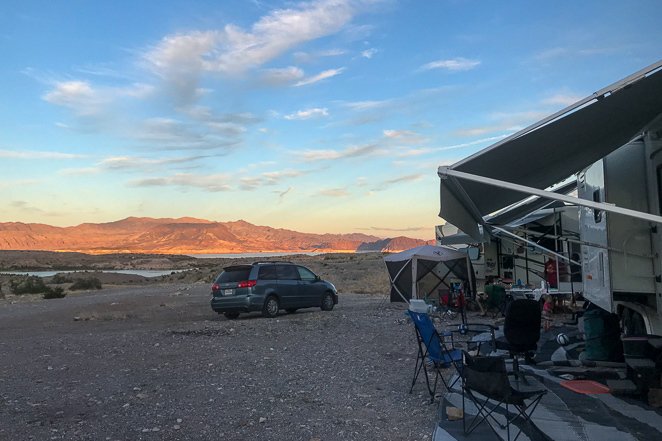 Most of us think that if it's a gift for mom and other female campers, it's better personalized. And yes, personalized camping gifts are nice and heartwarming, but there are tons of other gift ideas you can choose from.
Related Post: Unique Gifts for Outdoorsy Women
Here are three of the best camping gifts for women that we suggest.
14. Dutch Oven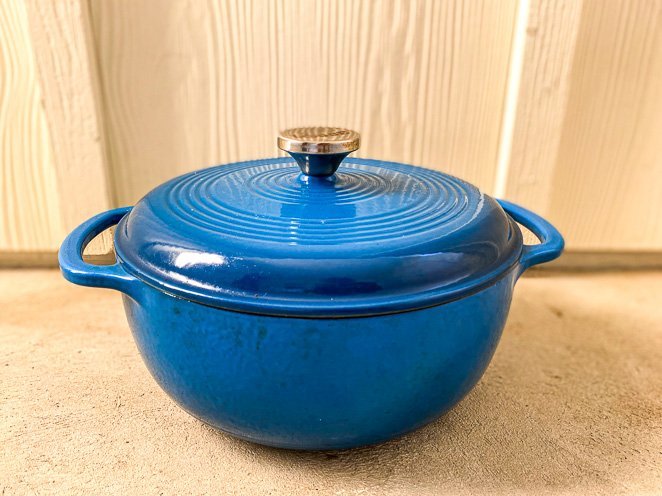 You can easily be confused about why a dutch oven is on this list, given that it's heavier than other pots. But that's the thing, a dutch oven's thick walls make it more resistant to strong fire and it can be used to cook different types of food.
Our top pick for a camping dutch oven is this one. Now, if you'd rather read a more detailed review of the best dutch ovens for camping then click here.
So if you're wondering about what to get your mom, this is a great camping gift for her.
15. REI jacket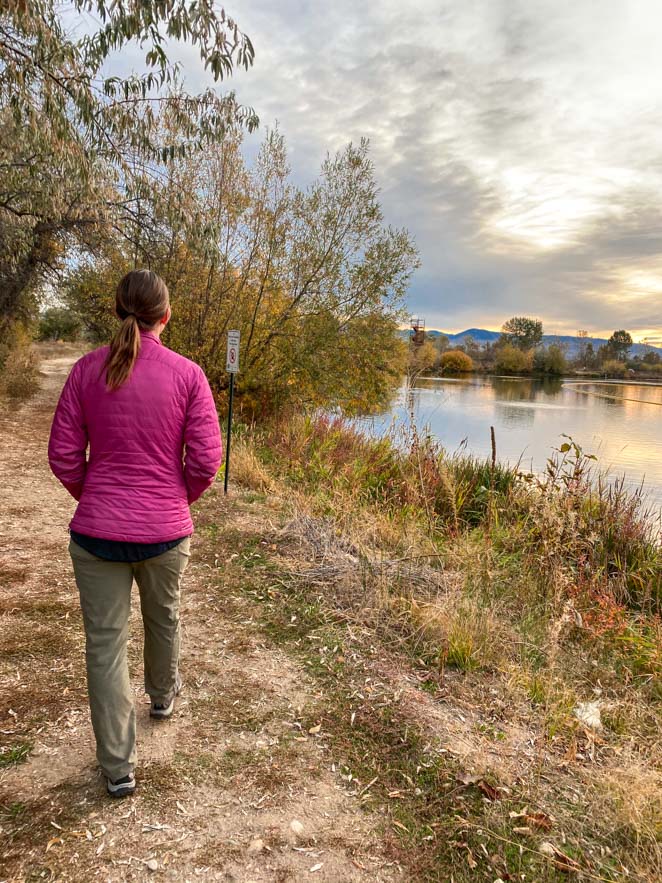 To help your camper friends brave through extreme weather conditions while outdoors, we recommend a windproof, breathable, and waterproof REI jacket.
It's so convenient that it can be packed down to a hand pocket. Campers can be warm AND fashionable with it. I love mine and have owned it for 3 years without any issues.
16. Camping Mat Seat
What about a camping gift for mom? A camping mat seat is one of the greatest camping ideas for her.
Help mom campers have space for playing with the kids with this foldable camping mat seat. Its moisture-proof pads won't disappoint you!
Camping Gifts For Kids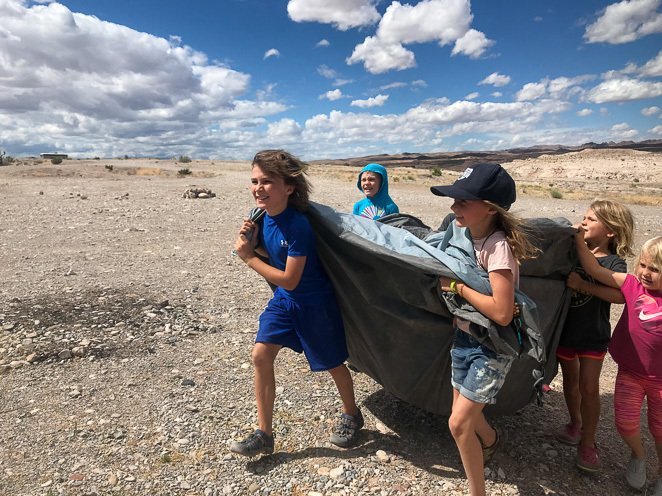 Kids always have fun with the littlest things. Help them enjoy camping with these fun camping gift ideas below, or click here to read our best camping gifts for kids.
17. Compressible Camping Pillow
It's not necessarily one of the camping toys but it sure is useful for pillow fights.
To help a child camper have a comfortable sleep, don't forget to give her a compressible camping pillow. Not only is this space-saving, but it can also help children feel more comfortable sleeping inside a tent and not in their own bed.
Check out this compressible camping pillow with soft foam filling and convertible to bags when not in use. They can even choose from adorable patterns and colors.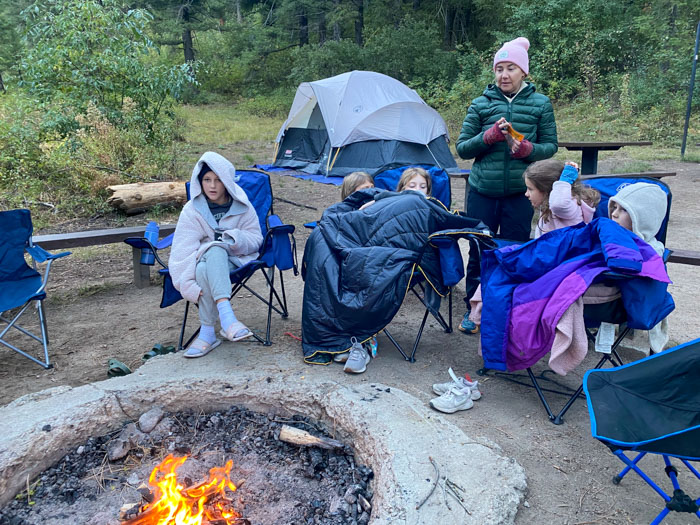 18. Flash Lights
One kid's camping gear that you should not miss out on are their flashlights.
They'll work great even as a gift for toddlers if it comes with a security belt.
Or, you can gift them kids headlamps so that they don't have to worry about dropping their flashlight on the way to the bathroom (or to find a tree) at night.
19. Camping Chairs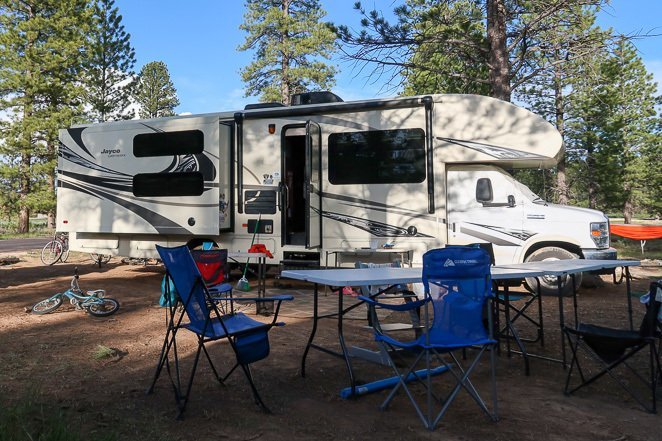 Kids get exhausted easily and want to be like their parents, so finding some fun camping chairs can be a great gift idea.
With these unique camping chairs for girls and boys (or both), they'll forget their exhaustion in a second. Easily foldable, with a portable cup holder, and comes with a carrying bag, you wouldn't want any other camp chair if you have these.
20. Slack Line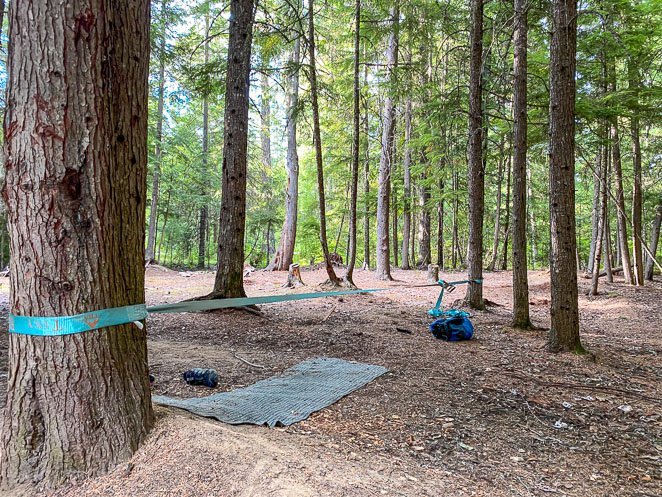 A unique and fun gift for kids while camping is a slackline. If you're not sure what a slackline is, it's like a rope and balance beam combined.
You hang it between trees like you would a hammock, but let the kids try to walk across it.
Related Post: 17 Best Nature Gifts For Kids Who Love The Outdoors
Unique Camping Gifts
There are just lots of possible gifts for campers but if you really want something more special, you can choose from this unique camping gifts list we made for you! If these don't spark your interest below, then check out our list of the best camping gadgets to come up with a few more ideas.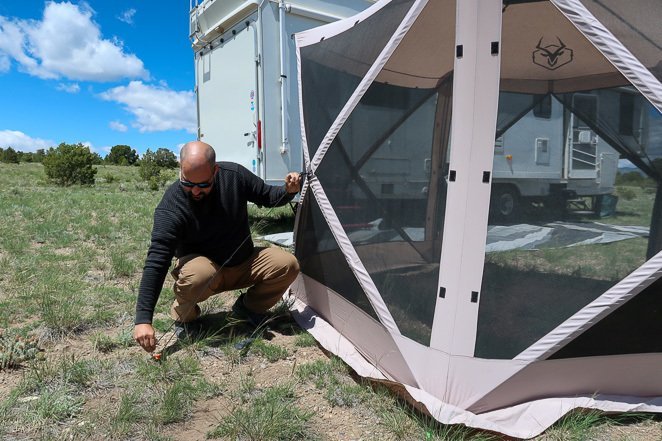 21. Gazelle Screened Tent
Step up your friend's tent game by gifting a gazelle screened tent!
This gazelle screened tent can house 4-6 people even with tables and chairs placed inside. Its walls of tight weave mesh are best to protect campers from even the smallest bugs. It even has UV and water-resistant roof.
We absolutely LOVE our Gazelle screened tent and use it often!
22. Travel Grill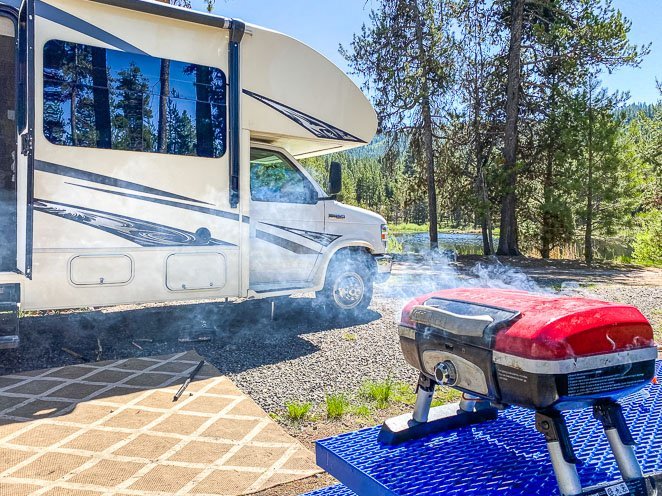 Let your friends grill the night away with this portable travel grill. It has enough cooking space for a family of 6 like us!
Complete with aluminum legs and stable feet set-up, this grill is the best choice for camping barbecues, burgers, and steaks.
23

. Propane Fire Pit
Want a no-mess campfire? This propane fire pit is perfect for campers!
This fire pit works well especially if they are planning to visit a place without a fire pit. It comes with a cover and carry kit to keep the propane tank concealed.
Read our full post on the best propane fire pit for camping here.
24.
Camping Stove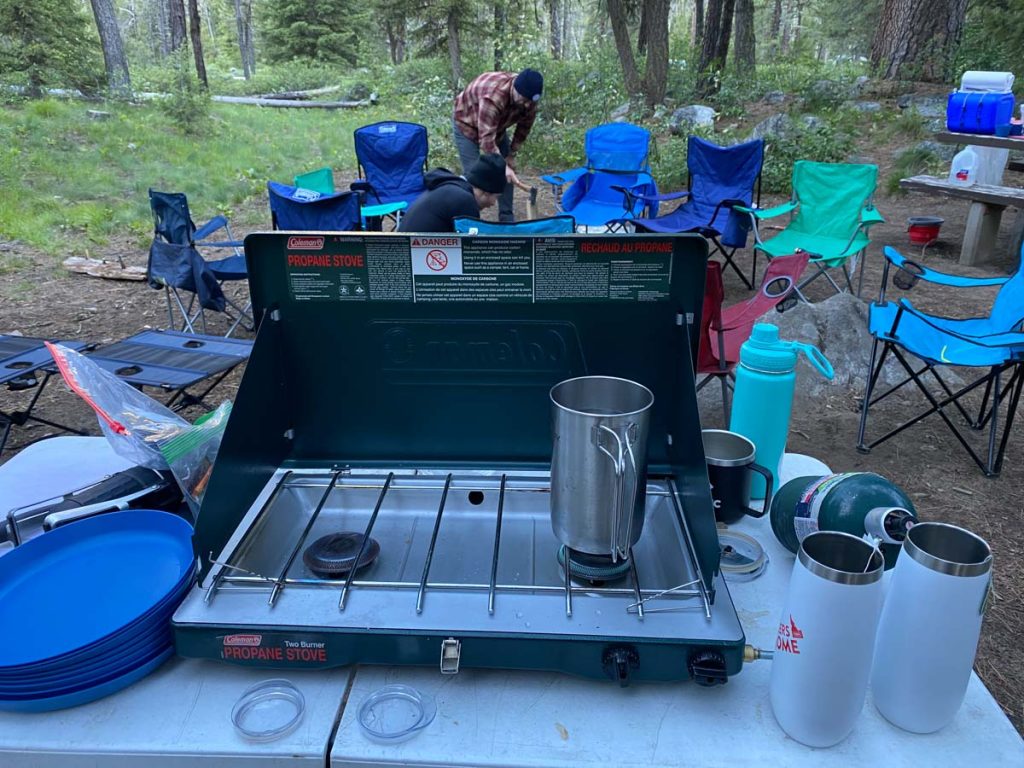 As a mom, one of the best camping gifts I could think of is a camping stove.
Eating is essential, and having a camping stove makes it so much easier. Just imagining those barbecues and kebabs is making me hungry.
Campers can't cook these foods if they don't have a reliable camping stove! Light and portable, this camping stove can surely make their camping menu better.
25. Indoor S'more Maker
A really fun gift for a camping lover during the cold winter months would be an indoor S'more Maker (think fondue style). This would make such a unique gift for the camper in your life, be it a child or an adult.
Best Camping Gifts For Everyone
Great camping gifts are those that are useful, unique, and of high quality. I hope that this list helped you to come up with a few new ideas for the campers in your life.
Looking for other travel gift ideas, then click here to see some more suggestions. Or, check out our list of the best RV gifts for the RV owner in your life. Lastly, this list of some unique hiking gifts might help spark a few more ideas.
Camping is fun, but the right camping gear can make it better. Help your friends and family have the best camping experiences with the gift ideas we listed above.