Are you planning on visiting Utah? Then you have to check out our top things to do in Capitol Reef National Park.
We suggest that you plan to spend at least one day in Capitol Reef National Park on your Utah road trip. Filled with canyons, cliffs, domes, and bridges, you won't run out of great places to explore. Keep reading to learn all about how to plan your trip to Capitol Reef NP.
THIS ARTICLE MAY CONTAIN COMPENSATED LINKS. PLEASE READ OUR DISCLAIMER FOR MORE INFO.
​Where Is Capitol Reef National Park
Where is Capitol Reef National Park? Situated in southern-central Utah, Capitol Reef is defined by the infamous Waterpocket fold!
Haven't heard of it before? Waterpocket fold is actually a geologic landform that shows a "step-up" in the rock layers with small depressions in the sandstone layer.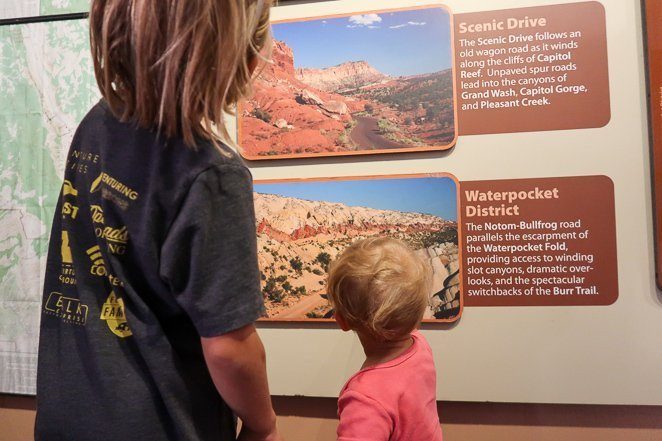 ​Waterpocket fold is also one of the reasons behind Capitol Reef's wide variety of activities! It stretches out to almost 100 miles from southern Wayne to northern Kane counties of Utah, making it possible to support various forms of recreation like hiking, backpacking, and horseback riding.
Capitol Reef is Northeast of Bryce Canyon National Park and West of Arches National Park and Moab.
This National Park's environment can cover a wide range of activities. From family-friendly tasks that can be offered by the orchards and campsites, to tough activities made possible by easy to strenuous trailheads in the park!
Capitol Reef is also close to four other national parks like Arches and Canyonlands, and many other destinations that you might want to check out if you're traveling with kids like we do!
Capitol Reef may be one of the must see places in Utah, but getting there can be quite challenging, too! Remember to check if you've got everything you'll need for the visit, because the nearest town, Torrey, is 11 miles away!
What Is Capitol Reef National Park's Weather Like?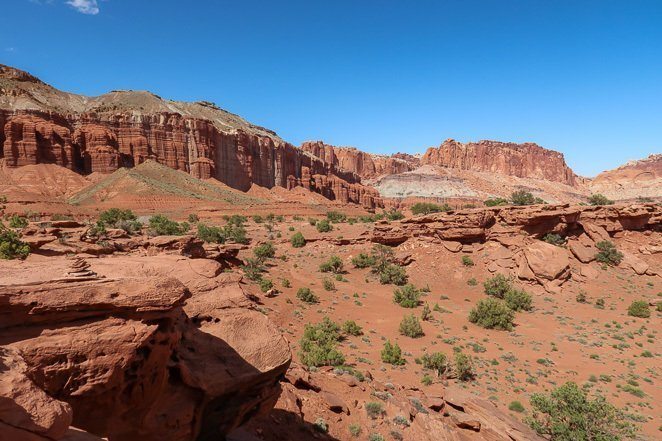 When you're planning to visit Capitol Reef, always keep in mind that it has a desert climate. It was surprising how it was so cool outside the park but the moment we got to the Visitor Center, we were already feeling so hot!
The Capitol Reef weather is cooler from Spring through Fall with lows in the 40s and highs in the 60s. Summer is a great time to visit, too! But beware that the summer temperature can be scalding with its highs reaching the 90s!
If you want to make sure that the weather is great the day of your trip, you can check out the National Weather Service or use one of our favorite weather apps on your phone that we talk about here.
Things To Do In Capitol Reef National Park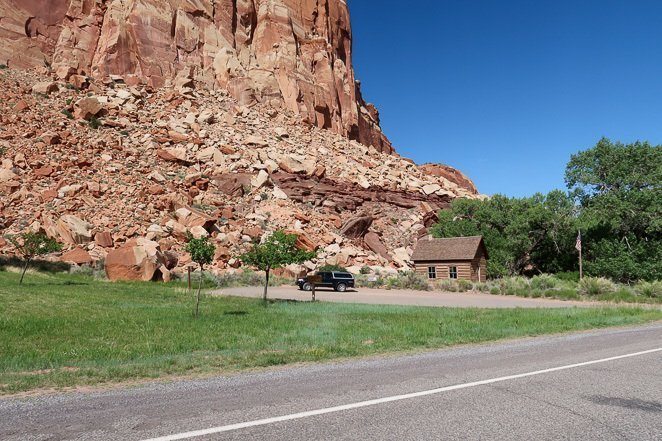 At this point you're probably thinking what is there to do in Capitol Reef National Park? The answer to that question is: a lot!
If you don't have a lot of time during your visit, don't worry. Capitol Reef can offer activities even for a two to three hour visit!
Actually, we weren't there for long ourselves, but we managed to make the most of our time and hope to go back for a visit again soon. That's what's so great about living in an RV full time and traveling with our kids.
​Together with a friend and two of our daughters, we stopped by the Visitor Center first while the dads drove ahead with the rest of the kids.
We then visited some trailheads which gave us quite the view! The colors are amazing and I couldn't help but take a ton of pictures!
We had such a great time there and we're hoping you could, too! It doesn't matter that we only got to spend one day in Capitol Reef National Park. We wouldn't trade that experience for the world!
Go On The Capitol Reef Scenic Drive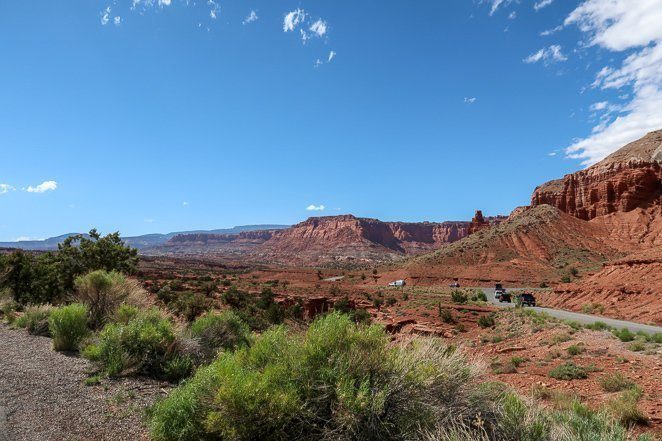 Let's dive into how to plan your visit to Capitol Reef National Park.
If you have at least half a day to spend, we suggest that you drive along the Capitol Reef Scenic Drive. It's not free but the entrance fee will be totally worth it! You can even have a tour guide with you!
The drive has a total of 11 stops that you can marvel on. The views and the majestic arches will surely enchant you along the 8 mile drive so go on and take your time!
By the time you get to the third stop which is the Grand Wash spur road, you will be introduced to a different landscape from the hills at the bottom of Capitol Reef. The canyon walls on this one are steeper and the road becomes more narrow!
Stop At The Capitol Reef Visitor Center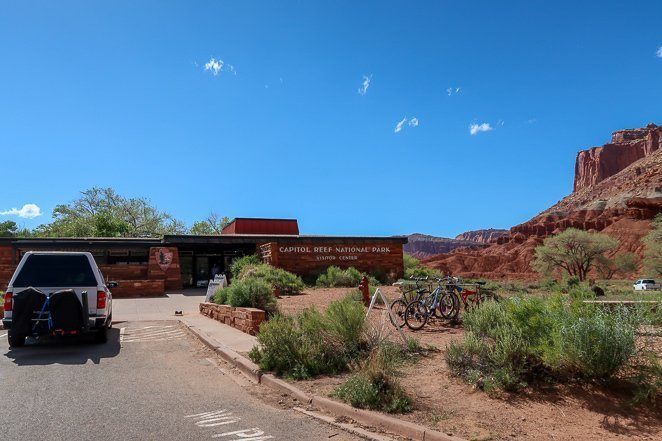 For your visit, we suggest that you check out the Capitol Reef Visitor Center first like we did! It is here that you can find out the current condition of the park like the weather, hiking trails, and if any camping is available.
This is where we got our Road Map, too, which is extremely helpful given that Capitol Reef has such a wide area!
Here, you can also ask about the ranger-led programs the park has to offer.
Forgot some essentials before coming? Don't worry the Capitol Reef Natural History Association sells some essentials like water and sunscreen along with maps, souvenirs, and books.
​Explore the Fruita Area
If you've got kids with you, we strongly recommend visiting the Fruita Area!
One of the best features of the Fruita District is the Orchard. You can pick some fruits here if they're in season and it's free if you eat it within the orchard. However, there will be a fee if you choose to take the fruits outside the Orchard.
If you've got more time to spare, consider joining a Ranger-led program in the Fruita Area and be a Junior Ranger. This will be so much fun, especially for the kids. How I wish we had enough time to do this!
Go Hiking in Capitol Reef National Park
One of the best activities to do in Capitol Reef is none other than hiking! If you enjoyed reading about our visit to Arches and Grand Canyon National Park, you'll surely love the arches and canyons of Capitol Reef, too!
With 15 popular trails, hiking in Capitol Reef National Park is a must! Leading you to views of arches and canyons, here are some of the best hikes in Capitol Reef.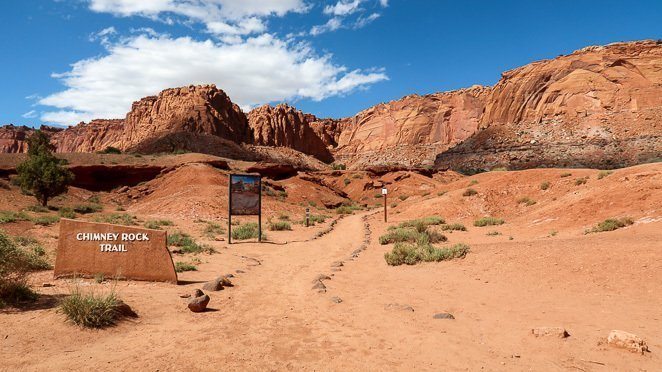 1. Sunset Point
Want to see the beauty of the sunset at optimum quality? Sunset Point is the perfect trail for you.
As one of the easy trails, Sunset Point can give you a good panorama views and is perfect for light hikes.
2. Fremont River
If you want a little more challenge, you can take the Fremont River Trail!
First, you'd have to stroll across the river which is pretty easy. The challenge comes from climbing the steep walls to reach the amazing view this trail has to offer.
​

3. Frying Pan
Determined to hike more than one trail? The Frying Pan trail connects two trails namely Cassidy Arches and Cohab Canyon!
Take your hike here and enjoy the ridgetop panorama.
Take Photos of the Beautiful National Park
What's the go-to souvenir nowadays when visiting any exciting new place? Photos, of course!
Even I took SO many pictures during our visit. The views here are THAT mesmerizing!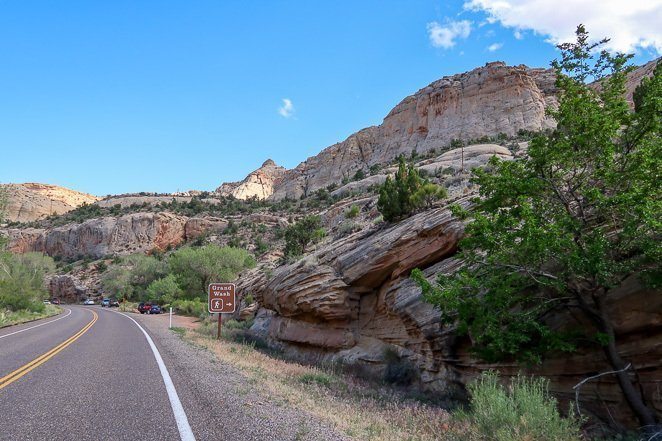 Deep canyons? Capitol Gorge has them!
Dramatic canyon views? Goosnecks can give it to you!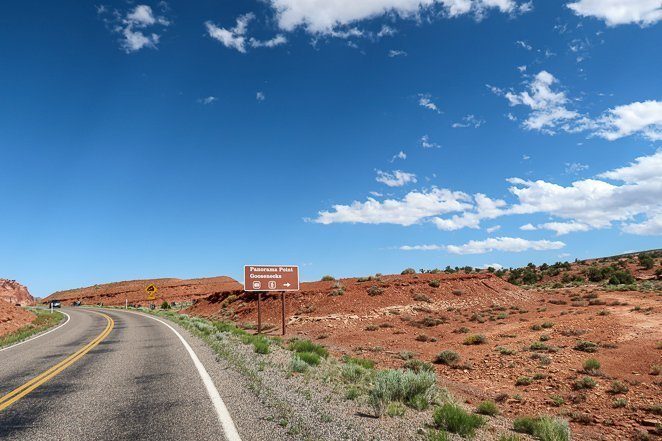 The perfect view of the Waterpocket Fold? Chimney Rock has got you covered!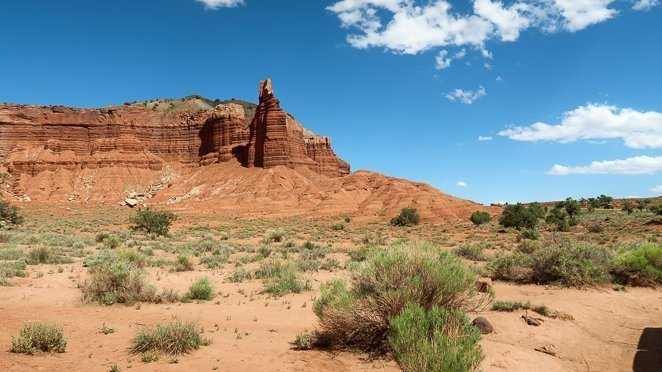 Every trail offers a different view, you won't get enough of it. If you think the views in the daytime are amazing, just wait and the night sky will enchant you when it comes. The night sky is definitely one of the things tosee in Utah.
​We didn't stay in Capitol Reef to see the view at night, however, we did enjoy the very dark nights while visiting Utah for over 2 months. Bryce Canyon National Park also had an amazing dark sky.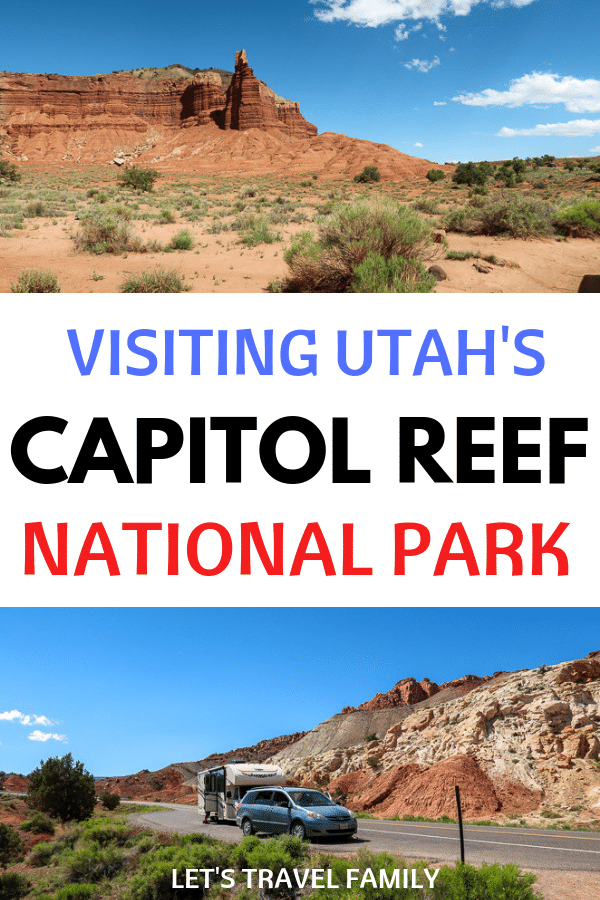 Go Camping In Capitol Reef National Park Utah
Camping is always a fun experience as long as you have all the items you'll need.
Capitol Reef National Park camping has several options. You can choose from developed camping, group camping, backcountry camping, and even primitive camping. Sounds exciting!
1. Developed Camping
For some, a capitol reef camping experience is the best option. Staying inside the park at the developed campgrounds offers more amenities than boondocking outside the park.
For families, the Fruita campground is a great option. The picnic tables, restrooms, and water they offer in the campground are worth the fee.But if you want to make sure that you'll have a campsite when you get there, it is best to reserve online ahead of time.
2. Group Camping
Group campsites are more pricey and is only open seasonally. Keep in mind that these campsites are on maintenance for two days a week! You also have to reserve ahead of time.
3. Backcountry Camping and Primitive Camping
Want to camp on your own? That's quite adventurous of you and we totally support it!
Apply for a free backcountry permit and you can camp out of the designated capitol reef campground.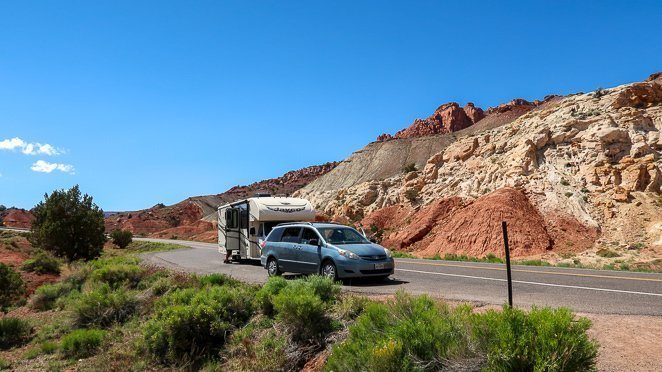 ​

4. Boondocking Outside The Park
If you love free things then this is for you. Camping on BLM land outside of Capitol Reef allows many RVers to visit Capitol Reef and stay for FREE. Many friends of ours highly recommend staying either at Capitol Reef Overflow, as labeled by Campendium, on just West of the Park. Or, if you want to stay East of the National Park then check out Pleasant Creek Dispersed.
Side note, we love boondocking and created an ultimate guide to free camping and boondocking here if you want to check it out.
During our short visit we stopped by both locations and there was decent cell signal and amazing views! Keep in mind, if you are a digital nomad like our family and need the internet, there is NO cell signal at all inside the park. So boondocking outside the National Park may be your only option.
Capitol Reef National Park Lodging and Hotels
The only Capitol Reef National Park lodging available are the campsites they offer. There is no other lodging options within the park. However, there are some camping alternatives, lodging, and hotels near Capitol Reef.
If you're going to spend the night out of the park, you might as well choose an accommodation in Torrey, the nearest town to Capitol Reef. Click here to check out the latest rates and availability.
​The Noor Hotel is one that is at the edge of Capitol Reef. It is also said to be the best lodging for a two person trip!
Days Inn by Wyndham Capitol Reef, 3.7 miles away from Capitol Reef, is well-loved by those who visited.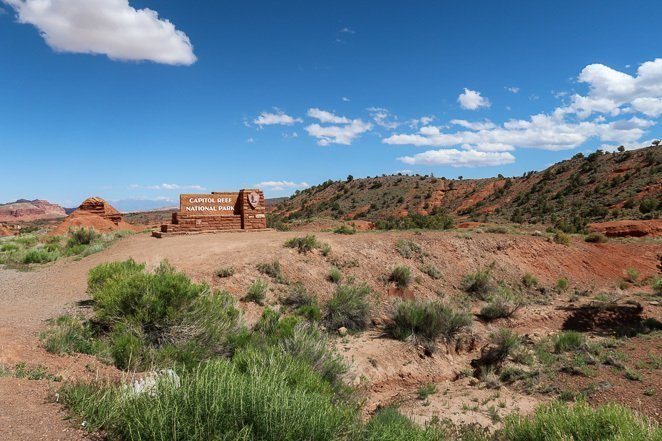 Capitol Reef was a quick visit for us, but it sure was worth it! If you have a chance to visit, take a few days to really explore what the park has to offer. Who knows? You might cross out some things from your bucket list like we did during our travels!
If you're traveling out West and looking for more ideas on other National Parks to visit check out Great Sand Dunes National Park in Colorado or plan a Yellowstone trip!
If you're worried about traveling with kids, you can check our reason why we travel with our kids, too!
What do you look forward to seeing and doing when visiting Capitol Reef? Tell us by commenting below!
Let's Travel Family is a participant in the Amazon Services LLC Associates Program, an affiliate advertising program designed to provide a means for sites to earn advertising fees by advertising and linking to amazon.com, amazon.co.uk, amazon.ca. Amazon and the Amazon logo are trademarks of Amazon.com, Inc. or its affiliates.