Are you new to camping and don't know where to start? Looking for the most useful camping tips for beginners? Or, has it been a long time since you pitched a tent or set up an RV? You are not alone!
After taking my four kids out tent camping alone last summer, not to mention living in an RV and traveling the USA with my husband and kids for almost 3 years, I've created this useful list of camping tips and tricks for beginners to help YOU be successful on your next trip.
First, I'll dive into simple camping advice for beginners that will make your life easier. Then I'll share some specific tent camping tips. Lastly, I'll share a list of first-time camping essentials.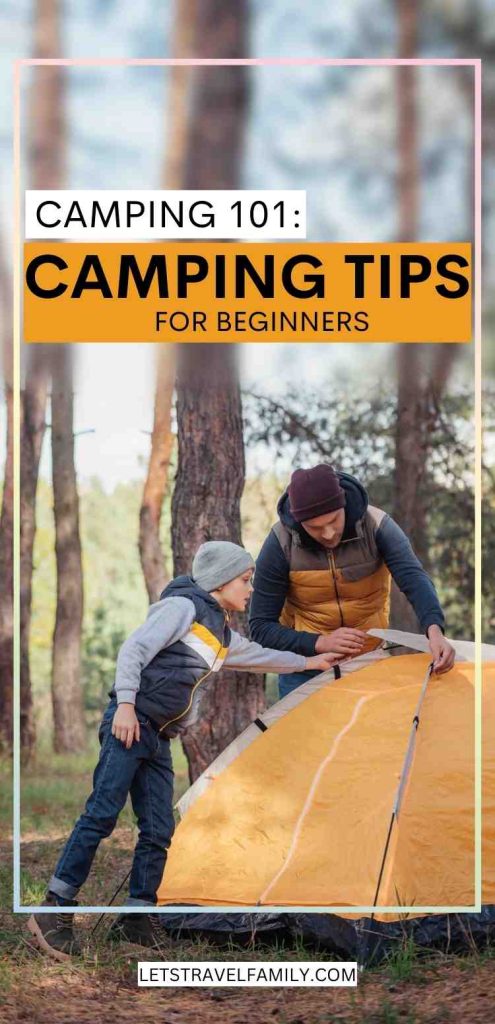 THIS ARTICLE MAY CONTAIN COMPENSATED LINKS. PLEASE READ OUR DISCLAIMER FOR MORE INFO. THIS POST WAS WRITTEN BY JILL GREISING-MURSCHEL, A FAMILY TRAVEL AND RV LIVING EXPERT.
Camping Tips For Beginners
If you're camping for the first time, you should read up on these camping tips and tricks for beginners so that you are prepared. Camping can be a lot of fun but beginners need to do a little research first.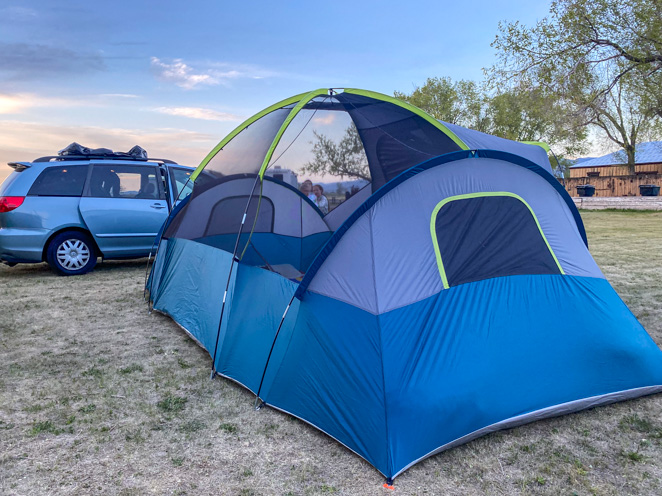 1. Print Out Beginner Camper Checklist
Prepare camping checklists long before the trip. It's easy to forget camping essentials when camping near your home, let alone on a faraway camping trip!
Or, continue reading to learn how to be prepared.
2. Begin By Camping Nearby
If camping for the first time, start camping nearby so you can learn before attempting camping in a remote location. That way if it rains or you want to end your trip a day earlier than expected, it won't take long to get home.
You may even want to consider camping at a campground with a bathroom and shower for your first experience camping in a tent. This can help you feel more confident about where you are setting up a tent and you'll have other campers around if you need to ask a question or two.
Finding a National Park or State Park campground close to home might be perfect for your first time out camping.
Camping fees for such campgrounds vary, so be sure to check out our explanation of campground prices before booking anything.
3. Bring A Buddy Or Your Family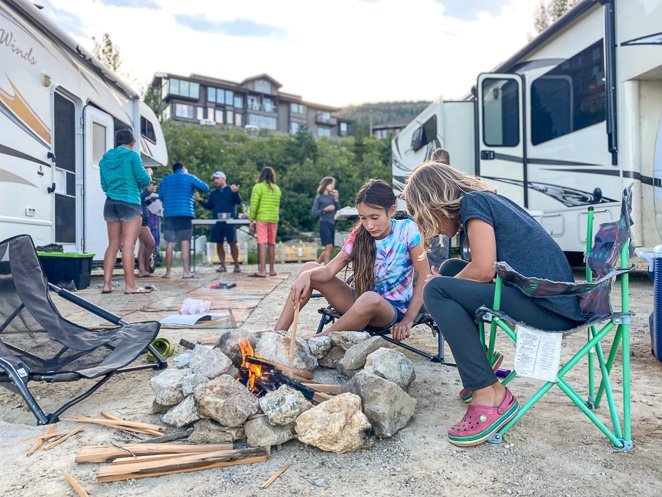 It's way more fun camping with a friend or loved one. They can help you carry equipment, pitch the tent, set up the fire pit, – not to mention it would be lonely camping by yourself!
If camping with friends or family, make camping night plans together so you're camping in an area that's great for everyone. Such as camping in National Parks.
4. Pack lots of Snacks
Bring snacks and easy-to-make foods so you don't have to bother with cooking much during your camping trip. Sandwiches, hot dogs, and trail mix are common and simple foods to bring along. You may also consider bringing pre-made muffins, granola bars, and hard-boiled eggs in your cooler.
5. Consider Borrowing Camping Gear Your First Time
To avoid the investment and hassle of purchasing all of the camping supplies you'll need your first time out, consider borrowing camping equipment from a friend before camping for your first time. Yet, if you are going to buy camping gear then check out our camping accessories list to see what you should have on hand.
6. Find Level Ground
Pitch your tent on flat ground so you don't get stuck camping in mud and water. You'll be grateful you took the time to do this if one night it rains.
7. Bring Extra Sleeping Bags or Blankets
Make sure to bring high-quality sleeping bags like this one and consider warm clothes to sleep in if it's cold outside so you can sleep comfortably at night.
8. Bring A Flashlight.
Bring a camping flashlight for nighttime so you don't trip over anything and hurt yourself. You want to see where you're going when it's time to relieve your bladder in the middle of the night.
One of the best camping hacks for beginners is to wear a headlamp like this one when you go out to use the bathroom or to find a tree in the middle of the night. You won't have to worry about dropping it and you can see what you're doing.
9. Avoid Camping During The Hottest Or Coldest Days.
If it's your first time camping, you don't want to challenge yourself too much where you may walk away feeling like your campaign experience wasn't fun at all. That's what could happen if it's too hot or too cold during your first camping trip.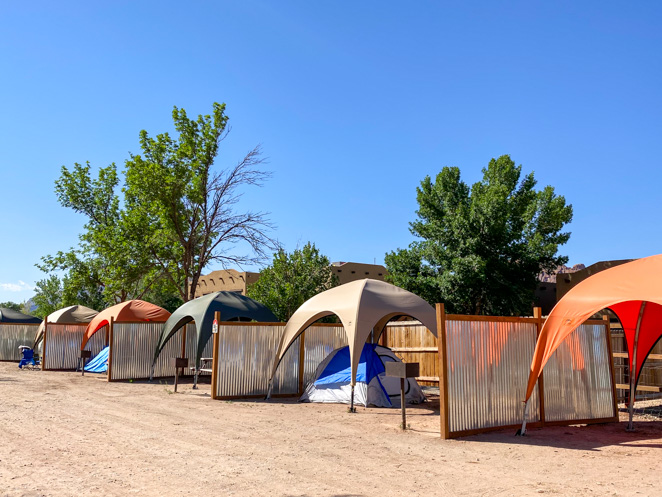 For example, our family went camping in Moab, Utah with our kids during the month of May. Before we booked our campsite, I did some reading online to learn that during the month of May the temperatures are beginning to get pretty hot during the day but are still cool at night for sleeping.
I knew that as long as we got the kids into the campground pool, visited Arches National Park in the morning, or hiked along the local river like we did, we could cool off during the hot days and still sleep comfortably at night with the cool desert temperature.
10. Bring Extra Drinking Water
Water is a camping essential that's often forgotten. You need water to drink, wash up, and cook with. So I recommend camping near a water source such as a lake or stream, or at a campground with freshwater offered.
Just be sure to bring a water filter along if you plan to grab water out of a stream, or a collapsible freshwater camping container like this one to fill up at a campground.
Tent Camping For Beginners Tips and Tricks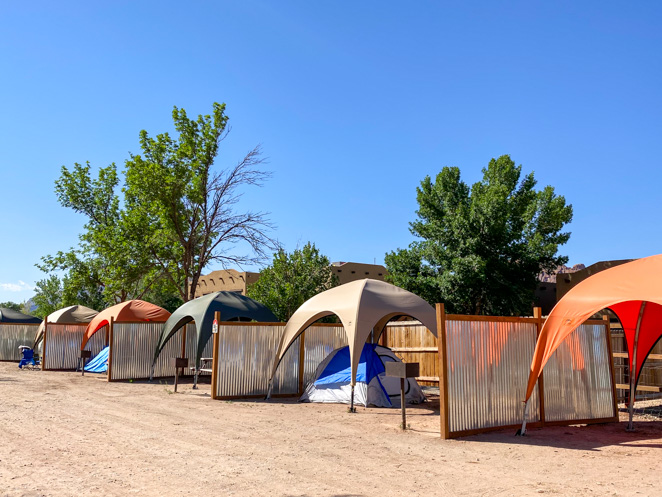 If you're brand new to tent camping, then consider booking a campsite at a state park campground, National Park campground, or a local private campground such as the KOA in Billings, Montana. This will usually provide you with access to public bathrooms and a designated campsite when you arrive.
Next, be sure to arrive at your campsite with plenty of daylight remaining. This way you'll have great lighting to set up your tent. Eat a quick snack before diving into this big project, so that you have the patience and energy needed. If you have kids helping you, give them the simple job of finding all the tent poles and laying them out for you.
Be sure to set up your tent on the tent pad provided by the campsite, or find level ground if they don't provide you with a tent pad. Also, make sure there's enough space between the tent and where you plan to do your cooking. You don't want to have your tent catching on fire.
First Time Camping Essentials and Camping Gear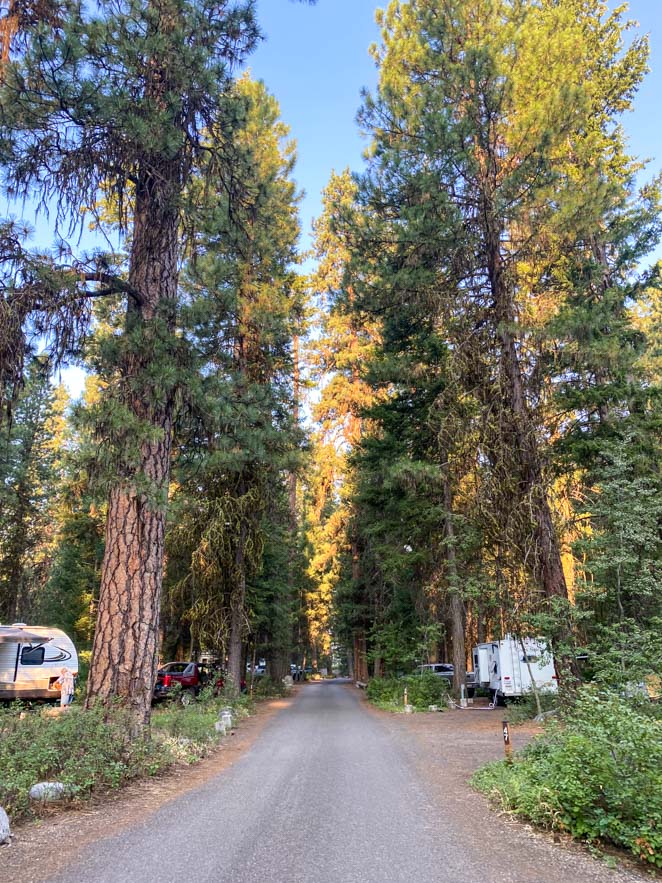 In order to make your first few times out camping a success, you'll want to have the right beginner camping gear to get started. These can be borrowed, used gear, or newly purchased items.
The first time camping essentials for beginners are:
Tent
Sleeping bag
Camp stove
Camping table
Cookware
Camping lanterns and flashlights
Camp chairs
First Aid Kit
Sleeping Pad
Food storage container
Flashlight
If you want to read a more detailed post with a list of the best camping accessories then click here.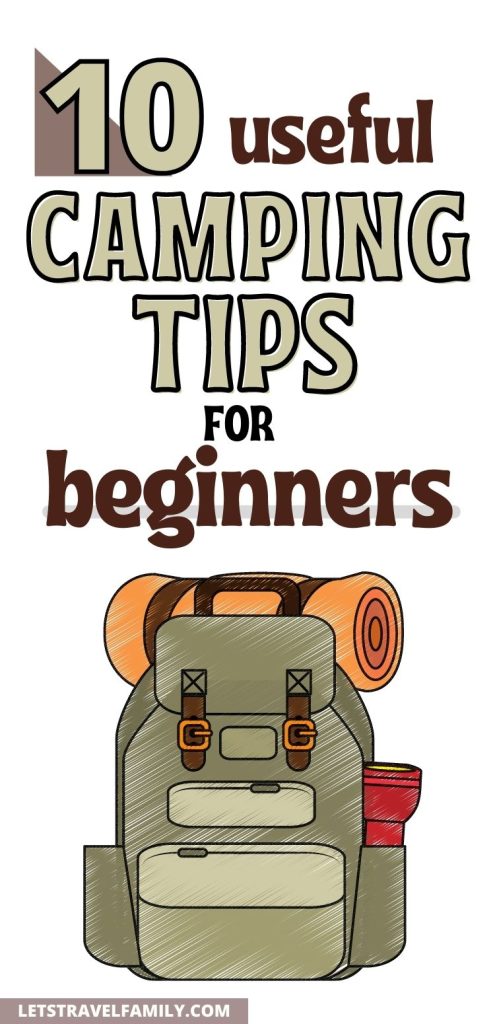 Related Posts:
Average Cost Of Camping
Fun Things To Do While Camping
Best Camping Gadgets