What is the average cost of camping?
There are many camping options out there and not every campsite comes at the same price. Knowing the possible price range may help you decide on which campsite fits your budget the most. So what is the average cost of a campsite?
Camping is not always free. Although there's a free option which is often referred to as boondocking which involves camping without any hook-ups or amenities.
So if you're not looking to go camping on BLM land and be fully off grid, then you are going to want to find a campground, and campgrounds have fees.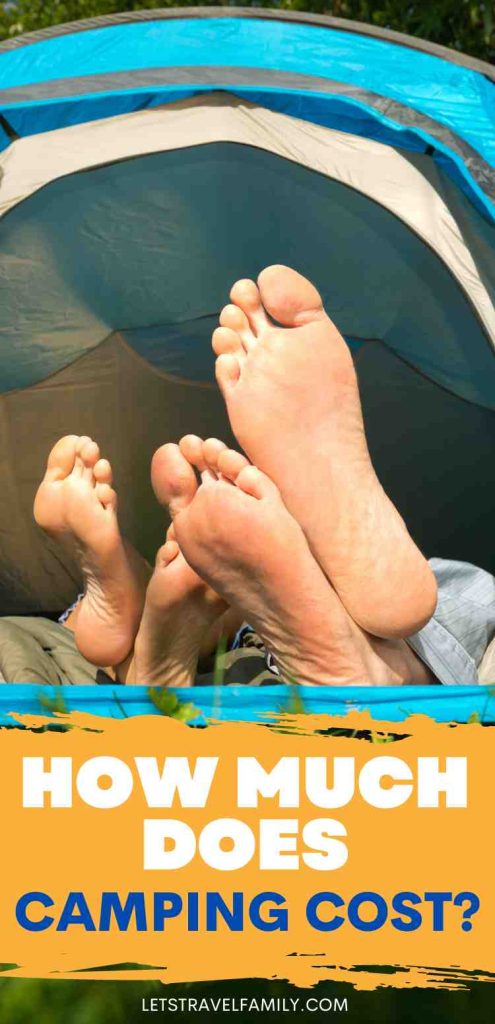 What Is The Average Cost Of A Campsite?
The average cost per night depends on several things. It can be different for each state and for different campground types. A lot of factors can affect the price of a night's stay in a campsite.
You can stay in a campsite in a resort, a state park, a national park, a county park, or a private campground.
So, where do you plan to camp next and how much will it cost?
Below, we'll have a more detailed summary of costs for the different types of camping.
First, I want to make sure that you understand that there are many factors that may affect a night's stay at a campsite.
THIS ARTICLE MAY CONTAIN COMPENSATED LINKS. PLEASE READ OUR DISCLAIMER FOR MORE INFO.
Factors That Affect The Campsite Expense
As you read further on, you'll see that we share some numbers to help you better understand the fees. The following factors are considered as we dive into the explanations.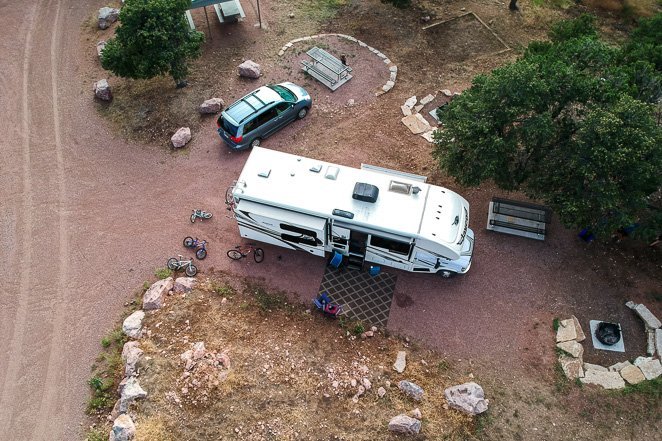 Booking Fee
Expenses start with booking. Reserve America, which is used for National Park campground reservations and many State Park reservations as well, has an extra fee that is non-refundable.
You should also consider the cancelation fees and policies when booking a campsite.
Remember that campgrounds that can be reserved are often fully booked 6 months before the date, especially with how popular camping and RVing has become.
If you want to avoid booking fees, you can opt to stay in a first-come, first-served campground. Though there will be no assurance that you'll secure a campsite until the day itself so my best tip there is to arrive during the week, not on a weekend.
Campground Cost Based On Season
For every destination, there are high seasons and low seasons. Like how winter camping is VERY busy in Florida, so rates might be higher.
The good news is that during the low season, there's also the possibility that rates can be much cheaper!
Campground Cost Based On Campsite Type
Back in vs Pull through

for RV Camping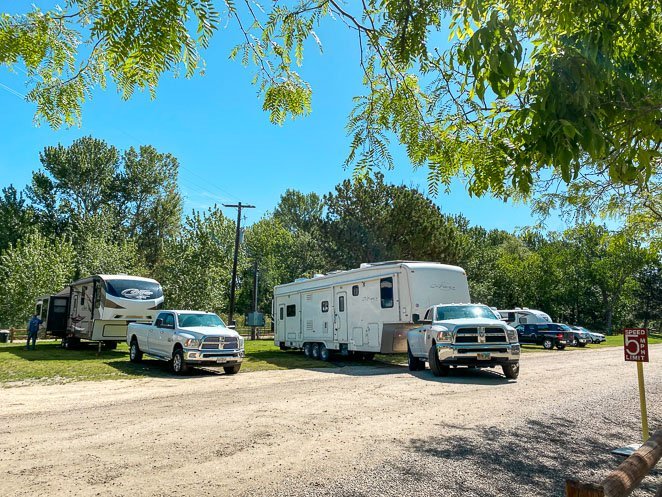 Pull throughs are seen as more convenient because you'll only have to drive in and drive out of your campsite, without worrying about having to disconnect or back in.
Pull throughs are usually longer than back-ins. So if you have a larger RV and truck set-up, a pull-through might be your preference.
Because of these advantages, pull throughs are usually priced higher relative to back-ins.
Cement pads vs Grass or Gravel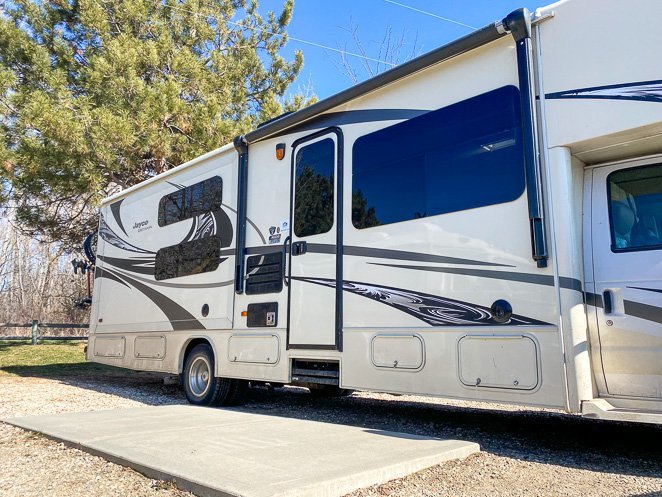 As you may expect, concrete is the best material for an RV pad or any vehicle for that matter to drive on and be parked. The campsites are also most likely very level if they are paved.
This is why campsites with cement pads are also likely to be more pricey than grassy campsites.
Included In The Costs
What's included in your campsite fee? Full hook ups, water/electric, or are you dry camping? Remember, full hook-ups means you will have power, fresh water, and sewer at your campsite.
Now, if you stay in W/E then you'll just have fresh water and electricity at your campsite, and you'll need to move later to use a dump station.
Will you have access to a bathhouse with showers and flush toilets? Is there a playground or a fenced-in dog park?
Inclusions like these have an effect in the campsite's fees, so remember to take note of the campsite's details before deciding on booking.
Possible Additional Costs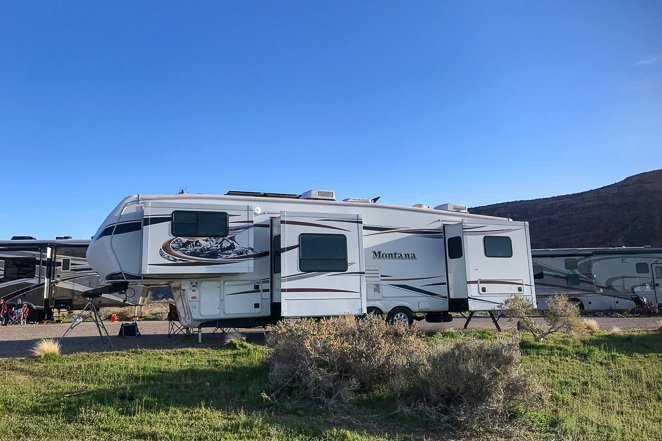 Extra vehicle fee
Most campgrounds only include one vehicle for their rates so an additional one would mean additional fees.
If you drive a motorhome and tow an extra vehicle, they usually don't add an extra vehicle fee. However, if you drive your motorhome separately than your extra vehicle like we do with our Class C, then you may have to pay an extra fee.
Extra-person fee
Campsites are not always priced per person BUT there is almost always a limit to the number of persons included in the fee. It's fine to have more but it would also mean having to pay extra person fees.
Most campsites include up to 2 people, while there are many that include up to 6 people in the baseline rate.
With campground membership, some of these fees can be minimized if you're camping in a national park campground.
Average Cost of Campsites – Costs included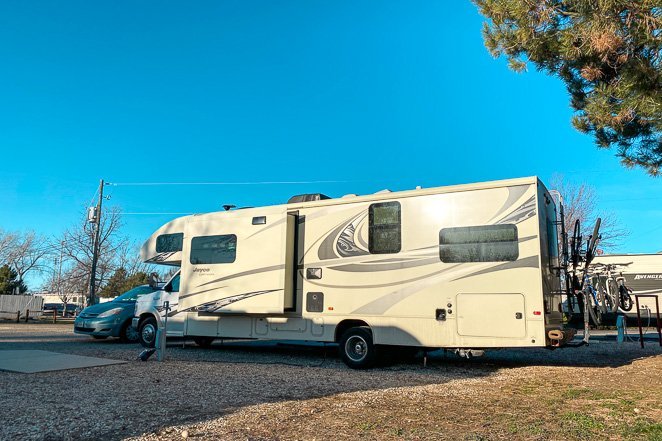 Average Cost – RV Resort
Not to be confused with RV campgrounds, RV Resorts are fancy establishments in great locations. This is why staying in an RV Resort is more expensive than the average campground rates.
Among these fancy resorts are even fancier ones that are considered "luxurious".
Based on our data from 12 RV resorts all over America, the average cost for a campsite during the low season is $40-$50 and $60-$100 for peak season. The price can even go up to mid $200s if it's a luxury resort or located in very expensive areas.
Back in campsites are priced at $35-$40 while pull-through sites at around $50-$65. The average for campsites with concrete pads is $50-$65.
Average Cost – Private Campgrounds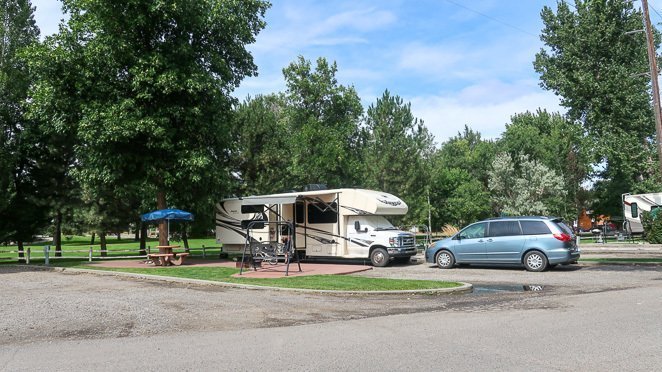 There are many campgrounds out there, both public and private. One of the best known are KOA Campgrounds which you can find in almost every state. Unlike RV Resorts, private campgrounds like these also cater to tent camping.
The rates for tent camping are around $30 and can go lower in the mid-$20s during off seasons and up to $40 in peak seasons.
Meanwhile, rates for RV campsites are more varied. Standard RV campsites cost $35-$50.
However, the price can reach $60-$100 for campgrounds in premium locations (like the oceanside).
For example, campgrounds in Florida cost $90-$130 in summer or winter due to the good location and peak seasons. In other seasons, the price still stays in the $60-$90 range.
For other campgrounds, it costs around $50 on low seasons and $60 for peak season.
The average cost for each extra person is $3-$4 for kids and $5-$10 for adults. For an extra vehicle, you'll have to pay $5-$8.
Average Cost – State Park Campgrounds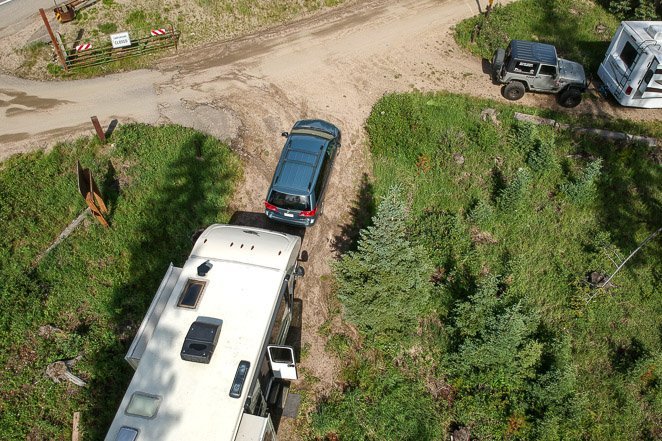 State parks are easy to find since there are more than 10,000 state parks all over the country! Also, it's an affordable location for some good camping.
Thankfully, state parks accommodate tent camping, primitive camping, and RV camping. Here are the average rates for a stay in a state park campsite.
The average cost of a tent campsite in a state park is $20-$30. The rate reaches mid $30's during peak season.
For RV camping, it's in the $30-$45 range, depending on if there are partial or complete hookups. In more expensive areas, like Delaware on the East coast, the range starts at $40 and reaches $59 during peak season.
For every extra person over 6 (most of the time), you'll have to pay $2-$5. And it costs $4-$6 for every extra vehicle. Most of the time, the rate is more expensive during weekends and holidays.
Reservation fees for state park campsites cost $6-$9 and cancellation fees cost $8.50-$10. This makes the cost to camp at state parks pretty reasonable compared to resort-style camping.
Average Cost – National Park Campgrounds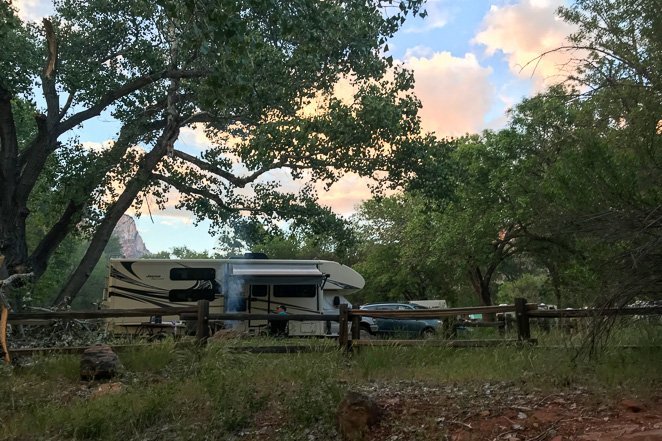 Full time RVers often stay in National Park Campgrounds for a few days while enjoying the park itself. Their rates are usually more affordable than private RV parks and RV resorts so it can be a huge cut in campground fees and expenses!
Remember that an annual National Park Pass does not cover camping costs. So you'll still have to prepare a separate payment for that.
In a National Park, you'll have to pay an entrance fee to enter, may it be per vehicle or per person. Or you can buy an annual pass that can give you access for the year. You can buy your National Park pass from REI here.
Camping fees in National Parks are pretty standard. On average, a campsite costs $15-25 and even lower (around $10) for backcountry. Group campsites cost $65-$80, the highest fee being able to accommodate 40 pax.
Reservation fee is usually at $10.
Keep in mind that most National Park campgrounds are dry camping, without any hookups and often have poor cell signal.
Click here to read more useful tips for camping in National Parks.
Tips To Make Your Camping Trip Cheaper
I hope that the big breakdown of the cost of camping above helped you get a better idea of what to expect on your next camping trip. We often find ourselves going back to our favorite camping spots, but it's also nice to explore new destinations.
If you're looking for a few ideas on how to keep the campground prices down, then check out some of these tips.
1. Week-long discounts might be available at many private campgrounds and month discounts are often always available. Make the most out of this if you've got time because you'll be able to save a lot!
2. Research which states have cheaper rates. Location plays a huge part in any campground's rates and states such as California are much more expensive than say, RV parks near Boise Idaho.
3. Remember that state parks offer cheaper fees for residents. And the price difference for residents and non-residents can be pretty big.
4. Invest in an Annual Park Pass. If you're interested in staying in National Park Campgrounds, you should know that having an Annual Park Pass is a big reduction on all your expenses. When you camp in an NP, you still have to pay an entrance fee. Having an Annual Park Pass will make this cheaper for you.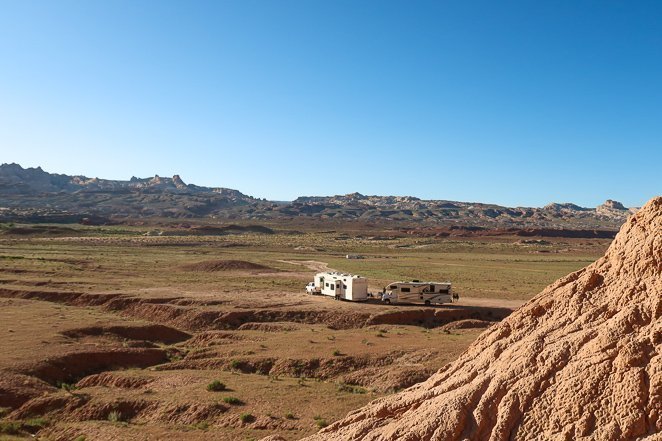 5. Consider boondocking and camping for free in BLM land, National Forest land or other boondocking locations.
And that's it! The costs for a campsite can be expensive — or not. It's your choice!
Either you can invest in a luxurious RV Resort, or go camp in standard campgrounds where it's more affordable. What's more important is that you enjoy your stay there and your overall camping experience!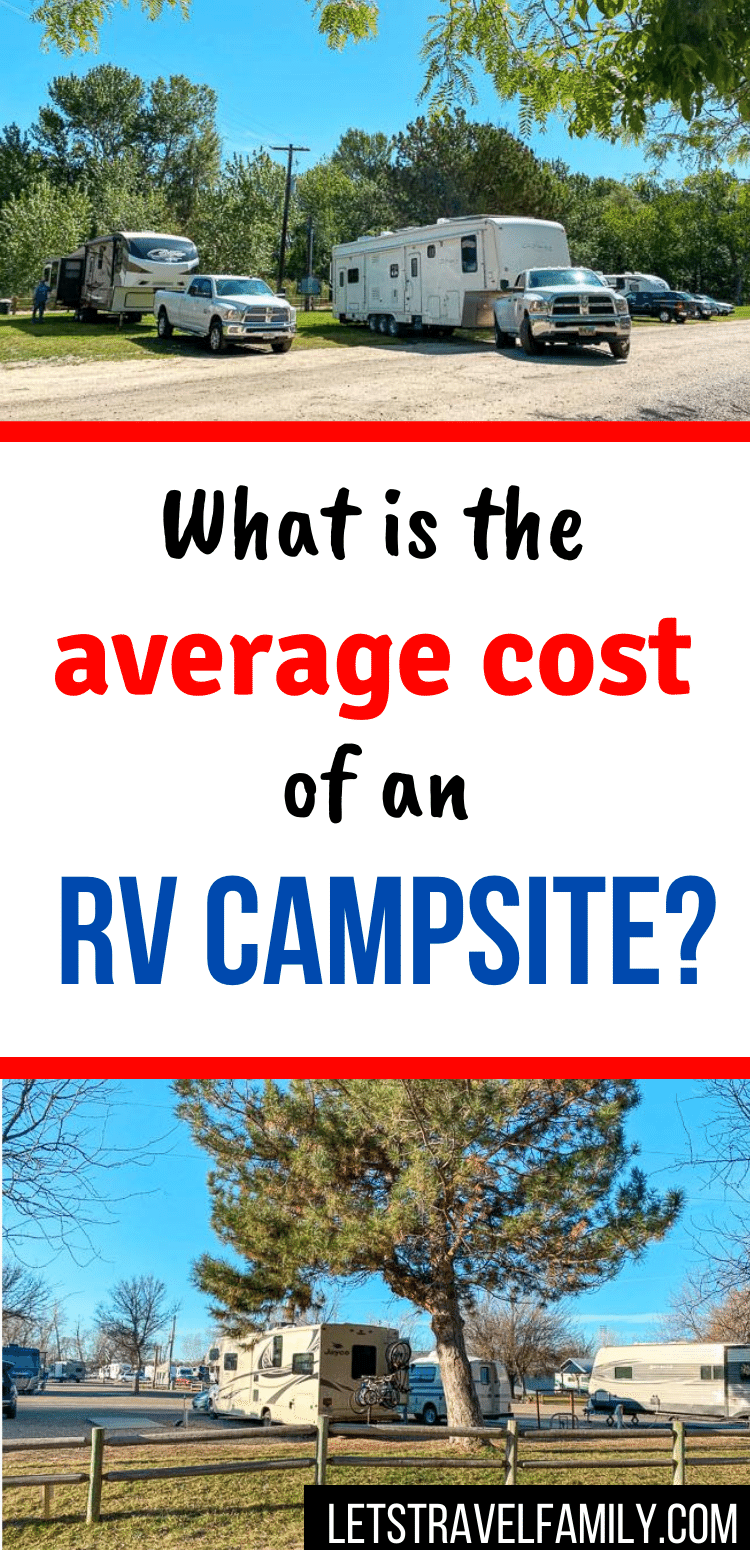 Looking for some helpful camping posts? Check out some of these:
Find the best portable propane fire pit for camping
Buy the best camping table for your setup.
Discover the best camping tips for beginners.
Check out some of these great camping gift ideas.