Have you ever thought to rent an RV for a week?
Are you looking for a way to take a vacation this summer and get outdoors more? Do you want a way to still travel but to have your beds, kitchen, and bathroom with you?
Then you might consider renting an RV with a reputable company like Outdoorsy.
THIS ARTICLE MAY CONTAIN COMPENSATED LINKS. PLEASE READ OUR DISCLAIMER FOR MORE INFO.
Don't have time to read the entire post? Here's a quick summary:
Best RV Rental Company Is Outdoorsy
Why Travel By RV?
You can save money!
First, you can save a lot of money by taking a road trip rather than flying and staying in hotels.
With six people in our family, many people ask us how we can travel so much.
After we sold it all and went on to live as a family of digital nomads back in 2017, we realized that our travels were not that expensive. The main reason?
We often travel by RV.
Not only is it fun, but enjoying the RV lifestyle for a period of time can also be a more affordable way to travel with a family. Or, if you're looking to have your own kitchen and bathroom with you and still want to take a trip this summer, then renting an RV might be a great option for you.
When we're traveling in our Class C motorhome around the USA, we don't have to worry about staying in hotels and eating out at restaurants.
Instead, we sleep and cook in the RV. It's comfortable AND so much fun!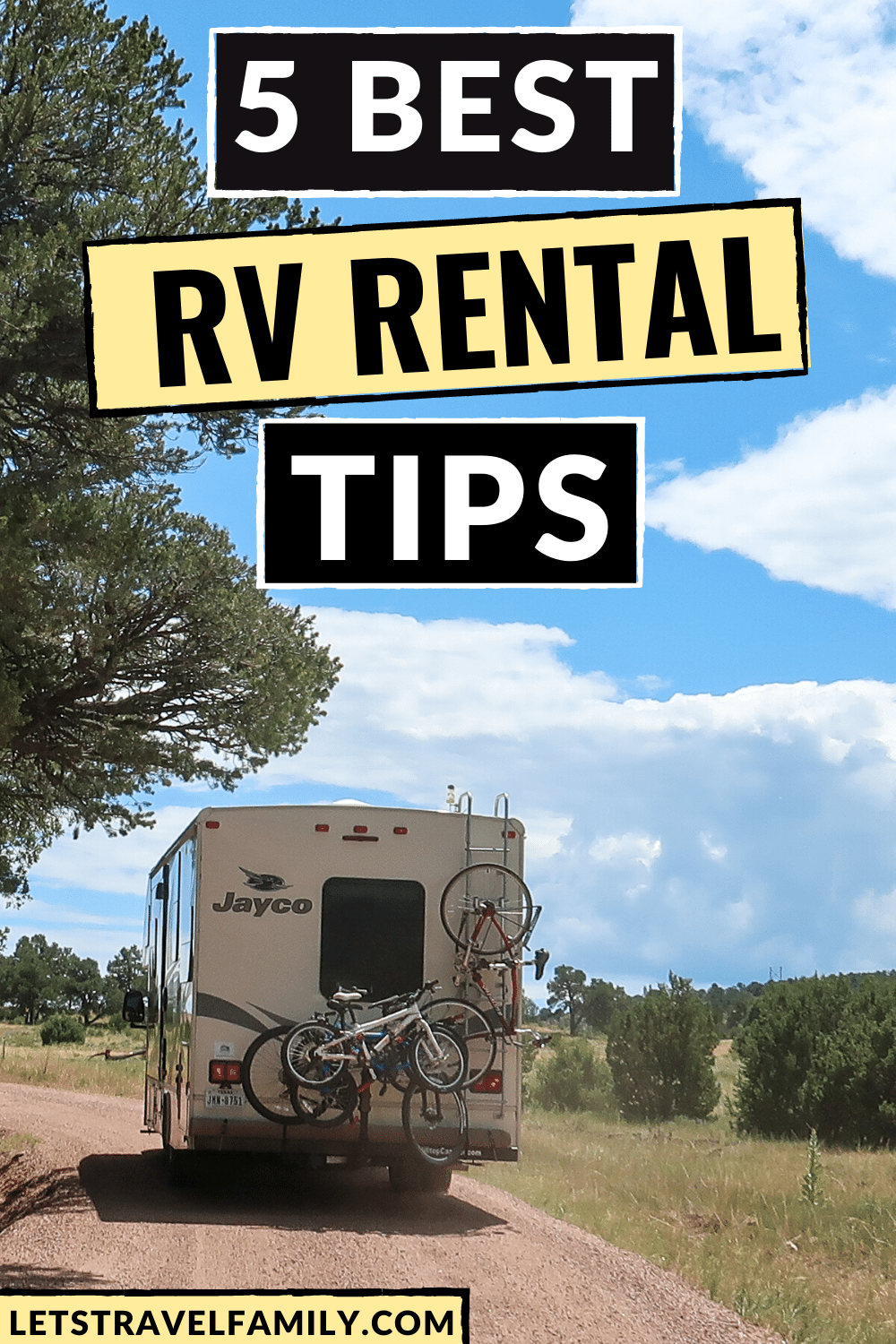 Determine if Full-time RV life is for you
Is RV living full-time really for you?
If you're considering making RV life a full-time adventure, and you're not sure, than the first thing you can do is take a short trip by renting an RV.
There are many choices and ways to find RV's for rent including RV trailer rentals such as travel trailers and fifth wheels or drivable rentals such as Class C motorhomes.
Small RV rentals are becoming pretty popular too with #vanlife becoming so popular.
If you don't know where to start looking for RV rentals and how to do it, we are going to share 5 tips for how to rent an RV for a week below.
You Can Explore So Many Places
When searching for RV vacation ideas, you might find that you have SO many options across the USA. You could visit Yellowstone National Park out west, or take a Miami to Key West RV road trip through Florida in the Southeast.
5 Tips On How To Rent An RV For A Week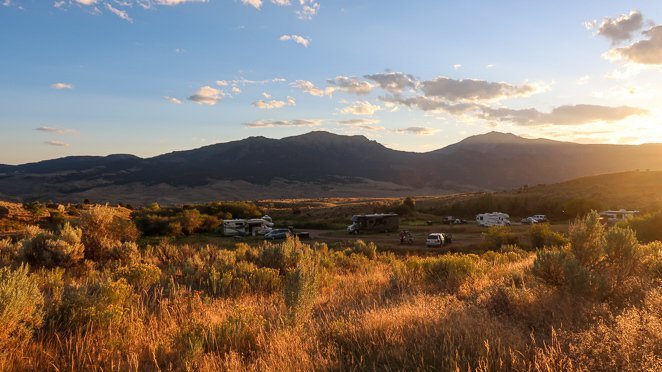 ​Can you rent an RV? Of course you can!
Motorhome and travel trailer rentals have become very common in the USA.
If you don't know where to start on how to rent an RV, here are some tips to help you.
1. Figure out which type of RV you need
First things first, you have to pick which RV will fit your needs.
Do you want a luxurious one or do you prefer a more budget-friendly choice?
Do you want to tow an RV with your own vehicle or do you want a drivable RV?
Different types of RVs are there to satisfy different needs. Even choosing between a diesel or gas-powered motorhome is a big deal!
Outdoorsy has several RV choices including Class A to C motorhomes, fifth wheels, travel trailers, expandables, truck campers, fold-downs, and toy haulers. Find out more details about these different RV types on our "what RV to rent" section below.
2. Set a price range
Before looking for rentals of the RV you picked, you have to decide on a price range you're willing to spend on it. Warning, this relies a lot on which type of RV you choose.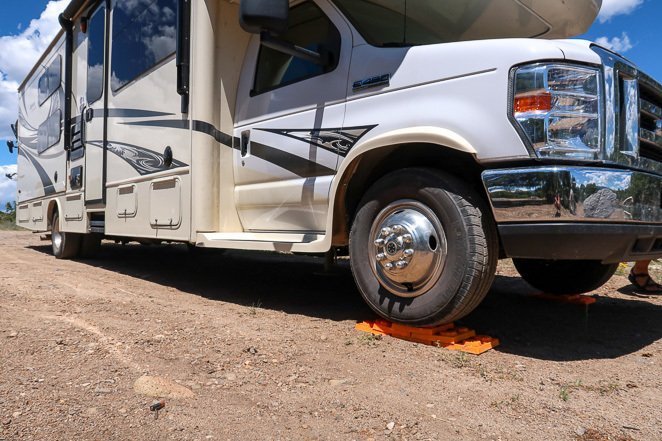 The price of an RV also depends on how old it is, who your company renting from, and its size.
Renting an RV can be pricey, too, but discounts may be given if you're taking it for a week or longer. It's still more practical than getting a hotel room and eating out all the time.
3. Find a Reliable RV Rental

Company
There are many RV rental companies on the internet, the most popular two are Outdoorsy vs. RVshare, but we highly recommend Outdoorsy.
Outdoorsy is one of the top-rated RV rental websites out there. They provide liability and comprehensive collision insurance, 24/7 roadside assistance and DMV drivers check, they also provide live customer support service and allow private RV owners to rent out their RVs.
4. Ensure that Insurance is Provided
Liability insurance is often provided by the rental company. However, auto insurance is not always part of the package. Be sure to learn if Rental insurance is included.
When I dug in, I learned that renting an RV with Outdoorsy provides you with comprehensive coverage, collision coverage, and liability coverage.
If we decide to start renting out our RV, we'll be using Outdoorsy for sure.
​

5. Settle the rent early
Once you've found the Recreational Vehicle you want and you have no problems with the terms and conditions of the company, you book it.
It's better to be sure that your RV choice is available for you to use on the day of your trip. Get ready to hit the road, especially if it's summer and a very busy rental season.
Click here to check out some great offers on Outdoorsy.
​What RV to Rent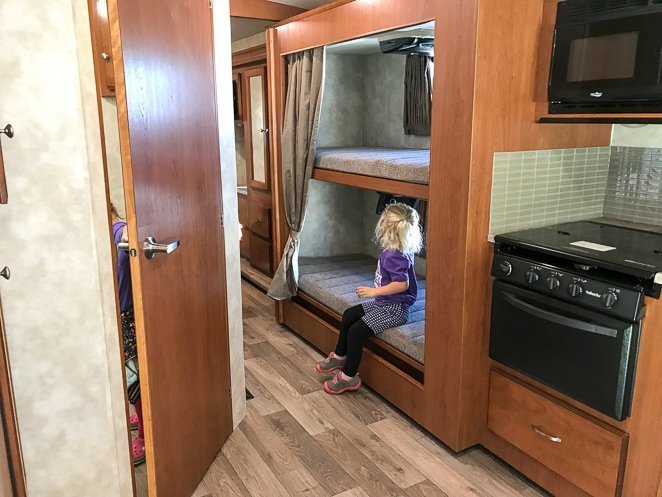 You may want a luxury RV that you can bring along with you on the road. Or, maybe you just need a travel trailer spacious enough for all of your pets or kids.
​There are different RVs fit for these different camping experiences.
​To find the RV type that fits you, here's our guide on the different RV types you could rent.
Now, keep in mind that the most RV rentals we see at campgrounds are drivable RVs. So Class As, Class Cs, and vans. But you can rent towable RVs as long as you have a vehicle that is able to tow that weight and size.
Class A

RV To Rent
If you want a classy set-up or just need enough space and a drivable RV, then a Class A RV might work for you.
Class As are the largest type of RVs. It may look like a bus to the eye of non-RVing people because of its size and rectangular design.
​This type also allows for more features like a whole entertainment system or a kitchen.
​The biggest downside is that Class A RV rental is the most expensive of the bunch. You can't expect a motorhome that's luxurious and spacious to be very budget-friendly!
Click here to check out some great Class A options to rent.
Class B

Van To Rent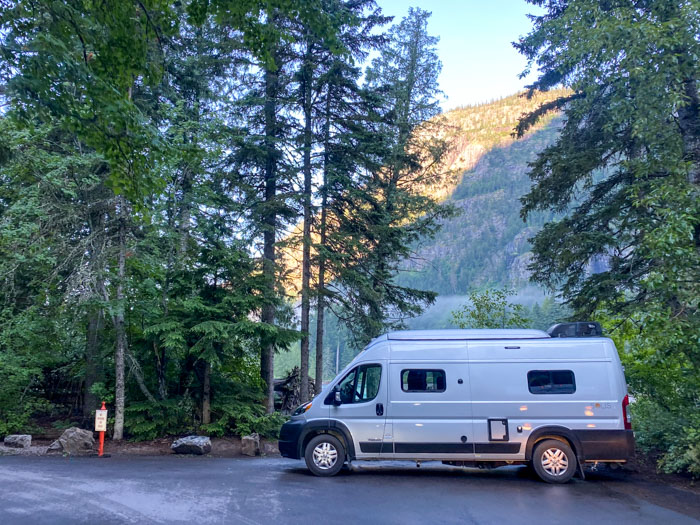 Also known as camper vans, Class B RVs are the most compact drivable RVs and often thought of as 'vans'. These #vanlife RVS are easy to maneuver and drive around.
Most Class Bs have an outdoor awning and a kitchenette which really helps in saving space while still trying to fit what you need to bring along.
However, a Class B isn't right for you if you plan to bring a lot of people with you. The small space would not be enough and it might make you feel uncomfortable if you insist on renting one.
Click here to see what Class B or vans are offered.
Class C

Motorhome To Rent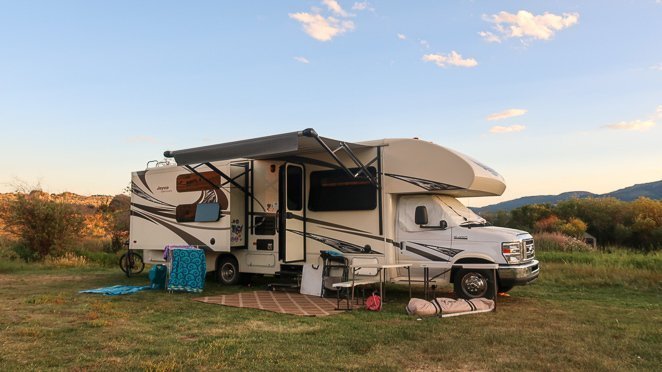 Class C motorhomes resemble Class Bs more, but in a larger size! It works great for our full-time RVing family of six and we've got lots of reasons why we love our Class C family RV.
Even though it's bigger than Bs, it's pretty easy to drive and maneuver. Even I drive ours sometimes!
A class C RV has enough space for our family to have our own beds that don't require being folded or converted for more space in the morning. However, if you have more than six people in the family and you want enough space for everyone, a Class C RV rental may not be the best option for you.
Click here to check rates on Class C's in your area.
Folding and Tent Trailers

To Rent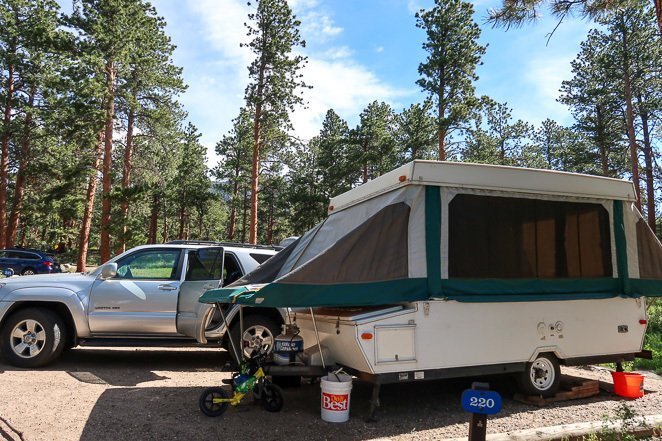 If you want something that's easy to maneuver, you may be looking for folding and tent trailers. These trailers are some of the smallest towable RVs.
Due to its collapsible compartments, it makes camping comfortable. However, this feature is also what makes storage difficult.
If you're looking for a full camping experience, then a camper trailer rental like this might be for you.
Check out some trailer options near you.
Toy Haulers
For sporty campers with large trucks to tow, a toy hauler rental might be fore you. It can accommodate equipment like ATVs and bikes!
It features a folding wall that also works as a ramp to make moving your equipment easier. It works best as a garage space for your trips.
The disadvantage is the lack of living quarters inside this towable RV. This is not fit for family trips but more for campers that are attending sports events.
Click here to check out some Toy Hauler options.
Fifth Wheels

To Rent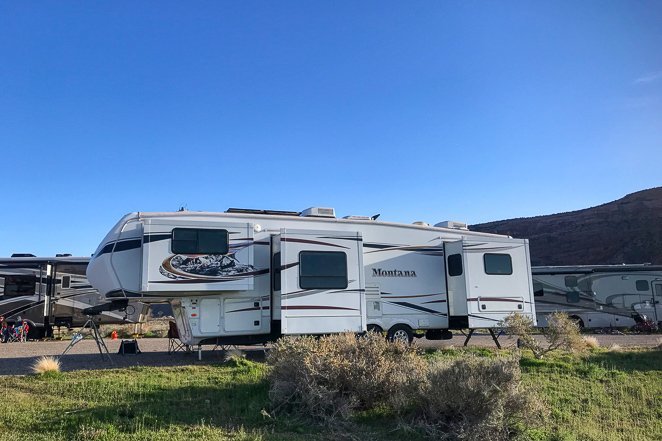 What makes fifth wheels different from other towable RVs is their gooseneck connector. The connector gives more leverage to the truck's center and makes it easier to maneuver.
They have overhanging sections that can add more space in the trailer.
However, like a Toy Hauler, this only works if you have a truck with an open or flatbed ready to tow.
Click here to see what Fifth Wheels are in your area.
If you're a beginner, you can check out our beginner's guide to RVing, too!
Travel Trailers

To Rent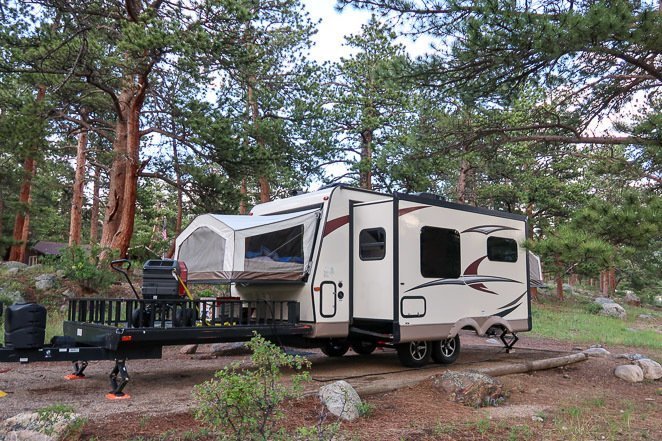 A travel trailer is a type of towable RV. They are less expensive and detachable, which is convenient for those who are not into full-time RVing or those who love exploring the areas they reach.
Another advantage of travel trailer rental is that they can offer a huge space for house amenities like kitchens and bathrooms.
Click here to check out some Travel Trailer Rentals.
​How Much to Rent An RV
One of the biggest concerns when renting an RV is the price. What are typical RV rental prices? Well, keep reading to learn.
Keep in mind that weekly RV rentals can save you money compared to eating out at restaurants and staying in hotels for you week-long vacation.
Some RV owners price their campers higher than others, but if you search early you are sure to find a good deal.
How much is it to rent an RV for a week?
There's no specific answer for that; RV rental costs vary. It all depends on which peer-to-peer network you're renting from, how old the RV is, and what type you've chosen. You may find that certain regions of the country have more expensive prices than others.
However, we can give you a rough estimate on how much to rent an RV for a week.
Class A For 1 Week Average RV Rental Cost
Older RV: $1050 to $1750
Newer RV: $2450 to $3150
Class B or Van For 1 Week Average Cost
Older: $700 to $1400
Newer: $1400 to $2450
Class C For 1 Week Average Cost
Older: $700 to $1400
Newer: $1575 to $2800
​*Towable RVs usually cost around the same price of Class Bs
​Where to Rent An RV
Don't go with Cruise America. They stand out and scream 'tourist' when you see them at campgrounds. Plus, if you rent with Outdoorsy then you are renting someone else's RV and helping them out. Think about it, it's like supporting small businesses when renting from RV owners.
​Additional Reminders When Renting An RV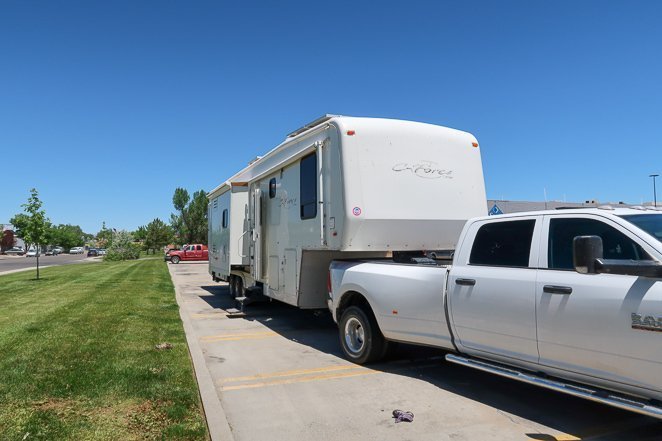 1. Practice driving
​Driving an RV is different from driving a car. Most RV types are larger than a minivan and probably heavier so you need to practice driving and how maneuvering them if you want a safe road trip! Especially if you are towing your RV behind a truck or SUV.
2. Pack Essentials
When it comes to staying in an RV, space matters. A slightly bigger than a minivan-sized vehicle is not enough to hold too much of your belongings. Pack wisely!
​If you need tips on what to bring to a road trip, here's a list of our road trip essentials.
3. Bring Your Own Meals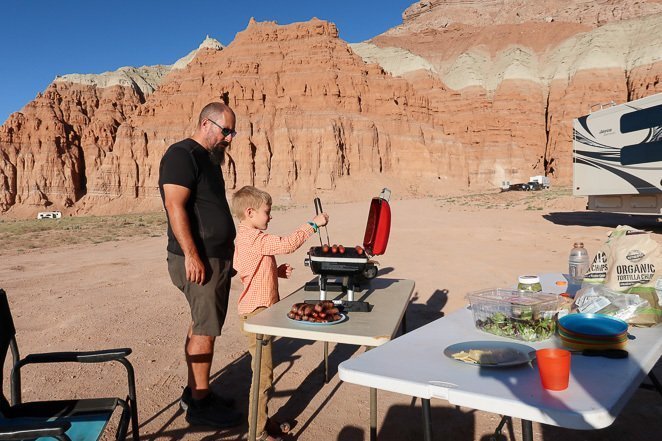 Not all RVs have enough space for a full kitchen so it's better to bring your own meals, or at least easy to make meals! This way, you won't have to spend so much on outside food and save time cooking or even finding ways to cook your favorite meal inside the camper.
4. Prepare for RV fees
​Check ahead of time the possible additional fees in renting the RV you've chosen. Aside from insurance, some charge more if you plan on bringing a pet with you or generator usage.
Also, most owners who rent out their RVs limit the amount of miles you can put on the RV or you'll be charged overage.
Lastly, you'll want to book your campsites at the campgrounds you plan to visit ahead of time. Know how long your RV is so that you get a spot that fits your RV!
​

5. Enjoy
Really, at the end of the day, you chose to travel because you want to make some great memories. Don't worry too much and enjoy your trip!
Who knows, after taking a week-long RV trip in a rental RV you may consider buying your own RV to live in full time and experience full-time RVing as we did! If that's the case, click here to download our RV Apps cheat sheet and get on our email list. We'd love to connect with you and help you get started!
Have you decided on which RV type to rent? Tell us in the comments below!