After searching Let's Travel Family, I realized that we've been lacking in basic advice for people who are just now purchasing an RV. So, whether you plan to be a full-time RV traveling family or a weekend warrior, here are 18 RVing for Beginners Tips to help you get started.
Use our helpful RV tips for RV newbies below to prepare you for your journey ahead.
These simple RV camping tips for beginners are listed to help you get started quickly. Yet, if you have more time before you go on RV trips, then check out our other RV living posts or our camping posts to learn more about our RV travel tips.
If you have dreams of living in an RV full-time one day, these RV living for beginners tips are much the same to get started.
THIS ARTICLE MAY CONTAIN COMPENSATED LINKS. PLEASE READ OUR DISCLAIMER FOR MORE INFO.
Before You Purchase An RV
1. What type of camper are you?
Determine what type of camper you are before you take your RV out.
Do you want to camp on the weekends only……. or travel across the country to see the National Parks during a summer trip?
Do you want to hit the road as a full-time RV living family or take it out occasionally and for short weekend trips?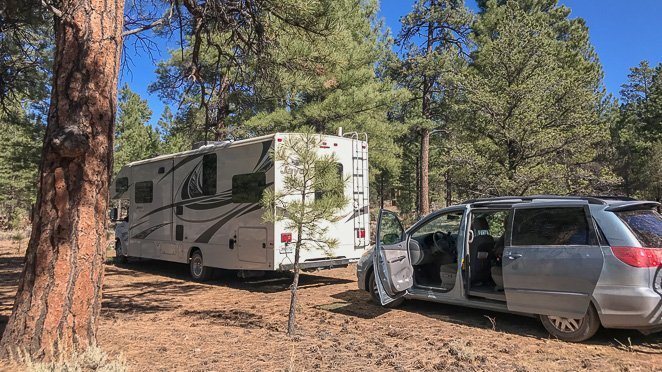 Do you want to watch Sunday Night Football and stream Netflix in the evenings, or sit outside and watch the stars?
Do you have plans to travel by campervanning in Europe, road tripping to Canada and Mexico, or are you looking to buy an RV specifically to stay and travel in the USA?
When you answer these types of questions truthfully, you will then know what you need in an RV and in a campsite.
For example, if you want to travel fast across the US, camp in National and State Parks, and sit outside each night, then a small motorhome might be best for you.
Or, if you want to go out each weekend to a local RV resort and hope to still catch Sunday Night Football, then a larger RV with a great TV might be best.
Determine the type of RV camping trip you want to do and keep that in mind when buying an RV for the first time.
You can check out some of the top RV camping books where veteran RV owners share their top RV tips and tricks.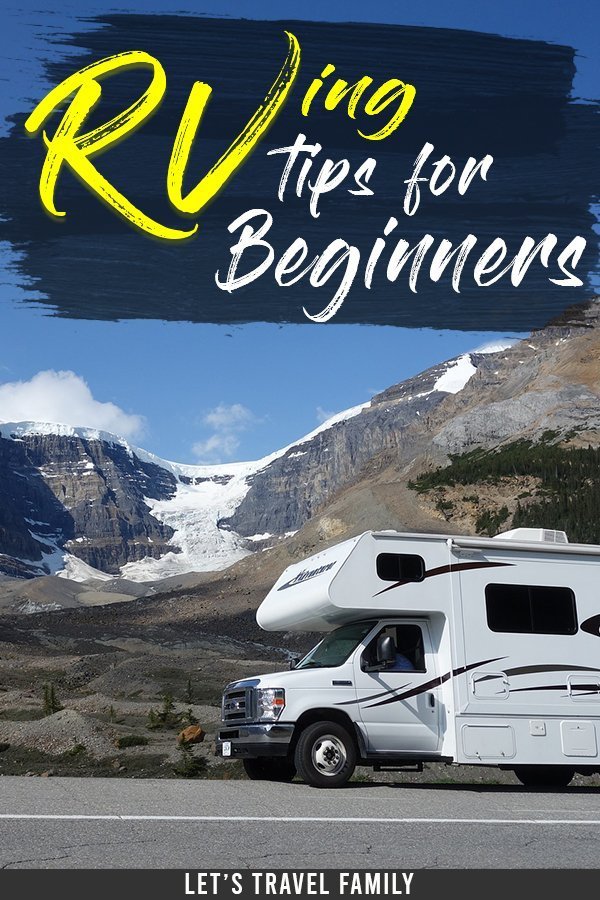 2. Where will everyone sleep?
If you are planning to stay in your RV with your partner, children, or grandchildren, then you need to consider where everyone will sleep.
Do you mind setting up beds for the kids on a couch or converted dinette each night, or do you really want everyone to have their own bed that stays set up when you're camping?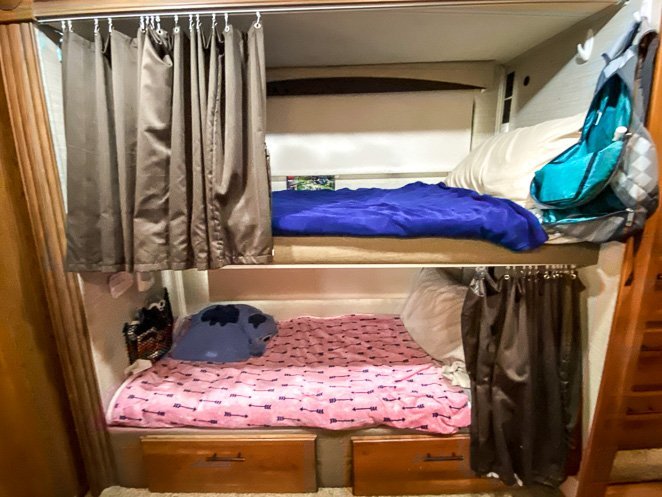 Our family chose an RV that has designated sleeping spaces for all 6 of us, without having to set up the couch or dinette each night.
Living a full-time RV lifestyle is a lot different than if you are only planning to camp on the weekends. I think if we were only in the RV periodically, we'd be just fine with using the couch as a bed.
3. What is your RV budget?
This is pretty obvious, but be sure to determine your budget BEFORE you start shopping for RVs. Also, keep in mind the cost of a vehicle to tow or be towed as well. Click here to see our RV budget after 1 year of doing this RV traveling full-time.
Are you willing to take out a loan on your rig? Do you have a downpayment for that purchase? These are questions to consider when creating your RV budget.
Here are some tips to help you cut costs while RVing full time.
4. Will you tow or be towed?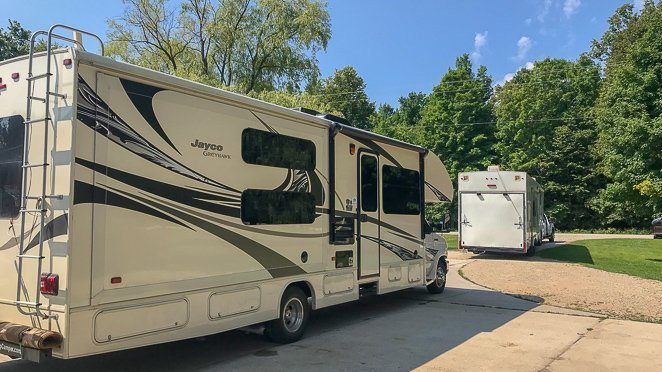 Do you have a powerful enough truck to pull your travel trailers? Or, do you own a vehicle that you can tow behind your motorhome?
Or will you drive a separate vehicle when you travel?
If you have a drivable recreational vehicle or adventure van, then you may be happy to drive it where you want to go without an extra vehicle. However, if you plan to stay in a campground for a week or more at a time, you may want to consider how that will feel and look without an extra vehicle to get out and explore.
These are all great questions to ask yourself when you are deciding on the best RV for your family.
Once You Have Your RV
5. Practice backing into campsites BEFORE you bring your entire family.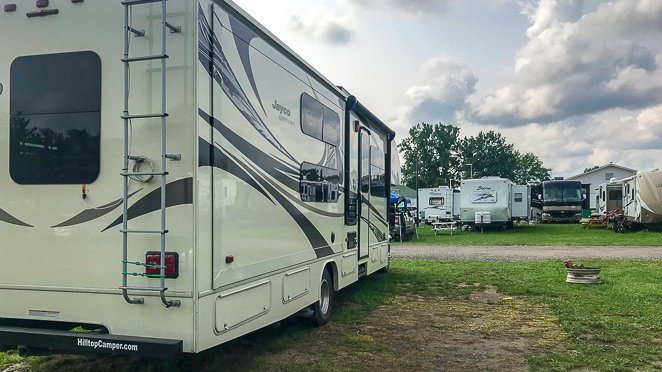 When I talk to other RVers, we all agree that setting up camp can be a bit stressful on a marriage. That's why I recommend practicing your back-up routine before you launch on your first camping trip in your travel trailer or fifth wheel.
Watch for those branches and learn your turning axis.
Determine if you need a spotter or partner, or if you are more comfortable backing up the rig by yourself.
Practice before your first RV trip. That's my simple, but necessary, RV camping for beginners tip.
6. Learn how to dump your black tank the right way.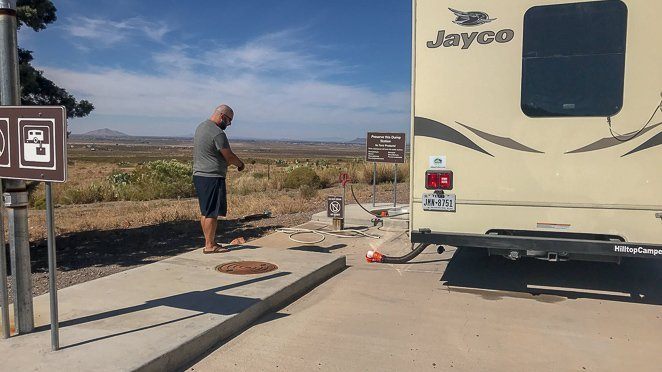 If you have a campsite with full hook-ups (fresh water, electric and a septic system you can stay hooked up to), then I highly recommend you keep your black tank valve closed for several days.
You can leave your gray tank open so that when you are showering and doing dishes the water flows freely into the septic, but wait and do your black tank all at once. There are two reasons I recommend this.
First, it can get really smelly outside of your RV if your black tank valve is always left open (with the hose on of course). Imagine sitting around your campfire and you get a whiff of the bathroom…it's not that pleasant.
The second reason you should keep your black tank valve closed is that gravity works best in your black tank if you have it at least half full when you do open the valve. You are MUCH more likely to clear it out than to leave it trickling.
7. Learn that RV mattresses are rarely standard in size.
When finding sheets for RV beds, I highly recommend using these clips to hold your fitted sheet tight under the mattress. It works well on our kids' bunk beds that are narrow compared to regular twin-sized mattresses.
8. Every Walmart has an RV aisle.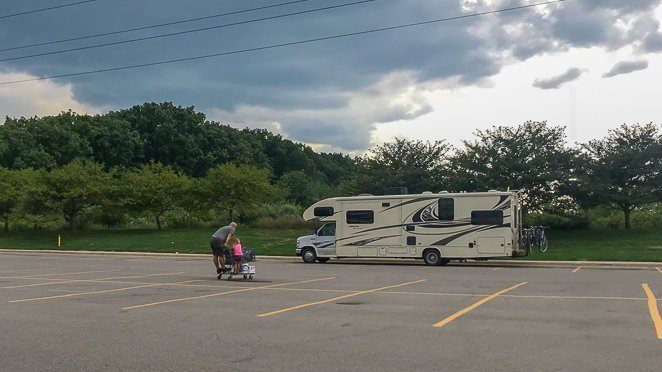 You don't have to go to Camping World for everything you need in your RV. If you need something quickly, stop at a Walmart. Otherwise, I do recommend checking reviews on Amazon or you can read our ultimate list of things you must have for your RV to get an idea.
Or, check out our list of RV gifts here if you know someone who is buying an RV and you're looking to surprise them with a fun, but useful gift.
Pro tip: Did you know that you can actually spend a quick night experiencing free overnight RV parking in a Walmart parking lot?
9. Do not go 'cheap' on your sewer hoses!
Get the high quality sewer hoses for your RV. Don't go for the off brand at Walmart.
You will thank me later!
10. Use a white hose for your fresh water coming in ONLY.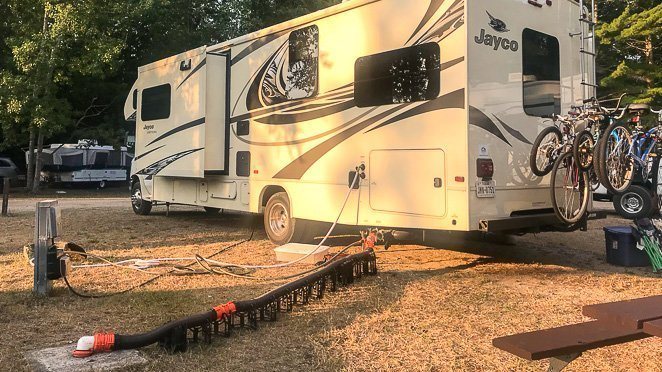 Only use your fresh water hose for that, hooking up to your fresh tank. Most 'fresh water' hoses for RVs are colored white to help you remember the difference.
We keep a gray colored hose as our extra hose that we use to flush out our black tank (if you have a flush system on your RV) or to just hook up at the dump station and use to rinse off our black tank hose.
11. Only bring dishes that have multiple uses.
Following the best RV organization tips can help you find a home for all of your kitchenware. Yet, saving storage space in a small RV kitchen is always a challenge.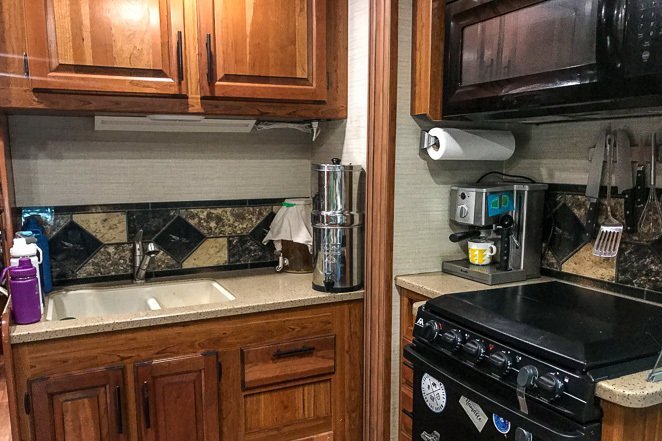 I recommend that you only have appliances and dishes that you can use for multiple reasons.
Also, limit how many plates and cups you have, as you can always wash the dishes after every meal. We use our instant pot and cast iron skillet daily if that helps you get a good idea of what to bring.
If you need more ideas on RV kitchen accessories check out our ultimate list of RV kitchen accessories here.
On Your First RV Travel Day
12. Think ahead on where to stop for fuel.
Having a plan as to where you will stop for fuel, and maybe a bathroom break will make your travel day go by much smoother than if you just 'wing it'.
Will you need gas or diesel?
Either way, a truck stop is the best place to stop for fuel with any RV. I don't recommend going out of your way and visiting a regular gas station to save $2 in fuel.
Pro tip: We use Google Maps satellite view to see what to expect at gas stations before we pull in. It helps us plan on which way to pull in and then pull out to get back on the highway and more.
Check out our list of the best RV travel apps that can help you plan your stops.
13. Take bathroom breaks when you fill up.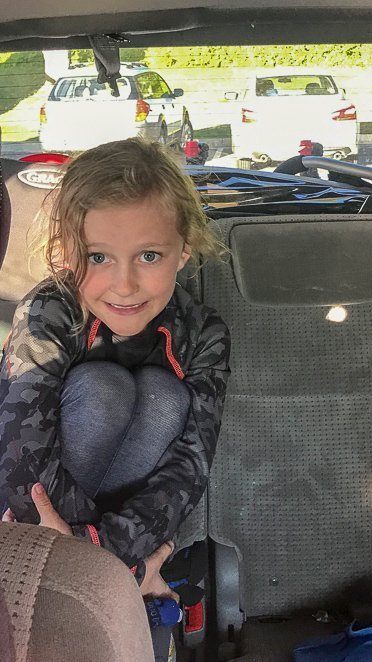 If you're traveling with kids in your RV or truck, you will most likely need to take more frequent bathroom breaks.
Be patient and prepare to stop at rest stops, truck stops, or even finding a Walmart right off the road.
14. When planning your drive time, double what Google Map tells you.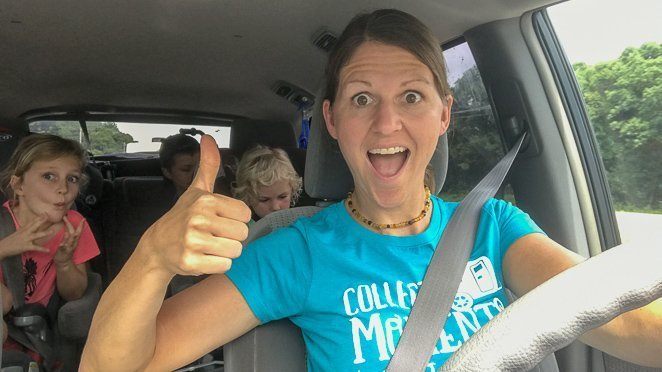 Take my advice here. It will take you longer than you might expect to arrive at your destination when you are driving or towing an RV.
With frequent stops for gas, tire checks, bathroom breaks, and driving slower with such a large vehicle, try not to rush yourself.
Anytime I talk to other RVers, we all agree that we never go by what Google Maps says our drive time will be….not when you're pulling or driving your RV. Also, plan ahead to bring snacks and other road trip essentials.
15. Make reservations ahead of time.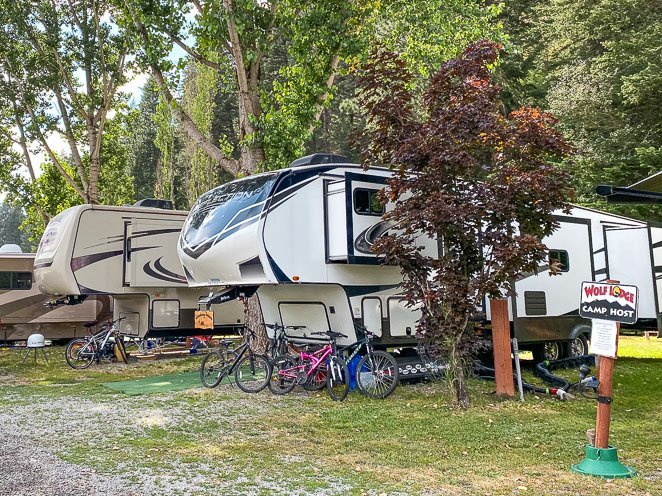 Popular campgrounds during prime season book up far in advance. If you plan to stay at RV parks, then plan ahead and book far out. These campground memberships can help you save.
Or, plan to and look for some BLM land to try boondocking or dry camping if that's your camping style.
With how popular camping and RVing has become lately, it's a good idea to have your reservations booked ahead of time or to have 2 or 3 dry camping spots picked out. That way, if you arrive and they are full, you have a back-up plan.
16. Understand how to properly inflate your tires.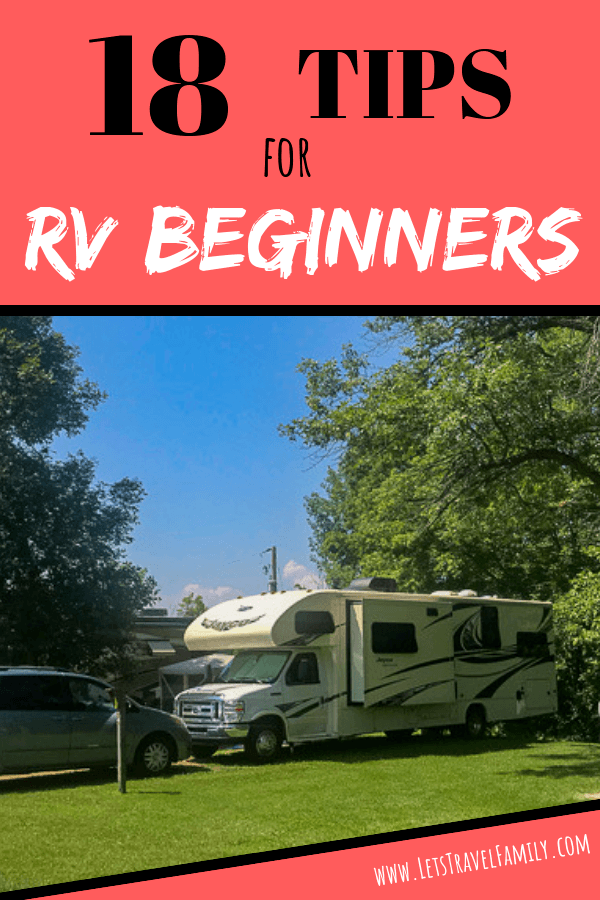 If you have a dually (a vehicle with 2 wheels next to each other in the rear), inflating the inside tire can be a bit tricky if it's your first time. We found that out the hard way on the day we launched our full-time RV living journey.
We tried to fill up using a regular gas station free air hose….which did not give us the high pressure we needed for our 80psi motorhome tires. After about an hour of little success, we learned that we needed to visit a truck stop for the high pressure air.
We've also had tire issues with our van when we were 2 hours away from any service station while traveling full-time.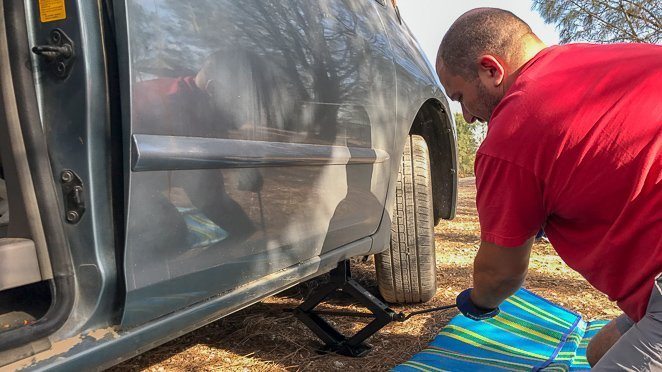 In all honesty, as a full-time traveling family, we invested in an air compressor that we keep with us at all times now. It's the most important item in our RV tool kit.
That may be a bit overboard if you are only taking the camper out on the weekends and not going far, but if you already have one, why not bring it with you?
First Day At A Campsite
17. Take it slow when setting up your rig.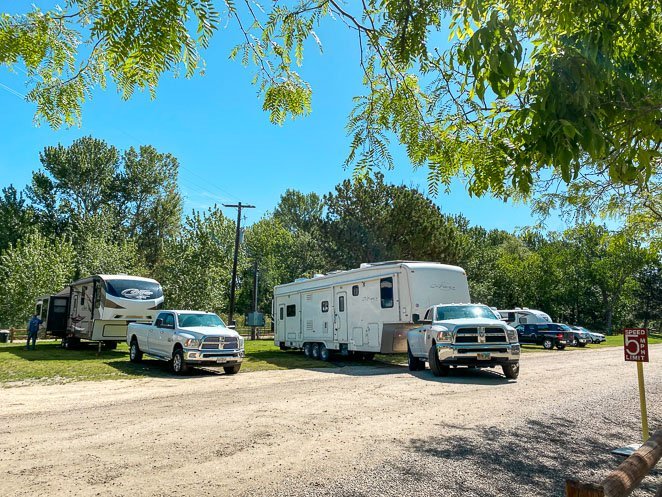 It's all about mindset here. I can tell you not to stress out too much when setting up your first time…but if you have several campers watching you back in and come back out a few times….you may start to feel a bit stressed.
Go into it with a positive mindset and know you will get better with practice!
Read our list of 9 RV safety mistakes NOT to make for more ideas.
18. Arrive during daylight.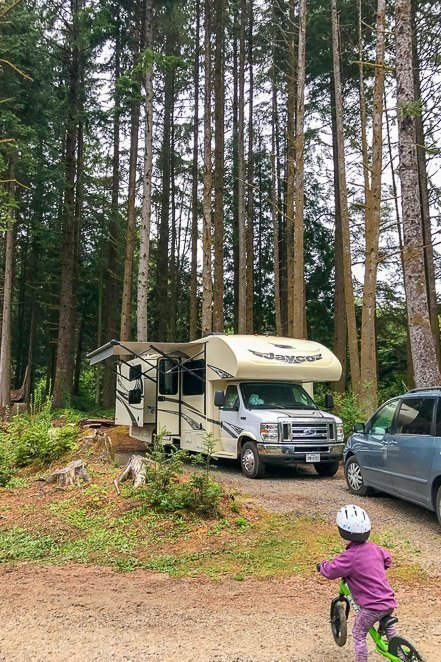 There are two reasons I recommend arriving during daylight to your first campsite.
The first reason is that it's MUCH easier to see the tree branches and potholes in a new campground when there's light.
The second reason I recommend arriving during daytime is that it will give you a chance, after you set up your RV and campsite, to explore your surroundings and start your first night off with a feeling of excitement.
There you have it, those are our top 18 tips to help any RV beginner get started. A bonus tip I have for any RV traveling family, couple, or single is to find friends on the road!
Either plan to camp with friends for a weekend if you are part-time RVing or connect with the full-time RVing community. Also, taking your first RV trip in the summer months make your experience easier than in the winter or cooler months.
Looking for a way to keep track of your RV setup steps? Check out this post and download our FREE RV Set-Up Checklist.