Whether you like to read travel blogs, watch YouTube videos, or follow RV living Instagram accounts….you can benefit from reading a few of the best RV books for full-time RV living.
Especially if you dream of hitting the road someday, but want to learn as much as you can before you make the big jump!
Now, if you're already ON the road, some of the books listed below are STILL great additions to your collections. Oh, and many of them are available digitally so that you don't have to add weight to your RV. 😉
Here is a list of our favorite RV books that you can add to your collection.
THIS ARTICLE MAY CONTAIN COMPENSATED LINKS. PLEASE READ OUR DISCLAIMER FOR MORE INFO.
10 Remarkable RV Books for Full-Time RV Living
Freedom on the Open Road: A Step-by-Step Guide to Full Time RV Living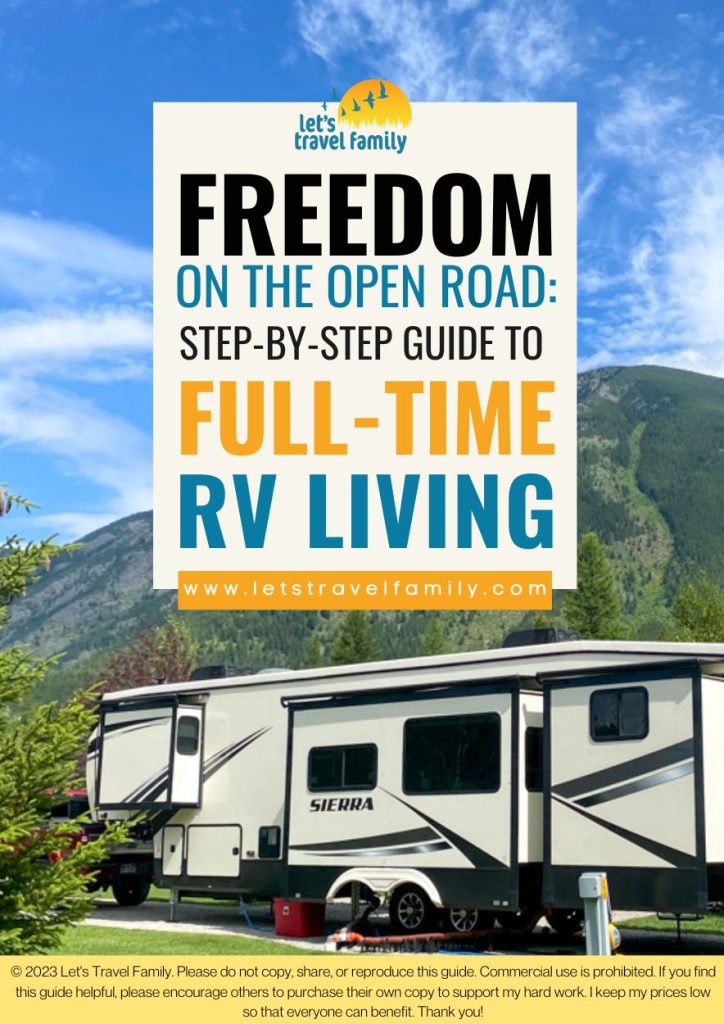 Learn ALL you need to know about full-time RV living. Most people who plan to live in their RV full-time just don't know where to start. The Freedom on the Open Road: Step-by-Step Guide Into Full Time RV Living ebook can help you get started without all the stress and struggle!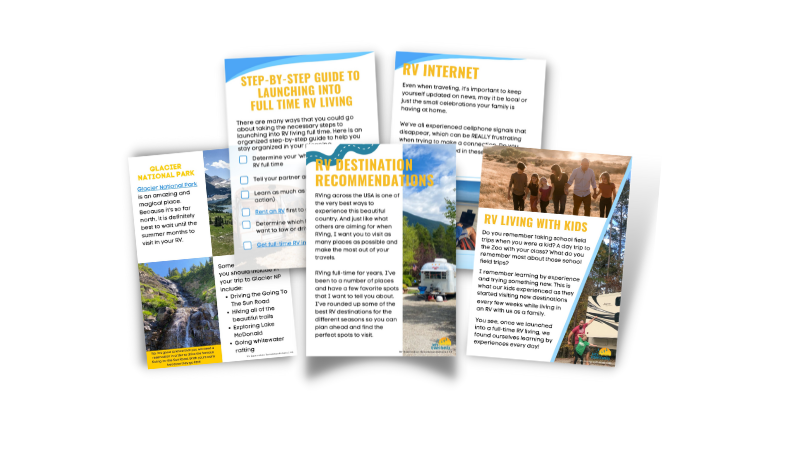 Self-published by me, Jill, the owner of Let's Travel Family, this ebook has been something I've been wanting to sit down to write for a long time. Now here it is!
Grab a copy of this RV Living ebook now and read through the 91 pages packed full of detailed information, useful insider tips, and inspiring stories and photos from our family's full-time RV living journey.
Click here to learn more about this new RV Living ebook!
Organize Your RV Like a Pro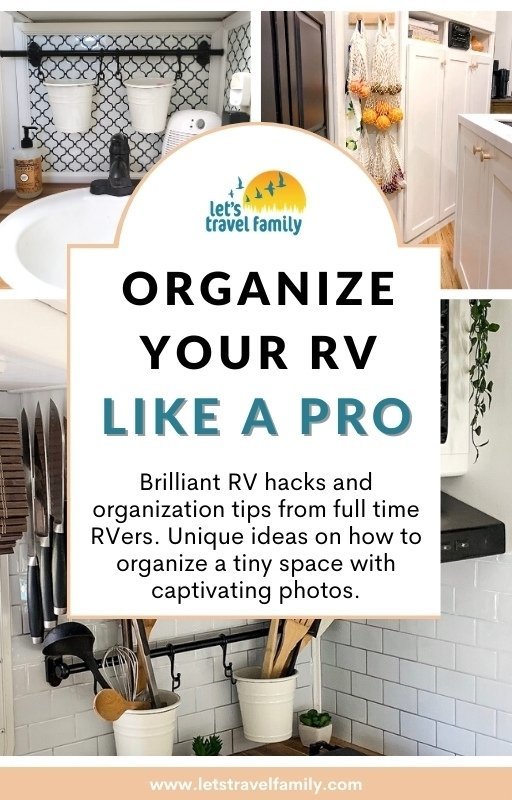 Learn exactly HOW to become a master at keeping your RV organized and looking great without feeling overwhelmed when you purchase the ebook, Organize Your RV Like A Pro, that we created here at Let's Travel Family.
With the help of 12 other RV families, I created this 73-page ebook with over 100 captivating photos to help you learn unique ways to stay organized in your small space. I included chapters covering how to keep the following spaces organized: the RV kitchen, bedroom, bathroom, living room, entryway, and children's items.
Click here to learn more about the ebook Organize Your RV Like A Pro now!
Sanity Saving RV Cheat Sheet Bundle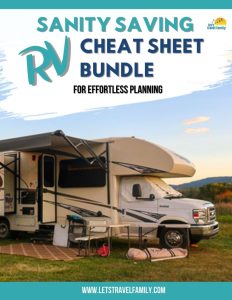 If you want to take the extra mile organizing and taking note of things important to you while living in an RV, then my Sanity Saving RV Cheat Sheet Bundle is for you! This bundle includes 14 helpful pages of RV planning templates we made to keep your RV living as organized as possible.
This bundle comes with useful templates such as a meal planning template, a weekly grocery list, packing lists, an RV set-up, and MUCH more! I also added a fun RV Travel BINGO game you can enjoy with the family.
Click here to learn more about the Sanity Saving RV Cheat Sheet Bundle now!
RV Logbook
My friend Brandon created this as a great book to have on hand when you are RVing. You actually WRITE in it too! This logbook provides you with a way to record and reference your campsites as you travel. With checklists (I love these), a place for your own notes, and even a built in referencing system. This book is a must-have for RVers.
Click here to grab a copy of this amazing RV Logbook.
Follow Your Detour
Lindsay just released an e-book called Follow Your Detour. In her book, she shares about her struggles with infertility, a loss of a family member, and her transformation along with her husband that lead them on a big detour….RVing full-time to find their new identity. If you need a boost of confidence or inspiration to make a big change in your life, then I highly recommend this book!
Click here to view the all inspiring book written by a full-time RV living woman.
Tales from the Black Tank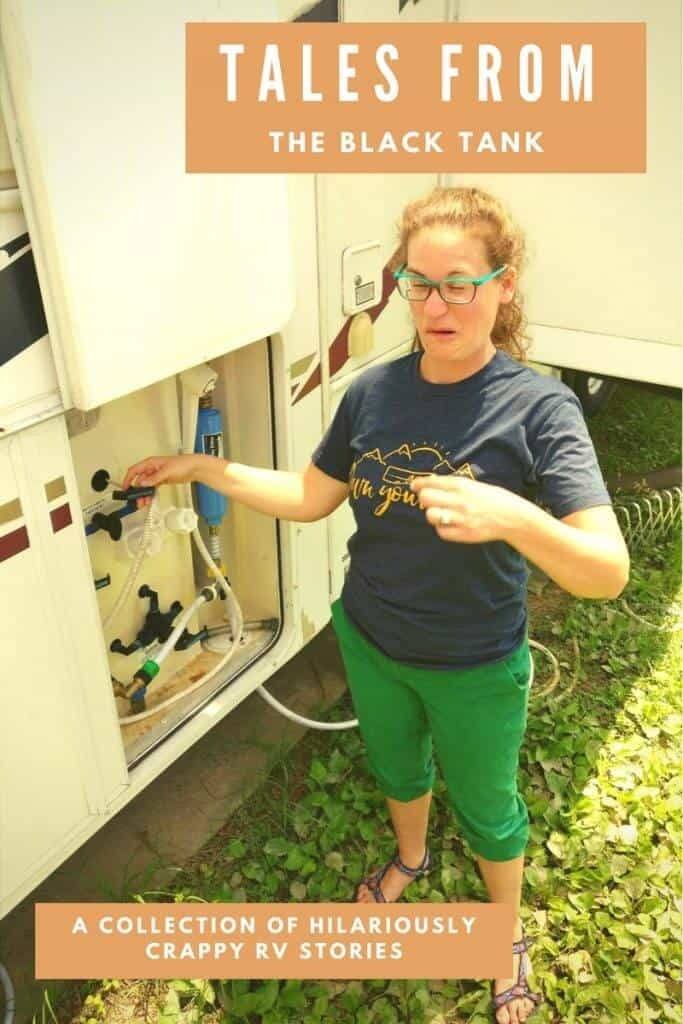 My friend Liz Wilcox created this hilarious book of stories all about the things MOST of us RVers don't want to talk about….the black tank.
Her popular book is one that has brought tears of laughter to the eyes of many wannabe or already on the road RVers.
Click here to learn more about this hilarious book and how you can get your hands on a copy!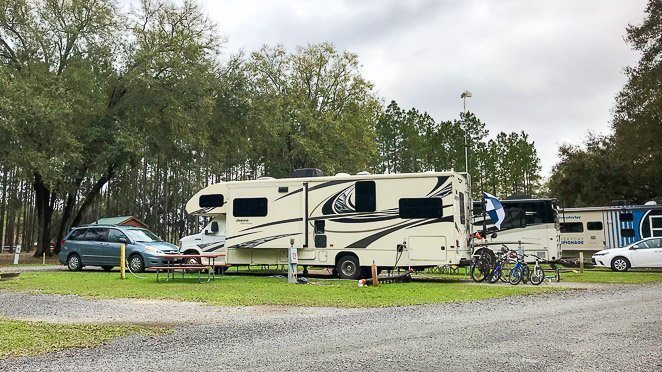 Living the RV Life
Marc and Julie Bennett of RVLove are the authors of this in-depth book with SO many tips, colored photos, advice, information, and stories about RV life. If you are thinking that RVing might be for you, read this book. Their book can be found as an ebook or print on Amazon.
Click here to view this very resourceful book for Living The RV Life.
A Beginner's Guide to Living in an RV
This book is written by a full-time RV couple that helps answer the big questions of RV living. How much does it cost to live in an RV? How do you get your mail? What are the best RVing clubs? Alyssa's book works as a great guide for anyone thinking about starting the RV life.
Click here to view A Beginner's Guide to Living in an RV.
Live, Camp, Work – Workamping
Sharee provides this practical guide to workamping while full-time RVing. Learn everything you need to know to get started workamping and check out her ultimate list of over 1,000 employers you can contact about jobs on the road later in the book!
Click here to view the book all about how to make money on the road called Live Camp, Work.
Full Time RV Finance
Julie provides a great book that answers many of hte questions we go about how to budget for full-time RV living. Go check it out!
Click here to view the Full Time RV Finance Book!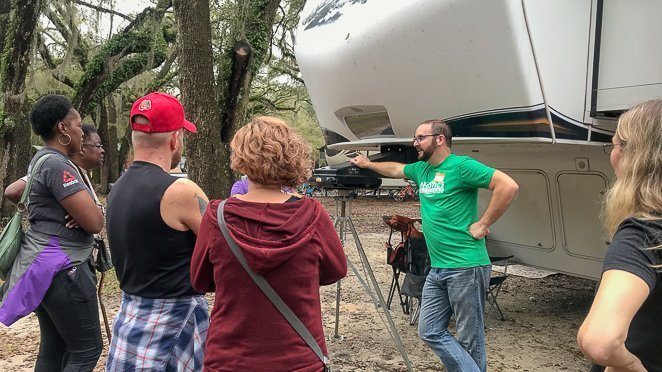 Living a life on the road has its challenges, and we each have a different story as to WHY we take the leap to live like nomads.
Here at Let's Travel Family, we've worked hard to answer some big RV questions such as:What does RV living really cost? ​What are the top RV accessories to start with? How can you make money on the road?
Yet, having a book can sometimes help keep the information your looking for in one place. Now, don't get me wrong, you may still have some questions that the authors may not have thought about. Such as what tools should you have in your RV tool kit? Or, what are the most fun RV accessories you can get for someone as a gift?
If that's the case, email me and ask away! I want to help you reach your goals and I'm happy to help! As a full-time RVing family for 3 years and co-hosts of the RV Family Conference, we have learned quite a bit and are happy to help.
Another great place to learn more about RV living is on some of our favorite RV living YouTube Channels.