Looking for RV closet storage ideas and hacks? It's no secret that RVs aren't the biggest living spaces. This can make finding ways to store all of your stuff a little bit of a challenge. Fortunately, finding ways to organize and store all of the things you need for a successful trip is totally possible.
One good place to start? With some RV closet storage ideas!
Organizing your RV closet is a fantastic idea. Good storage ideas for RV closets ensure you make the most of this storage space, and they make it easier to find the things you need when you need them.
In this article, we will introduce you to some of our favorite RV closet storage ideas. Use your favorite camper closet organization tips from this list, and you're sure to have one of the nicest closets on the road!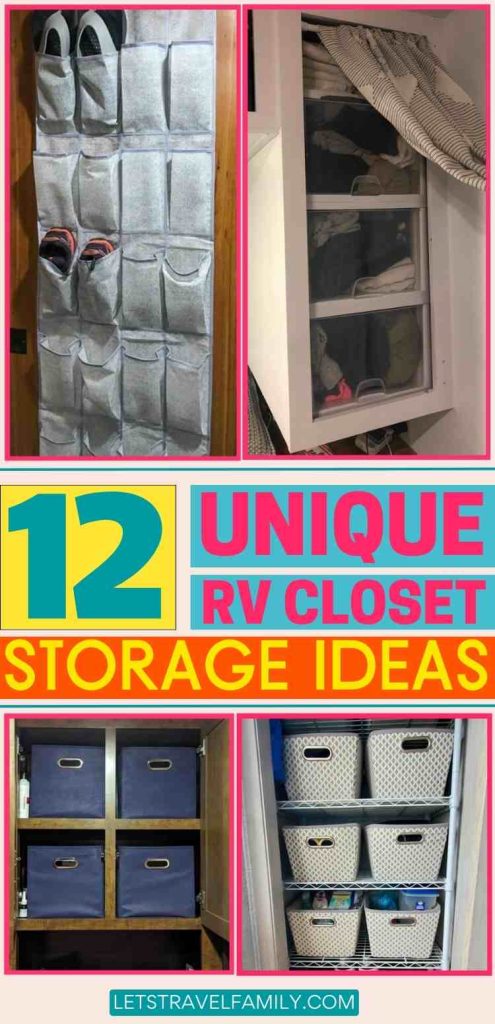 THIS ARTICLE MAY CONTAIN COMPENSATED LINKS. PLEASE READ OUR DISCLAIMER FOR MORE INFO. THIS POST WAS WRITTEN BY JILL GREISING-MURSCHEL, A FAMILY TRAVEL AND RV LIVING EXPERT.
Use Containers In RV Closet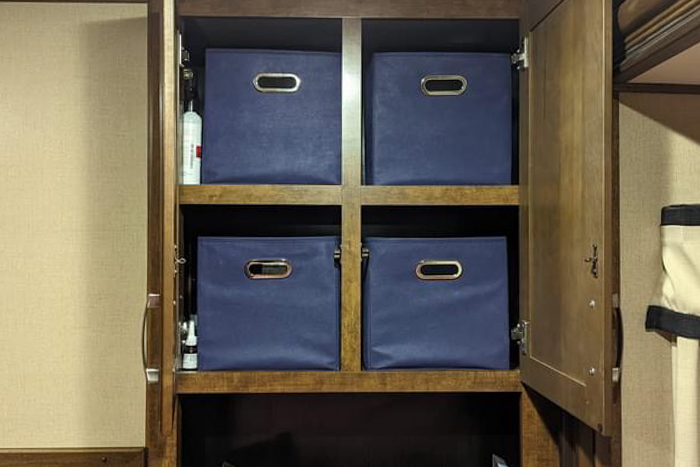 Number one on our list of RV closet organizer ideas? Pick up some bins and put them to use. Pretty much every organized RV closet we've ever seen includes a set of bins, baskets, or boxes to keep similar items together and make finding things like socks and underwear a little bit easier.
The size and type of containers you choose will depend entirely on what you're storing and how big your cabinet or closet is, but we promise you won't regret getting them!
As we mentioned, there were bins and boxes in nearly every example of RV closet storage we found. That said, we are especially fond of how neat the bins pictured above look and highly recommend finding something that fits in nice and snug like this if you can.
Watch our RV Closet Storage Ideas here
Put In RV Shelves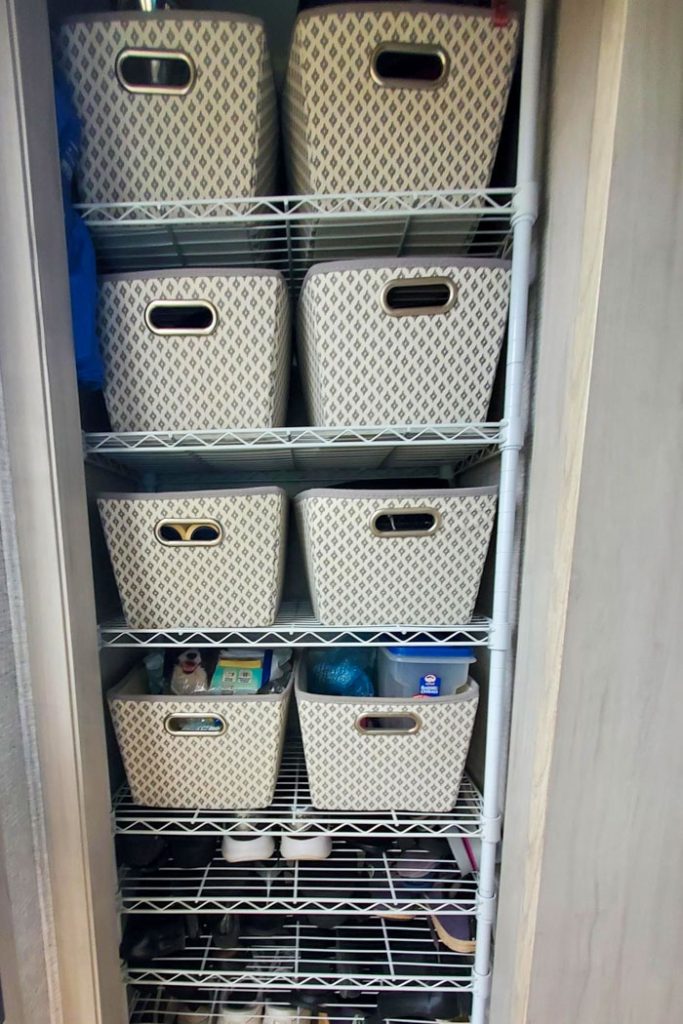 Bins are great, but if your closet is one super tall space, you'll be stacking the bins pretty high in order to take full advantage of the space. This is where RV shelves in closet spaces can help!
Adding shelves for RV closet spaces makes it easier to get to the containers you actually want to use without moving ones you don't need at the moment. This is a huge time saver and can save you from cleaning up messes caused by toppling bins and boxes.
We found a number of great examples of RV closet shelves when looking for great camper clothes storage ideas, but we especially liked the shelves pictured above.
They are just such a good fit, and the fact that they hold both bins and shoes makes them an extra useful RV closet organization solution. These would work great if you are considering storing some of your RV kitchen items in your closet as well.
Try Hanging Shelves
Don't think traditional shelving will work in your cabinet or closet? If you have a clothes rod, you could try these hanging shelves instead.
Generally, these aren't great for holding bins because they are soft, but you might be able to find a set that would hold small boxes, and these kinds of shelves will definitely hold clothing, so you can sort your shirts from your pants and give every type of clothing its own home.
Add Drawers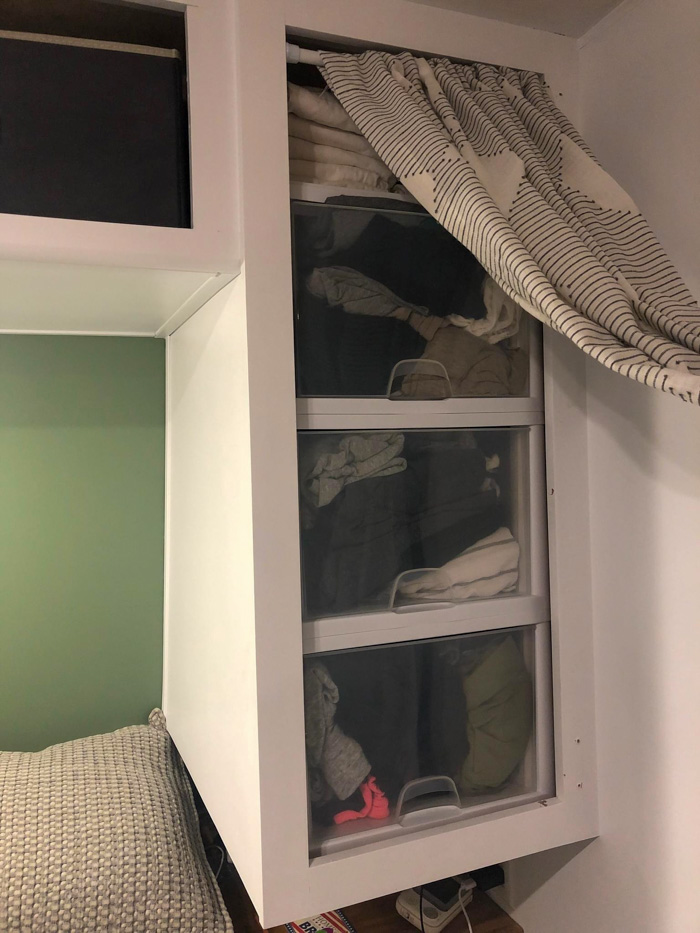 Drawers are similar to bins, but in many cases, they are even better. This is because the drawers can be easily pulled out to reveal their contents without the need to pull the entire box out of the closet.
We love that drawers can help you make use of the space in the back of a deep cabinet or closet without losing items behind the things placed in the front of the space.
We absolutely love the drawers pictured above. They fit so perfectly in the space and make use of every inch while still keeping things nice and tidy!
Build Your Own Solution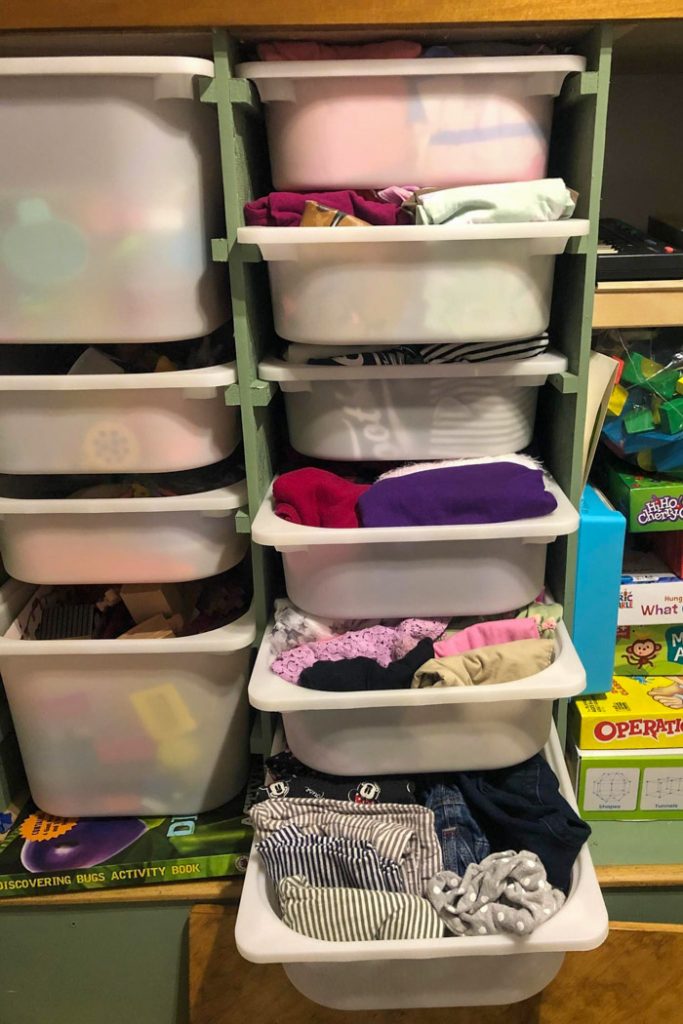 If you can't find a set of store-bought drawers or shelves that fit perfectly in your space, and you don't want to lose the extra space around the storage solution of choice, you might consider building DIY RV closet shelves.
Building a custom set of drawers or shelving for RV closet spaces is actually a relatively simple project for a beginner carpenter, and might be a good way to jump into the world of building while also gaining some awesome RV closet shelving.
For inspiration, check out the totally awesome drawers above. These were custom-built to fit the family's needs, and we think they are one of the most amazing RV clothing storage ideas.
Grab Some Tension Rods
Tension rods are another excellent item to have on hand for camper closet organization. We consider them one of the RV accessories you'll want for a number of reasons. These can do a couple of different jobs.
For one thing, a heavy duty tension rod can actually serve as a clothes rod, giving you someplace to hang shirts or pants if your RV didn't come equipped with a place to do that.
Smaller tension rods are also great. These can be placed at the front of the closet in front of bins or other items you don't want to lose on the floor when you open the closet door after a bumpy drive. They work quite well as "seatbelts" for your things, keeping things on the shelves where they belong.
Turn Things Over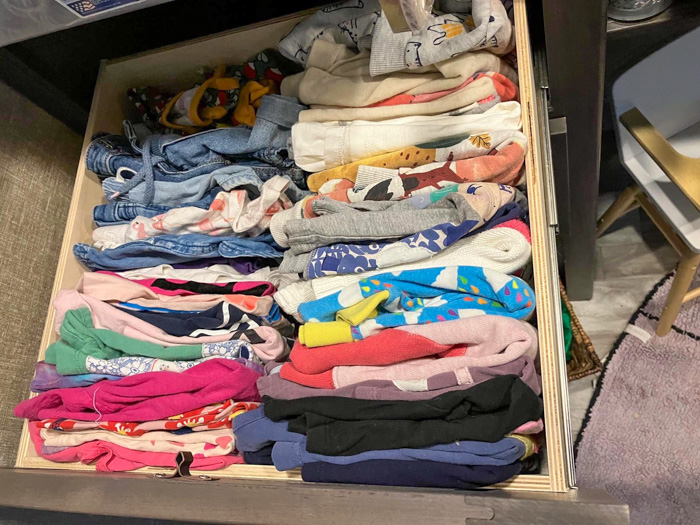 We never really thought much about how we put things in drawers until we saw the photo above, but now it's one of our favorite camper clothing storage ideas.
Instead of stacking shirts and pants in her kids' drawers, this RV mom places things in the drawers sideways. This is excellent because it allows the kids to see what clothes they have available without pulling everything out.
We have to imagine this really helps keep things neat, contained, and organized for at least a little longer than they would be if the items were stacked.
Make Use of Hooks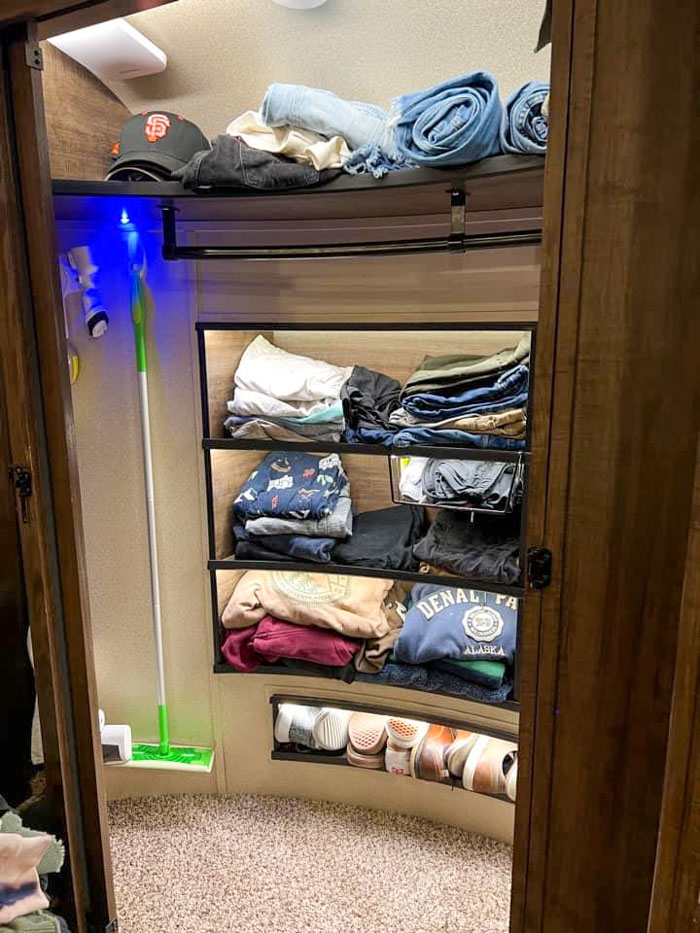 If you're lucky enough to have extra room after using the RV clothes storage ideas above, you might want to keep some extra stuff in the closet. This is where Scotch Command Hooks can come into play.
We absolutely love using these hooks for keeping things organized in our rig, and they definitely deserve a place on this list of RV closet organization ideas. These hooks stick in place and don't require any screws. They can also be removed easily without damaging the wall and can hold a surprising amount of weight.
Command Hooks could be used to hang a broom or mop as pictured above, but would also be great for hats, jewelry, or even shoes.
Consider a Lazy Susan
Working with a super deep closet? The drawer solution mentioned above is one option for dealing with this, but it isn't the only option. If you're wanting shoe storage or a way to quickly get to smaller boxes or items rather than losing them in the back of the closet, a lazy susan might be for you.
Yes, lazy susans are traditionally used on the table, but one would actually work quite well as a closet organizer for RV use. They do sell such contraptions specifically for organization purposes and we think they're an excellent use of space.
Add a Washing Machine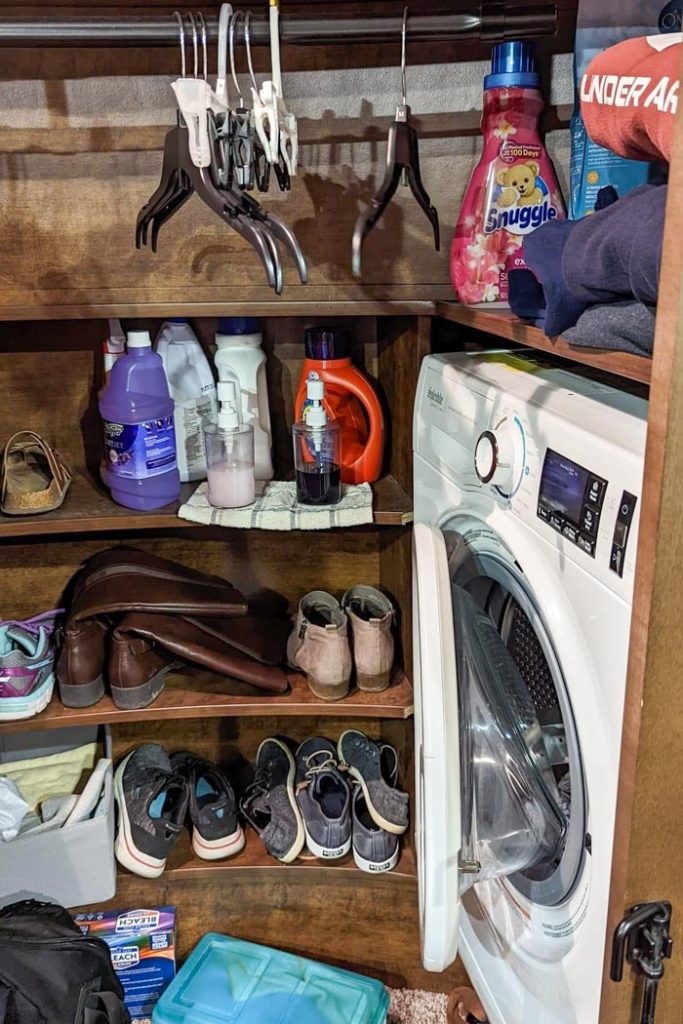 Okay, this next one isn't really an RV clothes storage tip, but If you're one of the lucky few with a full-fledged closet in your RV, you might consider using some of the space for a clothes washer and dryer combo.
Having a way to do laundry wherever you are is absolutely wonderful, especially if you're living in an RV full time, and we think the closet is the perfect place to put your washer/dryer machine. After all, you'll be putting the clothes in the closet when they're finished washing anyway, so you might as well keep it all in one contained space.
If you want to know some of our Best RV washer dryer combo recommendations, be sure to check our blog!
Don't Forget the Door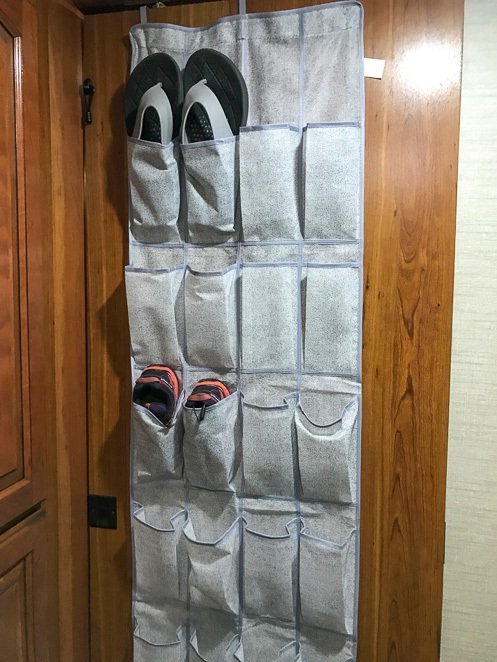 Last on our list of camper closet storage ideas is the door. In order to make sure you use all of your space well, you will want to take advantage of the hanging space offered by the closet door. It's a unique RV bedroom idea for storage.
Hanging baskets or over-the-door shoe holders are great for holding small items such as shoes, underwear, or jewelry, and over-the-door hooks are great for holding towels, bags, or jackets.
Honestly, you may want to adopt this door-hanging idea to use as one of your RV bathroom storage ideas. As we all know that camper bathrooms tend to be on the small side, and using the door to store items can be super helpful.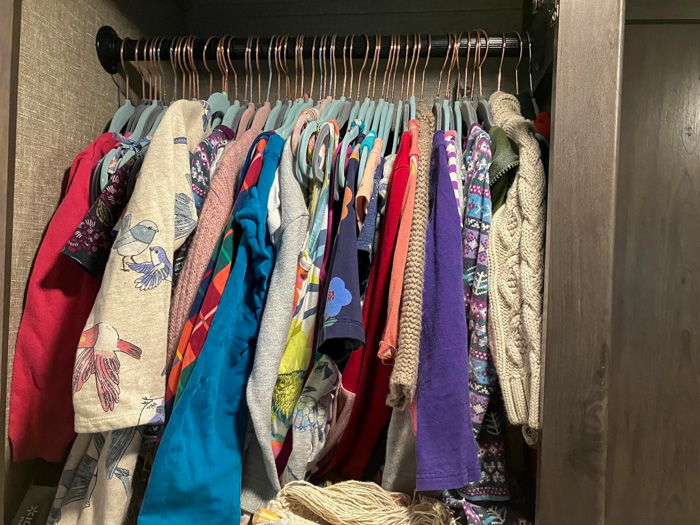 Since space is at such a premium in an RV, the door is definitely something you'll want to use when deciding which RV storage ideas for clothes to use.
Hopefully, these RV closet ideas help you get the clothes in your RV under control and keep them that way so you can focus more on having an awesome time with your family and less on finding clothes to wear each day.