Are you searching for the best RV washer dryer combo in the market? If you're preparing for RV living full time, consider getting the best RV washer and dryer combo. While it is not necessary, the convenience of doing laundry while on the road can be a significant plus when living in your RV.
Well, the reality is some RVers choose to have their laundry done at campgrounds or nearby laundromats. We did!
However, if you are looking for the best RV for full time living and have the space in it, you'll appreciate having your own RV washer dryer combo setup.
There are different types of washer dryer combos to choose from. Depending on the space available in your RV and how often you travel, the kind most suitable for your needs may vary.
In this article, I'll show you some of the best washer-dryer combos for RVs, especially for beginners buying motorhome accessories and appliances. So if you want to know more, keep reading!
THIS ARTICLE MAY CONTAIN COMPENSATED LINKS. PLEASE READ OUR DISCLAIMER FOR MORE INFO. THIS POST WAS WRITTEN BY JILL GREISING-MURSCHEL, A FAMILY TRAVEL AND RV LIVING EXPERT.
What To Search for in an RV Washer Dryer Combo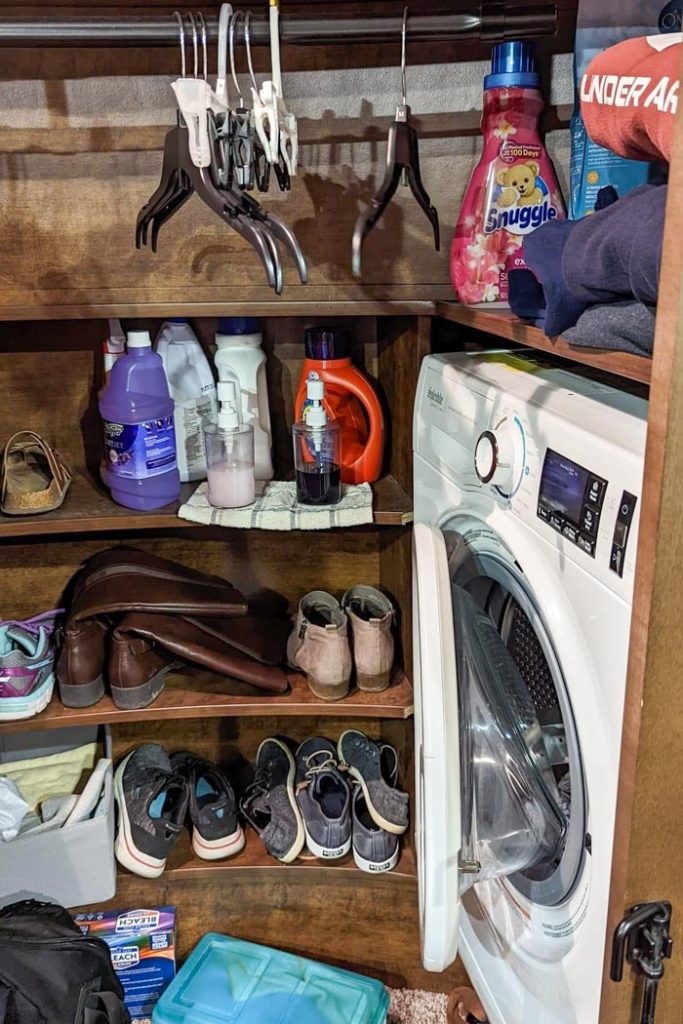 Before we get to the best RV washer and dryer combo models, let's discuss what you should search for when buying a combination unit.
Location and Size
The size of your camper washer dryer matters, depending on the space you have for it to be set up in. So, where should your washer/dryer go exactly?
In modern RVs, many owners place their washer/dryer combo unit in a specially made closet in their bedroom that the manufacturer created for it. Now, if your RV is a bit older, you may need to do a little modifying in your bedroom closet, or possibly create a space in your RV toyhauler garage space if you have one. Just make sure the space allows for venting to the outside for your dryer.
Power
Another essential thing to consider when buying the best washer and dryer for your RV is the power source. This includes both electric and gas-powered units.
Electric washer-dryer combos need to be plugged into a 110-volt outlet and should last for longer cycles compared to gas-powered units. Gas-powered units are cheaper but may only last for a short time due to propane or natural gas use.
Price
Of course, budget always comes into play when buying any appliance. It's no different regarding the best RV washer dryer set.
Most electric units cost more than gas-powered ones because they are more efficient and last longer. And just like all other appliances you buy for your RV, you should know the price before purchasing.
Capacity
Another essential factor to consider is the capacity of the washer and dryer combo. Most RVers would want a model that can do both jobs well and simultaneously. So make sure you read up on your chosen model's capacity before purchasing.
Pro Tip: when looking for an RV washer determine how many gallons of water it willt ake to fill the washer and how many callongs your RV's gray water tank will hold.
Ease Of Use
Of course, if you're investing in an RV with washer and dryer combo, you would want it to be as easy to use as possible. While most of these models are user-friendly, ensure you read up on how easy or difficult it is to operate before purchasing.
Read the related blog: RV Camper Accessories for Inside
Our Top Picks for The Best RV Washer & Dryer Combo
Features:
Stainless steel drum
3 timed dry cycles
Easy clean lint filter
Auto dry and low heat unique cycles
Innovative two-way drum rotation
Starting with one of the best RV washer dryer stackable, the Splendide Stackable Washer and Dryer Bundle is an excellent option for those looking for maximum performance in a small space. This one offers nine customizable wash cycles and features easy-to-use controls with a modern display. The stainless steel drum is also resistant to rust and corrosion, which makes it perfect for long-term use.
Features:
First-of-its-kind winterization cycle
Swing-out dispenser drawer is easier to use
Enhanced wash results
Digital display with more wash options
Key lock option
EasyGrip door handle with extra-wide door opening
Advanced spin technology for better drying and quieter operation
Also from the same brand, this RV combo washer dryer from Splendide is an excellent option for those RVers who need a powerful washer and dryer combo. With its first-of-its-kind winterization cycle, the Splendide WDV2200XCD washer/dryer is designed to meet cold weather needs. It also has enhanced wash results, effortlessly cleans heavy loads from jeans to wool fabrics, and helps conserve energy consumption.
Features:
2.4 cu. Ft. Capacity
No Vent Required
All-in-One Automatic Wash and Dry
Detergent, Bleach, and Fabric Softener Dispensers
Steam Wash
Add-a-Garment
5 Modes
One of the beginner-friendly washer and dryer combos for RV owners the GE 24″ 2.4 cu. ft. Front Load Washer / Condenser Dryer Combo is an excellent choice for those who want to save on space but still get quality performance from their machine. This all-in-one combo features a steam wash cycle that helps remove tough stains and has an add-a-garment option for when you need to add an item in the middle of a cycle quickly. Plus, its large capacity provides plenty of room to wash larger loads.
Features:
1200 RPM
Capacity: 13 lbs.
LED display
Automatic water level
Convertible venting/condensing dry
Electronic control panel with LED lights
Energy Saving – auto display off after 5 min
Another best RV stackable washer dryer set for RVers with little space, the Equator Compact Stackable Washer and Dryer Set, are sure to fit any small bathroom or kitchen. You'll be sure to love its powerful 1200 RPM spin speed and 13 lbs. capacity, as well as its LED display and energy-saving auto-off feature. With a convertible venting/condensing dry, this machine will make laundry days a breeze.
Features:
Electric All-in-One Washer Dryer Combo
Adjustable Wash and Dry Cycles
Smart, Space-Saving Combo Unit
High-Powered Performance with LED Display
UL Energy Verified with Manufacturer Warranty
If you loved the Equator Compact stackable washer dryer set with 1200 RPM, this Koolmore 2-in-1 Front Load Washer and Dryer Combo has 1300 RPM max spin speed, making it ideal for those who need even more power. This combo washer-dryer machine is also UL Energy verified and comes with an easy-to-manage push-button operations system we've made washing and drying clothes quicker.
Before You Go…..
No matter which RV washer and dryer combo you choose, you can be sure that it will make life easier in your RV. The key is to find one that meets your needs without breaking the bank. Consider power source, price, capacity, and ease of use before purchasing. Doing so will ensure you find the best washer and dryer set for your RV.
With all these things considered, you can be sure to find a washer and dryer set that will last for many years. Looking for some more tips for RV appliances and must have? Check out our top blog posts below:
25 Luxury RV Accessories
24 Van Life Gifts For Campervan Owners
Best RV Kitchen Appliances