What are the best camper tips for beginners? Booking a campground can be a fast and easy process. But the planning and logistics that need to happen BEFORE booking can take a bit longer. To make this process easier for you, we compiled this list of 12 things to know before booking a campground that will help all beginners.
We know that you're excited to book a spot in that amazing RV Park that you saw, but hold yourself back — there are still a few things you have to check before booking!
Staying in a campground can be very comfortable — or not. It depends if you're prepared for the type of campground you're in.
Camper Tips For Beginners
If you're new to camping in an RV or at a campground and need all the camping tips for beginners that you can find, you've come to the right place. Below you will find some tips and tricks that will make your life easier.
Can you make do with a campground without full hookups?
Is your pet even allowed there? These are just some of the things that you have to check before finalizing your booking decision.
Begin by listing all of the campgrounds you're interested in, then eliminate candidates while going through this list of essential things to check.
Related Post: Glamper Camper – What is Glamping Really?
1. Do They Have Full-Hookups?
With the current rise of boondocking or off-grid camping, more and more campers are coping with limited or no hookups at all. With dry camping essentials like a good generator, composting toilet, and enough drinking water, hookups can be optional.
But when you are going to pay for a campsite, you may appreciate having full hookups. That includes fresh water, electric, and sewer hook-ups for your RV or campervan at your campsite. Be prepared though, campgrounds with complete hookups have higher rates.
2. Back-In or Pull-Through?
The average cost of camping can be affected by options such as if there are pull-through campsites for RVs. You can probably save more money by choosing a back-in campsite, as many people towing large RVs would rather pull through and not have to even disconnect right away.
We appreciate backing in as that way we often have a bit more privacy, depending on how the campground is laid out.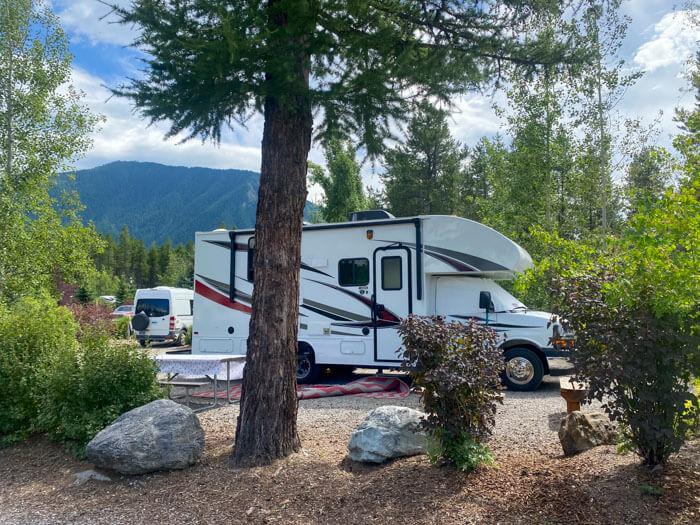 3. Are Pets Allowed?
Not all campgrounds allow pets in their area. We actually came across a few that allowed pets in their RVs, but only one per camper. So remember to check on that if you want to bring your fur babies in your RV or campervan.
4. Check A Map First
Decide which campsite to book after looking at Google Maps and the campground map. You'll want to know the layout of the campground before deciding it's right for you. Also, what does the route look like on your way to the campground? Is it a long dirt road up a steep grade?
5. How Much Do RV Campsites Cost?
Do they require a one-day deposit, pay in full when booking, or only take a check when you arrive? These are all applicable questions to think about as you might be surprised.
What payment options are you most comfortable with? Most campgrounds take credit cards, however, there are a few campgrounds that we've come across that only take cash or checks for their camping fees.
You also need to know this in order to prepare. How much cash should you have ready on the day you arrive? Or will they accept your credit card? Try to make your own experience comfortable by picking the choices that you can accommodate.
Related Post: Best Credit Card for Travel Hacking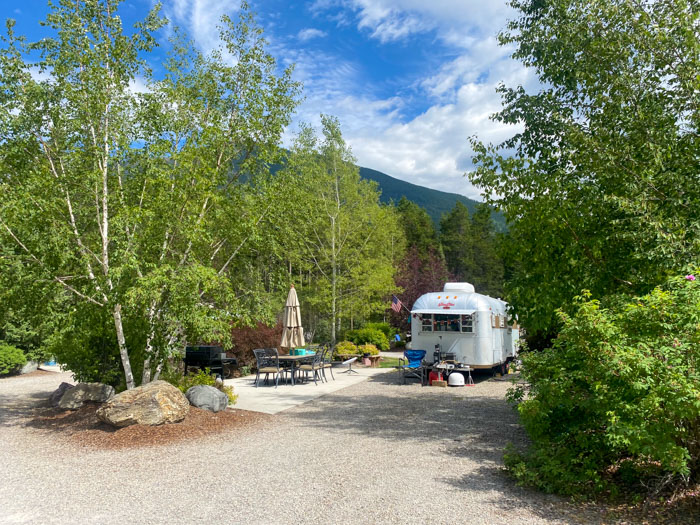 6. Does The Campground Charge For Extra People?
Many campgrounds offer the same camping rate for a group of 6 or 8 people. While some campgrounds have per-person fees after the first two people. Be sure to understand what the campground charges for extra people, as it can add up.
7. What Amenities Are Available?
Do they offer a pool, playground for kids, bike rentals, or any other amenities? This can be an important question to ask before booking.
You may also want to know if there is a restaurant as some KOA's do like the one we recently stayed at in Glacier National Park. We were able to skip camping cooking one night and enjoyed a meal at their outdoor restaurant by the pool.
Related Post: Learn how you can camp in National Parks.
8. Is there a dump station?
Every campground is different. Some private campgrounds such as KOAs will offer full hook-ups with sewer at your campsite, or at least a dump station to use on your way out of the park. Other campgrounds, such as those in State Park or National Parks, may not have any water or sewer and you'll need to be sure they have at least a basic dump station to fill up with potable water and to dump your tanks.
Be sure to check before booking, as there have been a few campgrounds that we've visited that did not offer a dump station and we had to find one once we left.
9. Is The Campground In A Great Location?
Pay attention to the location of the campground compared to the town, National Park, or activities you want to do. Is it convenient? Or is it far out of the way? Sometimes it can make a huge difference to find a campground in the perfect spot to where you want to spend your time.
Related Post: Where To RV In Winter Months
10. Do they have wifi?
Many campgrounds offer wifi, but you often need to be near the main building to access it. We don't really recommend public WiFi especially if you're a digital nomad and heavily rely on the internet to get your job done. However, if you just need it for casual browsing on social media, then it can work.
If you can't live without the internet, as you may work from the road as we did as a full time RV living family, then be sure to check to see if there is cell signal or if your satellite internet would work there. You can learn more about RV internet before you arrive.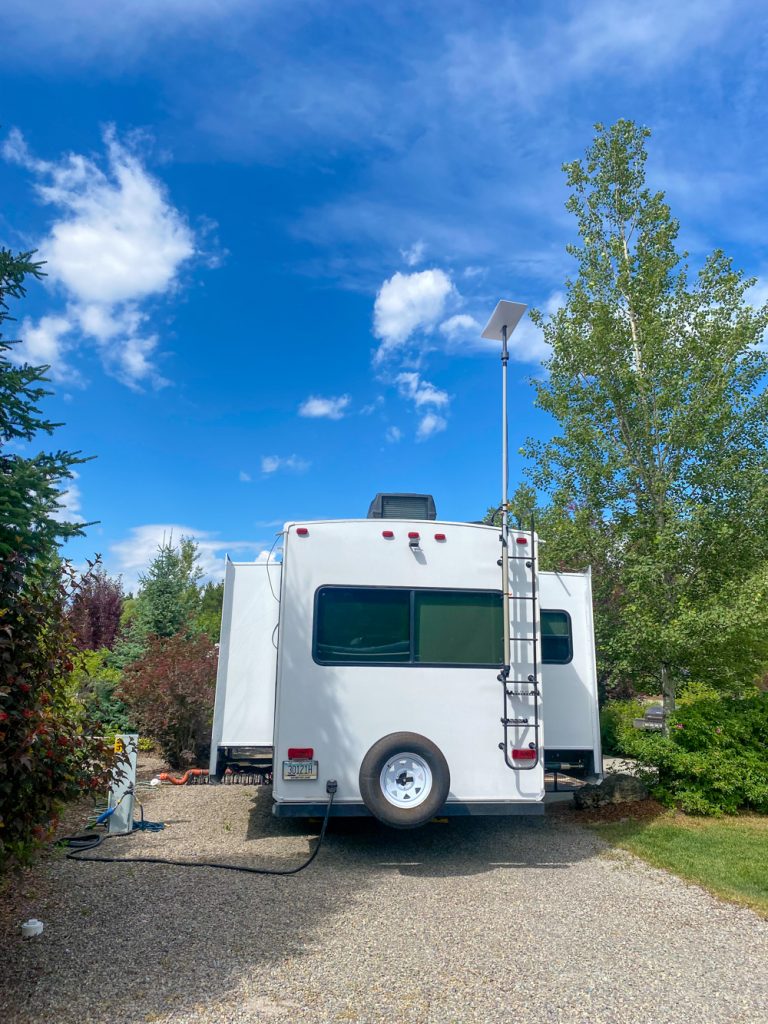 11. Do they have cell signal?
Cell signal is very important when you need to work from the road while traveling. It's the one way you can communicate with people at home, make important calls, and jump on your laptop quickly to shoot off an email.
If the campground of your choice has a weak signal, yet they have cell coverage, then you can use your own tools or apps to improve that.
Sometimes, we use cellular antennas to pick up signal. Our favorite is Netgear MIMO antenna which is helpful in boosting signal and increasing upload and download speeds.
For a hard-mounted solution, go for an omnidirectional antenna that captures signals from all directions.
You can also invest in amplifiers or boosters for cell signal.
We use Weboost as a cell booster, which allows us to camp with very low signal — helping us proceed with work.
Just find a campground that has a signal because if there's none, then there's nothing to boost.
Check out our post on our internet options and proven set-up after RVing for more than two years for more information.
12. What is the weather or climate like?
You absolutely have to prepare for the weather.
Will it be hotter than you are used to? Such as when we went camping in Moab, Utah in May and realized it was normal to be 95 degrees each day. Or does the snow pile up during the time you want to visit Colorado?
It's important to be prepared and to bring the right RV accessories for the climate. Do you need winter hiking clothes? Or do you want to grab a dehumidifier for your RV as you might be spending time in humid Florida destinations?
---
These are just some of the things we consider important before booking a campground. You might have your own list of important factors, too. BE sure to think about what you need and want of your RV campground and then begin your search.
Do you guys also have your own RV checklist to set-up with, or one that you use when booking a campground? We'd love to hear what you'd add in the comments below.