Have you been waiting for an opportunity to take a family vacation? A Utah road trip may be just what you need.
For our family of 6, Utah was an amazing experience. We spent over 2 months traveling around Utah in the Spring of 2019 and I can't wait to share with you our top places to visit and our best Utah road trip itinerary.
The state offers a lot of adventures we just can't get enough of, including a lot of sunshine, red rock, and exciting places to explore.
Keep reading so that you can start planning your ultimate Utah road trip.
THIS ARTICLE MAY CONTAIN COMPENSATED LINKS. PLEASE READ OUR DISCLAIMER FOR MORE INFO.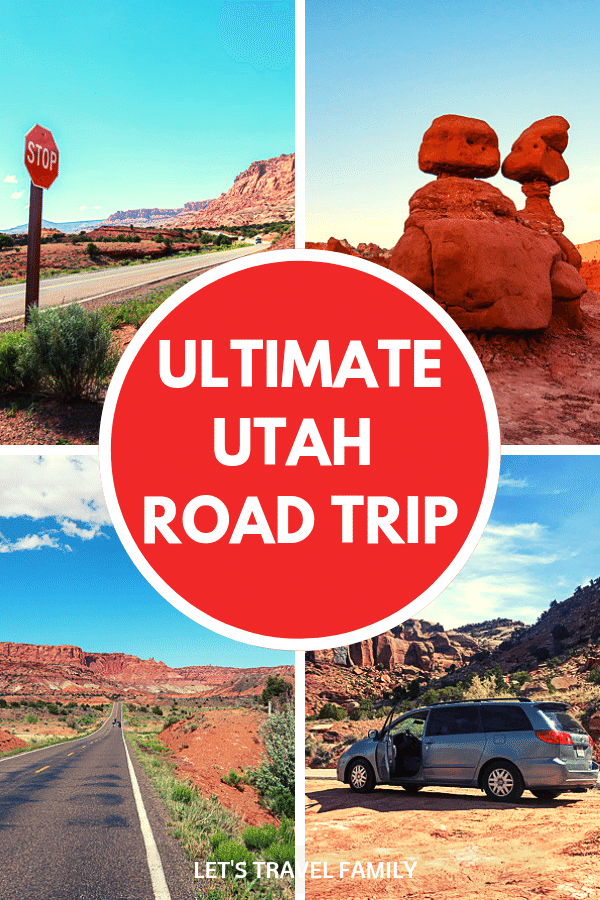 Utah National Parks Itinerary
Utah is home to not just one, but 5 National Parks. The mighty five include Zion, Bryce Canyon, Arches, Capitol Reef, and Canyonlands National Parks.
These famous National Parks can all be visited in the same month, but be prepared for different climate and weather conditions. We were HOT in Zion National Park in early May and COLD in Bryce Canyon National Park in early June.
Why?
Elevation. Bryce is so much higher and has snow many months of the year.
Honestly, if I had to pick the perfect time of year to take a Utah road trip, I would say Fall. We listed almost all of the Utah National Parks on our list of the best Fall vacations to take in the USA.
Now, if you're in the dreaming state of creating the best National Park road trip around the USA, then you might appreciate this printable list of US National Parks.
Now, let's dive in to our tips on planning our your Utah National Parks tour with this National Parks itinerary and our top 7 stops to make.
Utah National Parks Map – Road Trip
Below, you can see our map of Utah National Parks along with great state parks and the city of Moab. When visiting Utah, you will want to choose to start your road trip from the southwest in Zion or the East in Moab. In this article, we will start with Zion National Park.
Zion National Park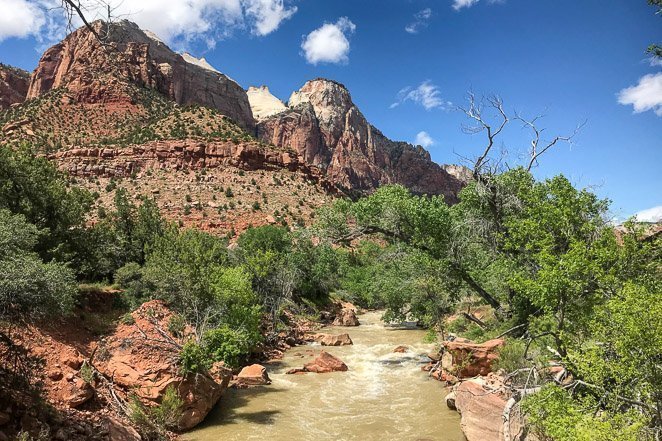 A great place to start your Utah road trip is in Southwest Utah at the famous Zion National Park.
Zion has a wide range of hiking trails offered and is a very popular park due to it's location being only a 2-hour drive from Las Vegas. It doesn't matter if you want an easy hike or a hard one, Zion has you covered.
The best hikes in Zion National Park are different for everyone. We spent over 3 weeks in the Zion area and tried many of the hikes. Remember to choose the hike to take according to your own ability.
For us, the most memorable was our experience hiking Angel's Landing. It was VERY challenging and we could only describe the first phase of the hike as burn. It's literally the only feeling we felt that entire time.
But upon reaching the top, we immediately felt that it was well worth it! For this hike, we didn't bring the kids with us because it would have been too hard for them. Yet, it was such an epic hike we hope to go back again someday.
Bryce Canyon National Park
The second stop on your Utah road trip should be Bryce Canyon National Park. When it comes to unique rock formations, Bryce Canyon can't be left behind with its amazing hoodoos and the famous Bryce Amphitheater.
The park offers family-friendly activities as well. Hoodoos, which are known for being rock formations from weathered rocks, can't be missed as you travel through the park.
Be prepared for cooler weather at Bryce compared to Zion, because you are going up in elevation. We recommend that you bring the best hiking clothes for warm and cool weather on this Utah road trip.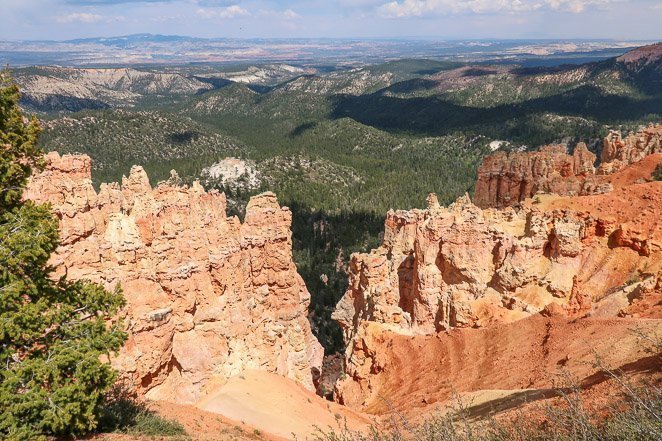 A scenic drive can also be achieved if you drive all the way to Rainbow Point and is well worth the drive.
If you want more challenging activities, you can experience horseback riding for a fee.
Capitol Reef National Park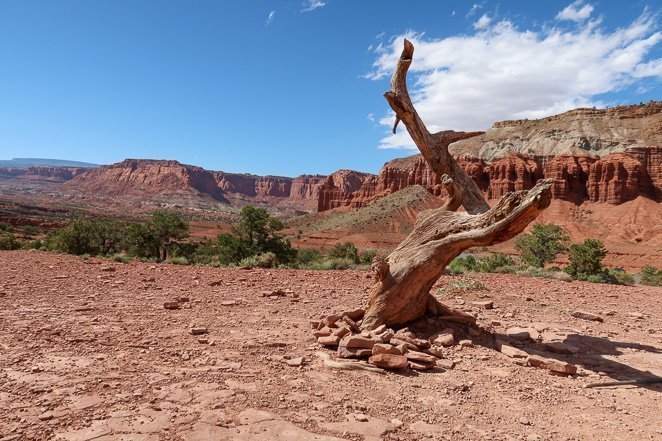 The third stop on your ultimate Utah National Parks road trip heading East should be Capitol Reef National Park. Defined by the Waterpocket Fold, Capitol Reef is filled with canyons, domes, cliffs, and bridges that will surely amaze you.
With the fold's wide coverage, Capitol Reef is able to support several activities that you can enjoy even if you have kids with you.
There are many things to do in Capitol Reef but the most popular activity is hiking. The park also offers orchard activities, backpacking, and camping.
If you want to focus on the kids' enjoyment, the Fruita Area is the best place to visit.
Goblin Valley State Park – Utah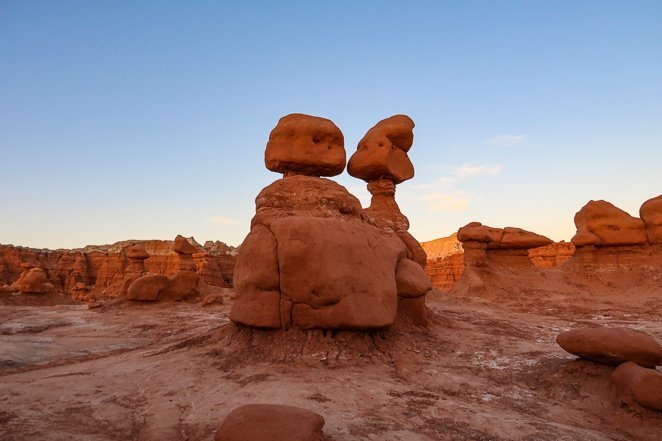 When you leave Capitol Reef National Park and begin heading Northeast toward Arches, you have to make a stop at Goblin Valley State Park. If only for one afternoon!
Goblin Valley State Park features hoodoos that are commonly known as goblins. The appearance of the park is so surreal it can pass off as a movie setting for Star Wars.
The best part though is that they allow and even encourage climbing around and ON the goblins. Talk about the best natural playground for children and adults!
Arches National Park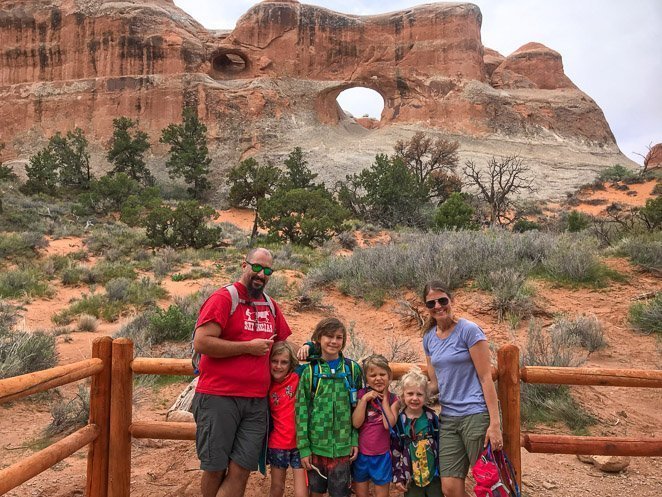 Travel NorthEast from Goblin Valley State Park and work your way to Arches National Park so that you can see some majestic arches up close! There are many things to do in Arches National Park, including some easy and intense hikes, stopping at the visitor center, and taking a beautiful drive.
These famous arches are beautiful to look at and provide some of the most Instagram-worthy photos.
Arches National Park is located in the high desert just outside of the city of Moab, so remember to bring a lot of drinking water, especially if you want to go on a hike or two.
Moab, Utah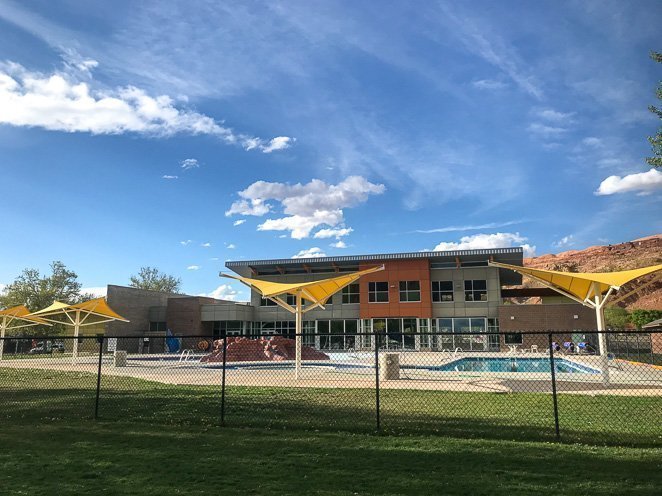 Discover fun things to do in Moab, located in Eastern Utah only a 10-minute drive from Arches National Park. It's a fun city with many places to stay, eat, and fun things to do.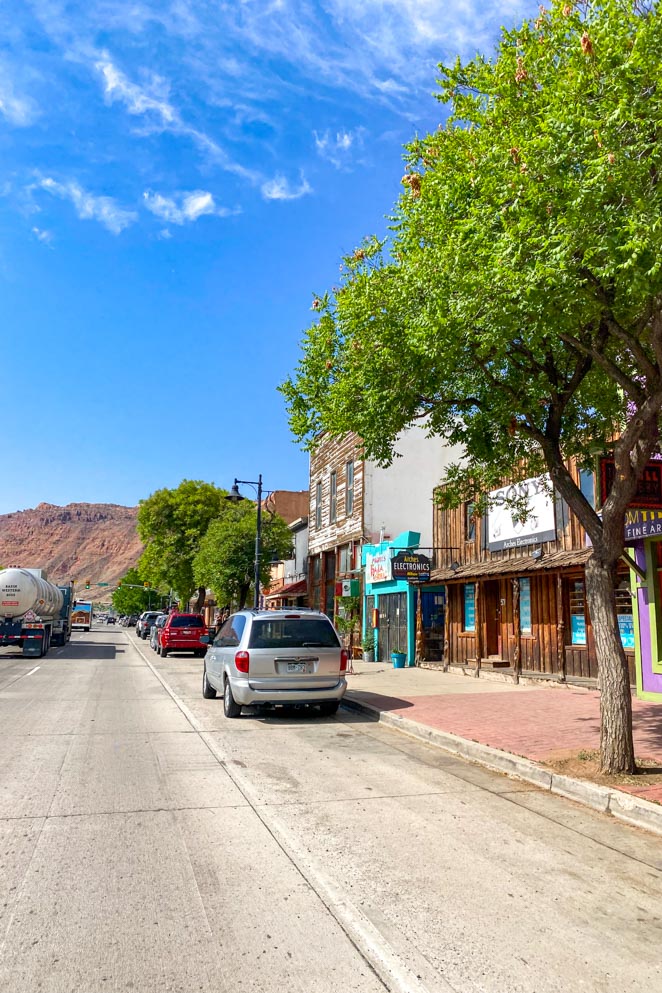 From going on backcountry jeep tours to mountain biking some epic trails, Moab provides a lot of opportunities for an active individual or family.
Our family boondocked in our RV just outside of Moab for 4 weeks while we explored the area and visited both Arches and Canyonlands National Parks.
Canyonlands National Park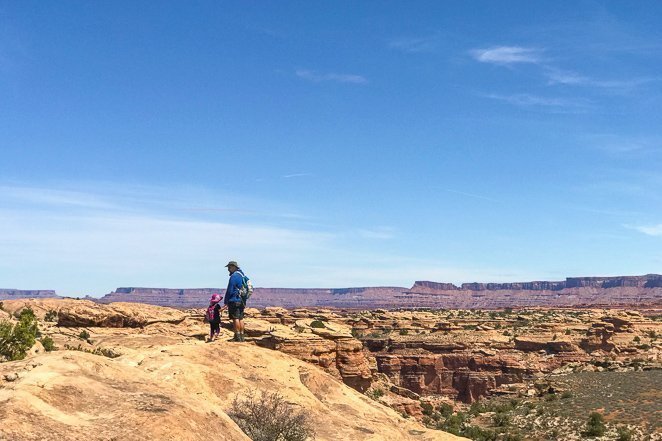 Canyonlands is such a large park that it's divided into three districts that are not even interconnected. If you're only there for a quick road trip, we suggest that you choose just one district to explore.
Enter your if you want to go on some great hikes, The Needles district is the best option. The Island in the Sky is the most popular district for being close to Moab and the Visitor Center and providing some great views.
Lastly, The Maze is a remote district which we never reached during our search for the best Canyonland hikes due to the need for 4-wheel drive.
Where To Stay On Your Utah Road Trip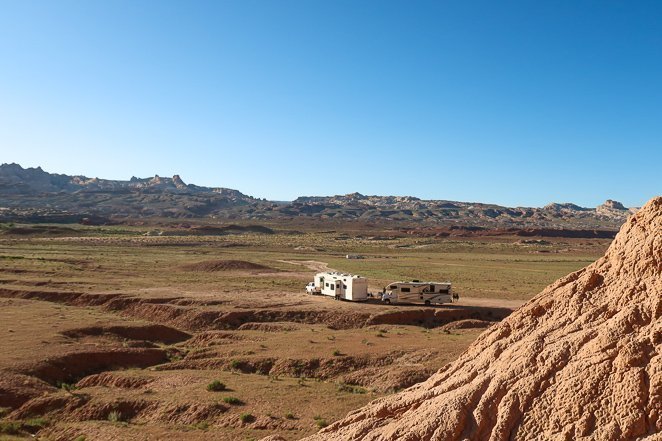 If you are planning on camping or RVing during your Utah Road trip, then you may be able to stay for a few days, or more, at each destination in the National Park Campgrounds or find some great boondocking locations nearby like we did.
Yet, if you're looking for a hotel then you may want to find a few hotels to use as your base and then drive in to each Park. Click here to read about some of our top RV campsites in the US, where we list two of them in Utah.
Zion Accommodations
We recommend finding a hotel in Springdale, Utah for your time in Zion National Park. There's a free park shuttle that will pick you up to bring you into the park each day.
Bryce Accommodations
When visiting Bryce Canyon National Park, find a hotel in Bryce City only a few minutes outside the park. Give yourself a few days at Bryce Canyon as there is just so much to see and do.
Capitol Reef Accommodations
You can find a hotel in Torrey just outside Capitol Reef National Park. Many people can visit this National Park in 1-2 days depending on how many hikes you'd like to go on.
Moab Accommodations
As you leave Capitol Reef, plan to spend the morning and early afternoon stopping by Goblin Valley State Park. There are no cities nearby, and no cell service at all, so be prepared. You can then plan to drive to Moab, Utah by the end of the day and get a hotel room in Moab for awhile.
Once you have a place to stay in Moab, you can not only visit the city and what it has to offer but also visit Arches National Park and Canyonlands National Park using Moab as a great home base.
Utah Hiking
If hiking is your go-to hobby, Utah may just be your favorite place to visit, maybe even a family bucket list trip! Not only are there several hiking trails in each one of the five national parks in Utah, there are more in their Utah state parks, national monuments, and around Moab.
Here are some of the best hikes you can find in Utah.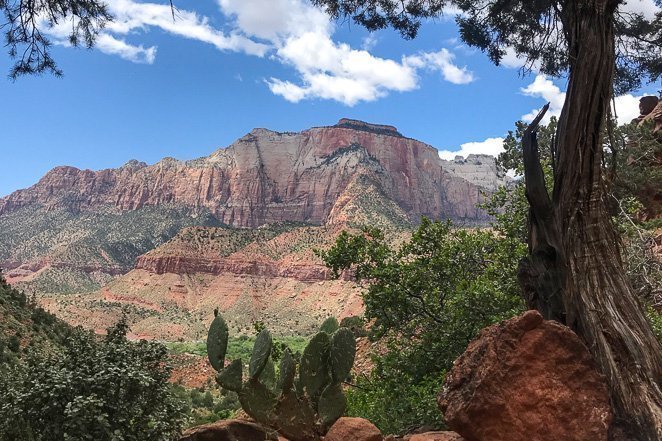 1. Sunset Point in Capitol Reef
One of the easy but popular hiking trails in Capitol Reef National Park, Sunset Point, can lead you to an amazing view of the park's landscape. It's light hike is great if you're going to hike with kids!
2. Queen's/ Navajo Combination Loop in Bryce Canyon
Several combination loops can be found in Bryce Canyon due to the trails being interconnected. Queen's/ Navajo Combination Loop is actually the most popular one in the park and for a very good reason.
It's a sunrise and sunset point and one of the moderate hikes in the park.
3. Angel's Landing in Zion
One of the hardest hikes we've experienced, Angel's Landing, is an epic hike and a great memory for Tony and I. It's great to try this if you're all adults and have enough experience in hiking.
4. Double Arch in Arches
After stumbling upon the Balanced Rock and The Windows which are often busy but accessible, we suggest that you take the gravel path that will take you to Double Arch in Arches National Park.
Through this path, you may also come across the Turret Arch, North Window, and South Window!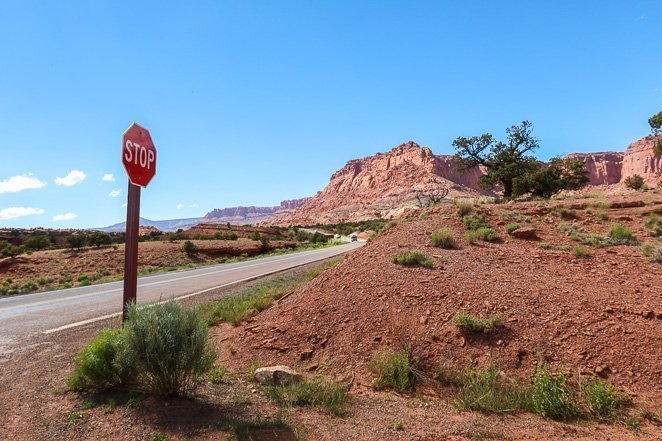 5. The Grand View Point In Canyonlands
During our visit, we were able to hike this trail together with our kids and they really loved it! It's located in the Island In The Sky District.
The place can be enjoyed through rock scrambling and climbing. The panoramic view is beautiful, too!
6. Whiptail Trail in Snow Canyon
Whiptail is a paved accessible trail in Snow Canyon State Park. It makes the adventure possible for people on wheelchairs or toddlers in strollers!
Even pets are allowed in this trail. If you don't feel like hiking, you can also bike around the area.
7. Lower Calf Creek Falls in Grand Staircase – Escalante
The Grand Staircase – Escalante National Monument is also home to many trails that will lead you to breathtaking views. One of these is the trail to Lower Calf Creek Falls.
The tiring and hot hike will be worth it once you see the falls in front of your eyes!
Other
T
hings To Do In Utah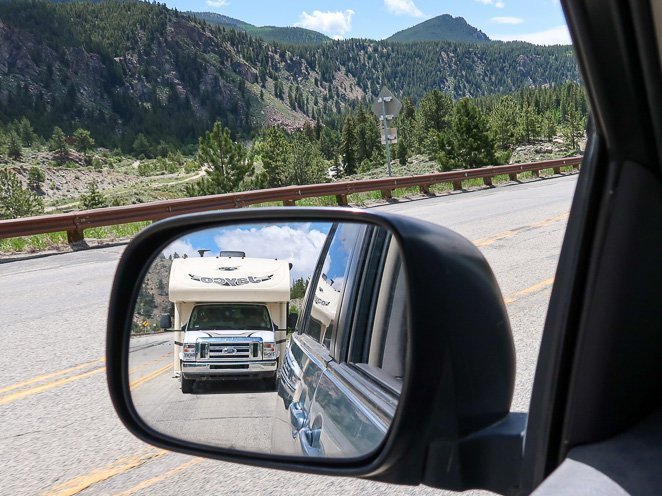 Visit National Monuments
There are 7 national monuments in Utah as of the moment. If you have the opportunity to make your Utah road trip months long, then you could also squeeze in a few monument such as Grand Staircase Escalante.
Go On Other Utah Adventures
There are SO many amazing adventures at your fingertips when visiting Utah. Check out some the best adventures in Utah that we didn't cover in this post.
Wander around Moab
Moab is a popular city in eastern Utah. It's located just outside 2 of the 5 national parks in Utah, Arches National Park and Canyonlands National Park.
Not only that, sections of Colorado Rivers near it are known to allow Whitewater rafting, kayaking, and rock climbing. Moab is also really well known for amazing mountain biking and jeeping.
Combine a Utah and Colorado Road Trip
Add a Colorado road trip to your vacation and explore the state East of Utah. Explore the Rocky Mountains and keep the road trip going.
Best Time To Visit Utah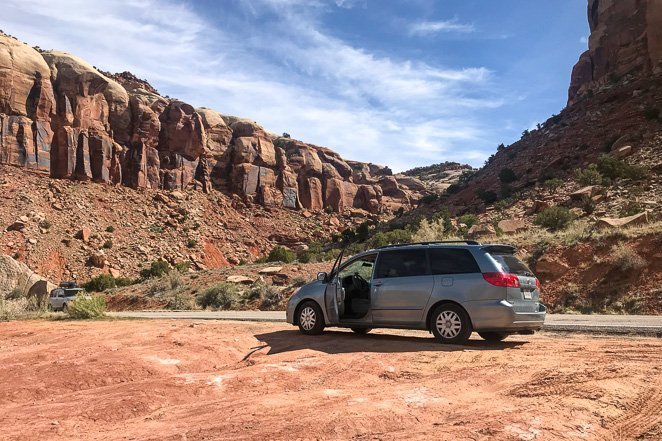 With its desert climate, Utah can be a really challenging location for a trip if you get the timing wrong.
If you want to avoid the crowd, you have to avoid visiting from June to August when school is out. Yet, that might be best since the temperatures can be SO high in much of the state. Especially near Moab and Zion National Park.
If you love the sight of blooming flowers, visit during springtime where you can see so many wildflowers and the temperatures in much of the state are mild. Just be prepared for some cold temperatures, and maybe even snow, in Bryce Canyon in Springtime.
Lastly, if you're targeting dates when crowds are moderate and temperatures are bearable, choose a date between April – May and September – October. Honestly, these are the best times to plan a Utah road trip. Spring or Fall!
Other Places To Visit Out West
If you happen to travel full-time and you're looking for more ideas on where to go either before or after Utah, or you just want to plan a longer road trip, then check out these ideas on other great places to visit out west.
Wyoming Ideas: Jackson Hole Wyoming – Fun any time of year to visit. Grand Teton National Park – One of our favorites in Wyoming. Yellowstone Itinerary Ideas – You could spend weeks here!
Colorado Ideas: Great Sand Dunes National Park – This is a great park in Southwest Colorado. Rocky Mountain National Park – So much wildlife in northern Colorado! Estes Park Colorado – One of our favorite cities out West!

Montana Ideas: Billings, Montana – A fun city to add to your MT road trip. Glacier National Park – A bucket list National Park in Montana.
Idaho Ideas: Cascade, Idaho – Fun things to do.
Are you struggling with how to start planning this trip? Start with knowing what to pack for a road trip! What you bring with you during travels like this can make or break the whole trip.
Utah offers so much for an outdoor enthusiast. Especially sunshine!
Do you think this list lacks something? Then tell us in the comments below!