Van life gifts are perfect for those adventurous souls who have taken the plunge and decided to embrace a nomadic lifestyle. Whether they're hitting the open road in a typical van, campervan, glamper camper, or converted van, these van life gift ideas will help make their travels even more fun and memorable.
Yet, for those who haven't experienced van life yet, plenty of gifts for camper van owners will make their day.
Wheater they want to travel on the weekends or maybe hit the road full-time, this post will give you some great ideas. From custom map prints to essential camping gear and books about van life, these items will help them get excited about their upcoming journey.
When we were traveling full-time, it was an amazing experience for us and our family. Throughout our journey, we discovered some of the best RV gifts and the best camping gifts that helped us make the most of our travels. In this article, we've compiled a list of our favorite van life gifts that are perfect for the adventurous person in your life.
THIS ARTICLE MAY CONTAIN COMPENSATED LINKS. PLEASE READ OUR DISCLAIMER FOR MORE INFO.
Van Life Gift Guide Ideas
Below you'll find items that go beyond the best campervan accessories. Some can be practical, but you won't find must have ideas such as the best campervan insurance for conversion vans. Instead, you'll find some fun and thoughtful van life gift ideas that your friends or loved ones may not have bought for themselves. So let's dive in!
Van Bug Screen
A thoughtful gift for your friends who own a campervan is this van bug screen that keeps out mosquitos while allowing some great airflow into the van. This flyscreen does not interfere with the door, so you can leave it up and close the door.
Aeropress Coffee Maker
All you need is hot water and coffee grounds to make a delicious cup of coffee while boondocking or dry camping off-grid in a van. This Aeropress coffee maker to-go even comes with a small cup that's part of the system. Heat up water over a campfire or propane stove and press down to taste a delicious French press cup of coffee.
Related Post: Best RV Coffee Makers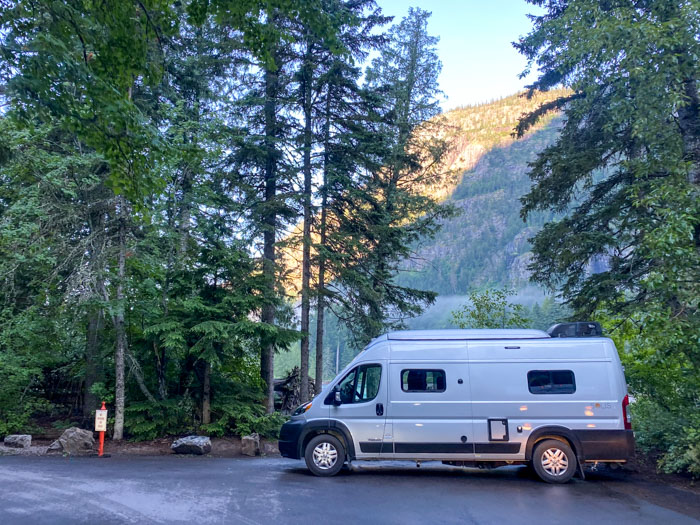 Yeti Coffee Cup
Grab a pair of these Yeti Coffee Mugs and your van life friend will appreciate you! These work SO well at keeping beverages hot for hours and hours, while also being so durable.
Solar Powered String Lights
Looking for a fun van life gift idea? These are great camping lights that are powered by the sun and roll up small for easy storage. They work as a great way to decorate the campsite for a night.
Binoculars
A great stocking stuffer for someone who likes to go camping in their van is a set of binoculars. They don't take up much space and may not be something they would buy for themselves.
Awning for The Camper Van
In order to create some shade for outdoor cooking and relaxing, your friend may appreciate an All Top van awning. It's easy to install and comes highly rated. It installs on the side of the roof rack and provides protection from the rain and sun.
Grayl Water Filter Bottle
This water press and filter is an incredible gift for anyone in your life who loves to travel. The Grayl GeoPress water filter and purifier allow you to fill the button reservoir with water from any freshwater stream or source and simply press down on the top reservoir, allowing the water to push through the carbon filter. This removes viruses, protozoa, bacteria, particulates, chemicals and heavy metals. I use my Grayl daily.
Related Post: Berkey Water Filter Review
Light Yoga Mat
Gift your friend or loved one a lightweight yoga mat like this one that rolls up small and can easily fit in their van. You may also want to grab them a yoga mat bag like this to help keep their mat clean and dirt free when it's not in use. These are both great campervan gift ideas.
Kindle E-Reader
A simple Kindle Paperwhite e-reader is a great gift idea for someone who plans to be traveling light. Living or traveling in a campervan means that they won't be able to bring many books with them. Yet, with a Kindle e-reader, they can check out books digitally from the library or sign up for Kindle Unlimited and have access to thousands of books per month. Our family pays for Kindle Unlimited so that our kids have access to thousands and books to choose from.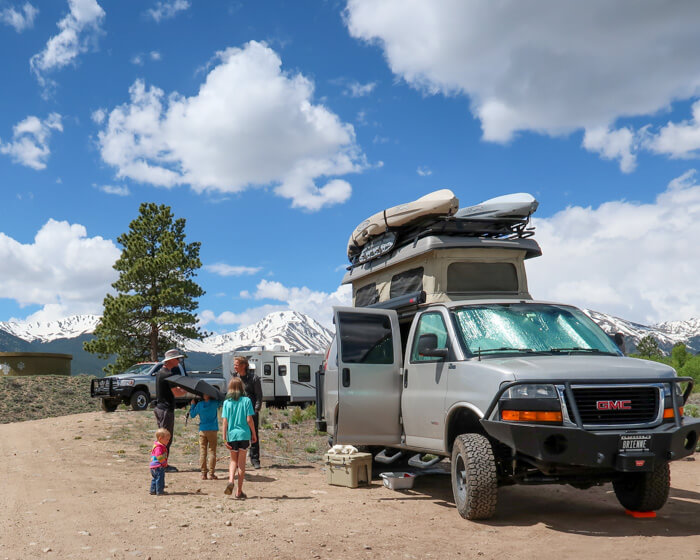 Door Storage Organizer
Campervan owners know how important storage and organization are to maintain a tidy and clutter-free living space. That's why this door storage organizer is the perfect gift idea for van lifers who need to maximize their storage space.
This organizer has 20 pockets that can fit flip-flops, small items, and even chargers and cords. This great campervan gift is easy to install and it will help keep your friend's van organized and tidy.
Related Post: Easy Camper Storage Hacks
National Parks Pass
For outdoorsy lovers, a America the Beautiful National Park Pass is one of the gifts for a camper van owner who wants to get to all the great parks. With this pass, they'll have access to National Parks all over the country and get to explore the beauty of nature.
This is a great gift for those who want to visit at least 3 National Parks or more. We're sure that your van lifer friend will appreciate this gift and make the most out of it.
Related: Unique National Park Gift Ideas
Indoor Heater
As we've traveled in our RV, we've learned that campervans can get super cold during the winter months. That's why an indoor heater makes a great gift for any van lifer.
This portable ceramic heater is perfect for those cold nights and can help keep the temperature comfortable inside the van. It's also energy-efficient and quiet, so it's an awesome campervan gift that your friend can use all year round.
Bike Rack
A bike rack is a great gift for any van life enthusiast who loves exploring on two wheels. A bike rack is a must-have for van lifers who want to park their van and then get away from camp to explore. They can use their bike to go miles from camp.
This bike rack is perfect for carrying two bikes on the back of a campervan. It's easy to install, and it will help your friend go on their van life adventures without any worries. Whether they're biking to the beach or just cruising around town, this bike rack will help them get there without a hassle.
Camping Cookware
We know how hard it is to cook a meal in tight spaces, but these types of kitchen campervan gifts will make the job easier. A camping cookware set is an efficient item to have while camping or van life, and this set comes with all the essentials: pots, pans, plates, spoons, bowls, etc.
This camping cookware from Stanley has a different variety to choose from, there are 8 pieces in a set, 21 pieces in a set, and less if you want. Camping cookware is usually made to be space-saving and lightweight, so this is the perfect gift for a van lifer who loves cooking and exploring.
Related: 15 Best Camping Utensils and Multi-Tools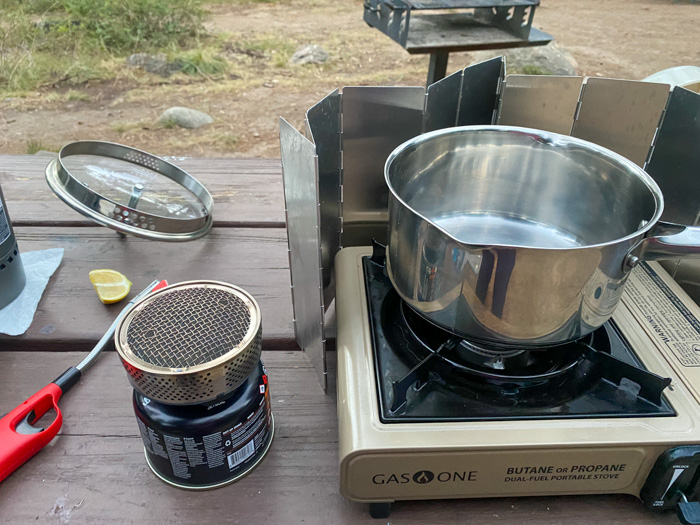 Emergency Kit
As on-the-road travelers, van lifers must always be prepared for any situation. An emergency kit is one of the best gifts for van lifers that will help them get through any potential problems they may encounter while living on the road.
This kit includes essential items like a first-aid kit, a flashlight, jumper cables, matches, and even a whistle for signaling for help. It's also small enough to fit in any campervan or RV and can easily be stored in tight spaces.
Solar Charger
Living off grid is one of the perks of van life, and a solar charger can help make that happen. This type of campervan gift will provide enough power to charge any electronics or appliances in your friend's van.
It's perfect for those who are looking for an eco-friendly way to get their energy needs while on the road. Not only is it helpful, but it can also save your friend some money in the long run.
Related Post: Solar Powered Camper Tips and Tricks
Portable Shower
Bathing in a nearby lake or river may sound like a fun experience, but there are times when it's more practical to have a portable shower. This is an awesome campervan gift that your friend can use when they need to freshen up on the go.
The Nemo Helio Pressure Shower is perfect for van life because it's lightweight, has a built-in pressure switch, is solar powered, and comes with a water reservoir. Plus, it's self-contained and easy to use, so your friend can get a hot shower in no time.
Travel Pillow
Living on the road can be tough on the body, but with a comfortable camping pillow, that won't be an issue! This great campervan gift is cost-effective and will help your friend get a good night's rest no matter where their travels take them.
Besides, this is an example of a cozy van life essential! You can find this type of pillow in different sizes and shapes, you can even find neck pillows that are heatable. Depending on your friend's preferences, you can choose the one that best suits their needs.
Indoor S'more Maker
A fun and unique van life gift idea is an indoor s'more maker. Whether they're craving something sweet after a long day of driving or just want to make some delicious treats with friends outside their campervan, this gift will keep them warm and cozy on those chilly nights.
This is perfect for families, campers, and travelers alike. Plus, with this sweet gift, they can create classic s'mores or get creative with new flavors like peanut butter cups and chocolate chip cookies. To make it extra special, make sure to add some crackers and marshmallows when you give this gift!
Instant Pot
An instant pot is a van life essential item if they plan to hook up to power at times. As a previous full-time RVer, I know how much of a lifesaver it can be. It's perfect for making quick and easy meals while on the road, so they don't have to worry about eating out every night.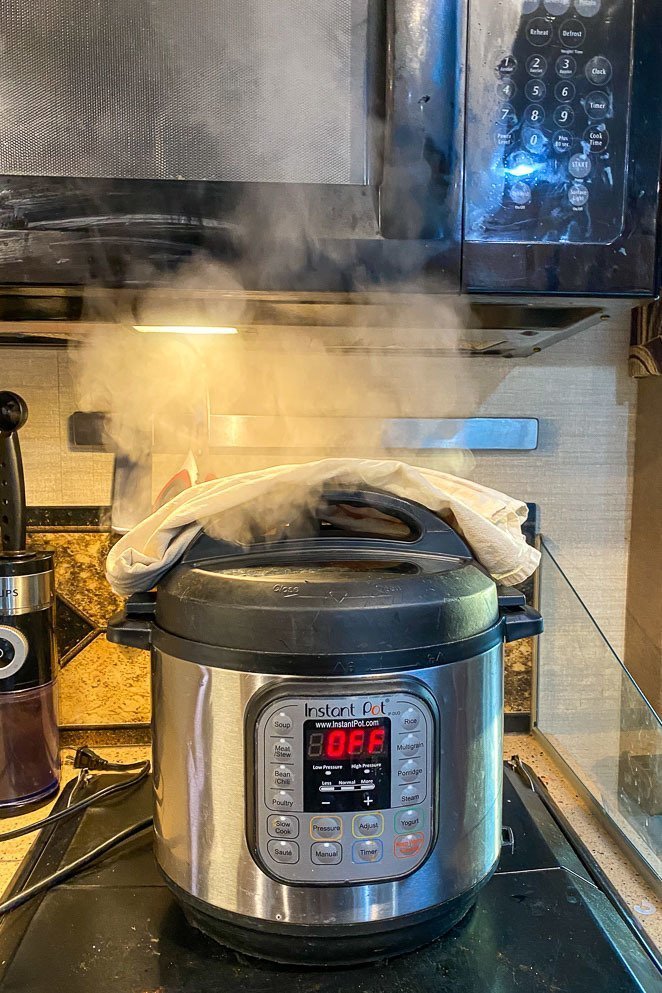 Plus, these van life gifts can be used to make a variety of dishes such as soups, stews, and other home-cooked meals. Personally, I found an instant pot a perfect gift for a camper van because it's compact and easy to store in a campervan or RV.
Van Mat
This is one of the practical gift ideas for a van life friend. An camper mat is perfect for adding a bit of personality and style to any campsite setup. Not only does it make the grounds look more inviting, but an RV mat also helps protect against dirt and mud.
Camping Chair
This is another essential item when it comes to the best gifts for van life. A light-weight camping chair is perfect for setting up outside the van when making camp for the night.
Whether they're hanging out at the campsite or having a picnic in a park, a comfy camping chair will be great for relaxing and taking in the beautiful scenery.
Organization eBook
If there's one thing every van lifer needs, it's space for organization. We wrote and created this RV Organization eBook to help with just that. It would make for a perfect gift for any RV or campervan owner wanting to learn about how to keep their van organized and clutter-free.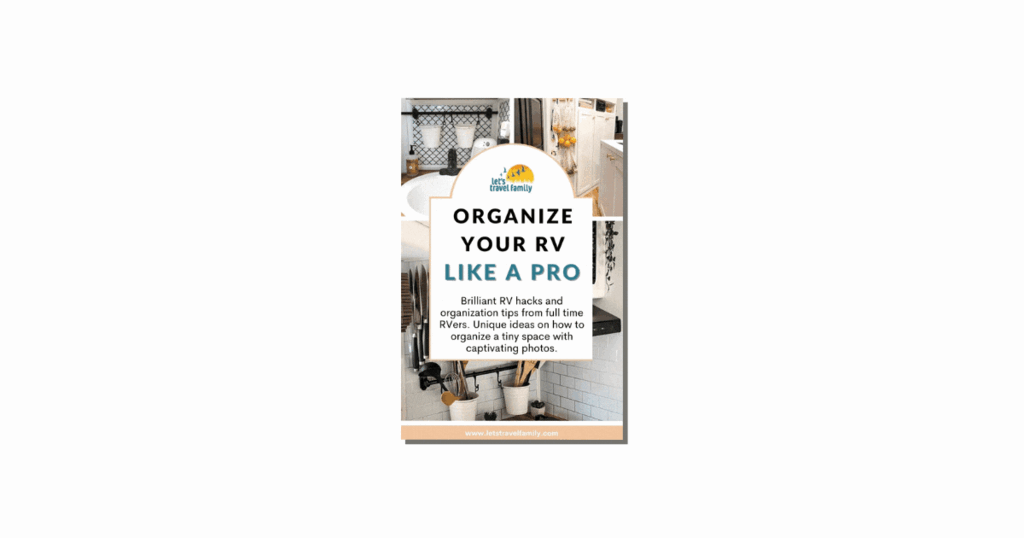 The book is full of tips, ideas, and hacks to help keep the van tidy and make the most of the small space. This 73-page eBook has over 100+ unique photos and illustrations to help guide readers on their mission to get organized.
It's a great gift idea for van lifers and RVers alike, and it will help them save time and energy when it comes to planning and organizing their homes on the road.
Full-Time RV Living eBook
If you want to give something unique and valuable to the life of being on the road, then this Full-Time RV Living eBook is a great choice. For those who are looking for some van life inspiration, this eBook is filled with stories, experiences, and tips that will inspire them to live their dream life of full time traveling in their campervan.
This comprehensive book covers all facets of living in a van, from choosing the right RV to living on a budget. It also includes tips for budgeting, insurance, and even camping and RVing destinations. This 91-page eBook is an invaluable resource for anyone living in a campervan or van life enthusiast, and it's sure to be one of the great campervan gifts out there.
……
With these campervan gifts, your van life enthusiast friend or family will definitely appreciate your thoughtfulness and be thankful for such awesome presents. Whether they're just starting out or have been living on the road for a while, these van life gifts will help make their journey even more enjoyable.
Still need some gift ideas? Check out our detailed list of camping gift ideas for couples. Or this list of the best camping gifts for Dad.