Camping with the best motorhome accessories from the very beginning will make your experience especially enjoyable. Even if you come up with one of the most unique RV names for your camper, you'll still want to have all the RV accessories that you'll use.
Whether you're getting ready for a weekend trip with your rented RV, or prepping for a much-needed road trip in your motorhome with stops at campgrounds, you'll want to bring the best motorhome accessories to fully enjoy your time.
Motorhomes and campervans require many accessories. In fact, we've listed several essentials before, under our RV must haves blog post, and our campervan accessories post. Yet, what about the specific essentials for motorhomes?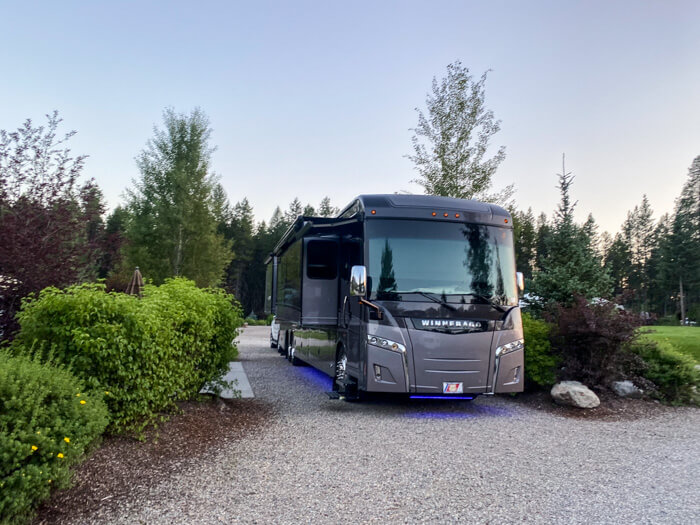 The you-can't-go-on-a-weekend-camping-trip-without-these kind of essentials?
Check out the top 10 best RV accessories that I think you should have based on my experience as a mom of a previously full time RV living family.
THIS ARTICLE MAY CONTAIN COMPENSATED LINKS. PLEASE READ OUR DISCLAIMER FOR MORE INFO. THIS POST WAS WRITTEN BY JILL GREISING-MURSCHEL, A FAMILY TRAVEL AND RV LIVING EXPERT.
The Best Motorhome Accessories
Motorhome Awnings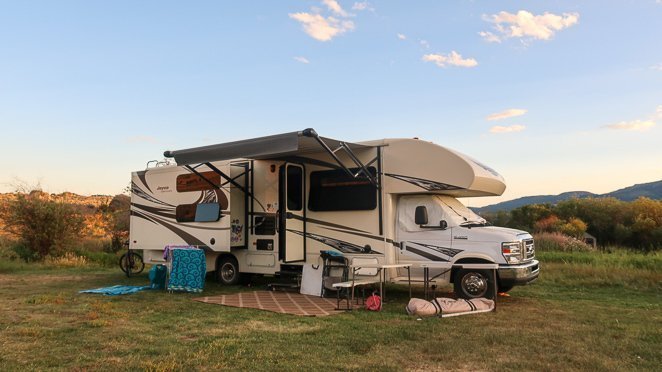 One of the simplest yet best camper accessories are your RV awnings.
If you're out for a weekend of camping, there's a good chance that you'll want to spend time outside of your RV but still stay shaded. To protect both yourself and your camping supplies outside the RV from direct heat from the sun, an RV awning will be needed.
New motorhomes will often come with an awning or cover. However, if you own a used motorhome, or your current awning is broken, then you should check out these awnings at Camping World.
Motorhome Cover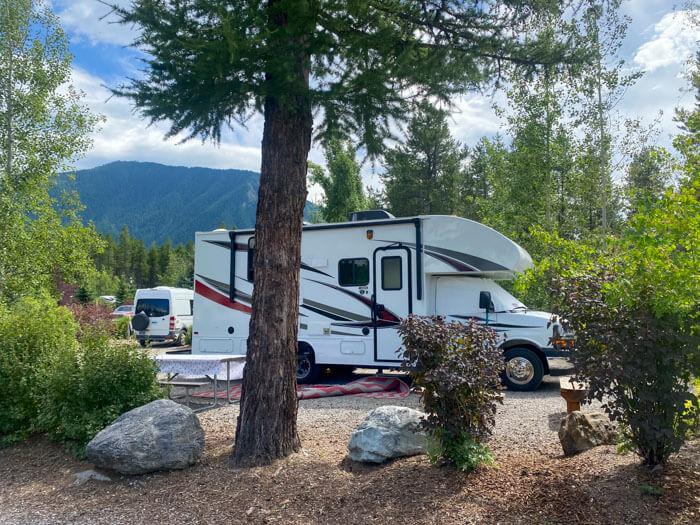 In addition to awnings, you should invest in two different motorhome covers. First, you'll want to purchase a motorhome storage cover to protect your RV from sun and weather damage when you're not traveling and storing it outdoors. This is a piece of motorhome equipment that you don't want to hold off buying.
You'll also want to buy a windshield cover that you'll appreciate on camping day. We use our windshield cover when we're camping or living in our Class C motorhome to help keep out the heat from the sun and for additional privacy when we have set up at camp.
WeBoost For Internet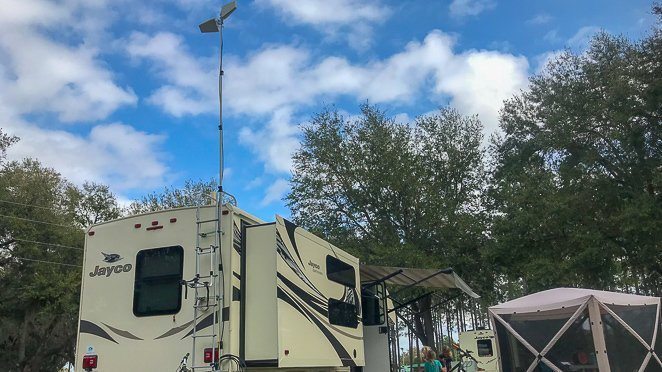 If you want to have a good chance have a stable cellular internet connection while in your motorhome, then you'll want to have a WeBoost with you. Weak signal is one of the digital nomad RVer's greatest concerns. That's why most will have a booster.
Our family specifically used a WeBoost to work online while traveling or camping in our RV. It one our family's must have RV gadgets.
Related Post: How To Get Internet In Your RV
Propane Fire Pit
Don't worry about buying firewood anytime you want to have a campfire. Consider grabbing a portable propane fire pit for your camping experience.
It's a safer alternative to other fire pit options and is sometimes even allowed in areas with burn bans. You don't want to overseas this if you are creating a list of RV camping accessories.
Related Post: Best Portable Propane Fire Pit For Camping
Foldable Chairs And A Camping Table
Enjoying your outdoor set-up is one of the most relaxing parts of camping and RVing. That's why you'll want to make sure to have comfortable foldable camping chairs and a camping table that works well.
We've also been wanting to get some comfortable chairs like this Zero Gravity Chair. Foldable tables are also on the list since you'll need them for your outdoor bbq meals! We made a list of the best camping tables here.
Portable Propane Grill and Grill Kit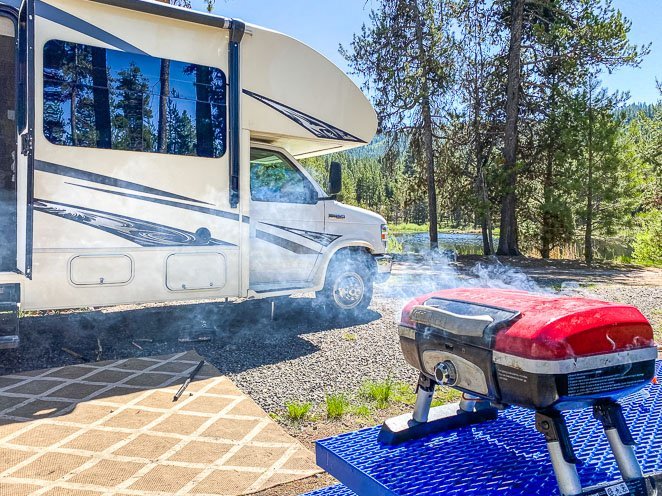 It's great if you're planning to cook inside your motorhome kitchen often. Yet, there are times when it's a nice camping vibe if you grill outdoors, right?
We have our Cuisinart Petit Gourmet which we have used weekly while camping. It's one of our RV camping must haves.
Be sure to grab a grill kit to use and store in your motorhome.
Foldable Solar Panel
Many times you might find yourself without power in your motorhome. You may have planned to dry camp at a beautiful spot for a night, or maybe the power went out at your campground. While most motorhomes have an on-board generator that can be run when you're not hooked up at a campground, it be can nice to stay a little more 'green'.
A simple foldable solar panel and battery have come down a LOT in price over the last few years, making it affordable for most RV owners. You can simply unfold your solar panel during the day to charge up your battery, and then use the portable battery to charge your phone, laptop, Bluetooth speaker, and so much more.
Related Post: Best RV generators for camping.
Portable Garbage Can
An outdoor portable garbage can is one of the essential motorhome accessories appreciated by most RV owners. Set it up outside when you have the grill going and you're preparing meals outside your motorhome.
I like that it folds up easily and takes up very little storage space when you're not using it.
Freshwater Hose And Brass Elbow Water Connector
Wherever you go in your motorhome, you'll need fresh water onboard. Be sure to invest in high-quality freshwater hoses to fill your freshwater tank. I also highly recommend purchasing a brass elbow water connector to prevent crimping and stress to your freshwater hose.
Check out this Freshwater Bundle that has everything you need to get started.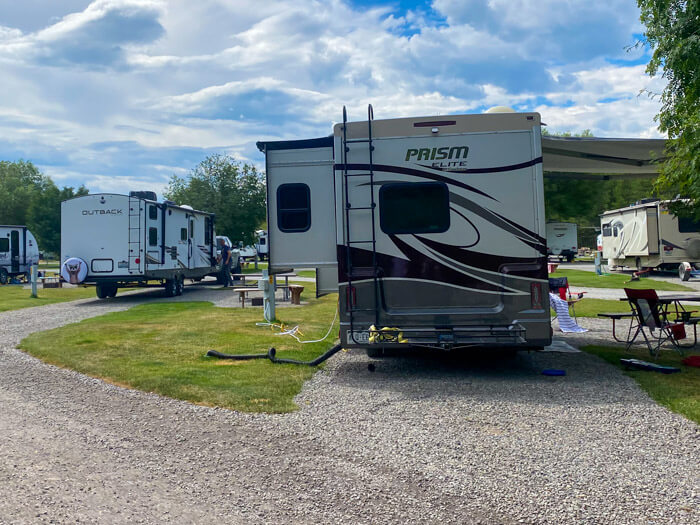 RV Sewer Kit
We call it the 'Paradise Tax'….dumping the black tank. Everyone has to empty their RV's grey water and black tank, no matter what type of RV you have. So be sure to grab an RV sewer kit so that you're prepared.
Tire Pressure Monitoring System
To prevent any tire-related mishaps, it's important to install and maintain a Tire Pressure Monitoring System (TPMS). These devices usually come with a dashboard monitor that will let you check the tire pressure of all four wheels, both on the go and when the RV park. Check out this tire pressure monitoring system I found on Amazon.
I'd say that this is the most essential motorhome accessories especially if you're planning on taking long trips, this is a must-have. Making sure you have this RV gear will save you time, money, and a whole lot of hassle.
Complete Tool Kit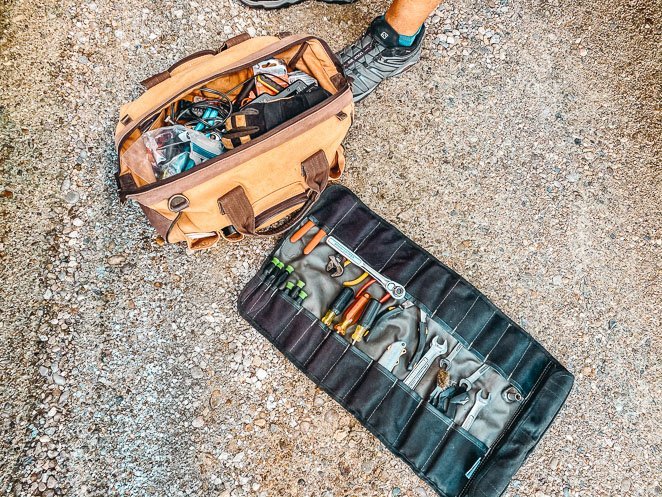 Motorhomes have systems that need consistent maintenance. Sometimes, there are minor problems when you'll need specific tools to fix them.
To make sure that you won't be stranded in your camp with an RV accessory, appliance, or RV part that's not working properly, bring a complete tool kit with you. Don't know what to put in your kit? Check our list of RV tool kit essentials here.
What Else Do You Need In Your Motorhome?
With all these accessories, you can have a comfortable motorhome camping experience. Remember that these essentials are just for weekend away camping, not everything you'd need for full-time RV living. If you plan to be living in your RV full time then be sure to check out our other posts below.
Looking for lists of specific essentials? Check our other posts about RV camper accessories below:
45 Easy RV Organization Accessories
23 Fun RV Accessories
29 RV Kitchen Accessories
34 RV Must Haves
RV and Camping Accessories