Do you know someone who loves going on national park trip as much as we do? If you do, then you must know that looking for presents for them can be a bit challenging.
Unless you plan to visit a National Park gift store yourself, you might be wondering what you should get your loved one. For national park fans anything that's related to national parks would work as a gift.
Yet, if your struggling to come up with some creative ideas, then we're here to help with this list of 17 unique National Park Gifts you could give to any national park lover.
THIS ARTICLE MAY CONTAIN COMPENSATED LINKS. PLEASE READ OUR DISCLAIMER FOR MORE INFO. THIS POST WAS WRITTEN BY JILL GREISING-MURSCHEL, A FAMILY TRAVEL AND RV LIVING EXPERT.
19 Unique National Park Gifts For Any National Park Lover
Great gifts for people who like national parks can sound pretty random if you are not one to visit yourself. Even a National Parks board game makes for a good gift.
But the best national park gifts don't have to be expensive, they just have to be really good reminders of a favorite national park or extremely useful while visiting one.
From a fun national park gift to specific items for kids, here's our recommended list of unique gifts for national park lovers!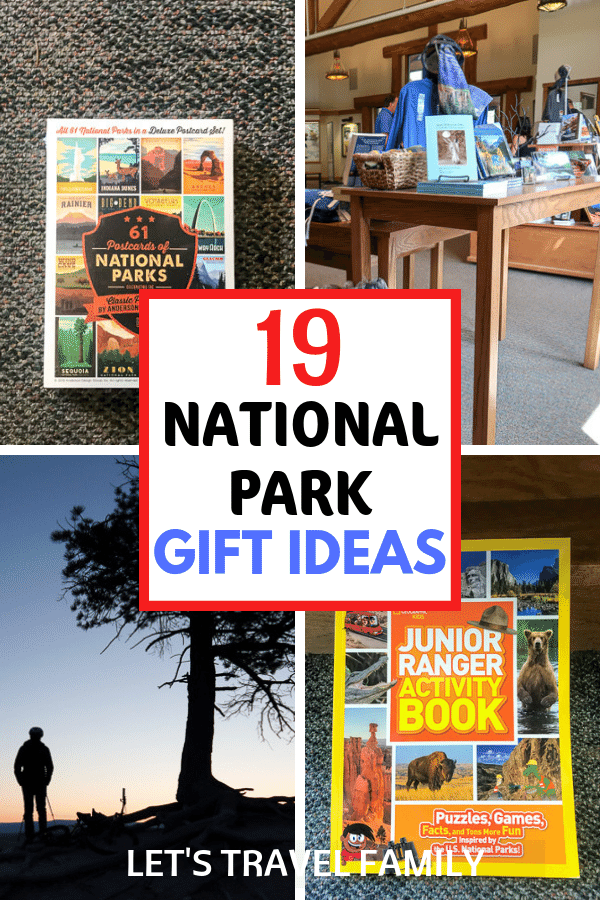 Fun National Park Gifts
Put a smile on your friends or family's face with these fun national park themed gifts we have listed. First though, does your loved one have a National Park pass?
This might be the ultimate National Park gift for anyone planning on visiting one or more US National Parks in the next year. You can purchase the America the Beautiful National Parks Pass here, and 10% of the fee will be donated back to the National Park Foundation, National Parks Conservation Association, and the National Park service. This pass covers admission fees for everyone in the vehicle at all the National Parks.
If your loved one has a 4th grader in their family, you can tell them all about the FREE 4th grade National Park pass that they can qualify for.
Okay, let's dive into some creative National Parks gifts ideas.
1. National Park Map Puzzle
National geographic gifts are some of the best options when it comes to gifts for travelers. There are several gift categories you can choose from, but a fun puzzle is always a great gift idea.
This 1000 piece puzzle features some of the most beautiful photos of famous America's National Parks. A landscape jigsaw puzzle can make a great gift for national park lovers.
2. National Park Patches
Let your friends, grandkids, or family members show their National Park love with National Park patches.
These embroidered patches can be placed on your clothes, your bags, or on any fabric you want to put the design in. It makes for a good design anywhere and can be sewn or ironed on like this Grand Canyon patch.
3. National Parks Scratch-Off Map
We've mentioned how much our family loves the state sticker map on the side of our RV in our list here of our top gifts for RV owners, now we'll introduce the US National Parks Scratch-Off Map.
This interactive map can make your any National Park lover feel even more fulfilled after conquering another national park!
4. National Park Pins
For people who have collections of their favorite national park memorabilia, national park pins are great additions.
Have they visited Zion National Park? Give them this pin and make their day!
5. National Parks Hanging Poster
Can't think of anything that a national park lover may need? Maybe their wall needs a little more hint of color?
Give them this vintage national parks poster that can make any wall look more vibrant.
6. Monopoly
Spice up your National Park games with this National Park-themed Monopoly game!
It features artworks from over 60 US National Parks and 22 of the most scenic popular National parks. It's also a good educational tool and fun for all ages.
7. National Parks Postcard Set
Gifting a national parks postcard set is another great idea. I came across these at Rocky Mountain National Park's gift store and loved the illustrations they have.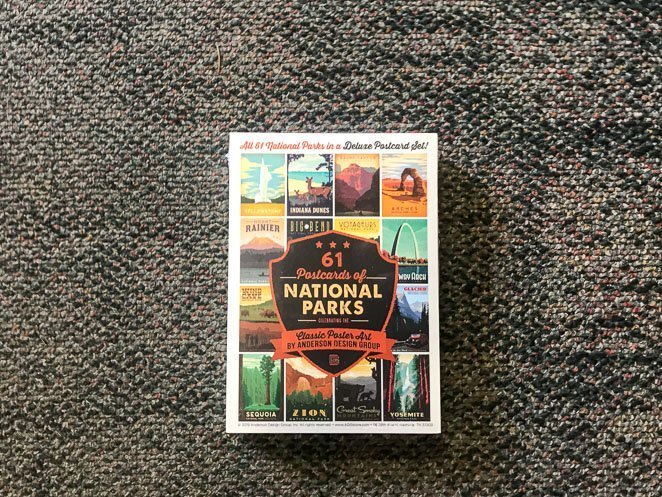 8. National Parks Passport
For fun National Park adventures, a small travelogue may come in handy. Gift your loved one this Passport to National Parks that's just waiting to be stamped.
They can then collect stamps at each National Park gift store as they travel.
9. National Park 100th Anniversary Book
This book stood out to me as we visited many National Park gift shops over the last few summers. It's the 100th Anniversary Illustrated book showcasing 59 famous National Parks.
National Park Gifts for Mom
10. Trivia Game
Is your mom a fan of the outdoors? Then check out this game idea that isn't just great for the kids, but the entire family. It's a National Parks trivia game.
Trekking The National Parks: Trivia is just the perfect one for game nights. Moms can teach their kids more about the NPs they've visited and plan on visiting through this.
11. National Park Tote Bag
These days, tote bags are in style. They're easy to carry and are available in several designs.
What design could be the perfect idea to give to your mom? One of the best options among Rocky Mountain National Park gifts is this great tote bag!
12. National Park Shirt
National parks clothing just has to be comfortable. One of the popular Yellowstone gifts or Grand Teton gifts available at their gift shops is a basic shirt with a design that screams "I love National Parks!"
It's a perfect gift for a friend as long as you know their shirt size. You can check out other options on the best apparel for some national park hiking here.
National Park Gifts for Dad
13. Mesh Hat
Travelers who love visiting national parks are often exposed to extreme temperatures and weather conditions. National parks hats can make a great gift if they are comfortable. Your dad might just love a national park themed mesh hat.
Mesh hats have mesh paneling on the back which keeps the area ventilated.
14. Travel Mugs
We've mentioned mugs as one of our fun RV accessories but they're also great for national park campers. How else will they enjoy a warm cup of coffee in the morning?
I love this bright yellow – Yellowstone National Park mug. Now another great find is this beautiful ceramic mug for mountain lovers.
15.

Angel's Landing T-shirt
Has your dad, or someone you know, hiked Angel's Landing in Zion National Park?
Let your dad reminisce his great time at Angel's Landing with his own Angel's Landing shirt.
National Park Gifts for Kids
16. Trekking Junior Ranger Game
The best way to help kid campers learn is by introducing concepts through games.
With this Junior Ranger matching game, their memory and wit will be challenged while they're having fun. Plus, it makes a great family game.
17. Junior Ranger Activity Book
This activity book is perfect for any kiddo who's earned a junior National Park ranger badge at a National Park. Or, if you are planning to take your kid to a National Park and want to help them complete the junior ranger booklet this summer to earn their first badge, this activity book might help them get pretty excited!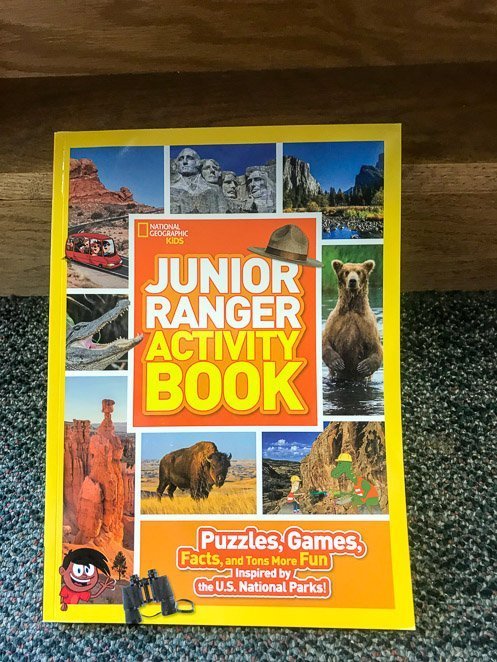 18. National Geographic Kids – National Parks Guide USA
For a more thorough learning experience, gift your kids or grandkids with a National Geographic Kids issue centered on National Parks!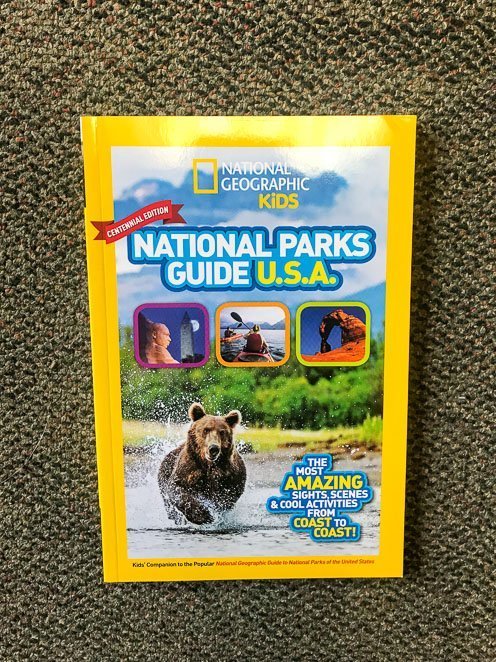 With the entertaining pictures and easy-to-read writings, your kids will surely enjoy their time reading a book like this one.
Last But Not Least!
19. National Geographic Guide to National Parks
This book was gifted to our family before we launched into full-time RV living with our 4 kids in early 2017, and it was one of those best gift for a National Park road trip.
It has been well-loved and well used. Especially when we are IN a National Park as most do not have great cell service so Tony and I can't hop on our cell phones to 'Google' about the hiking trails, look up a map, or read about the best scenic drive.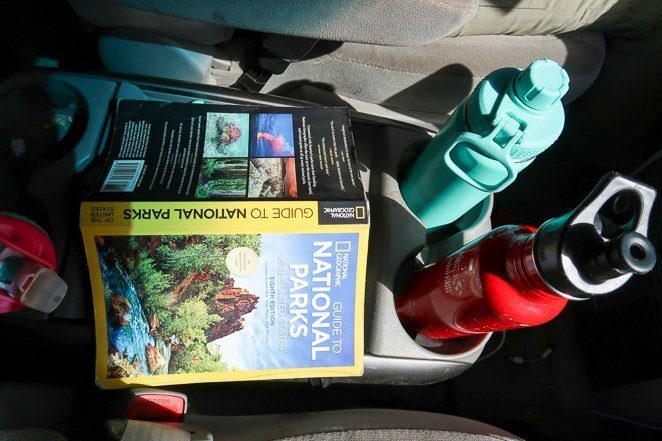 So needless to say, if you haven't found a gift idea above then THIS might be your best bet.
Our family has visited 14 National Parks over 2 years, so it's safe to say that we are some National Park lovers for sure. We not only love to hike, but we love taking the kids camping. If you're looking for great camping gifts for kids check out this list.
Or, if you're looking for gift ideas for hikers then check out this list.
For further planning ideas, click here to read our post all about our favorite National Parks to visit with kids.