Looking for the best camping gifts for Dad? Finding the perfect gift for Dad can be tough, especially if he loves camping and the outdoors. With Father's Day around the corner, finding the perfect camping gift for Dad will make it extra special!
There's a variety of camping gifts you can give an outdoorsy dad. Whether it's camping gear for dad, a Christmas gift, camping Father's Day gifts, or camping-themed RV gifts, you're sure to find something that will make his next camping trip even more memorable.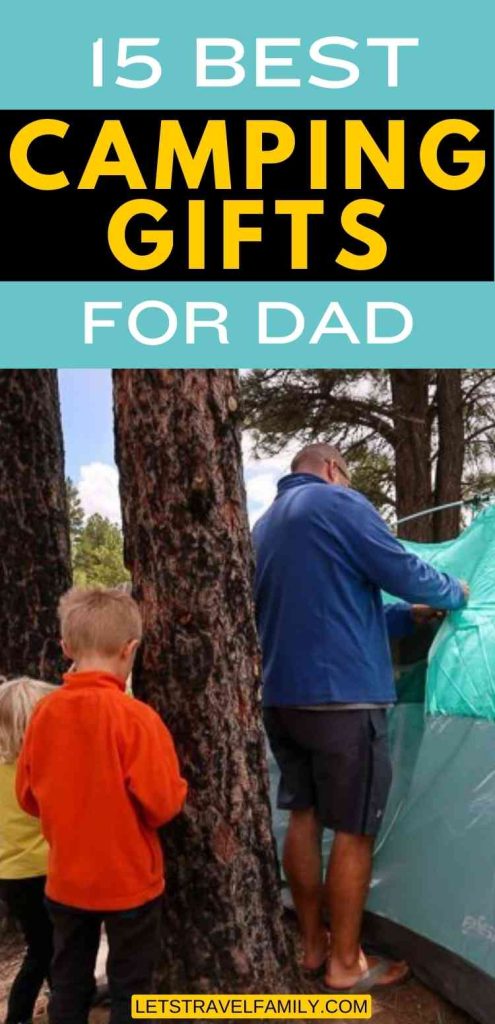 Being a former full-time RVer for years and an avid tent camper now, I know what kind of camping gift is worth getting for Dad. In this article, I'll share with you some of the best camping gifts for Dad that will make him love camping even more.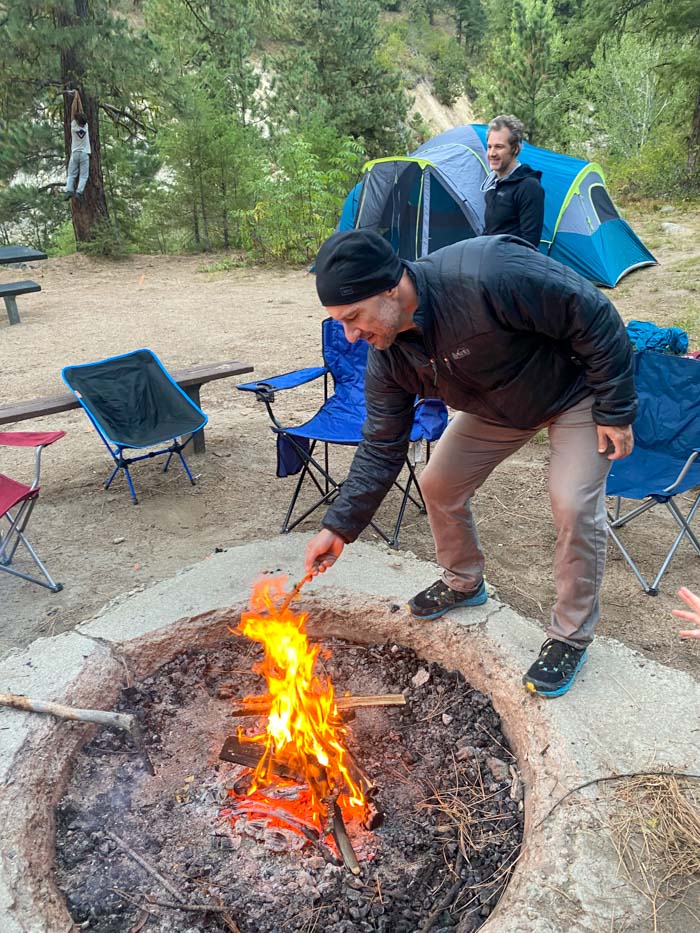 THIS ARTICLE MAY CONTAIN COMPENSATED LINKS. PLEASE READ OUR DISCLAIMER FOR MORE INFO.
Best Camping Gift for an Outdoorsy Dad
1. Solar Charger Power Bank
A must-have for any camper, the Solar Charger Power Bank is a great way to keep Dad's devices charged while on the go. It's equipped with a powerful 10000 mAh battery and dual USB ports, allowing him to charge multiple devices at the same time.
This is exceptionally useful when camping or going on outdoor adventures without an electricity source. The Solar Charger Power Bank is lightweight, easy to carry, and charges up quickly by the sun each day.
Related Post: How to Run Your RV Off Solar Power
2. Utility Pocket Knife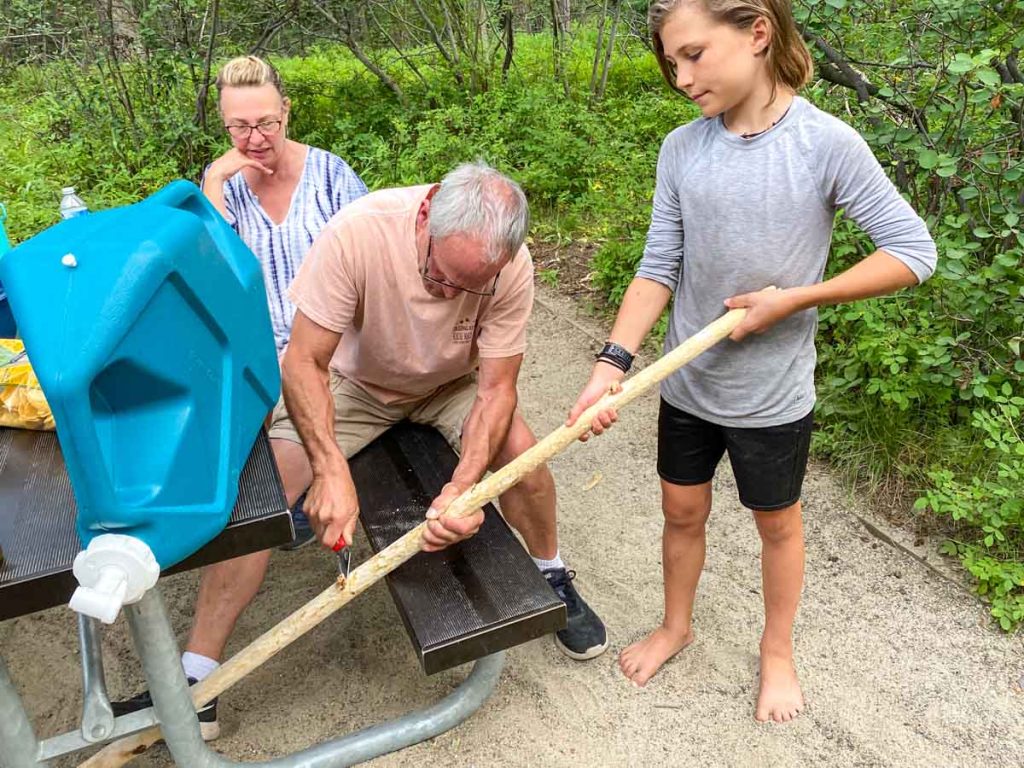 You'll never know when a utility knife comes in handy and this one is perfect for any outdoor dad. This RoverTac Pocket Knife comes with a bottle opener, can opener, 9-in-1 screwdriver bits set, and a knife blade.
It also includes a key ring holder, so your outdoor dads can take it with them on their camping trips or everyday adventures. This is a great gift idea if you're running out of Father's day gift ideas because it's handy and can be brought just about everywhere!
3. Camping Chairs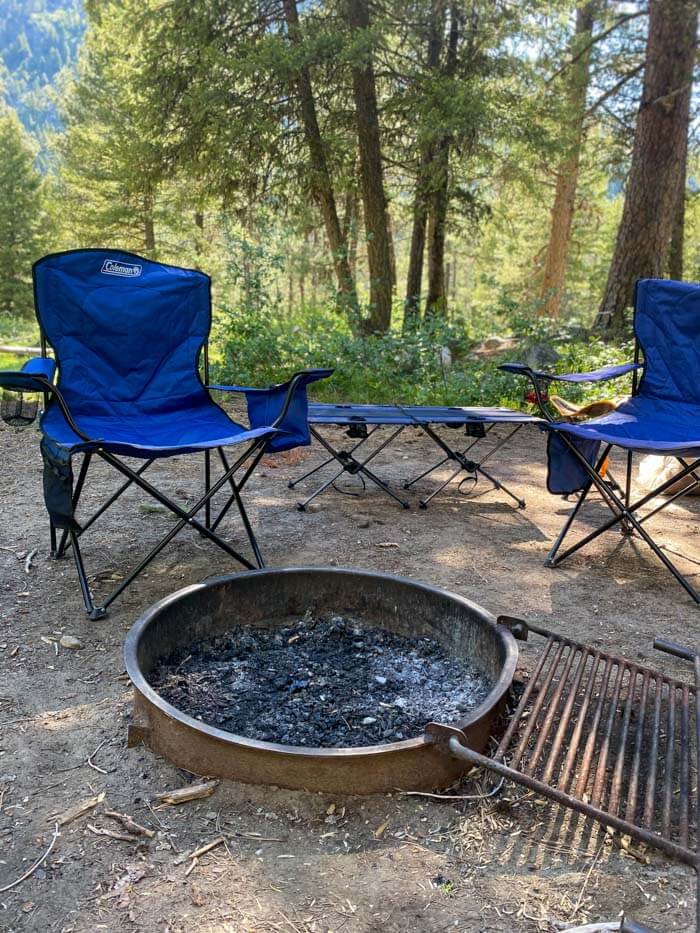 If you want to give your dad something a bit more luxurious, these camping chairs are definitely worth considering.
You can see most camping dads enjoying their camping trip relaxing in the great outdoors in one of these chairs. This Folding Camp Chair with Footrest Mesh is a great choice for Dad. It's comfortable, lightweight, and easy to transport.
It's also made of durable, waterproof material so it can withstand any kind of weather. Dad will love how easy it is to set up and pack away when camping.
4. Portable Coffee Maker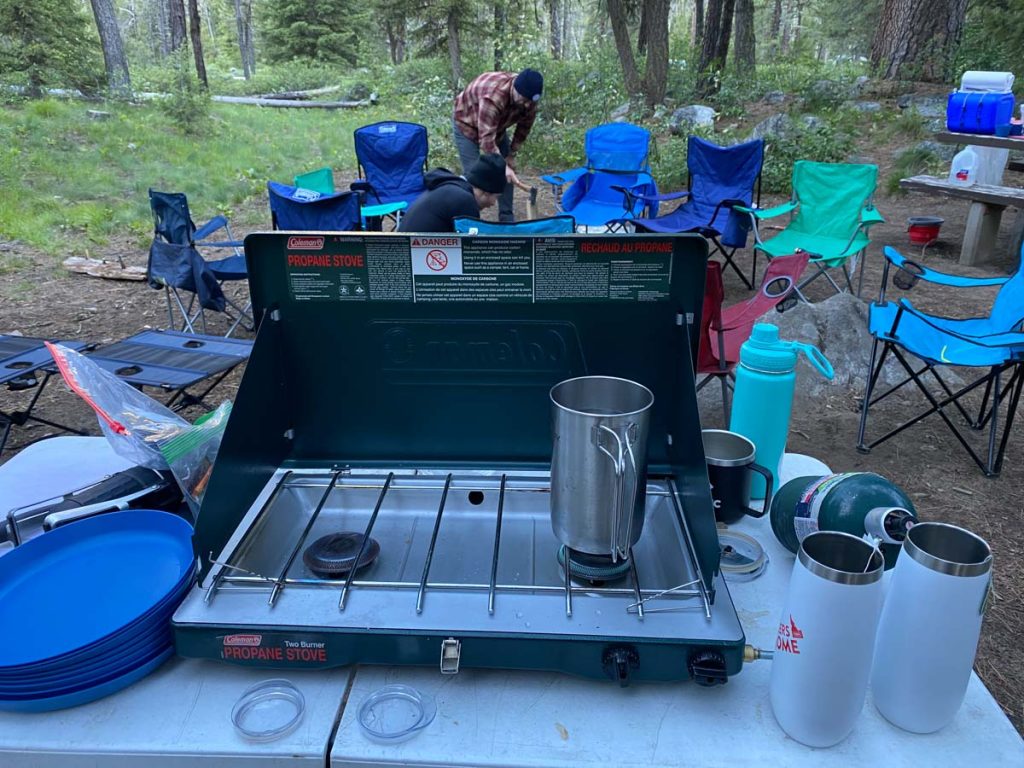 If your dad is like my husband, then you can't go wrong when buying him a portable coffee maker for camping. Tony cannot go a day without coffee, so we had to find the best RV coffee maker as we learned how to prepare for full time RV living.
Once we started tent camping regularly, I bought him this French Press, pictured above.
For camping, instead of RVing, I absolutely recommend buying your dad a portable coffee maker such as the french press or a pressurized coffee maker like this one. It's small, easy to use, and brews a cup of espresso, as opposed to just plain coffee. You just need to add hot water. This is also a great Father's day gift for campers.
It's highly affordable, and it makes a great camping gift for anyone, including camping dads! Make sure to add coffee grounds and an extra mug if you're getting this for your dad for his morning coffee!
5. Cast Iron Cookware
Help your dad experience cooking outdoors like a pro with this cast iron cookware set. It comes in a 3-skillet set including a 6-inch, 8-inch, and 10-inch pan. It's perfect for any camping dad who loves to cook outdoors and make delicious meals while camping.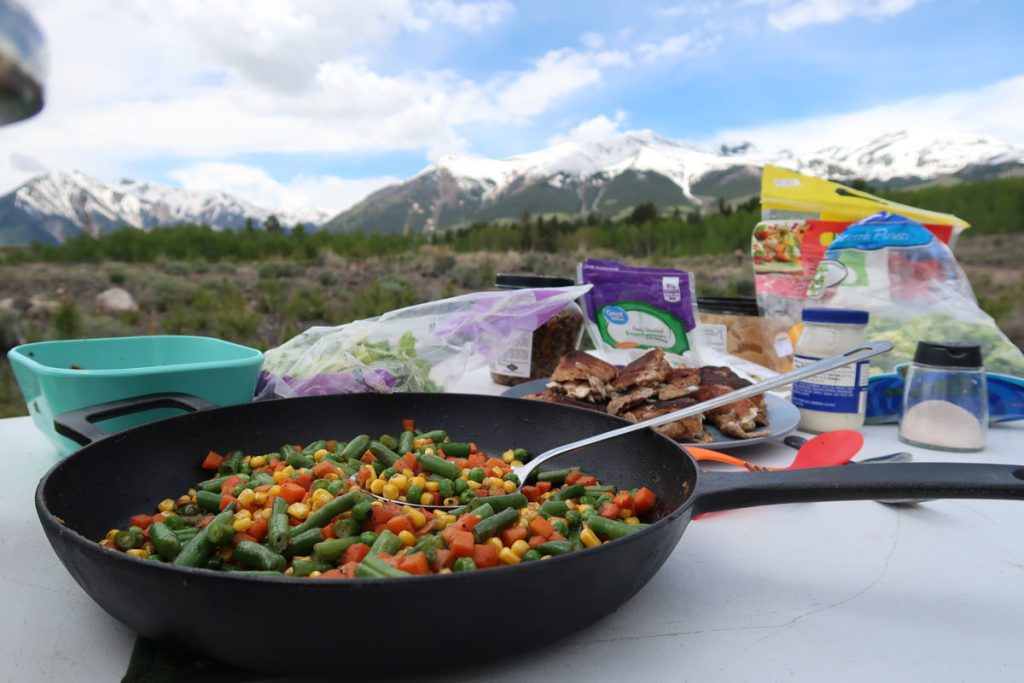 The heavy-duty cast iron pan from Utopia is highly durable and is built to last. It's sure to be an amazing camping gift for Dad, and he'll love using this cookware set while cooking up delicious meals outdoors.
6. Waterproof Bluetooth Speaker
A great camping gift for Dad is a portable and waterproof Bluetooth speaker. This way, he can have music wherever he goes.
Whether you're RV camping in Baja Mexico or tent camping in Glacier National Park, this Bluetooth speaker is perfect for any outdoor adventure. This one from JBL is waterproof and has up to 8 hours of playtime, so he can enjoy his music for a long time.
It's also lightweight and portable, so he can easily take it with him wherever he goes.
7. Camping Shorts
During the summer, camping shorts are a must-have for any camping dad. These Marmot Limantour Shorts from REI are perfect for camping. They are made of lightweight, quick-dry fabric and comfortable enough to wear all day long.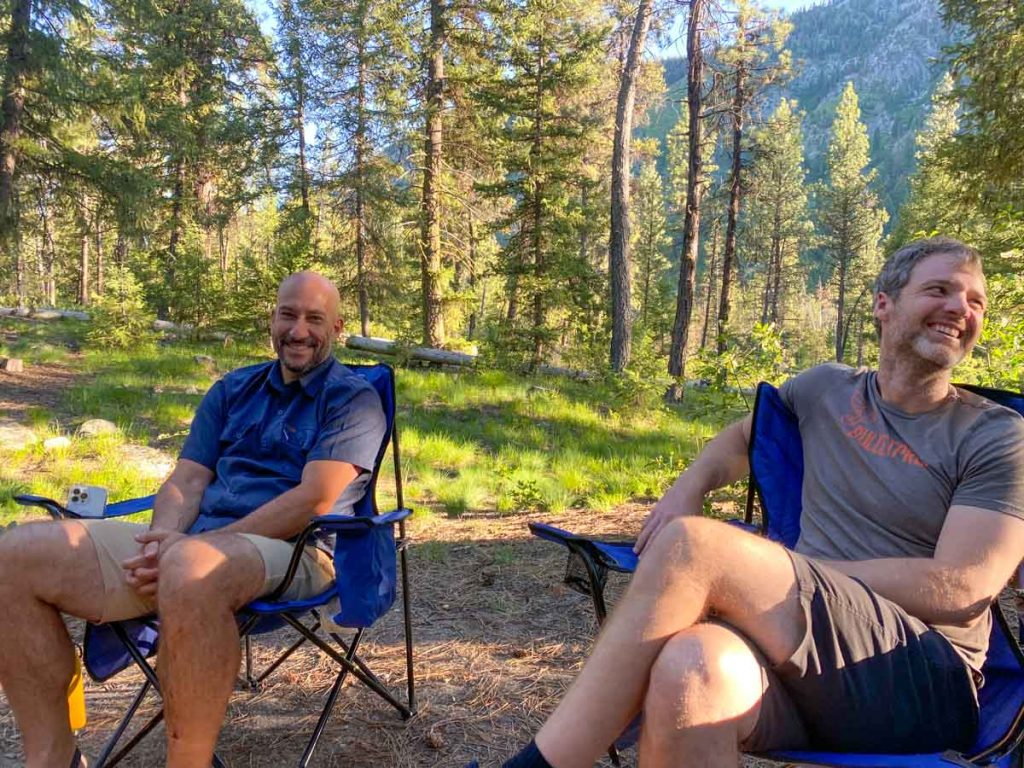 It's best to look for camping shorts that are durable and waterproof, so they can stay comfortable even when it's raining. After all, camping can be unpredictable, and one needs to stay prepared.
These shorts come with 4 zipper pockets making it easy to take all his most important items with him safely.
8. Hiking Shoes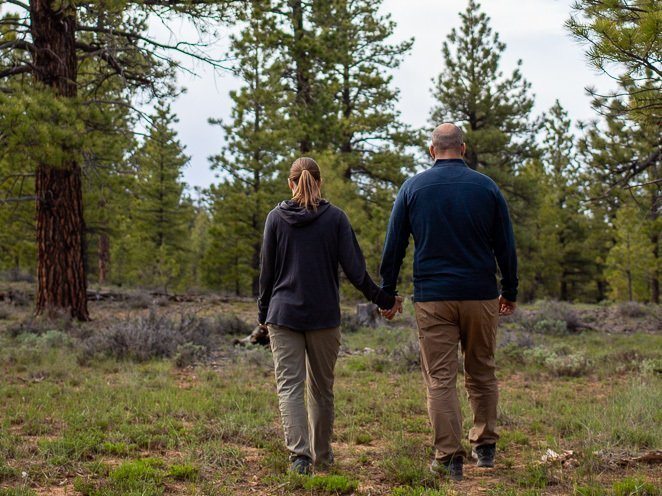 One of the best gifts for outdoorsmen are a good set of great hiking shoes. Great hiking shoes can make any camping trip more comfortable, and these Danner Trail 2650 Hiking Shoes are sure to do the trick.
These shoes are made of lightweight, breathable mesh material and are designed with a supportive footbed and shock-absorbing midsole. They are perfect for a Dad who loves hiking and outdoor adventures.
Related Post: What to Wear Camping
9. A Cooler
Of course, a cooler is essential for any camping dad. You can get him this top-rated YETI Roadie 24 Cooler, which is known for its superior performance.
On every camping trip, we always make sure to have a cooler for bringing food and drinks for the family. A Yeti cooler will honestly make for the best camping gift for dad that he can use for years to come.
The YETI is one of the best coolers out there, as it can keep food and beverages cold for days. Plus, it's well-made and highly durable, which is great when camping outdoors in any kind of weather.
10. A Sleeping Bag
If you're unsure of what to give Dad, then consider giving him something that will help him get a good night's sleep while camping.
There are a lot of sleeping bags available in the market, so make sure to pick one that is the right size for him, and take note of the thickness of the material. Some sleeping bags are made for summertime camping and some are made for cooler temperatures such as Spring and Fall weather.
This Kelty Cosmic 20 Sleeping Bag is a good option and can be used for backpacking, camping and even for cold weather. It's lightweight, comfortable, and easy to carry. It promotes heat retention, which means it'll keep him warm and cozy throughout the night.
11. Insulated Water Bottle
To keep Dad hydrated, an insulated water bottle is a great gift idea. This Hydro Flask Insulated Bottle is perfect for camping, as it keeps his drinks cold for up to 24 hours or hot for about 12 hours.
This is a handy and convenient item to have on any camping trip, as he can easily take it with him wherever he goes. It's also made of stainless steel material, which is highly durable and can withstand any kind of weather.
12. Hammock
Resting from a long day of camping can be hard to find, but with a hammock, your dad will be able to relax in style.
This ENO DoubleNest Hammock from REI is perfect for camping trips and outdoor adventures. It's light and easy to set up, and strong and comfortable.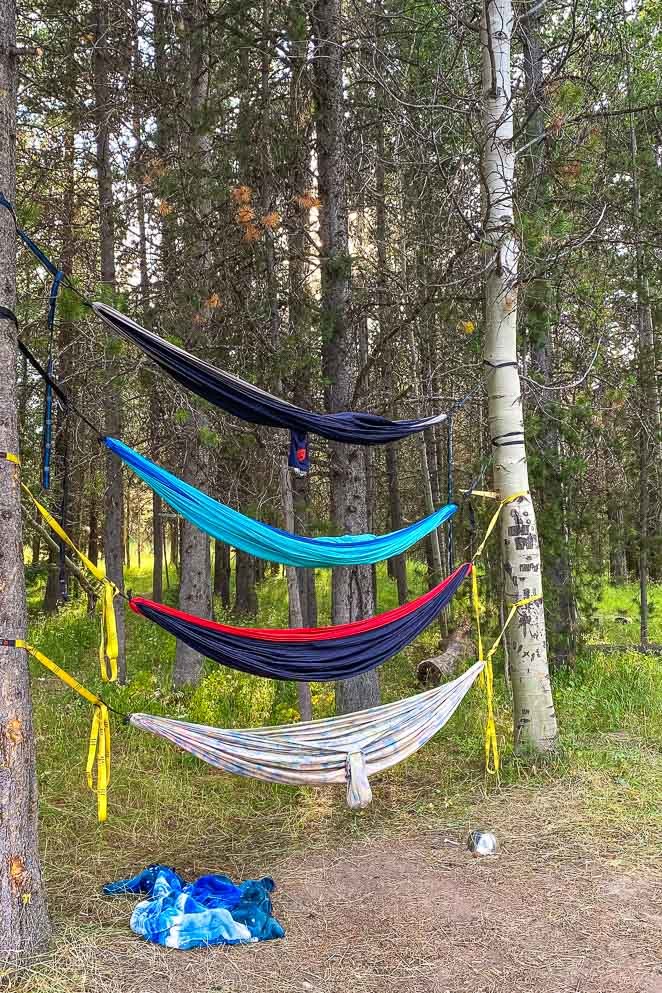 This hammock is also breathable, which will make your dad want to stay put in it all day. Plus, it's also great for camping as it can be set up anywhere and can be easily packed away when not in use.
13. Compass
A compass is a perfect tool in the wilderness for navigation, and this Sportneer Military Lensatic Sighting Compass is an awesome gift for your dad.
It's lightweight and easy to use, plus it has a sighting lens so you can easily find your way. It has a waterproof case and oil-filled housing, which makes it durable and shockproof.
No camping trip is complete without a compass, so this is the perfect gift to make sure your dad gets where he needs to go!
14. Fishing Rod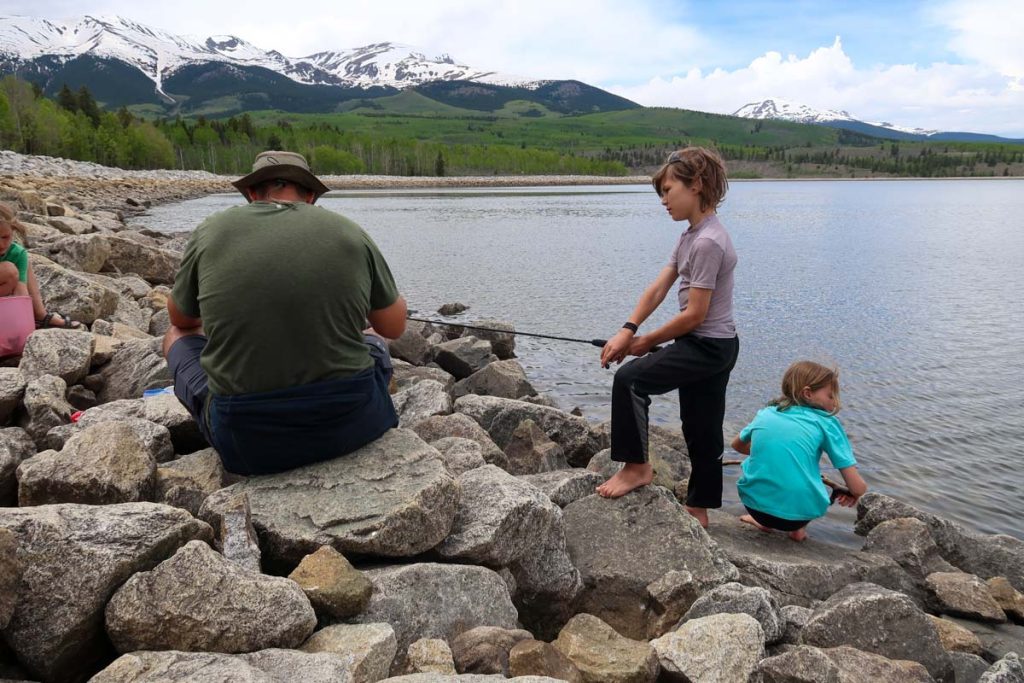 If your Dad likes to go camping near a lake or river, then a good fishing rod is a must. Gifting a fishing rod to your dad will make his camping trip more fun, as he can spend time catching fish!
This one is a great option for a high-quality and robust fishing rod, as it is made from high-grade carbon fiber and can be adjusted to fit any size. It's also lightweight, so your dad won't have any problems carrying it around on his camping trips.
This is one of the best Father's day gifts for outdoorsmen. It comes with a fishing reel, line, lures, hooks, and a bag – everything that he needs to get started with fishing.
15. Portable Vault Box
If you don't know what a vault box is, it's a safe and secure box that your dad can use to store his valuables while he's camping. This Master Lock Portable Small Lock Box is a great option as it has a combination lock and is portable so that he can use it during camping trips.
This is a great gift to keep his valuables safe and secure, plus it's easy to carry around with him wherever he goes. This will give him the peace of mind that his items are safe while he is out in the wilderness.
16. Hatchet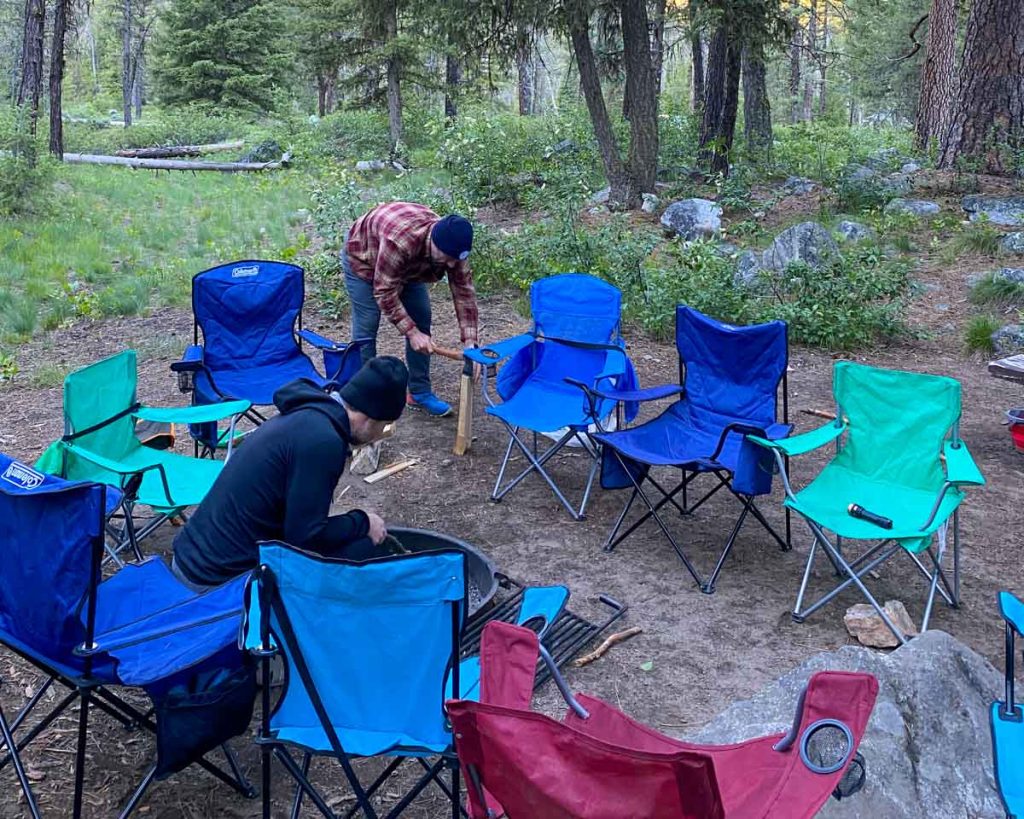 Are you still trying to learn about some Father's Day camping gift ideas? A hatchet could be just the thing. If your husband, dad, or Grandpa likes to get outdoors and chop some wood (like my husband does), then this hatchet could put a smile on his face this Father's Day.
It comes with a leather cover to keep it safe and secure when your Dad isn't chopping wood at the campsite.
---
These camping gift ideas for Dad are sure to get you started this season. Pick one to make your dad's camping trips a lot more enjoyable. From cookware and coffee makers to camping gadgets such as solar charger power banks and a portable vault box, I hope you found this list to be the best gifts for the outdoorsman in your life.