Discover the best campervan accessories for van life so that you can ease your way into exploring the great outdoors with ease. If you just bought a new van, or maybe you've had one for a while but haven't used it much, determining what van life accessories are a must-have can be a bit overwhelming.
Finding the important accessories for campervans will help you be more comfortable, safe, and overall enjoy your trip. The right van life gadgets can make your time in the wild considerably more enjoyable. So, if you've recently converted your rig, whether it's a glamper camper, grab the best campervan insurance available, and now need to outfit it with van life accessories, keep on reading.
Whether you're looking for van life necessities or a few luxury items, this article has all the van camping accessories for your next trip.
THIS ARTICLE MAY CONTAIN COMPENSATED LINKS. PLEASE READ OUR DISCLAIMER FOR MORE INFO.
Must Have Campervan Accessories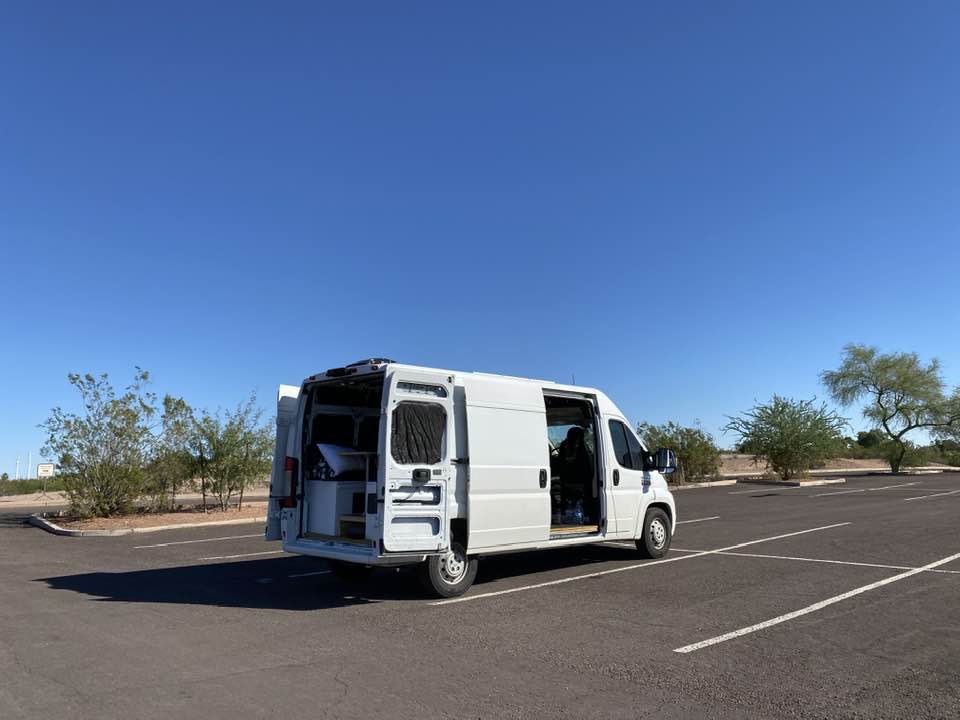 Solar Panel and Battery
Two of the most used accessories for campervan life are a battery and a solar panel that works well together. Why? Because they provide van owners with power when they go off-grid. You can use the combination to keep your cell phone, laptop, and even camera battery charged.
The Jackery Portable Power Station is a battery that will charge by solar, from a car outlet while you're driving, or from a power outlet when you have access to power at a campground. Be sure to also grab the Jackery Solar Panel to charge your battery when you are boondocking or dry camping off-grid. The solar panel can easily fold up flat and can be stored away when not in use.
Blinds for Windows
These thermal insulated blinds will help reflect the sun and give you privacy while keeping the temperature a bit more regulated in your van.
Window blinds are one of the campervan interior accessories you don't want to leave off of your list of things to grab ahead of time. You'll appreciate the privacy, shade, and even the safer feeling at night with the windows covered.
Awning
Create more space by being outdoors with a little bit of shelter with a campervan awning. In order to set up an outdoor cooking space or relaxing space with a bit of shade and shelter from the elements, this is on my list of campervan must haves.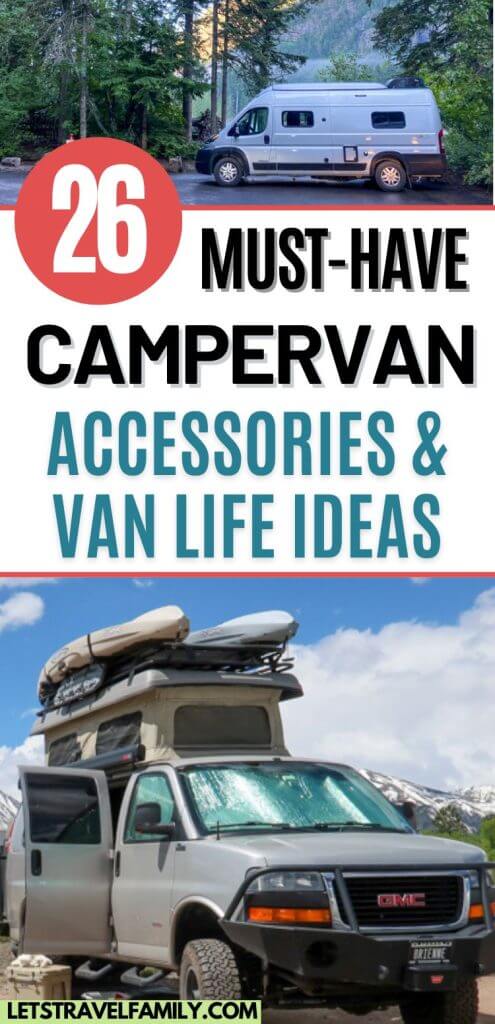 Refrigerated Camping Cooler
One of the top accessories for campervans is a refrigerated camping cooler. It works as a refrigerator while being portable and easy to fit under a bed or in a storage area. The ICECO GO20 Dual Zone Portable Refrigerator is a highly rated option from a quality brand. It will run off your Jackery Portable battery for days without charging.
Inverter
Every campervan should have an inverter on its list of campervan essentials. They transform your 12V vehicle power and convert it into 110/240V to allow you to charge items like your phone, laptop, and camera battery. Just be sure to do your research and confirm that your battery and inverter are comfortable.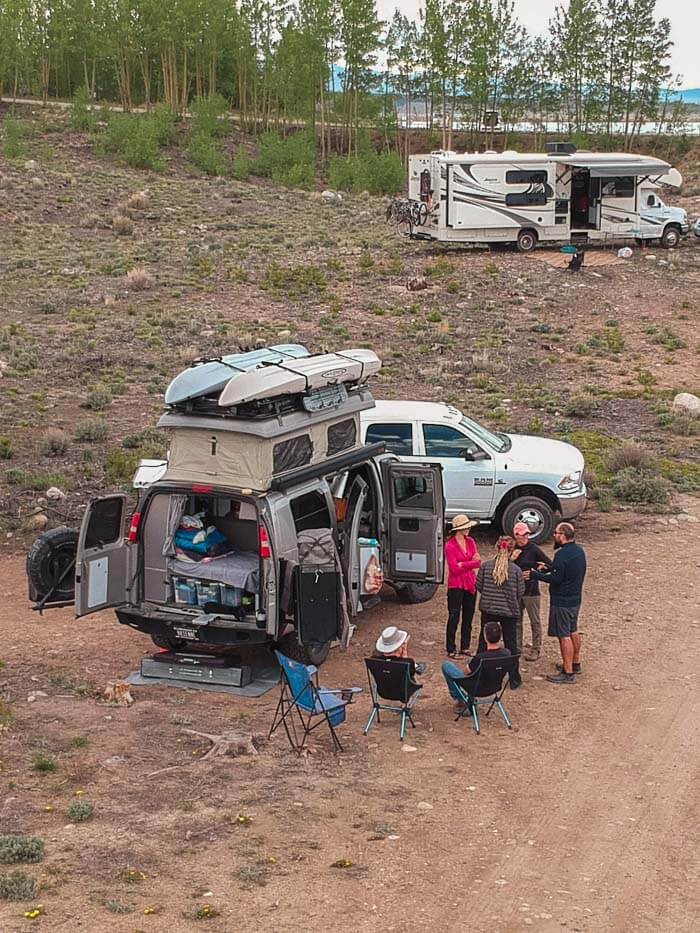 Magnetic Fly Screen
There is nothing more annoying than opening up the doors to your van and being overwhelmed by mosquitoes. That's why I think one of the top camper van must haves is a magnetic fly screen that you can easily install and use daily.
Leveling Blocks
It can feel a bit strange when you park your van and everything inside wants to roll to one side. Leveling blocks will help you make a not-so-level campsite work for you. These are some of the basic camping van accessories you'll want to have on hand.
If you want to know more about which leveling block is the best for your RV, check out our Best RV Leveling Blocks blog post!
Van Toilet
When living the van life, you're going to appreciate having a van toilet like this one. As much as you may plan to enjoy the great outdoors (and if you do have those kinds of plans be sure to invest in a simple camping shovel), there may be a time such as the middle of the night when you'd appreciate a portable toilet.
A van toilet is one of those must have camper van accessories. You could also consider looking into getting a composting toilet for your camper.
Campervan Kitchen Gadgets
Berkey Water Filter
This is the #1 campervan kitchen accessory. You need to have access to potable water, and a Travel Berkey is perfect for van life. You'll also want some water storage containers to hold filtered drinking water for later use.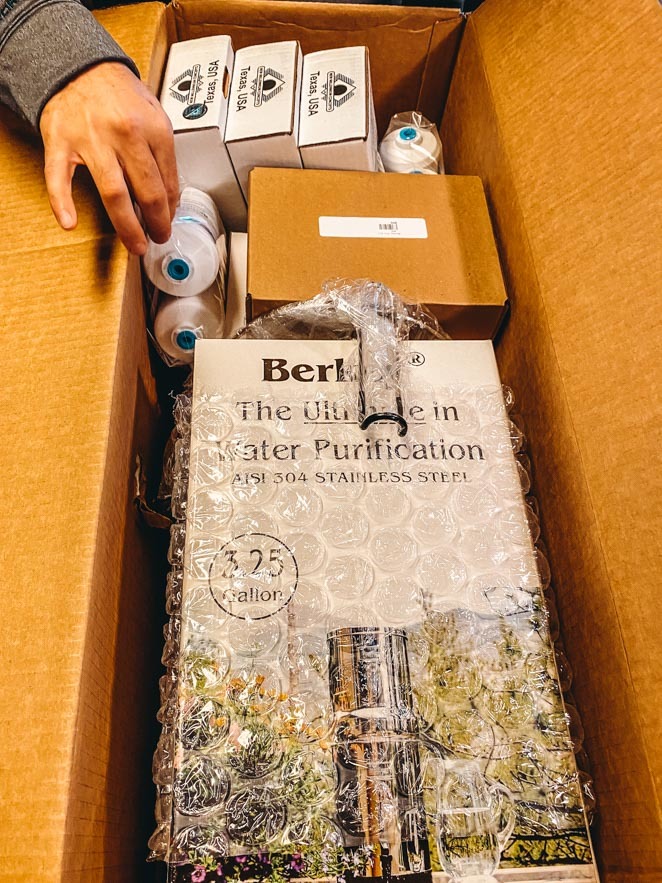 Portable Induction Burner or Stovetop
One of the top van camping accessories you'll need is an Induction burner. If you own a campervan with one already installed, and you'd still like a bit more cooking options, then you may also want to consider a small propane cooktop to use outside.
Omnia Oven For A Cooktop
This is one of the campervan kitchen accessories that you will be glad to have. The Omnia Oven allows you to bake using your cooktop or propane stove! No more burnt cookies!
Portable Coffee Maker
If you enjoy espresso then you need to grab a minipresso like this one where you just add hot water. It's compact and doesn't use any electricity. Now, if you're more of a regular coffee drinker, then consider getting this stainless steel french press so that you can just add hot water to brew a pot of coffee while waking up in your van.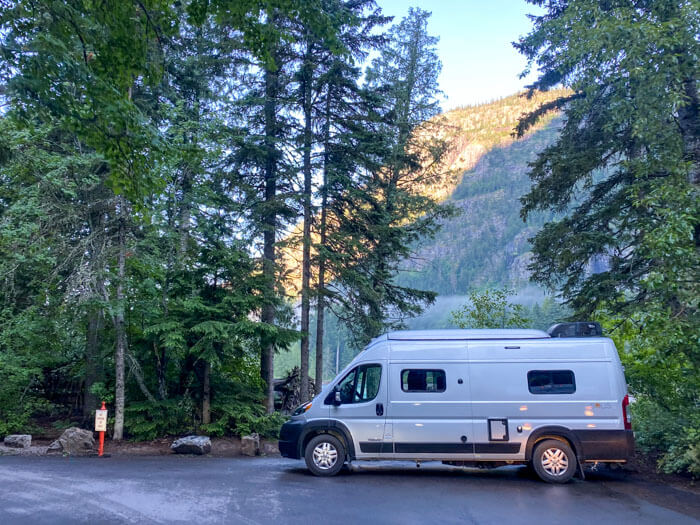 Van Life Accessories For Comfort
Outdoor Solar Shower
You'll be happy that you have an outdoor solar shower after a few days on the road living off-grid. Many people would say it's one of the van life must haves for a comfortable experience. We also added to our list of the best van life gifts for the campervan owner!
Pop Up Shower Tent
A portable shower tent can make things a lot easier if you'd like to shower outdoors and you're not sure if you are actually alone in nature. It allows for pricey and it can also be used to change your clothes in or even use the toilet if your toilet is portable.
Hanging Toiletry Bag
A simple and easy way to stay organized in your van is to have a place for everything. A hanging toiletry bag is just what you'll want to keep all of your day-to-day toiletries and shower supplies in. That way you won't have to go searching around for your toothbrush or shampoo when it's time to clean up.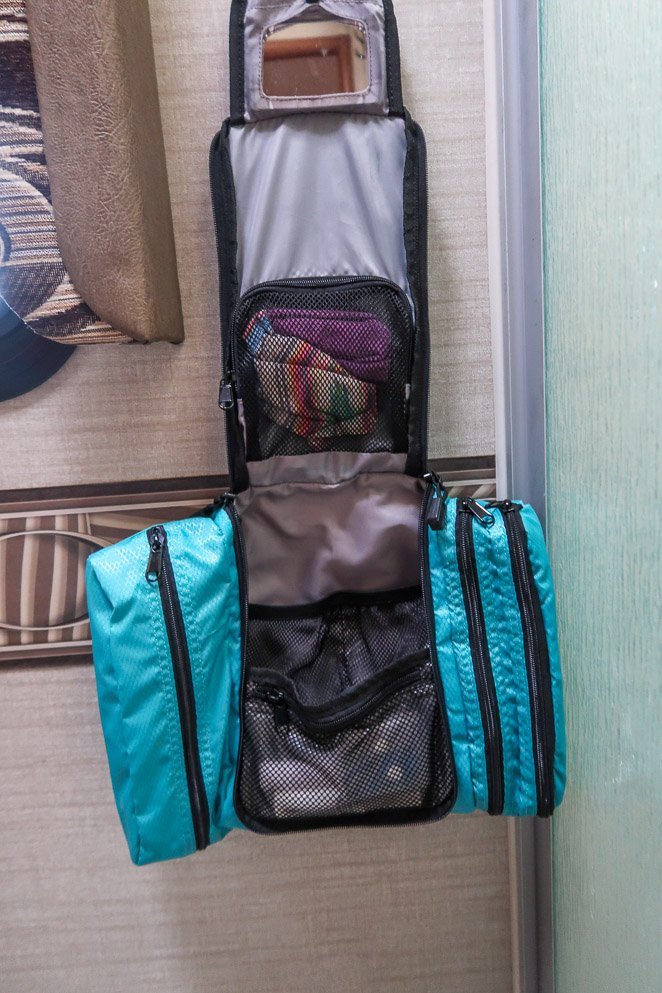 Quick Dry Towels
To save on space you'll want to use quick-dry microfiber towels. These are simple camper van supplies that you can use after a shower, hanging at the beach, or even doing a little cleaning. They not only dry quickly, but they also roll up small and store well.
Cooling Mattress
For total comfort, consider ordering a mattress in a box that comes out soft and firm while cooling you down in your campervan. This cooling camper mattress comes in several sizes including an 'RV short' to fit in different camper spaces.
Camping Fan
A simple, yet a dependable fan, is one of the caravan must haves you'll want to grab. This camping fan has a rechargeable battery and hook that allows you to use it while not plugged into power. On hot nights, you'll appreciate one of these.
Camper Van Accessories For Saftey
GPS For Van Life Travel
While traveling you are going to want a reliable GPS. They have honestly come down in price over the years and are worth having one with you. No need to have paper maps to navigate and store.
You can just use this high-rated GPS. Or, if you plan to use Google Maps or other RV apps on your phone while driving (such as Gas Buddy) then be sure to get a phone mount so that you can be hands-free while driving.
Safe
Not many people think about storing their valuables, yet it's something to consider. You can grab a small safe that's fireproof and waterproof to keep your credit cards, passports, or other valuables in. Or, consider this unique hitchsafe that allows you to store the key to your van along with credit cards, etc in the hitch of your campervan.
Campervan Accessories To Enjoy The Outdoors
Bike Rack
Consider bringing your bikes along for another way to get around once you've set up camp. Be sure to get a quality bike rack and a bike lock to keep everything secure when you're not riding. This is a great addition to your conversion van accessories that will help you carry more along with you.
Hammock
A simple way to relax when you set up camp is to lay back in your hammock. This is one of the best van life accessories that you can gift someone you know who bought a campervan recently, or for yourself.
Set it up when you are camping next and read a great book on your Kindle Paperwhite or take a quick nap after a big day hiking in Glacier National Park.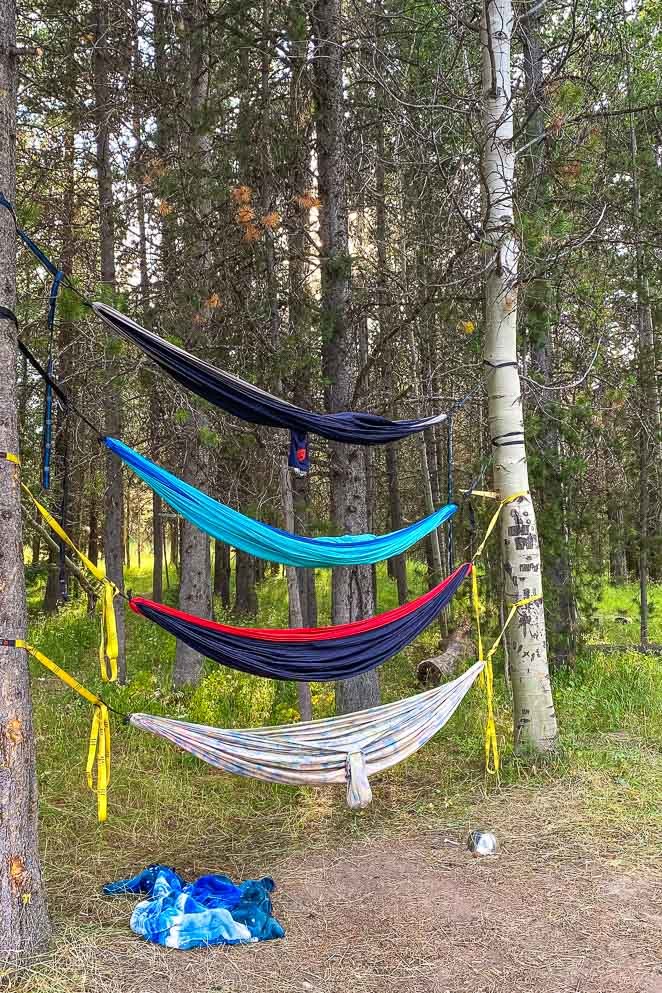 Outdoor Camping Chairs
Space is important when buying van camping accessories. That's why it's best to have outdoor camping chairs that fold up small and store easily as these camping chairs do.
Outdoor Camping Table
Bring your cooking outside your campervan. Set up a lightweight camping table for an easy outdoor meal. Consider using the camping table to set your propane stove on so that you can enjoy cooking under the big sky.
Head Torch or Headlamp
A headlamp is the easiest hands-free solution to setting up camp in the dark. Or, going outside to explore a bit at night. You may also want to have a collapsible solar lantern that you can charge during the day and use at night on your camping table.
Telescoping Ladder
If you plan to store anything on the roof of your campervan, such as roof rack or even a solar panel, then you'll want a ladder. This collapsible telescoping ladder may be just what you need to access your roof rack and the extra gear you have inside.