If you're looking for some cheap RV living tips, then you've come to the right place! I'm going to break down our top tips for living frugally in an RV, keeping our RV budget, and best of all – which camping memberships are the best for full-time RVers.
Cheap RV Living
When you think about someone living in an RV, what reason comes to mind first? Tiny living so you can declutter and live minimally? Traveling the country to see all the great National Parks?
Or, are you like me and the first thought is ….'Wow, it must help you save so much MONEY by living in an RV!'
Now that we've been on the road full-time as an RVing family for almost 3 years….I can honestly say that this full-time lifestyle isn't exactly much cheaper than living in a sticks n bricks.
At least, not unless you go into it with the right intentions.
THIS ARTICLE MAY CONTAIN COMPENSATED LINKS. PLEASE READ OUR DISCLAIMER FOR MORE INFO.
Don't have time to read a bunch of RV travel posts and reviews? Here are some of our top picks for RV living:
Our Favorite RV Resources:
What Is The Cost Of Living In An RV?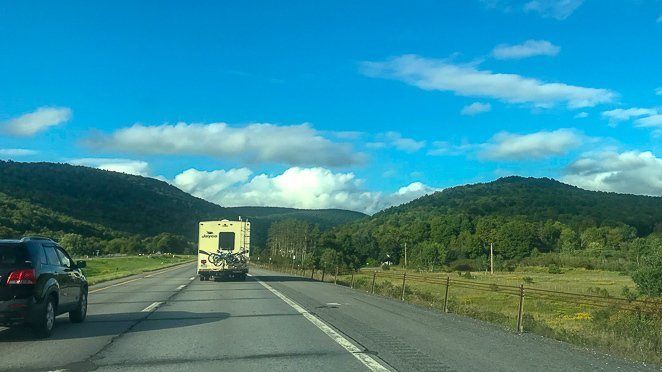 This is a tough one to answer, as every person and family comes at it very differently.
We laid out our family's exact RV living costs here if you want to check them out.
One of the best things you can do for yourself is to lay out a budget of ALL or current expenses and then add in those that you gain in the RV lifestyle.
Related Post: Q & A after 2 years of living in an RV full-time.
The top 3 expenses for most RVers are:
Campground Fees
Gasoline or Diesel
Food
Other than boondocking or dry camping, one of the best ways to keep your RV living costs down is to find some great campground memberships.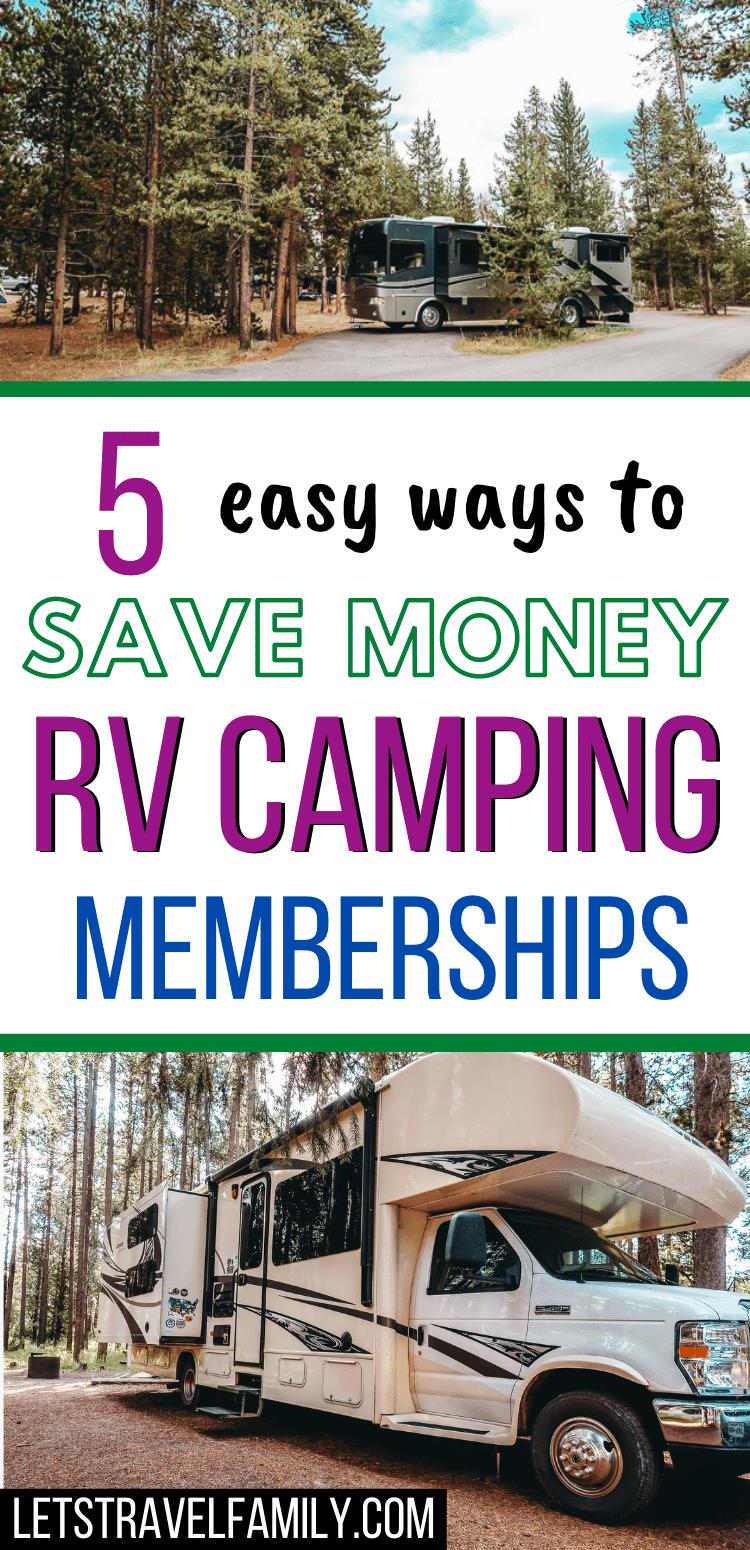 Camping Memberships
Investing in a few campground memberships, as long as you DO use them, is such a simple way to keep your costs down.
Here are 5 highly rated camping memberships that can be used across the USA.
Passport America
Thousand Trails
Good Sam
1. Harvest Hosts
Harvest Hosts is a membership that allows you to camp for free at wineries, farms, breweries, and museums across the USA.
In exchange for a night's stay, it's understood that you will at least try to visit the establishment and maybe buy a bottle of wine or some fresh cheese.
2. Boondocker's Welcome
Boondocker's Welcome is a membership that allows you to search for businesses of other RVer's that are willing to open up their driveway for a night or two for free.
Many times hosts are excited to meet other RVers and get a campfire going or even share a meal with you. We were even invited to stay 3 day weekend at one location and offered the use of their freshwater.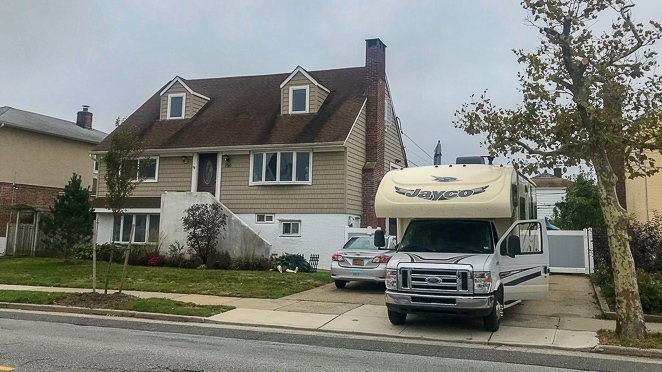 Being members of Boondocker's Welcome has shown us that there are some really generous people in this world.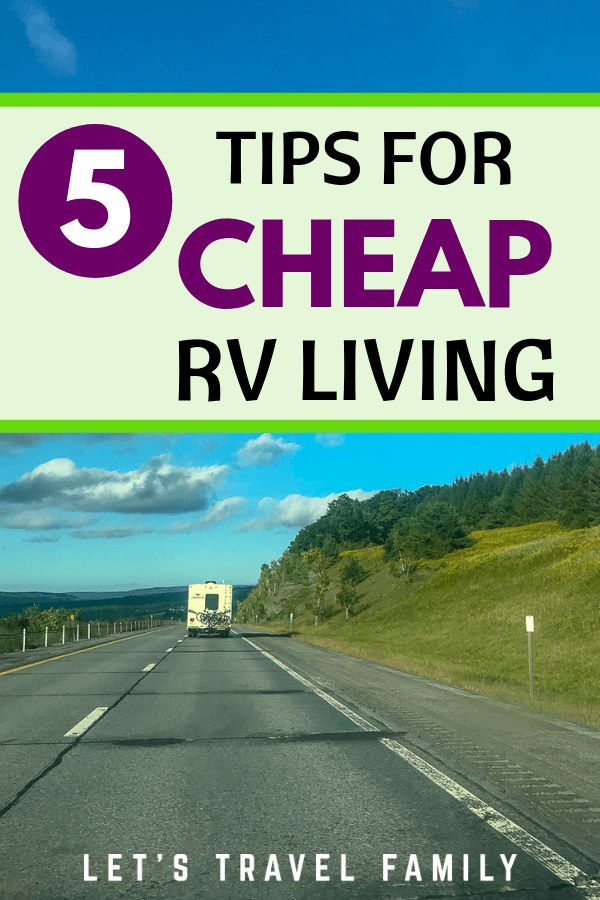 3. Camp Scanner
Sign up for your Camp Scanner membership and easily snag campground reservations that are fully booked all across America! How does it work? You can search their database for popular campgrounds at places like Glacier National Park or Yellowstone National Park.
Choose if you're looking for a tent site, RV site, the length of your vehicle, and what dates you're looking for. Then when someone cancels a reservation and something becomes available within your criteria, you'll receive a text message alert! Then you can quickly go online and book your reservation! Click here to try out Camp Scanner now!
Related Post: Ants In RV Campers – What You Need to Know
4. Camper's Card
Save on campground bookings at 100's campgrounds across North America when using your Camper's Card Membership. There are so many campgrounds to choose from all across the country that you can save 10-35% per night on your camping fees when using this membership!
5. Passport America
I have heard about many RVers using their Passport America membership regularly.
Each campground is different and you do need to read the fine print, but you can find camping at 50% off for the first night (sometimes longer) at campgrounds across America.
Now, if you're camping during the prime season, Passport America discounts usually don't apply.
4. Thousand Trails
Thousand Trails is a membership that MANY full-time RV living families and couples have. It can be a bit confusing and often changes, but if used well you can save hundreds if not thousands of dollars a year on camping.
I'm going to break down OUR family's current Thousand Trails Membership to help you understand what's worked for us.
We have a ZONE PASS that allows us to camp for 1-14 days at one campground at a time in one area (or zone) of the country. We then have to be OUT of all Thousand Trails campgrounds for 7 days before coming back into a campground.
There are 5 zones and we paid extra to have 3 zones. The Southeast, Northeast, and Southwest.
Then we added on the TRAILS COLLECTIONS pass that opens up many more EXTRA campgrounds throughout the Nation.
The prices do change, but overall we paid for 3 zones and the Trails Collections and got on a monthly payment plan (no interest added or anything so why not go monthly) of $72 per month. That's $864 per year.
When we stay in any of the Thousand Trails parks, we camp for 'free'.
There are additional memberships you can have with Thousand Trials that allow you to go back-to-back from park to park. However, we do find that the TT parks are not always in locations we want to be. Furthermore, we really enjoy camping at National and State Parks too.
5. Good Sam
A Good Sam membership allows you to receive 10% off many campgrounds around the country. What I find great about the membership is it also provides you will a discount anytime you shop at Camping World (as it's owned by Camping World).
Yet, I don't think our Good Sam membership even paid for itself this last year. So you need to decide if it's right for you.
Other Frugal RV Living Tips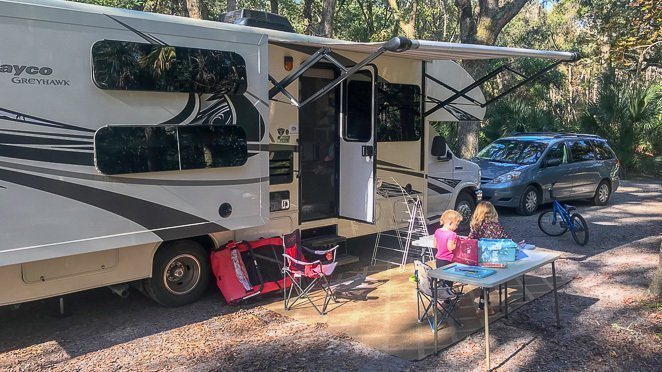 Beyond campground memberships, there are a few other things we do to try to live as frugally as possible in our RV.
Simple things like spending a quick night RV parking in a Walmart parking lot when we're on our way to a fun destination can cut down on camping expenses. But here are a few more ideas to keep you thinking.
First, we work hard at living with less STUFF and more time spent on activities. That means we keep a minimal wardrobe and only have RV essentials that we can use for multiple purposes.
Next, we work hard at eating in and not eating OUT all the time.
Since we travel with our own kitchen and all the kitchen accessories we need, we are able to keep our food costs down a ton by limited how often we go to restaurants.
Even on travel days we are able to pull over and make a sandwich in our kitchen and then get back on the road.
Lastly, to help keep our costs down we follow the sun and the seasons. This means that we try our best to stay in an area that may not require us to run our heat and use up our propane all the time.
Click here to see some of favorite RV campsites across the US.
Or click here to learn about getting a compost toilet for your RV.
What do you do to save money?
So what is it that you do already to save money or live more frugally?
Do you have a certain budget tracking form that helps you self-monitor your money going in and out? Or, maybe you clip coupons for groceries?
We're always up for learning new ways to living a frugal life on the road so that we can have more money to spend on activities making memories together. Because really, that's our WHY behind living this lifestyle.
We only own tools in our RV tool kit that we use regularly and often borrow items from RV friends when we can to keep the costs down.
We are living our lives right now and not waiting for someday.
Related Post: Making money on the road