Looking for some fun things to do in Boise with kids during your upcoming trip to Idaho? Or, maybe you live in the Treasure Valley and need some fresh ideas of fun things to do in Boise ID. Either way, you've come to the right place. Below you will find a complete guide on fun things to do in Boise Idaho with kids including Boise attractions for kids, fun family ideas in Boise, and great outdoorsy ideas.
This ultimate list might surprise you as it includes ideas of fun indoor things to do in Boise Idaho with family, outdoorsy things to do in Boise with the mountains calling so many of us, and even some unique downtown things to see in Boise Idaho with your kids.
First, I want to share with you some of my top suggestions on where to stay in Boise if you're coming for a vacation or you're considering moving to Boise Idaho and you don't live nearby. Since our family lives here in the Treasure Valley, I've explored and discovered great places to stay when we have family and friends come into town to visit. Our top picks are below.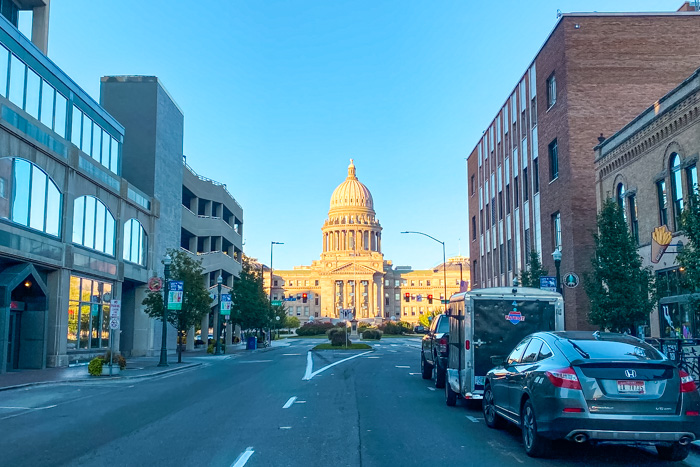 THIS ARTICLE MAY CONTAIN COMPENSATED LINKS. PLEASE READ OUR DISCLAIMER FOR MORE INFO.
Where To Stay In Boise Idaho
One of the best places to stay in Boise Idaho is The Grove Hotel. Located in the heart of downtown Boise, this four-diamond hotel offers a luxury experience that's still affordable.
I've recently enjoyed a day pass to The Grove Fitness Club and Spa with some friends and loved the deep hot tub, steam room, and sauna. Not to mention the exceptional food we ordered when we sat down for lunch at the hotel's Trillium restaurant.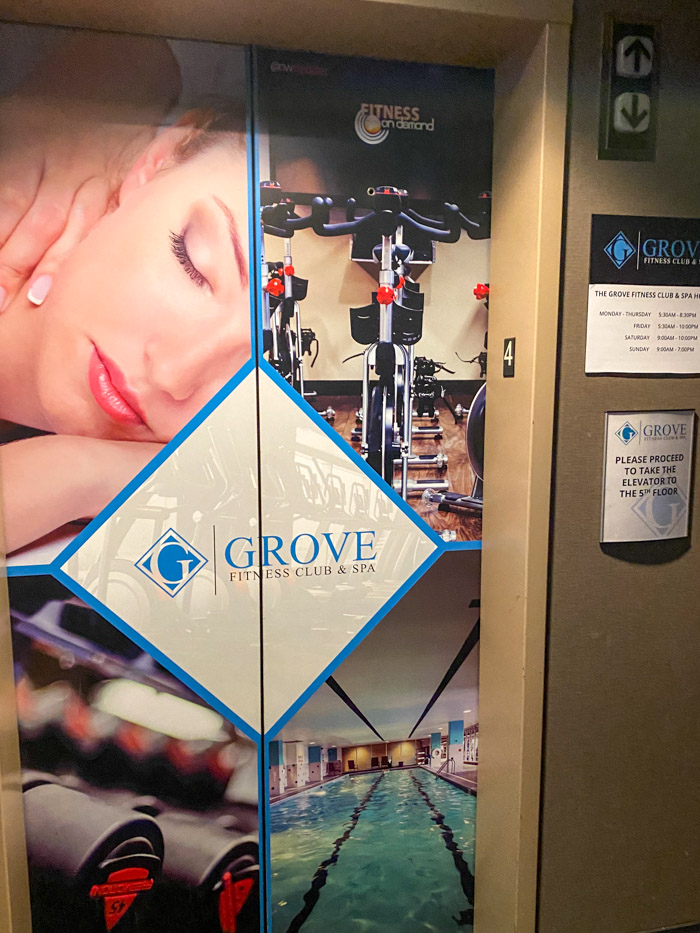 If a hotel is not what you're looking for, then a fantastic option is to find a short-term rental, or what many people now refer to as an Airbnb Boise option.
Enjoy access to the entire house in Boise for your family to spread out while you're visiting. Check out the best places to stay in Boise.
If you plan to visit Boise in an RV, then check out our list of the best Boise RV parks. Be sure to book far in advance, as camping in Idaho fills up during the summer months quickly.
When we search for great hotel rates, I always start by looking at reviews and price comparisons. That's why I created a guide sharing the best hotels in Boise Idaho to help you. Read the reviews and find a place that works for your family.
Considering moving to Boise, Idaho or the Treasure Valley? Download this FREE 50-page Relocation Guide to Boise that will help answer many of your questions.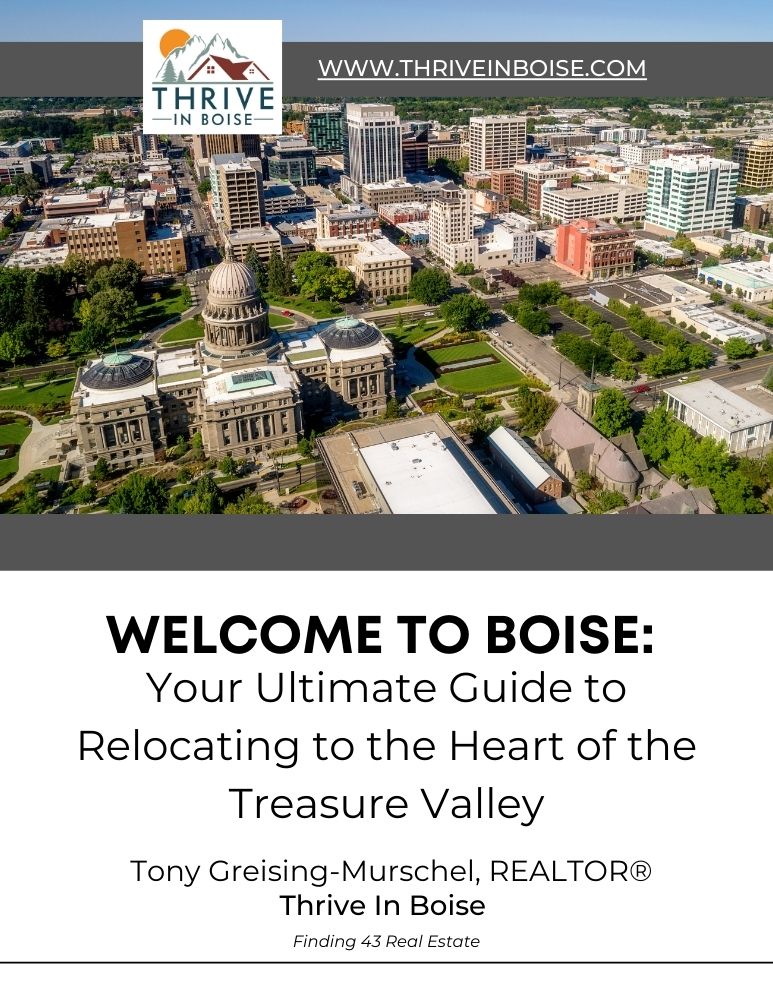 Click here to download it now!
Things to do in Downtown Boise with Kids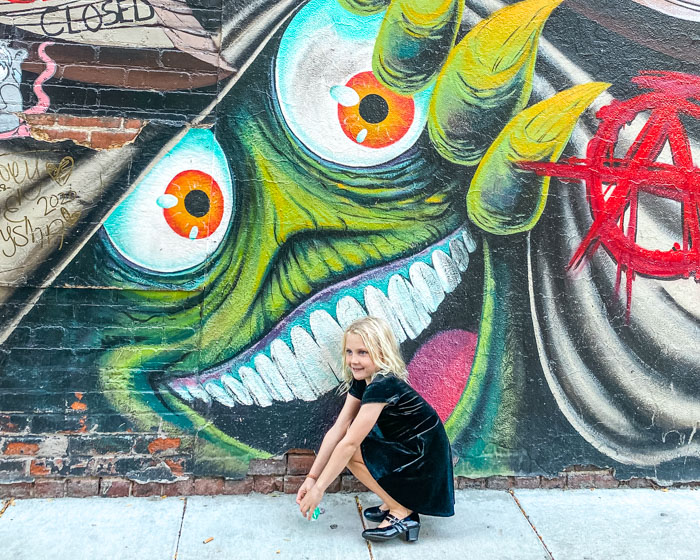 One of the first things that I noticed once we moved to Boise a few years ago was how clean and safe we felt walking around downtown Boise. You see, our family lived a full-time RV life and visited over 35 states, including New York City, San Francisco, Charleston, Fort Lauderdale, and Nashville to name a few.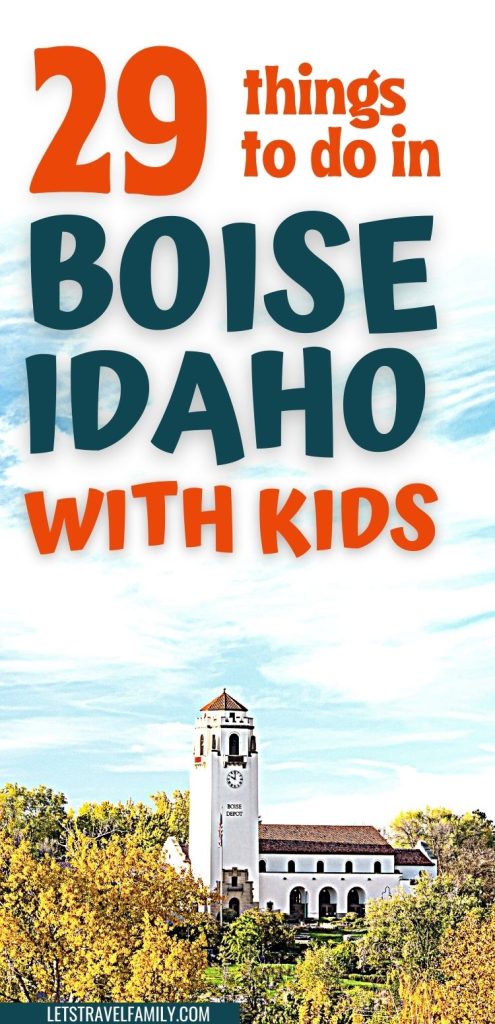 Exploring major cities can be fun, but sometimes the litter and crime can make a family hesitate to get out and explore as much as they'd like to. That's not the case at all with Boise because I can say with complete honesty, that the city is incredibly clean and safe, and everyone here is so kind and welcoming to families.
Downtown Boise is actually a fantastic place to bring your family to explore. From great places to eat to outdoor recreation fun such as biking or paddleboarding, there is so much stuff to do in Boise outdoors.
8th Street Downtown Boise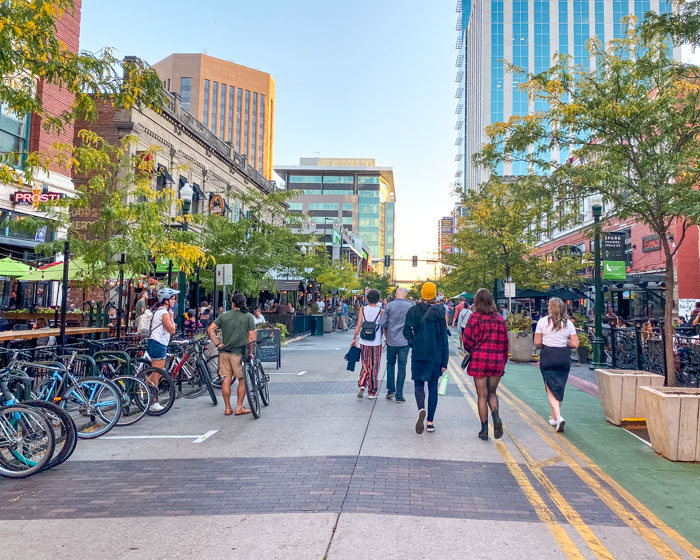 Start your day by grabbing lunch at one of the many restaurants on 8th street in downtown Boise. The popular street and downtown area have been converted to foot traffic only for a few blocks between Main Street and Jefferson. With so many fun shops, local restaurants, and fun art to look at, it's worth a visit when you arrive in downtown Boise.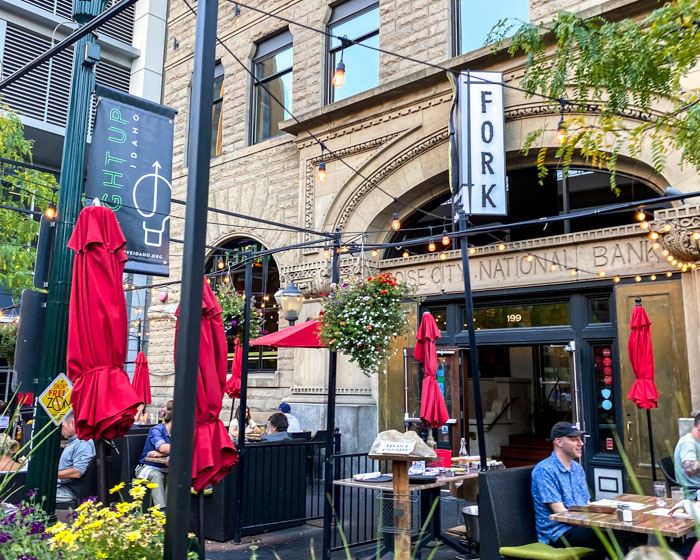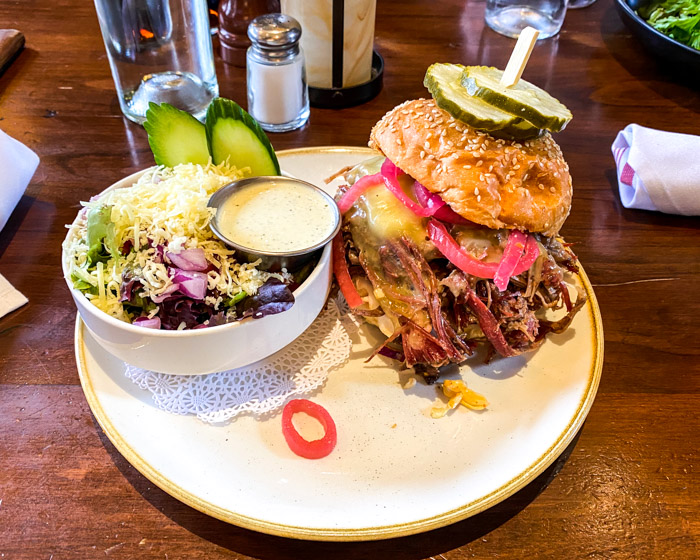 The Fork is one of my favorite restaurants serving many locally sourced foods. Drop in for lunch or make a reservation for dinner and enjoy eating outdoors on their large patio.
Freak Alley Gallery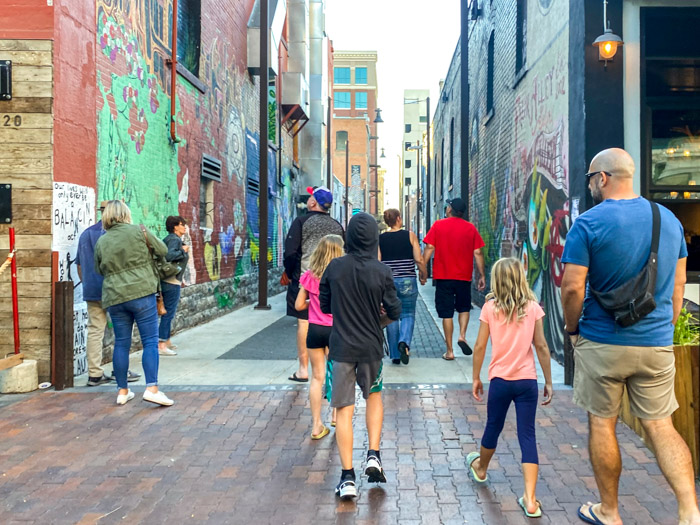 Enjoy some outdoor family fun in Boise by checking out Freak Alley Gallery. Discover the local art along this alley of nicely planned artistic graffiti. It's clean, safe, and connected to the 8th street restaurant district. This is one of the most unique things to do in Boise ID.
You can find Freak Alley located between 8th and 9th street and Bannock and Idaho in Downtown Boise.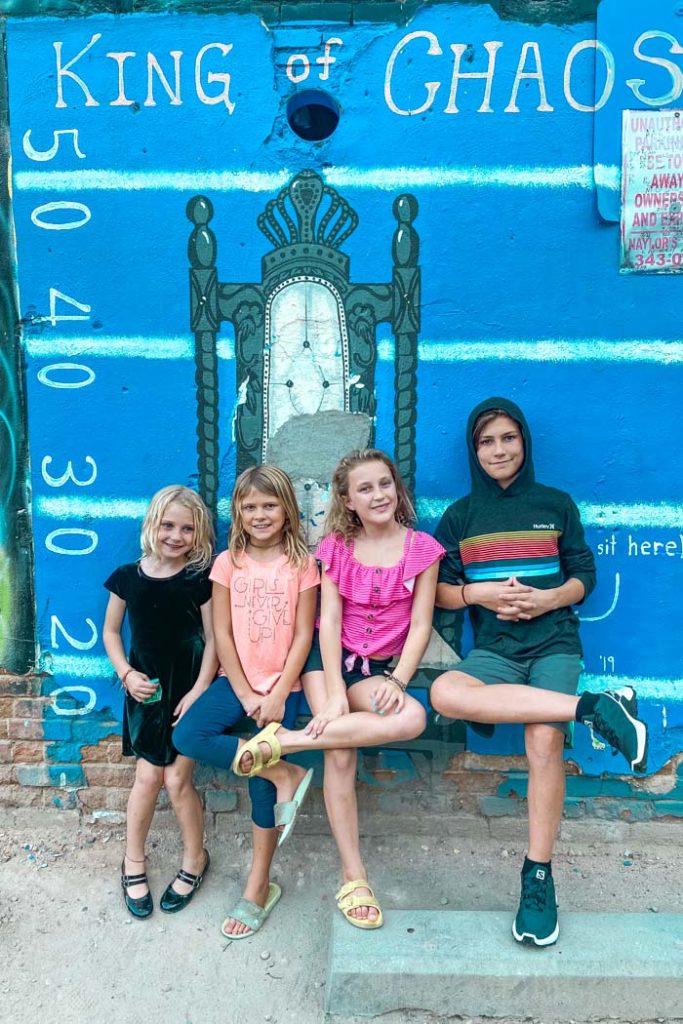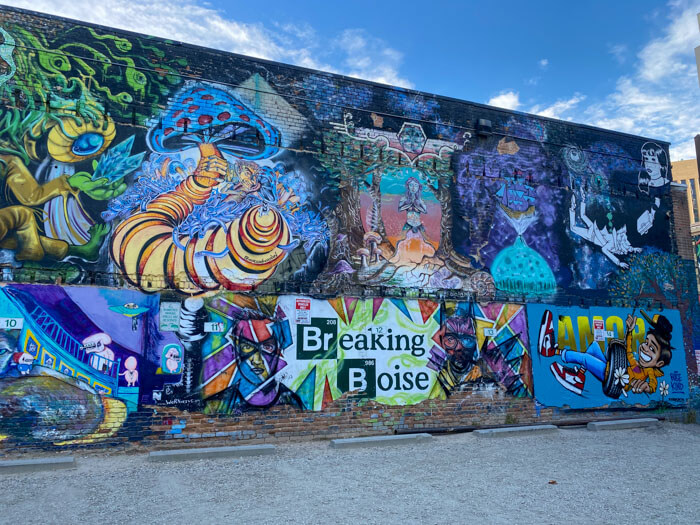 Stella's Ice Cream Shop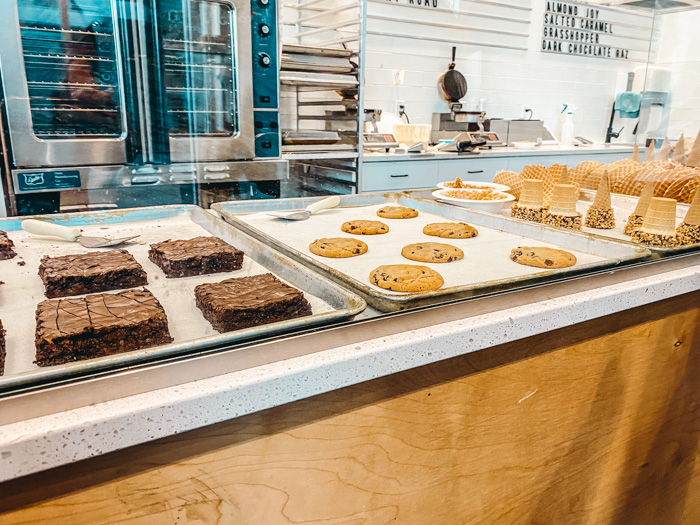 One of the best things to do with kids in Boise is to bring them to the famous locally owned ice cream shop off 8th Street called Stella's. With so many ice cream flavors to choose from and a large assortment of vegan options, you won't be disappointed stopping by.
Be prepared for a line, but it moves fast and is totally worth it!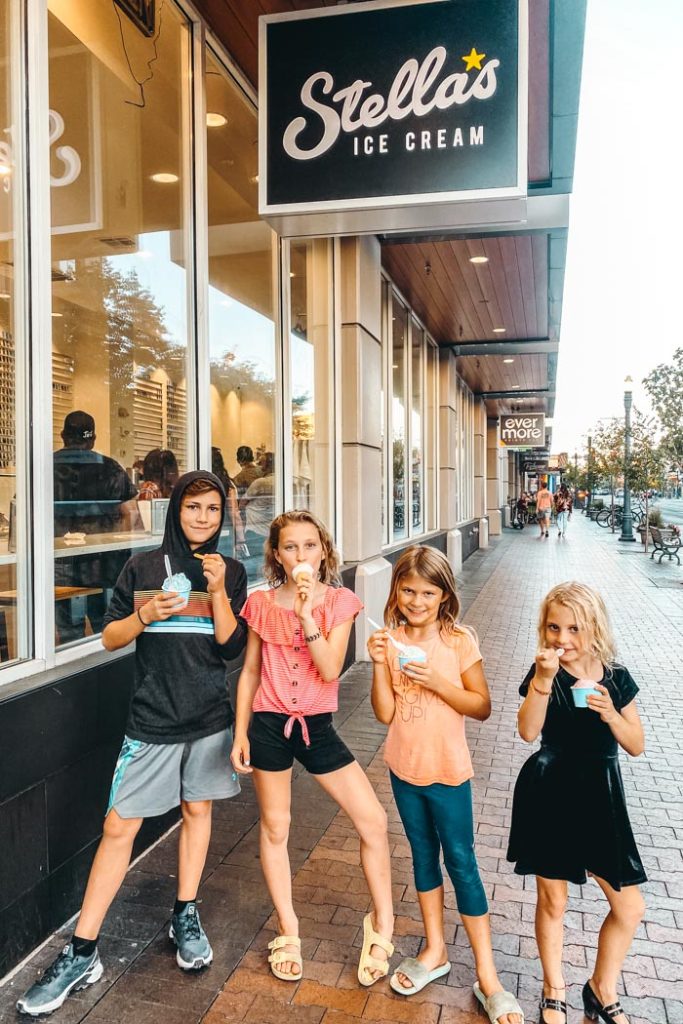 Zoo Boise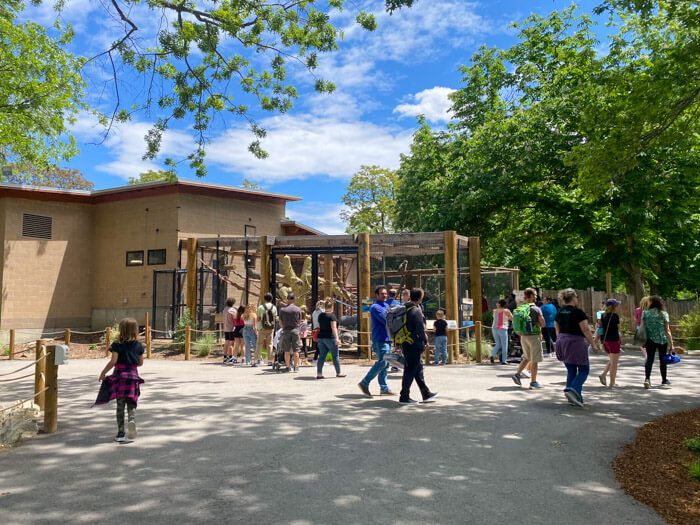 When you visit a popular city with kids, it's always fun to check out their Zoo. The Zoo Boise is small, but can still be worth a quick visit during a day in downtown Boise. Located in the beautiful Julia Davis Park, it's a popular Boise attraction with over 300 animals.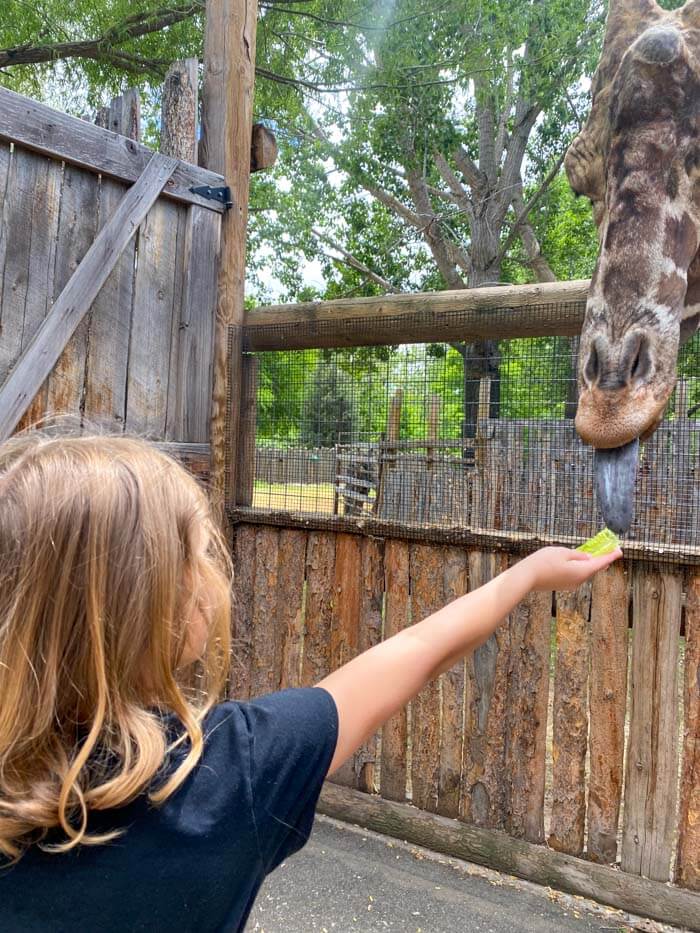 You can even feed the giraffes at specific times throughout the week like our daughters did.
Visit G.Willikers Toy Store In The North End
G.Williker's toy store is a fun locally owned toy store located in the North End of Boise in Boise's Hyde Park district. Let the kids swing outside, shop inside, and walk next door to grab an ice cream or soda from Goody's Soda Fountain.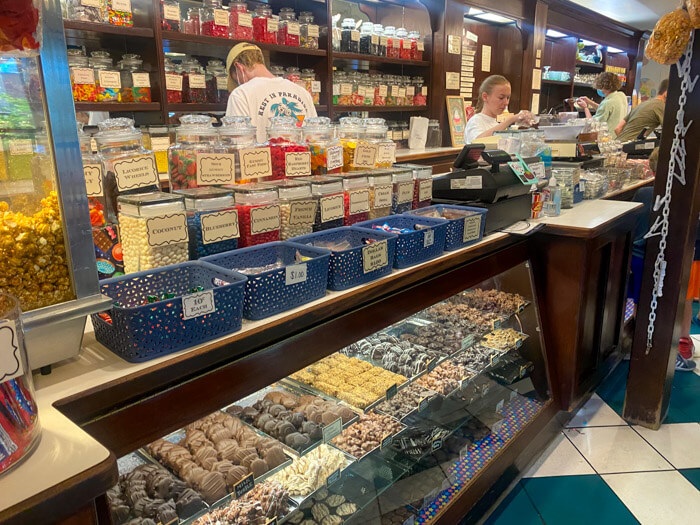 Outdoorsy Things To Do In Boise Idaho With Kids
Not far from downtown Boise, you'll find some of the best things to do in Boise Idaho that keeps your family outdoors and having fun together. Boise, otherwise known as the City of Trees, is located along the Boise River in a valley between two mountain ranges. You'll find green grass and many trees all throughout Boise and the valley.
Boise Whitewater Park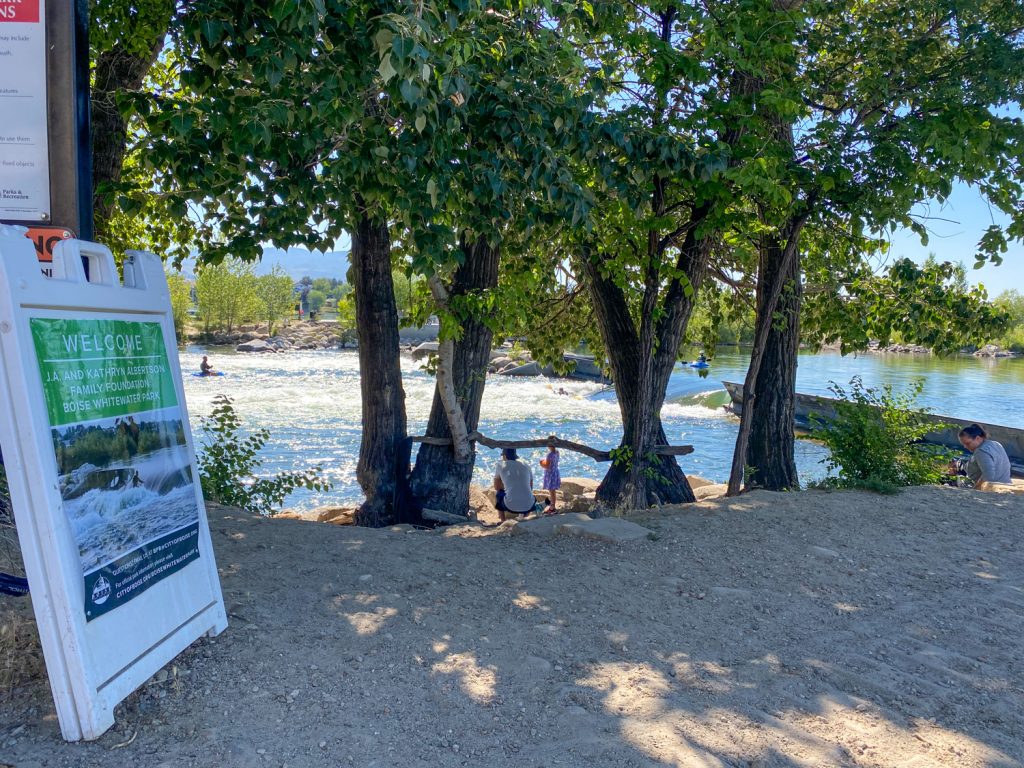 Watch the surfers on the Boise River. Yes, you read that right. People from all over come to Boise to surf the 'wave' on the Boise River at Whitewater Park. This area is located on the Greenbelt and connected by a footbridge to Esther Simplot Park.
Boise River Greenbelt Trail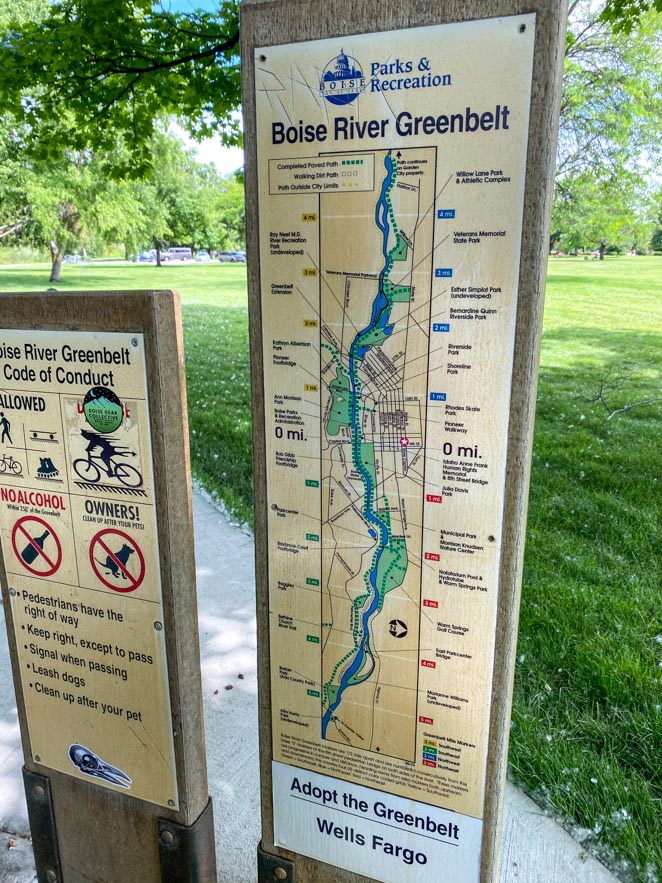 The Greenbelt is a 25-mile-long loop and paved biking and hiking path that follows the Boise River in the heart of the city. It connects many of the parks such as Esther Simplot, Ann Morrison Park, Veterans Memorial Park, and Julia Davis Park.
Your family could all rent bikes from a local bike rental shop, or go for a walk along the paved trail near one of the many parks and playgrounds.
Paddleboard At Esther Simplot Park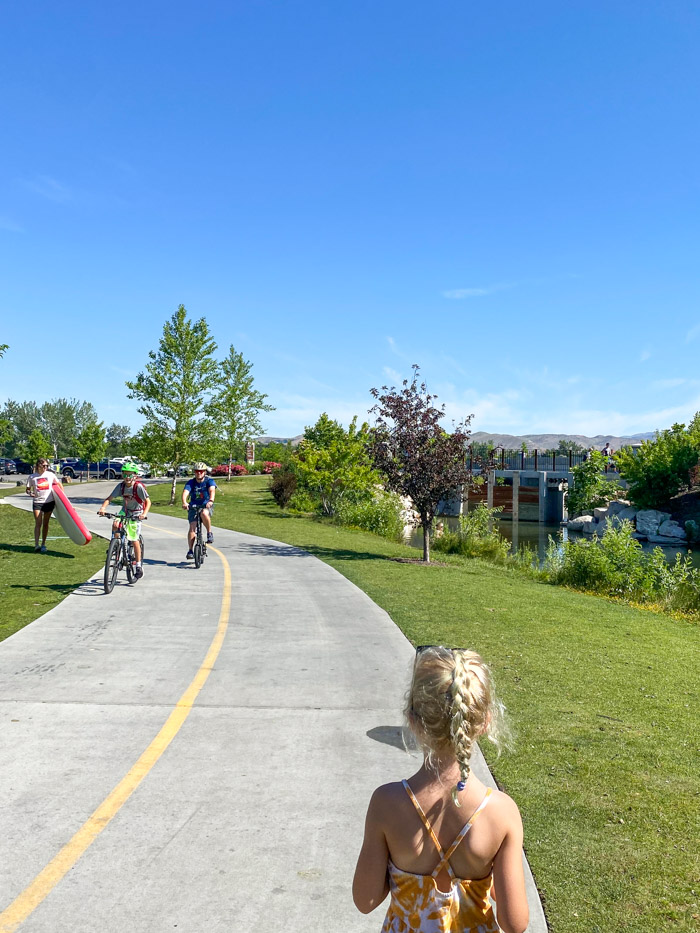 Esther Simplot Park is a 31-acre park and home to the famous Quinn's Pond. During the warm Spring and Summer months, you'll find many people swimming, paddleboarding, and kayaking here.
Stop by Idaho River Sports, located on the Northeast side of Quinn's Pond, to rent a few paddleboards for an hour and enjoy some time on the water together.
Visit The 34th Street Market (moved to The Capital City Public Market)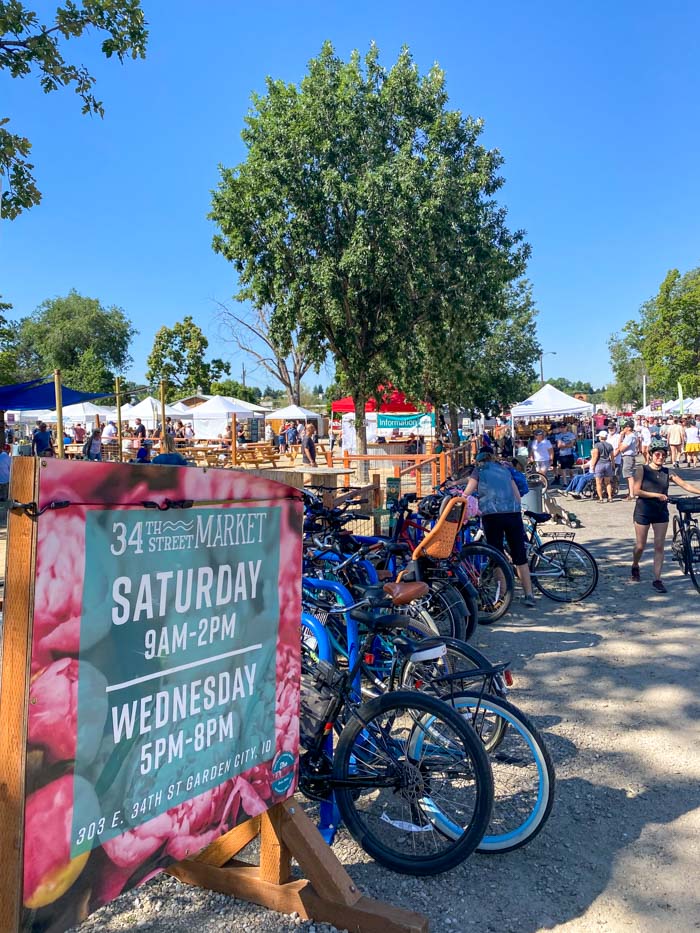 The 34th Street Market moved back to the Capital City Public Market at the Grove Plaza in downtown Boise. Be sure to check their Facebook Page to see if they are open when you're going to be nearby because it's fun to visit the outdoor market and grab a bite to eat while supporting local businesses.
MK Nature Center – Idaho Fish and Game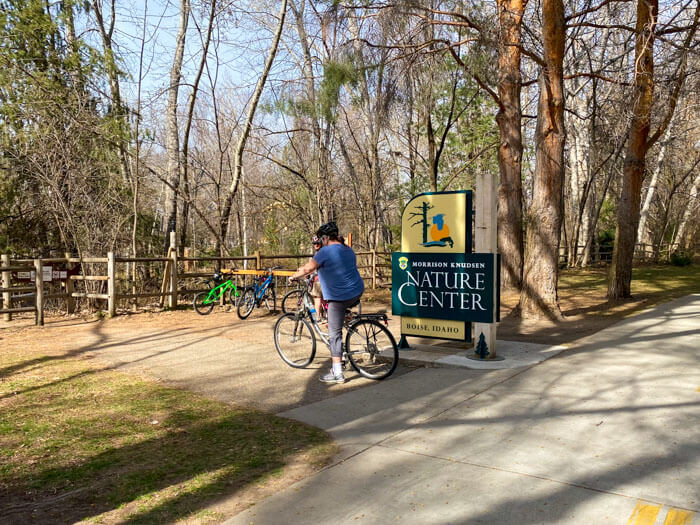 Explore the MK Nature Center, known as the local Boise nature center, and learn more about what to expect in the great outdoors in Idaho. You will find a trail you can walk and discover some fish viewing areas, as well as many natural habitats.
Idaho Botanical Garden
The Children's Adventure Garden is a special space within the Idaho Botanical Garden worth a visit with little ones. The Idaho Botanical Garden is located on the Old Penitentiary Road, just down the road from one of the most famous hikes in Boise, Table Rock hike.
Go On A Great Boise Hike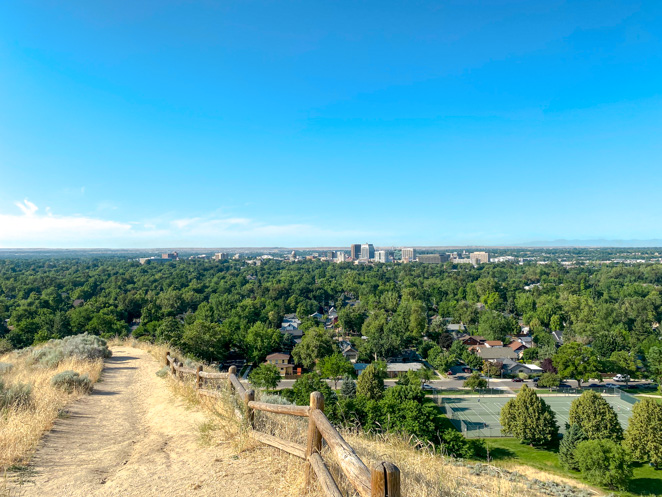 Consider going on a great family hike in Boise with your family. From the famous Table Rock hike to the lesser-known Owl's Roost trail, there are so many hiking trails among the foothills in Boise. Check out our detailed post sharing the best hikes in Boise to learn more.
Idaho Old Penitentiary Tour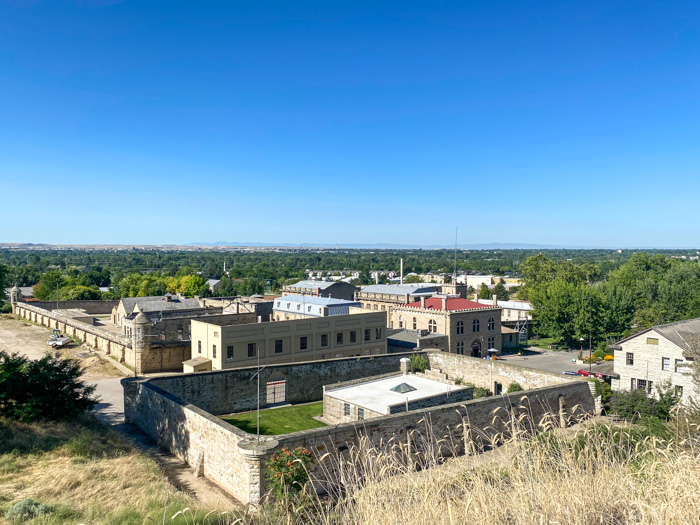 Depending on the age of your kids, and how interested your family is in history, going on a tour of Idaho's Old Penitentiary might be one of the things to do in Boise this weekend as a family.
Camel's Back Park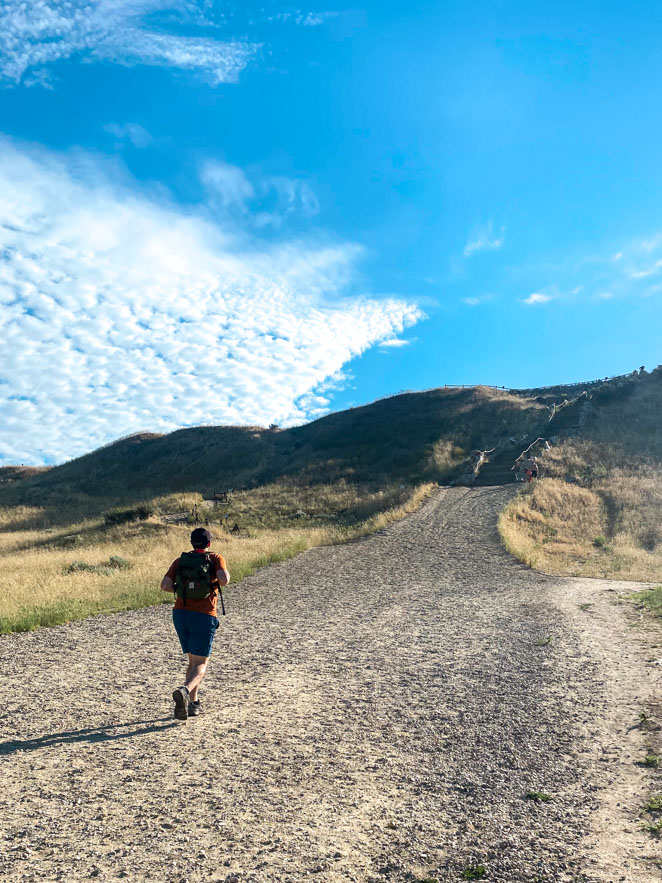 A popular outdoorsy park for families in Boise is Camel's Back Park. Located on the Northside of Boise, just at the foothills of the mountains. Camel's Back Park not only has a playground and shaded trees for a picnic lunch, but it's also the location of several famous hiking trailheads.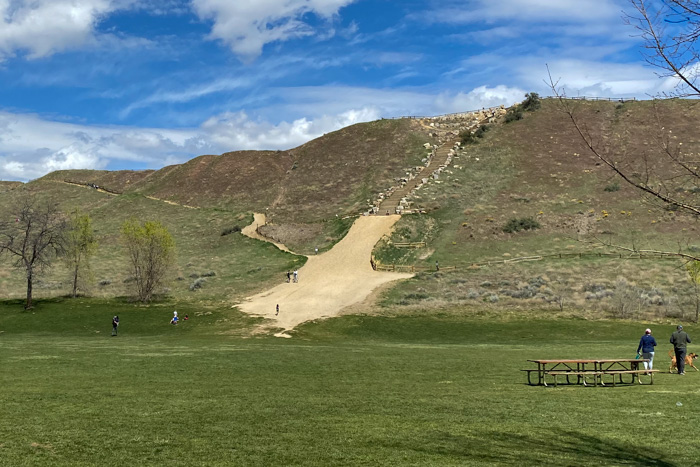 The famous Camel's Back Trail has some steep stairs to get you started, and once you get to the top the view of downtown Boise is with a quick photo.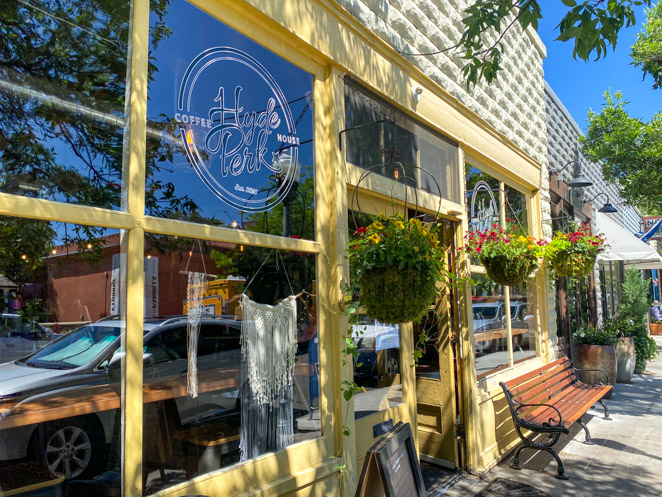 Be sure to stop in Hyde Park, a fun North End neighborhood with some fun shops, restaurants, and one of my favorites on the list of the best coffee shops Boise has to offer.
Visit Hot Springs Near Boise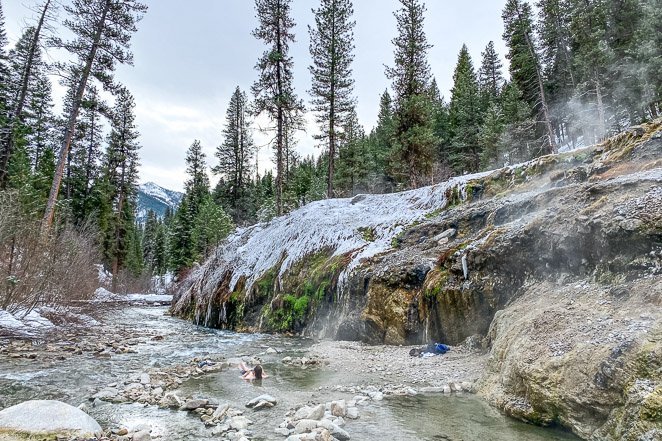 Did you know that Idaho is home to the most natural hot springs out of any other state in the USA? Not far from Boise, you can drive and find yourself pulling over on the side of the road to soak in one of these natural wonders.
It may take a bit of planning before you take the kids along with you, but it can be one of the cool things to do in Boise with your family. Discover the closest hot springs to Boise and learn all of the top tips in my in-depth guide to finding the best hot spring near Boise.
Float The Boise River
During the summer months here in Idaho, many families can be found cooling off by floating the Boise River. Most families are found floating the six-mile stretch of the Boise River from Barber Park to Ann Morrison Park on rented tubes.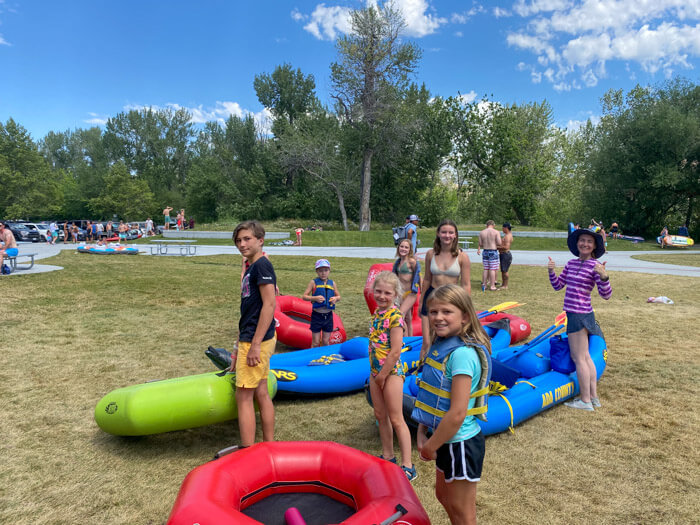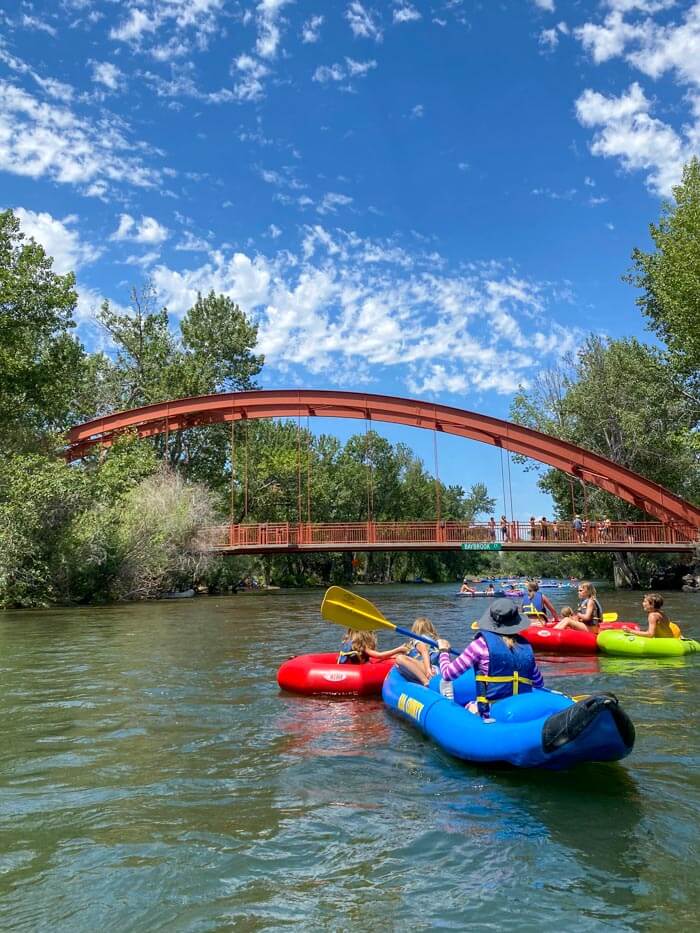 You can drive up to park near Barber Park and rent a large innertube for your entire family, or small separate ones. Then float for a few hours until you get off at Ann Morrison Park where you will pay a small fee to take the shuttle bus back to your car at Barber Park. Be sure to check for dates and times before you go.
Go Swimming At Lucky's Peak State Park
Go swimming on Sandy's Point Beach at Lucky's Peak State Park, located just East of Boise and only a 10-minute drive from downtown. This popular State Park offers a large sandy beach and a great place to bring your paddleboards and floating toys to cool off in the water, or rest in the shady trees and have an afternoon snack.
Visit World Center For Birds Of Prey
Check out the World Center For Birds Of Prey located in South Boise. They offer daily programming most of the year, along with drop-in visits to learn more about the amazing creatures. This can be on your list of one of the great outdoor Boise activities for kids.
Indoor Boise Idaho Attractions For Families
If it's a cold winter day, or maybe a hot summer day, and you're looking for ideas on what to do in Boise Idaho indoors with kids, then keep on reading. This list is pretty full of some great indoor activities Boise has to offer.
Aquarium of Boise
One of the Boise Idaho things to do indoors with kids is to spend a few hours at the Aquarium of Boise. Discover over 250 different species of animals and marine life.
Altitude Trampoline Park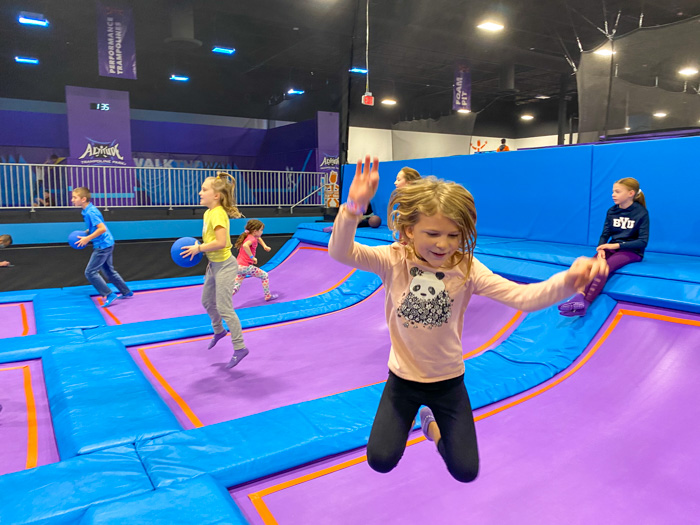 Altitude Trampoline Park is a family-friendly and fun indoor trampoline park close to the Boise Mall. Don't just let the kids jump on their own, join in on a game of dodgeball or play tag with your kids on the trampolines.
Update: Altitude closed down in 2022
Treasure Valley Roller Skate Park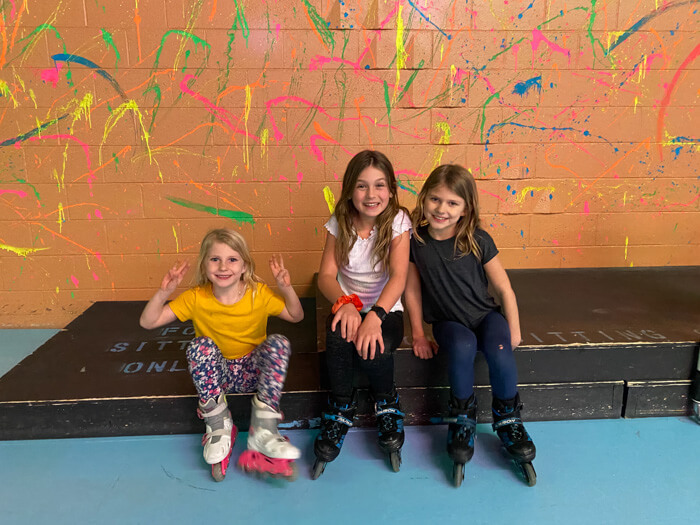 One of the fun things to do in Boise Idaho with kids is to take them roller skating at Treasure Valley Skate. Skating is one of those Boise activities for kids that keeps them active during the months when they just don't play outside as much as normal.
Nerfed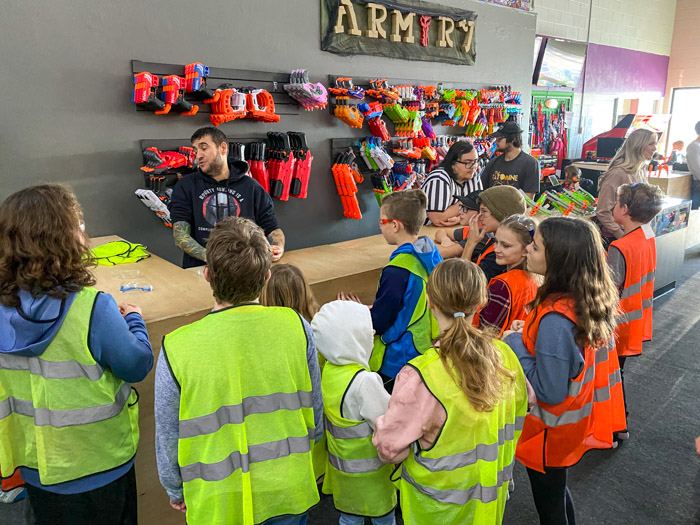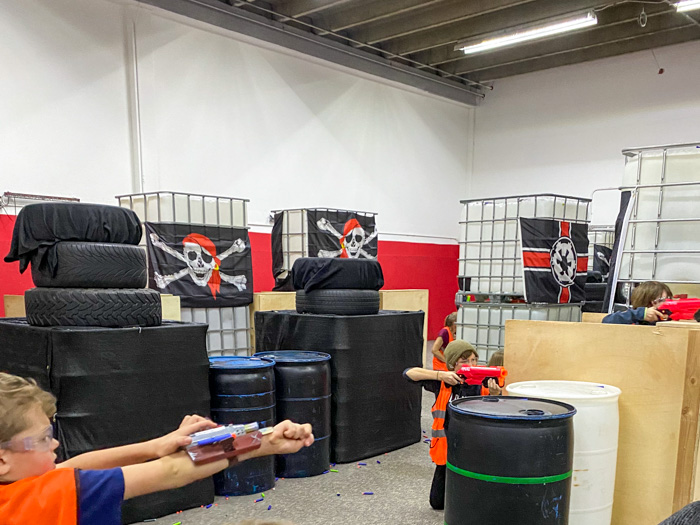 Nerfed is a fun family activity that is so creative. Instead of laser tag, it's a giant well-organized indoor Nerf fight. Honestly, we have a ton of fun when our family visits Nerfed. We even had my eldest son's birthday party there recently.
Planet Indoor Playground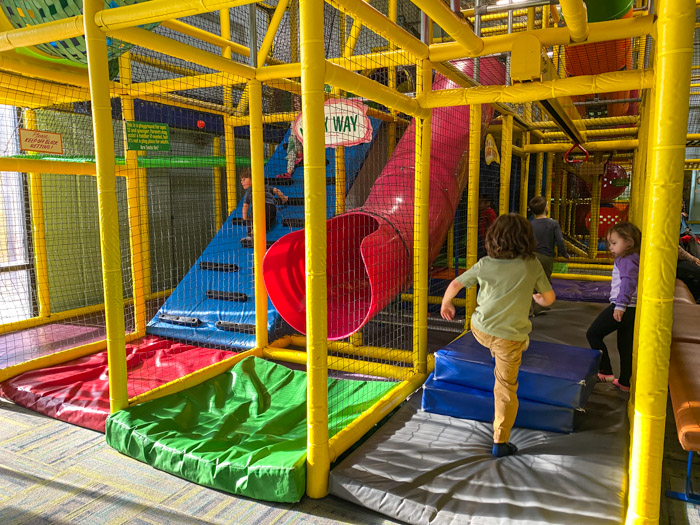 Planet Indoor Playground is a small indoor playground with bright-colored tube slides and monkey bars that are great for kids ages 10 and under. As much as it's nice to get outdoors to the many Boise nearby playgrounds, this is a great option if it's too hot or cold outdoors to let your little ones burn off some energy.
Woodland Kids
Woodland Kids is another indoor play area that is great for the littles. This indoor play space is different from a typical indoor playground, and focuses more on imagination, creativity, and pretend play. It reminds me of a mini children's museum with a wooden indoor farmer's market for the children to pretend with.
Discovery Center
The Boise Discovery Center is the local Science Museum that many families enjoy visiting. Being indoors, it's an option on a rainy day or a cold winter day.
Things To Do Near Boise Idaho With Kids
Beyond the fun Boise things to do with kids, there are many cool places to visit in the surrounding Treasure Valley area. Some of the suggestions below will have you travel 30-45 minutes outside of Boise, while others are only a 5-minute drive such as enjoying the fun things to do in Meridian, the popular and family-friendly city next to Boise.
Children's Museum
Looking for a children's museum near Boise? This small but fun-filled indoor museum is located in Meridian Idaho. This should make your list of Boise Idaho kid's activities.
Vertical View Rock Climbing Gym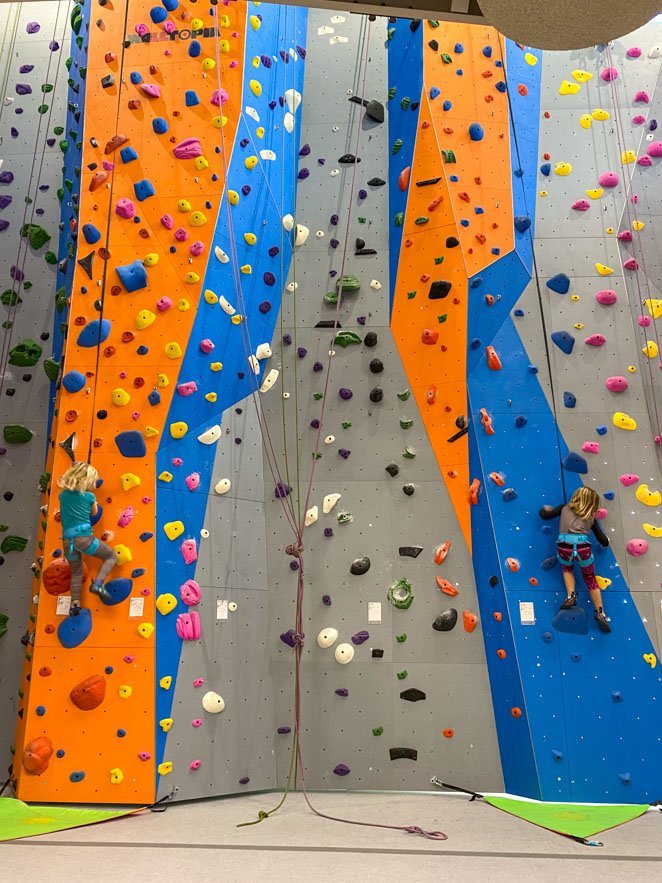 Consider taking your kids to an incredibly modern and family-friendly rock climbing gym. Located right off the interstate between Locust Grove Rd and Meridian Road, Vertical View offers Boise kids a safe place to learn how to climb.
Wahooz Family Fun Center and Roaring Springs Water Park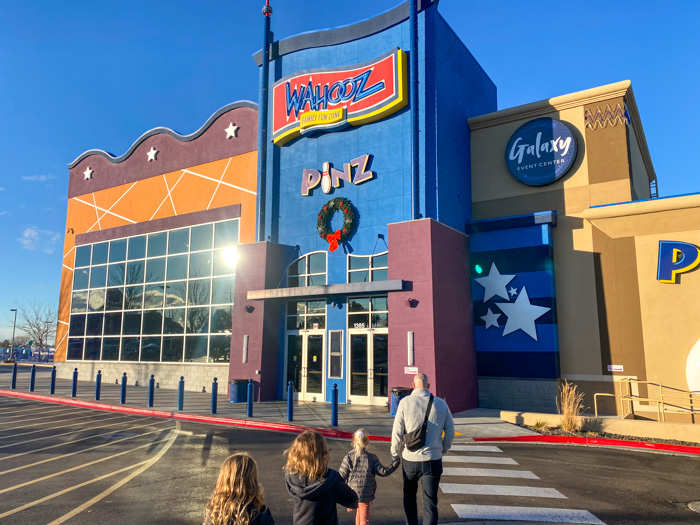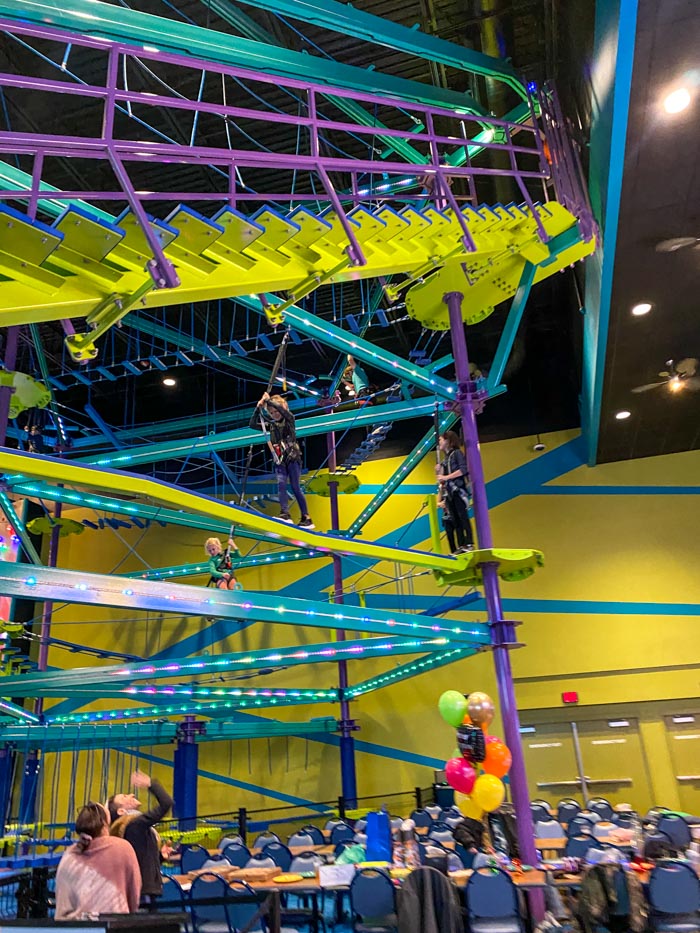 Wahooz Family Fun Center offers fun for the whole family including go-karts, mini-golf, laser tag, a ropes course, a huge arcade, and so much more. During the colder months, one of the most popular family attractions in Boise Idaho is Wahooz.
When it's hot outside, Roaring Springs Water Park is one of the top places to visit in Boise Idaho with kids. Located in Meridian just off interstate 84, Roaring Hot Springs is a popular and large outdoor waterpark that is fun for the entire family!
Eagle Island State Park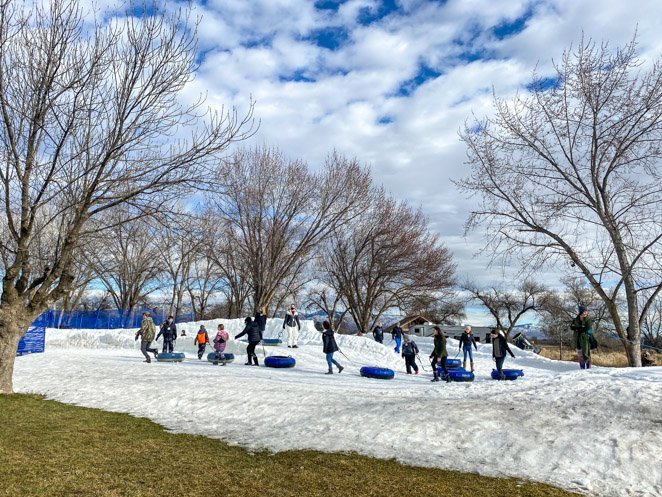 If you're looking for family fun in Boise Idaho, consider visiting Eagle Island State Park. Here your family can enjoy hiking trails, a zip line, a modern playground with shade trees, and a small beach.
During the winter months Gateway Parks makes snow at Eagle Island State Park and creates a winter wonderland of snow tubing.
Bogus Basin Mountain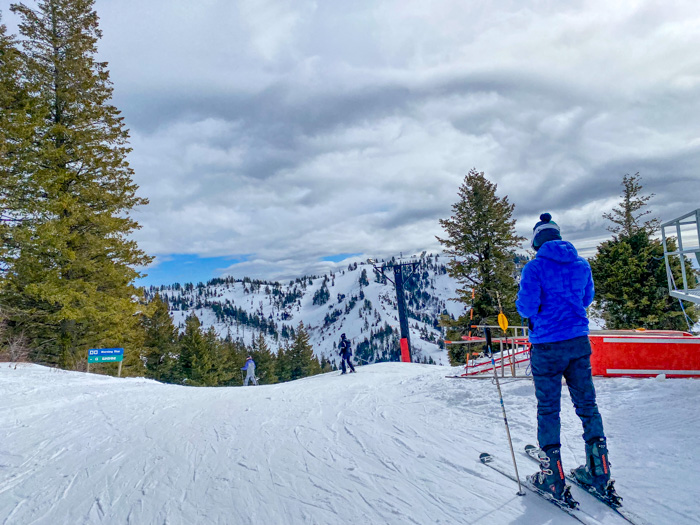 Bogus Basin is one of the top ski resorts near Boise Idaho. It provides nearby downhill skiing, nordic skiing, snow tubing, and even snowshoeing opportunities in the winter months. This is the most popular ski destination in the Boise area. At night, you can see it lit up from down in the Treasure Valley.
Other Things To Do Idaho With Kids
Looking for one of the fun day trips from Boise? There are also many other areas of Idaho offer some great family fun opportunities.
We've discovered many of the fun Idaho destinations and I want to share them with you here. Especially if you're planning to make an Idaho road trip, or you're specifically looking for Idaho for kids ideas.
Dive into the posts listed below to help you learn all about things to do in Idaho with kids.

12 Fun Things To Do In Sun Valley
Fun Things To Do In McCall Idaho
12 Top Things To Do In Northern Idaho
Fun Things To Do In Cascade Idaho
10 Insanely Fun Things To Do In Meridian Idaho
11 Best Boise Hikes