I was recently asked what were my biggest tips for buying an RV for the first time. Should you buy new or used?
Honestly, this is a tough one to answer because everyone is different. Yet, there are some pros and cons to either direction you go. So, I'm going to break it down for you so that you can have a better understanding if you should buy a new or used RV.
Buying A New RV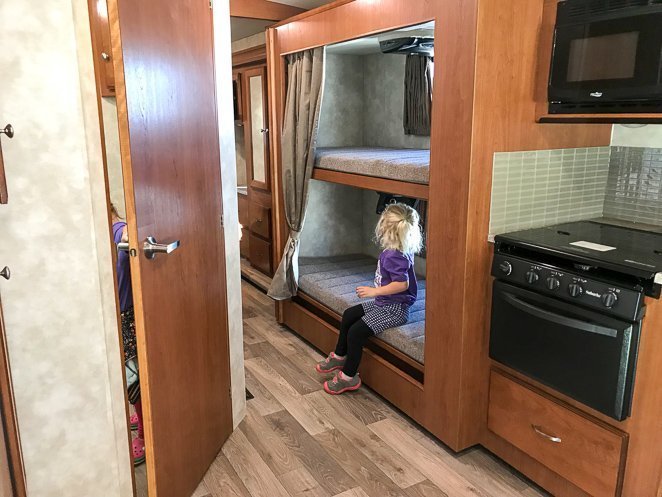 When you've made the decision to buy an RV, sometimes you just don't want to wait! You're excited to embark on either your full-time RV adventure or a week-long trip to a bucket list destination.
I get it!
That's how Tony and I felt when we made the decision to buy an RV and sell most of our belongings to travel full-time with our four kids back in 2017.
RV dealerships have a HUGE selection of RVs and you are sure to get a feel of so many if you visit. You might already be searching for the best camper names for your RV so you can name it on the spot!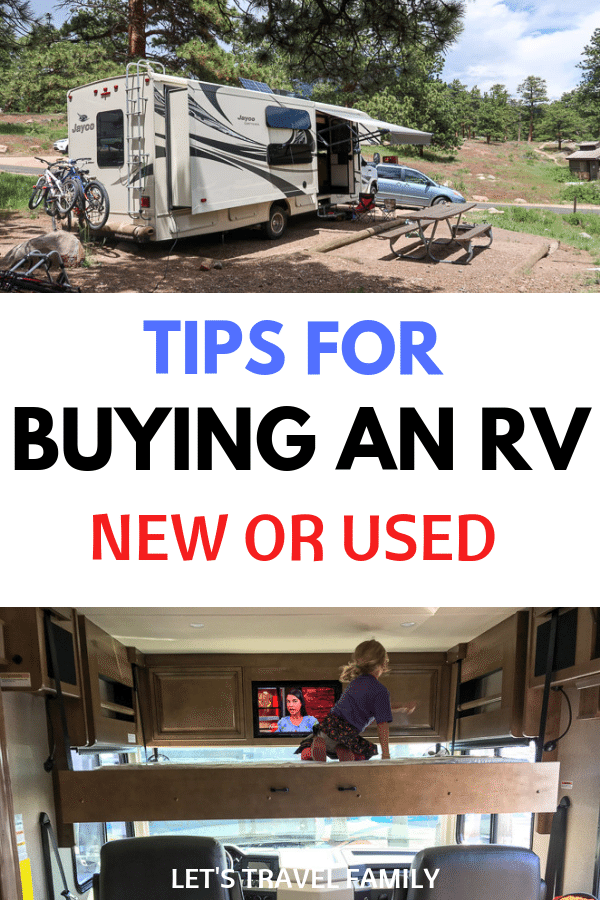 Pros
You can often find an RV quickly to get started on your adventures if you're willing to buy new.
Knowing that you are the first person to sleep and cook in your NEW RV can make many people pretty excited.
Buying new usually allows you to have a 1-2 year manufacturer's warranty.
Buying NEW means you can finance your RV at the dealership (if that's what you want).
Cons
It can be really expensive!
If you get too excited to buy something new and quick, you may not take enough time to research the types of manufacturers, weight capacities, and all the other 'things'.
You need great credit to qualify for a loan.
You'll need to do vehicle registration in the state that you domicile in almost immediately, which might be an issue if you're trying to change your state of domicile and go full-time.
Buying A Used RV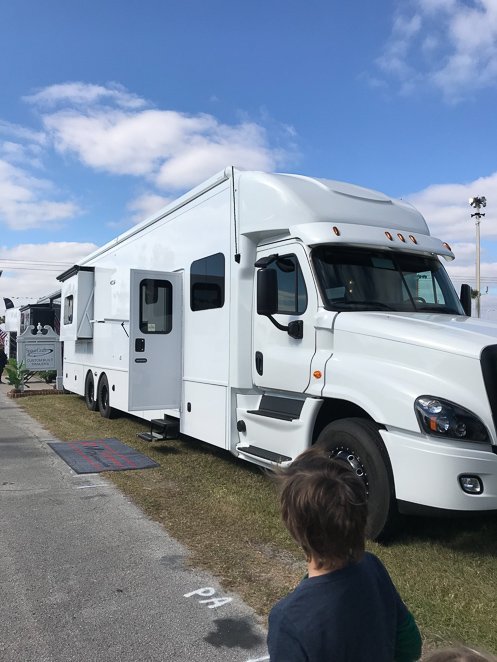 So many full-time RVers that we've met on the road talk about how buying used was the best thing they did. They not only took the time to research and look into so many types of RVs, but they also saved up and often paid cash for it.
Not to mention, they saved a ton of money buying even a 1-2-year-old RV instead of brand new.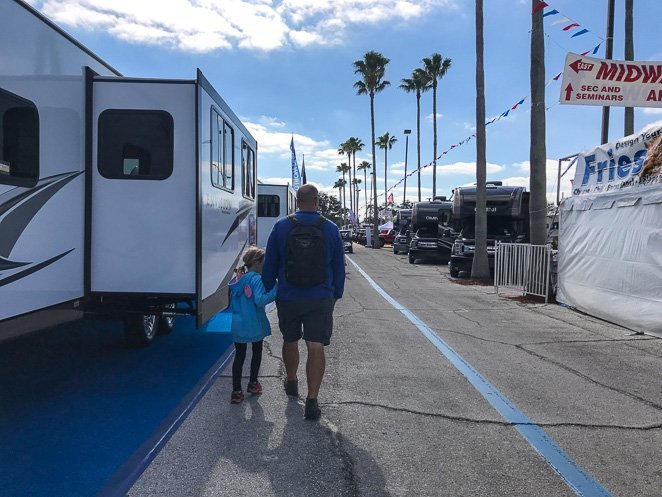 Pros
You will save some money for sure!
The initial 'issues' will have already been worked out for you by the previous owner (at least you hope they will).
If you're a fixer-upper, then buying an older, used RV might excite you to begin a major remodel!
Buying used when it's no longer under the manufacturer's warranty might allow you to feel more comfortable remodeling without voiding a warranty.
Cons
You may not be able to get a manufacturer's warranty (but often can still buy an extended warranty).
If the price and 'age' of the RV are too low or too old you may not qualify for any loan and you'll have to pay in full (this may not be a con if you have savings and want to stay debt free).
You'll have to be patient and search around for your RV choice, oftentimes driving to other states to check one out.
You'll need to hire an inspector before buying used so any mold or other issues will be detected.
Our Experience Buying An RV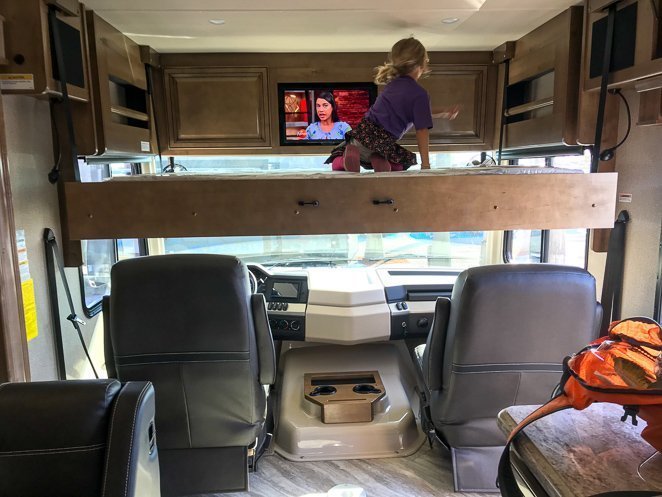 Tony and I were SO excited to get on the road that we were visiting RV dealerships all over Minnesota. It also helped that his cousins owned an RV dealership, so there is that, too.
We didn't have a huge savings account, but we did create a budget and knew what we could afford for a monthly payment with his full-time job. So, we decided to take out a loan.
Our decision to get a class C motorhome had a bit to do with only needing to purchase one thing …meaning we didn't need to buy a truck and a trailer.
We already had our minivan which, at the time was almost paid off. So, we decided to take out just one loan on a motorhome and hit the road.
Final Thoughts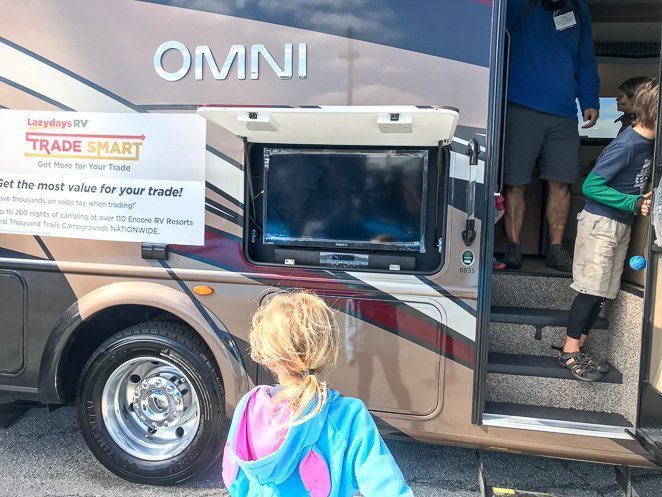 Everyone has different circumstances and budgets when it comes to buying an RV for the first time. You want to find the best RV for you, so be sure to start thinking about what you really want in an RV or motorhome.
Also, think about what 'extra items' you might need with the type of RV you purchase. Do you have special things you want to keep your bathroom organized, or are you particular about what kitchen appliances you must have with you in your small RV kitchen?
Another example is that you'll want to buy the best generator for camping and RVing if your RV doesn't have a generator on board. Or, if you're buying an older camper, you may want to budget in some IKEA furniture to replace the couch or dinette.
If you're shopping around for an RV, then I hope the above tips helped you to decide what may be right for you. Be sure to download your Free Worksheet to help you during your RV shopping Process.
What other questions do you have about buying your first RV? Send us a message or comment below, we'd love to help!