Are you looking for new, fresh ways to organize your RV spice rack better? I get it; an RV can be a tiny space, and keeping your spices neat and organized can be challenging.
Many spice rack RV hacks can keep them clean and organized, especially if you have a small RV kitchen.
Throughout my years of experience living in an RV, I've personally gone through different spice rack for camper organization ideas. However, I recommend only a few RV spice rack ideas to anyone wanting to declutter and organize their spice.
If you want to know more about these camper spice rack ideas and other camper storage ideas, you've come to the right place. Read on for some of my top RV spice rack ideas and organization tips.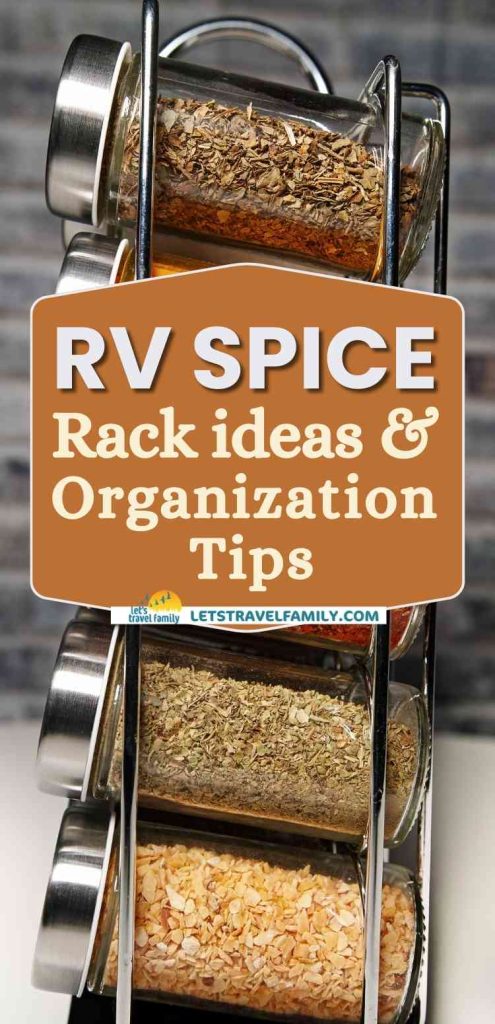 THIS ARTICLE MAY CONTAIN COMPENSATED LINKS. PLEASE READ OUR DISCLAIMER FOR MORE INFO.
Cabinet RV Spice Rack Ideas
Rotating RV Spice Rack
If you have a tall but narrow RV kitchen cabinet, then this is the best solution to your RV spice rack organization problem. This rotating RV spice rack is perfect for a narrow spice cabinet. It fits perfectly, and the rotating feature helps me save a lot of time when looking for spices.
This KALINCO Rotating Spice Rack Organizer from Amazon can fit 20 spice jars and has eight tiers for easy access. It comes with 20 glass jars with a folding funnel and a label set to keep track of your spices easily.
Mount a Slide-Out Spice Rack
An easy way to organize your spices is by mounting a slide-out spice rack. It's easy to install, and you can get creative with it! You can mount it on the inside or outside of your RV cabinet.
The only problem you may face here is finding the right size for your shelves. Whether you have a narrow spice rack cabinet or a wider one, I found this item on Amazon in various sizes.
Cabinet Caddy Spice Rack
This cabinet caddy spice rack has the same idea as the rotating one. The only difference is that this one has a shelf and two sides to place your spices. It's an excellent solution for anyone with more space in their RV cabinet and helps keep everything neat and organized.
Expandable Shelf RV Spice Racks
Want a cute spice rack for your RV cabinet?
I unquestionably love this 3-level expandable spice rack organizer. It's bamboo and makes your RV spice rack way more appealing! It has an expandable design that can fit up to 6-8 jars in each row, and you can easily customize it depending on the size of your RV cabinet. You can find this item on Amazon. Keep in mind that if you move your RV often, these spices may not stay put.
Related blog: Best RV Appliances For Your Small RV Kitchen
RV Spice Rack for Wall
Floating Shelves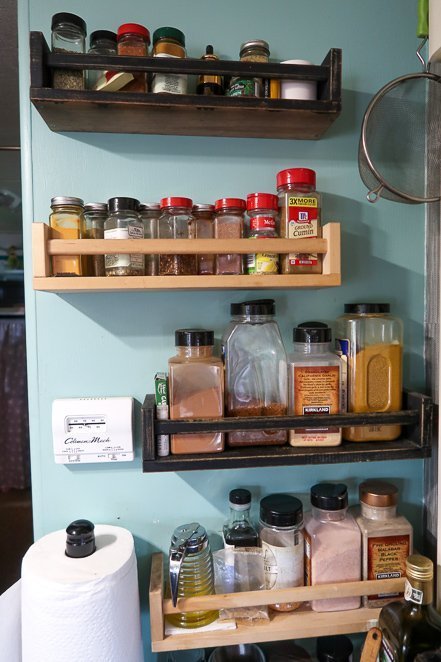 Are you looking for wall-mounted spice rack ideas for your RV? A floating shelf is probably the best and easiest option. It's easy to mount and can provide extra storage for your spices and herbs.
You can find these floating shelves at home and kitchen stores or online stores like Amazon. I suggest getting the ones with adjustable height because it's easier to adjust if you have different sizes of spice jars.
Metallic Spice Rack
Another minimalistic and modern-looking RV spice rack idea is this metallic spice rack. You can hang it on the wall or mount it to a cabinet. It looks great and can hold a lot of spice jars. If you're searching for one, this stackable spice shelf set includes 32 clear glass jars and 108 black labels.
Magnetic Spice Racks for Fridge
Now a great DIY wall spice rack idea for your RV fridge is to organize your spices with magnets! It's a great idea because it will maximize storage space, and you can easily access the jars. You can organize These magnetic shelves and stick them to your fridge, as long as it has a metal area on it.
The Vetacsion 4 Pack Moveable Fridge Magnetic Spice Racks from Amazon is an excellent choice since it has four flexible magnetic tins that can fit seasoning bottles, cans, or any other small items you want to stick. Keep in mind that not all RV fridges have a metal front, so this may or may not work for you.
Bamboo 3-in-1 Spice Rack
I mentioned how much I love the bamboo expandable spice rack organizer, so this bamboo wall spice rack is a must-have in any RV! It is so easy to put together and looks great. It's sleek and modern and can fit any size of spice. You can find this item on Amazon, and it's super affordable. It includes 16 pre-filled spice jars. Now how great is that!
I forgot that this is also very versatile; it's a 3-in-1 spice rack great for walls, countertops, and drawer organization.
Hanging Spice Rack Ideas
Magnetic Hanging Spice Jars
The perfect hanging pantry pop-up camper is this magnetic hang spice jar. It's straightforward to make, and it looks perfect! You may have seen this spice jar wall idea on Pinterest. The great news is you don't have to make all the effort to cut out magnetic plates for this. It's already on Amazon!
They have it in 12 and 24 jars for small and large sizes. It comes with an adhesive magnetic strip, 12 or 24 clear glass jars, and sticker labels for each of the jars.
Under Cabinet Hanging Rack
Have you ever heard of the cabinet spice rack? It's a thing, and it's also a great spice rack organization idea for your RV. This hanging spice rack has 12 glass jars with chalkboard-painted lids for easy labeling. This is a great way to declutter your kitchen counter by storing all the seasonings and herbs in one place when RV cooking.
Counter Spice Rack
Revolving Spice Rack Organizer
Another great idea to organize your RV spice is by getting a revolving spice rack organizer. It's much like the one I mentioned but is made for your countertop.
It fits up to 16 bottles and comes with a funnel for easy filling. Spinning spice racks are a thing, and I can't deny that it looks way more organized and much easier to grab the seasonings.
Criss-Cross Spice Organizer
Use a criss-cross organizer for your RV cabinet if you have many spices. It's one of those space-saving spice racks for countertops. It has 18 jars and is excellent for both countertop and wall organization. Get this one on Amazon, and you're all set.
Related blog: RV Pantry Storage Ideas and Organization Tips
Other Spice Rack Storage Ideas
Tiered Organizer for Free Drawer
There are many ways to organize your drawer, like this one for drawer organization for example by Lillian Davis where she used Momoi Drawer Dividers to organize her spice jars.
On top of that, you can get a tiered organizer for those who prefer keeping their spice jars in their drawers. This mDesign Expandable Plastic Deluxe spice rack has three levels, and each level can fit up to 24 spice jars. It helps keep your cluttered drawers more organized and is adjustable to fit any drawer size.
Over-the-Door Organizer
I've mentioned this extensively in my blog posts, and I can't get over how helpful an over-the-door organizer can be! This RV spice storage is an over-the-door hanging spice rack that comes in 6 tiers and is made of metal. It's super sturdy and has hooks on the bottom, so you can hang it over the door without the need to drill holes.
We also used an over-the-door organizer for our RV closet organization and more! It's a handy tool that you should consider getting.
Organize with Art Cart
Have you tried using an art cart to organize your RV spices? It's a great way to keep things neat and organized. You can find many different sizes and designs of art carts from home and kitchen stores or online stores like Amazon.
Just look at how Samantha from @sami_goddess organize her kitchen essentials using this art cart!
Art carts are usually trolleys; these are versatile organizing tools. You can use this other than for your spice jars, for organizing pots and pans, utensils, and other RV kitchen essentials.
These RV spice rack ideas help keep your tiny space more organized. Spice jars can take up a lot of space, so making the most out of your RV storage area is essential.
So, if you're searching for the perfect solution for organizing RV kitchen and RV spice racks, whether spice racks with spices included or not, these are great options.
Good luck with your RV organization, and happy shopping!