Is your RV kitchen cluttered with food, cookware, and utensils? RV cabinet storage can help you keep your RV kitchen organized.
With the many RV cabinet storage ideas available, you can optimize the limited space in your RV kitchen and organize all of your items efficiently. When we were full time RVing, we had a lot of fun developing creative solutions to keep our kitchen organized.
I shared these tips in some of my trailer organization posts, such as our RV Organization Accessories And Hacks post.
In this article, I'll discuss some of the top organizations for small RV kitchen ideas on making the most out of your limited RV kitchen storage space.
Let's get started!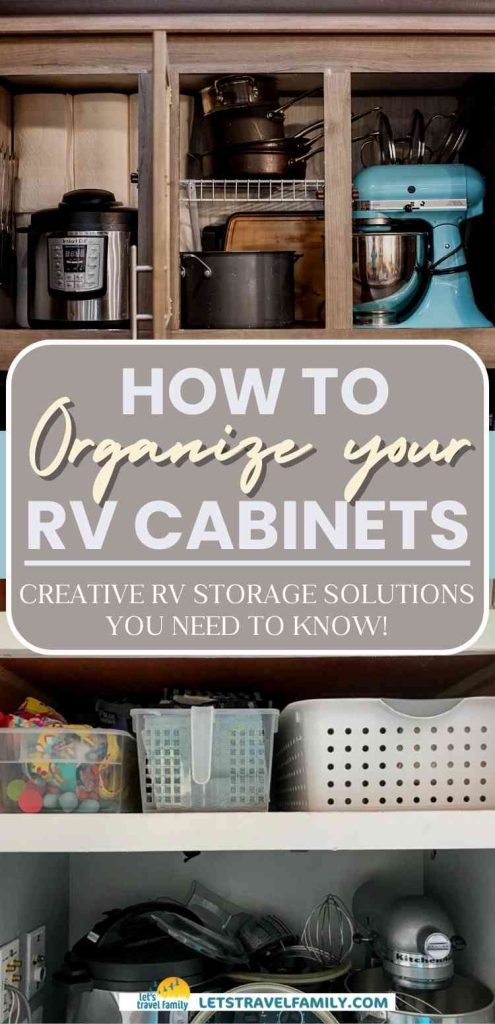 THIS ARTICLE MAY CONTAIN COMPENSATED LINKS. PLEASE READ OUR DISCLAIMER FOR MORE INFO.
Don't have time to read a bunch of RV travel posts and reviews? Here are some of our top picks for RV living:
Our Favorite RV Resources:
RV Cabinet Storage Ideas and Hacks
Starting with the basics, here are some RV cabinet storage ideas and tips to help make the most of your RV cabinet space:
1. Organize your food items, cookware, utensils, and other kitchen items into different categories.
You must get organized if you want your RV storage cabinets to be as efficient as possible. Group things into categories like "canned goods," "cooking utensils," etc. This will help you quickly find what you need when cooking or cleaning up after a meal.
2. Invest in space-saving storage containers and organizers.
This is one of the most common RV kitchen organization ideas. Invest in storage containers, organizers, and stackable shelves to maximize your limited space. This will allow you to store items more efficiently and ensure everything is within reach without taking up too much space.
3. Hang utensils on hooks or racks in your RV kitchen cabinets.
This is a great way to free up some counter space in your RV kitchen. Hang up cooking utensils, pots, and pans from hooks or racks inside your cabinets. This will keep them within easy reach while freeing up precious counter space.
4. Use the back of the doors for storage.
RV cabinet doors are often wasted spaces that can quickly become additional storage areas with just a few simple items. Install door organizers, hooks, or place small containers on the back of the doors to create extra storage in your RV kitchen.
5. Use clear storage bins and implement a one-in, one-out rule.
Clear storage bins allow you to quickly identify what's inside the container without opening it up. It also makes it easier to find an item when needed quickly.
Also, make sure that you follow the "one-in, one-out" rule. This means that for every new item you bring in, you should take out an old one to make room for it. This will help keep your RV kitchen organized and clutter-free.
RV Cabinet Organizers
Now that you have a bit of an idea of how to store your kitchen items inside your RV cabinets, it's time to explore the available RV cabinet organizers. This includes:
Bottle racks
These are great for storing tall bottles that don't fit on regular shelves or drawers. Choose a rack with adjustable compartments to fit different bottle sizes. This stackable bottle organizer is an easy and convenient solution for keeping your beverage bottles secure during travel.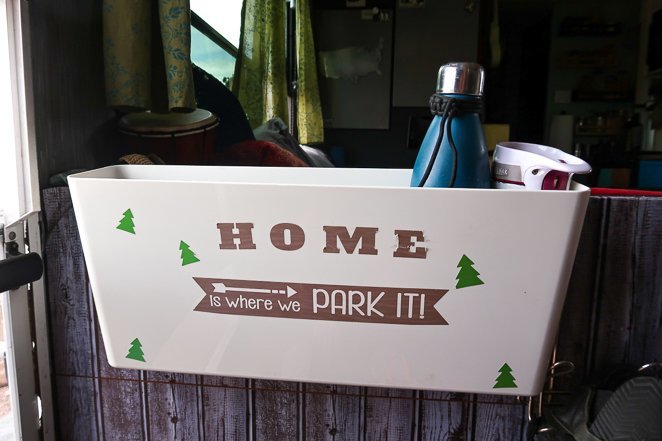 Hooks and Baskets
A great way to make the most of your RV kitchen organizers is with hooks and baskets. You can hang these rotating hooks below your cabinets for cooking utensils or potholders.
You can also make use of baskets to store items that can fit. Baskets with handles are great for things such as produce or snacks that you want to keep close at hand; this woven basket comes with a chalkboard label for your items!
Dividers and Racks
Consider using dividers and racks to run our RV cabinet organizer ideas. Drawer dividers can help keep items such as plates, cups, and utensils organized and easily accessible.
You can also get a drawer divider organizer that fits into the drawers to help neatly store items. These are great for things such as spices, which tend to be bulky and take up a lot of space.
If you're looking for some inspiration, this photo taken by Melissa Flores is an excellent example of how she used drawer dividers and racks to maximize the storage in her RV kitchen.
RV Shelf Organizers
These are other excellent tool for maximizing kitchen cabinet space. Shelf organizers are often made of wire or plastic and fit into the shelves to help you organize items more efficiently.
Here are a few tips rv shelf organizers items:
Pullout shelves
Pullout shelves are an excellent RV shelf organizers solution. For easy access, you can place these shelves on both sides of the kitchen sink, in the drawers and cabinets.
By having pull-out shelves, you'll be able to store many items, such as spices, utensils, dried goods, and canned food, while keeping them organized and easy to reach.
This Pull Out Cabinet Organizer from Amazon is an excellent example of what you can use.
Stackable shelves
Stackable shelves are great RV shelves ideas to maximize the limited space in your RV kitchen. These shelves allow you to store items on top of each other, maximizing the room while keeping it all organized.
You can install these stackable shelves anywhere in your cabinets and drawers for extra storage. This Stackable Kitchen Shelf from Amazon is an excellent example of how you can use stackable racks in your RV kitchen.
Clear Bins
Acrylic bins or clear plastic bins are great for RV cabinet shelves because they enable you to quickly identify the contents without opening them. This keeps the RV shelving organized while making it easier to find items.
You can use these bins independently or stacked with stackable shelves for efficient RV kitchen cabinet storage. This 6 Stackable Clear Bins set from Amazon is excellent for your RV kitchen.
Just look at how neat this looks that Nicole from livingtinywithawolf.com shares. She mentioned, "We use clear storage bins for the high shelves! Makes getting spices and teas a breeze when you can just pull the whole container down!"
General RV Kitchen Organizers
In this part, I wanted to emphasize how you can organize RV kitchen appliances and other RV kitchen essentials.
If you've been trying to organize your RV kitchen cabinets, you know many things can get in the way. Here are some tips on how to manage your RV kitchen essentials:
Use Drawer Dividers for Utensils
Drawer dividers are great for organizing knives, spoons, and forks. This is especially helpful if you have a lot of utensils that can clutter up the drawer.
You can even use drawer dividers to organize condiments, spices, and canned goods. It will help you keep your RV kitchen cabinet drawers organized while ensuring everything is easy to find when needed.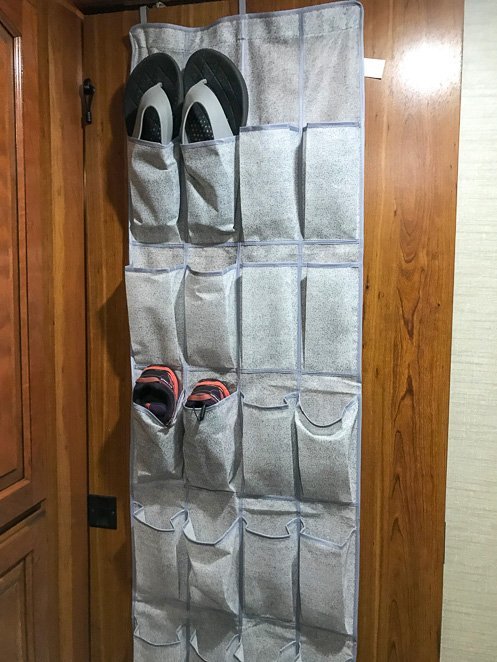 Utilize Over-the-Door Storage
RV doors are often wasted spaces that can quickly become additional storage areas with just a few simple items. Install door organizers like this, hooks, or place small containers on the back of the doors to create extra storage in organizing camper cabinets.
What's incredible about over-the-door storage is that it allows you to store items that otherwise wouldn't fit in the cabinets or drawers. This can include kitchen towels, pot holders, and other miscellaneous items.
Hang Pot Racks From the Ceiling
Pot racks are fantastic space savers for a small RV kitchen. If you have a lower ceiling, consider this wall-mounted pot rack you can install on your kitchen wall.
Hanging pot racks also provide an additional area to hang kitchen utensils and potholders. Plus, they add a decorative touch to your RV kitchen that impresses guests.
Use Wall-mounted Storage Organizers
You can use wall-mounted storage organizers if you don't have much countertop space in your RV kitchen. These organizers are great for storing spices, cooking utensils, and even plates or bowls.
Wall-mounted storage organizers come in various sizes and styles, so you can find something that fits with the existing décor in your RV kitchen. These organizers are easy to install and require no additional tools or drilling.
Have A Custom Built Storage for all Kitchen Appliances
This one may cost a bit, but trust me, it's worth it, especially if you have a lot of kitchen appliances that are taking up space in your RV cabinets. You can work with a professional to install custom-built storage for organizing RV cabinets. This will give you a dedicated area for all your kitchen appliances, so they'll be organized and easy to find when needed.
Related blog: 7 Best RV Paper Towel Holders
Use Tension Shelves for Cabinets
Tension shelves are another great option if you prefer something other than traditional shelves in your RV cabinets. These shelves fit between the top and bottom of your cabinets and can hold items such as spices, kitchen utensils, or even canned goods.
The best part is that these shelves don't require any hardware or installation – they stretch into place between the top and bottom of the cabinet. That way, you can easily adjust them to fit your needs and free up more space in your RV kitchen cabinets.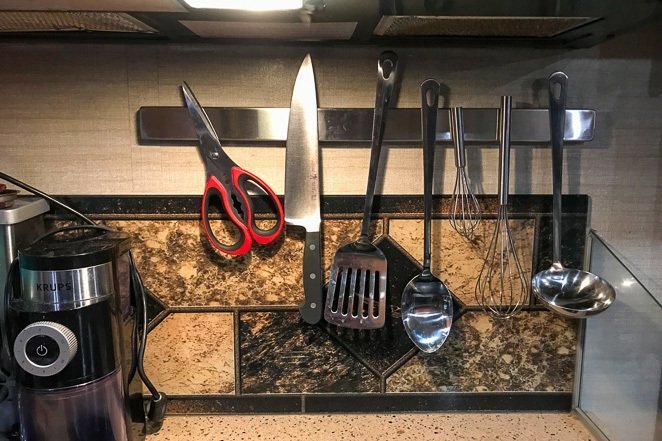 Make Use of Magnetic Strips
Magnetic strips are a fantastic tool for organizing all kinds of items in an RV kitchen. These strips have small magnets that allow you to hang metal utensils such as spoons, whisks, and knives.
If you're searching for knives and other kitchen utensils, check out this Modern Innovations Stainless Steel Magnetic knife bar. It comes in 6 different lengths and sizes so that you can pick one perfect for your RV space.
RV Spice Rack Ideas
When we used to live in a motorhome, RV cooking can be tricky. Keeping your RV kitchen organized and clutter-free is vital, especially regarding spices. Here are some excellent RV spice rack ideas on how you can store your spices in an RV kitchen:
Hangable Magnetic Rack
These hangable magnetic RV spice racks are a great way to store all your spices in one place. The magnets allow you to hang these racks on your fridge or any metal surface inside your RV, saving valuable counter and cabinet space.
This type of rack is great because it takes up minimal space while still looking chic and modern in your RV kitchen. We absolutely love this idea shared with us by Susie Rivers Photography on how she organized her kitchen knives using this magnetic rack.
Door Spice Rack
Do you want to keep your spices organized while making it look like an extra RV decor? This over-the-door spice rack RV is a great way to store your spices while keeping them still looking excellent in your RV. I've met many RVers who LOVES cooking, and I thought this door spice rack is a creative way to store your spices!
Wall-mounted Spice Rack
If you're looking for a more permanent option, a wall-mounted spice rack for RV is the way to go. If you have plenty of space, this 9-tier wall-mount spice rack can hold twice as many spice containers and other things.
Pantry Organizer
Another common way of storing your spice containers is by using an expandable spice rack organizer. This is often used on shelves or cabinets with layers where you can place your spices so they are easily seen. This is a really helpful RV pantry storage addition to your RV kitchen!
Another idea is using an art cart for your spices!
Samantha from @sami_goddess on Instagram uses this art cart or trolley for her spice containers. It can also hold other kitchen necessities such as condiments and canned goods.
Final Thoughts
Organizing an RV kitchen can be daunting, but with the right organizational tools and tips, you'll have no problem keeping your space neat and organized.
If you liked these hacks and tips, we also have blogs for RV closet organization, RV office ideas, and even the best RV vacuum cleaner. Check them out for more great ideas on how to organize your RV living space!
Happy organizing! 🙂