Are you looking for campsite decorating ideas? No matter the season, planning for a camping or RVing trip can be so exciting. Or, if you are living in your RV full time, decorating a campsite with some fun and unique campsite decorations can be so fun!
Being creative using your tiny space in your RV, or what nature offers you, does not have to be challenging. Decorated campsites, especially around holidays, can lighten up everyone's mood. You can do this!
As long as you have an idea of what outdoor camper decorations you're aiming for and RV decor you need, you can make a creative masterpiece without spending too much time, money, or effort.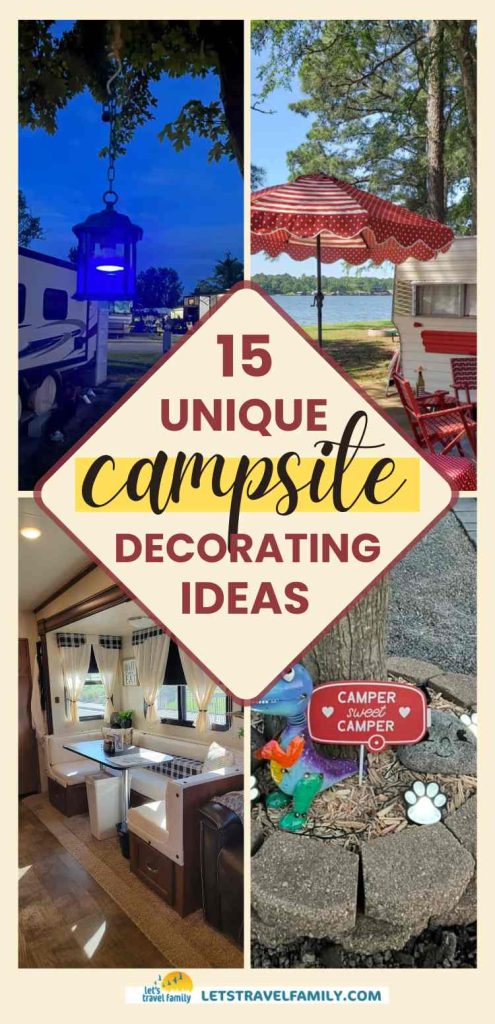 Whether you are camping on a cool mountain peak, in the desert, or by a lakeside, there are plenty of creative ways to decorate your campsite and make it your own. So, if you plan to book a campsite soon for your next trip or search for the best RV accessories to spruce up your campsite, here are some great campsite decorating ideas that you can use.
THIS ARTICLE MAY CONTAIN COMPENSATED LINKS. PLEASE READ OUR DISCLAIMER FOR MORE INFO. THIS POST WAS WRITTEN BY JILL GREISING-MURSCHEL, A FAMILY TRAVEL AND RV LIVING EXPERT.
Glamorous Camping (Glamping) Decor
Are you planning on trying out a glamper camper experience with a few friends or family? Transform your campsite into a luxurious one with an upscale-looking setting with these luxury glamping accessories.
Bell Glamping Tent
If you've never heard of a bell tent, it's a luxurious alternative to regular tents. These are mostly more spacious and comfortable.
The MC Canvas Tent Bell Tent Yurt is an excellent choice for a family of five, giving you the chance to go glamping in style. You could either use this type of tent on it's own, or set it up outside your RV for an extra special space.
Plush Sleeping Bags
Having some basic sleeping bags isn't going to do it if you are trying to get that luxury feel. Get yourself some plush-down sleeping bags that are extra cozy and make your glamping experience even more luxurious.
Custom Stairs
There is nothing quite like a custom staircase to make your campsite feel more luxurious whether you are looking for something that can be used on the ground or one that can be stored away for later use.
I absolutely loved this customized wooden staircase shared with us by Chrissy Joe Bryson; it just adds that extra touch of glamor to your campsite!
Outdoor Camper Decoration Ideas
If you're camping in an RV, there are tons of creative ways to decorate the outdoors. Look for some cute RV campsite decorating ideas you can try! When we used to RV full time, I saw many people being creative with their RV decor. Some of these below could make the best camping gifts for people in your life. Here are some campsite decor ideas you can try.
Lanterns
Adding lanterns to your campsite can give it a magical feel, especially when the sun sets. It's a simple yet elegant way to decorate that will take little time or money.
A little trick: buy those mosquito lanterns; that way, they don't only serve as decor but also keep the bugs away.
Wind Chimes
Wind chimes can create a peaceful ambiance in your campsite, making it more welcoming. Plenty of wind chime options are available, from large to small ones. Choose one that best suits the size of your campsite and matches the theme you want.
Decorate Your Tables and Chairs
If you're looking for RV patio ideas, try out themed tables and chairs. Remember the umbrella, too! Here's what Jana Steingraber Elmore's decorated campsites look like! Isn't it just the most adorable?
To create a simple version, you can buy themed tablecloths and seat covers or make your own.
Cute Decorations for Campsites
Looking for some cute signs to brighten up your campsite? It could be a welcome camper sign or a cute sign to put on a tree or hang on a hook around your campsite.
Here are some of Brenda Richards Heslet's camping decor ideas, where she's added decorated rocks, camper signage, and tiny elves!
Read the related blog: Best Fire Pit Accessories for the Campfire Enthusiast
Indoor Camper Decorations
Your decor and accessories for inside your camper can be as cozy and inviting as the outdoors. Below are some simple indoor camping decoration ideas that you can use.
Wall Decorations
Wall decorations are a great way to spruce up the RV. Hang some of your favorite photos, or get creative and make your own art pieces. You can also put up wall shelves with trinkets and small plants.
Themed Curtains and Pillows
Swap out your regular curtains for themed ones. It doesn't have to be expensive. You can even make your own.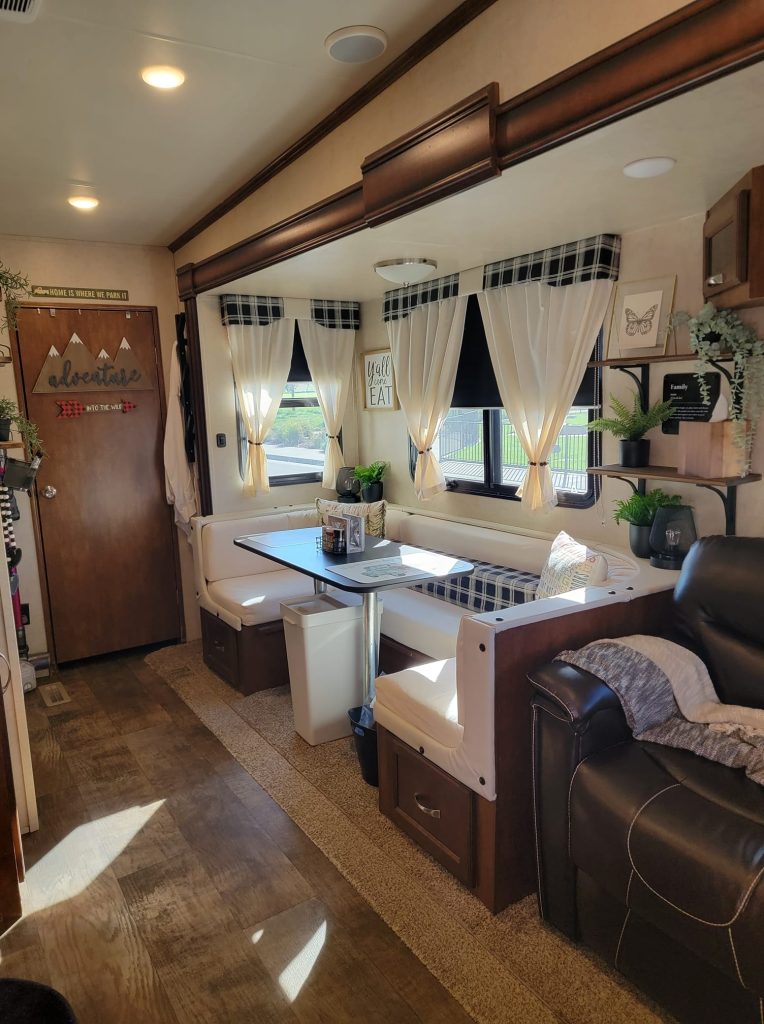 Here's a photo from Tammy Lane of how she decorated her living area with matching throw pillows and curtains. It looks super homey and inviting!
Indoor Plants
Having some indoor plants can bring a calming atmosphere to your RV. If you need to know which one would be best for the indoors, here is a list of low-maintenance houseplants that are great for indoors.
Holiday Campsite Decor Ideas
Looking for some RV Christmas decoration ideas? Or maybe you're going camping over the Halloween weekend in October and need some Halloween RV decoration ideas. Check out some of these creative campsite decor ideas below.
String Lights
String lights are easy RV Christmas decoration ideas you can do on a budget. Hang them up around your RV, and make sure to get some waterproof ones, just in case it rains while you're camping.
Christmas Trees
Bringing a natural or artificial Christmas tree to your campsite is so much fun! Decorate it with some of your favorite ornaments and light it up at night for a magical holiday experience.
Skeleton
Halloween RV decorations can also be so much fun! Hang some spooky skeletons around your campsite, and you have yourself the perfect Halloween vibe.
Easter Eggs
You don't want to forget about Easter either! Decorate your campsite using colorful easter eggs and other decorations that make it look like an Easter egg hunt.
Flags
Flags are a great way to show your holiday spirit. Plus, they can also be used for decorating the outdoors of your RV all year round.
Cupid
Last but not least, how about getting into the spirit of Valentine's Day? Get some fun cupid decorations and place them around your campsite to make it look extra festive.
No matter what kind of camping experience you're looking for, these wonderful campsite decorating ideas will definitely bring out the best in your outdoor adventure! Happy Camping!