If you're considering full time RVing, you need to consider what you should take with you in your RV. Always ask the question, "Will I need this in my daily life?" If the answer is no, cross it off your list of must have RV accessories to buy.
Whether you plan to take your RV out on weekend trips, or you're considering living in it full time like we did for almost 3 years, lack of space can be an issue.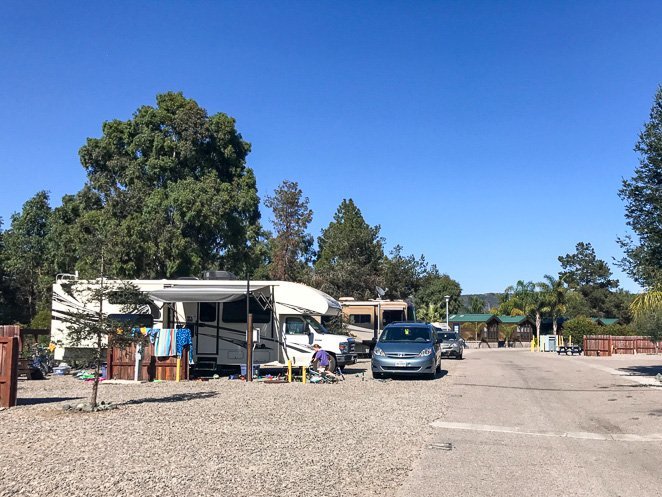 There are plenty of things you need for your camper, but some things that many full-time RVing families start with and end up donating shortly after. I realize that it can be stressful to first downsize from a home to an RV, but hold off on buying TOO many new camper must haves quickly.
That's why I decided to share with you 8 things that you do NOT need for RV life to stop you from overshopping. These are things you may at first consider buying, but you really don't need them!
Be sure to read to the end as I share 3 things that you will need in an RV that you'll want to buy before you set out.
THIS ARTICLE MAY CONTAIN COMPENSATED LINKS. PLEASE READ OUR DISCLAIMER FOR MORE INFO.
8 Things You Do NOT Need For Full-Time RVing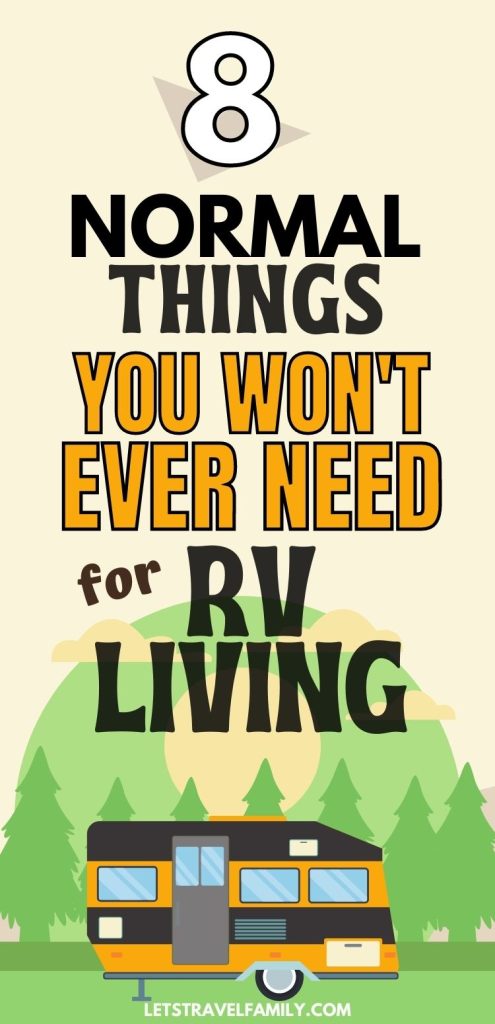 1. Tons of Mixing Bowls
You do NOT need an abundance of mixing bowls for your RV kitchen. One or two will be enough, and if you're desperate and need a third one you can always be resourceful and use your Instant Pot pan as a third bowl.
2. Large Cookie Sheets
An RV oven will not fit large cookie sheets or a large pan. Honestly, most RV ovens will only fit a 9 ½ by 13 pan or baking dish on just one rack. Check out our motorhome RV living tips here for some additional tips on baking in an RV oven.
Related Post: RV Paper Towel Holder Ideas.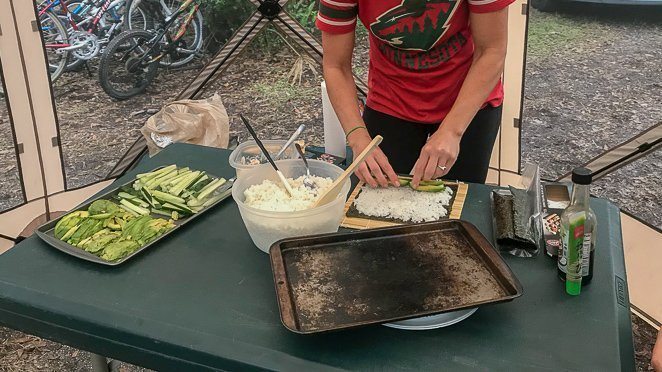 3. Bug Zapper
In all honesty, after spending time in the Florida Keys and experiencing mosquitos and noseeums (small gnats that bite)…. I can honestly say that there are better ways to prevent bug bights than a bug zapper. Instead, invest in some natural insect repellent that works like this one that I swear by. Or plan to wear some excellent hiking pants or great light-weight outdoorsy clothes.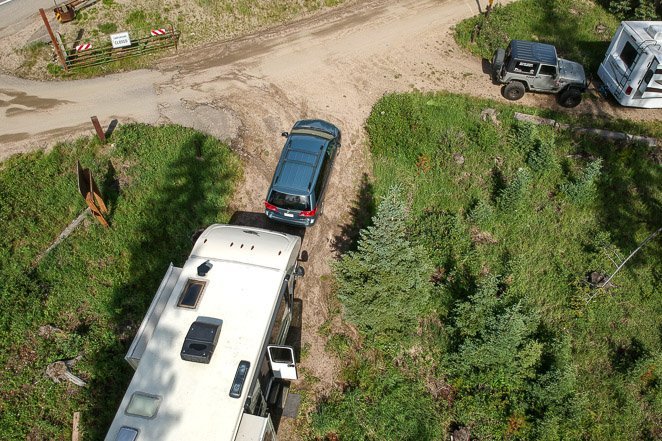 4. Giant Grill
You do not need to carry around a large grill in your RV, even if you have a large family. Space is precious and there are still many things you need in an RV, so save space and donate your house-hold patio grill.
Instead, grab this portable grill and plan to grill in batches. We've used this exact brand and set-up for our entire RV living experience, and it's worked great.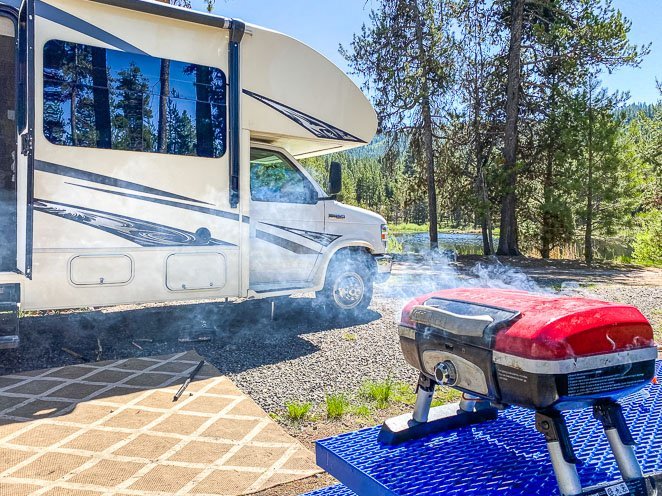 5. Ice Maker
There's so much talk among full-time RVers about having a portable ice maker. Some say it makes you feel like a king (or queen).
Why is that?
Well, because your RV fridge doesn't have a ton of extra space for beverages and your freezer doesn't make ice for you like many household freezers do. Yet, in my opinion, a portable ice maker like this one can take up a lot of space. Instead, I'd recommend looking into other RV kitchen appliances that we've listed. An instant pot tops my list of a camper must haves.
6. Large Vacuum
Do not bring a large vacuum cleaner in your RV, you just don't have the space for it. Sell it on Facebook Marketplace or at a yard sale and then invest in a smaller more compact vacuum.
Learn which is the best RV vacuum in our deep dive blog post.
Related Post: Best Dehumidifier for RV Camping.
7. RV Toilet Paper
RV toilet paper is a SCAM! Seriously, you do not need to go to the camping section at Walmart to purchase RV toilet paper. Instead, just get thinner TP such as Scott toilet paper.
If you really want to prevent a clog in your black tank, then be bold like many of us RV owners and throw your used TP into a small covered trash can in your bathroom. Don't throw any TP in the toilet, and you can last SO much longer on your black tank before dumping while also preventing clogs!
Related Post: Discover the best composting toilet for your RV.
8. Tent Gadgets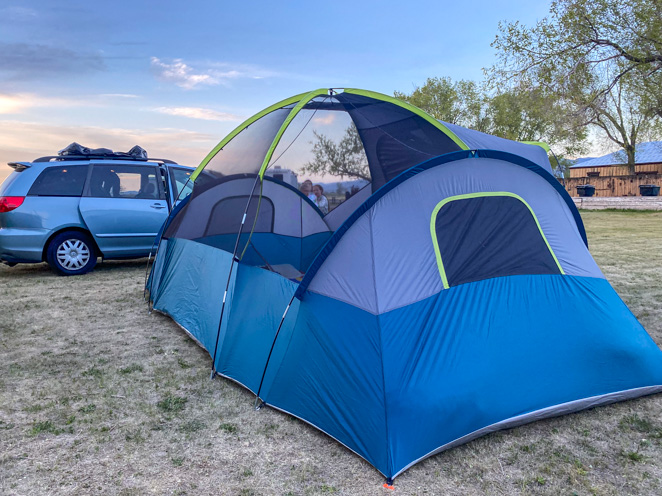 Full-time RVing is very different then tent camping with your kids. You don't need an egg holder for coolers, you have an RV fridge. Now, if you want to take a vacation from RVing and try out a weekend of tent camping, then check out our guide sharing some tent camping for beginners tips.
Three Must Haves For RV Camping
Now that you know what NOT to buy for your RV, I want to share with you my top three must haves for RV living and camping. If you want to dive into more detailed lists of what to buy for your RV, or to buy for a camping trip, then check out these related posts:
30 Must Have Camping Gear Ideas
34 RV Must Haves
9 Fun Camping Gadgets
14 RV Dry Camping Essentials
10 Motorhome Must Haves
Now onto the top 3 things TO BUY for your RV.
1. RV Surge Protector
You will NEED a surge protector to protect your RV's entire electrical system when you are plugging your RV into power at a campground. The surge protector makes sure that the appliances and the entire electrical system is not damaged in any way when there's a power surge or 'brown-out', which happens pretty frequently in some parts of the USA.
Read our ultimate guide to buying the best RV surge protector and be sure to grab a 30 amp or 50 amp, depending on your RV.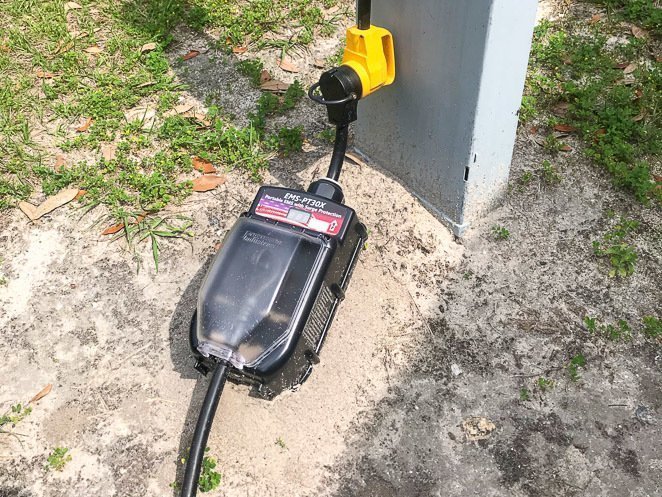 2. Sewer Hose Kit
Every RV with a toilet or sink will need a sewer hose kit. This is my top pick because it comes with 20 feet of sewer hose, several caps, and a clear elbow to make sure you can see that you are finished dumping when the time comes. Some campsites can be laid out a bit strange, and having the extra 10 feet of hose has saved the day for us on many occasions.
3. Water Filter
You will need a water filter for both the outside of your RV, and for potable drinking water inside. With the outside water filter you simply connect it to your fresh water hose before you connect the hose to your RV when you're filling up your fresh water tank, or connect to full-water hook-ups at a campground. This will help keep the sediment out of your RV and your pipes from getting damaged.
For drinking water, I highly recommend getting a countertop Berkey Water Purifier. It's more than a filter, it actually purifies your water by removing bacteria and viruses that typical water filters do not. Click here to grab a Berkey Water System now, or check out our deep dive blog post all about Berkey Water systems.