If you're considering a digital nomad life in an RV, then you might be wondering how to set up your RV office. Full-time RV living most often requires working while on the road and you may want an RV desk set-up.
Now, not every RVer works online. But, many who are not living off of their savings are working online doing some sort of remote work.
If you've read anything else we've written on the topic here at Let's Travel Family, you'll know that we have lived in our RV full-time for 2 ½ years and worked as digital nomads. During that time, we set up our RV computer workstation in a few different ways.
I want to share with you how we made it work in our Class C RV motorhome, and outdoors in our screened tent, along with SO many other office desk for RV suggestions from our RV friends who helped contribute to this article.
Keep reading to the end to learn from our RV living friends who have motorhomes, fifth-wheels, and even a travel trailer with desk ideas. Check out some of the pictures of other RV office ideas in fifth wheels, travel trailers, and Class A motorhomes.
THIS ARTICLE MAY CONTAIN COMPENSATED LINKS. PLEASE READ OUR DISCLAIMER FOR MORE INFO. THIS POST WAS WRITTEN BY JILL GREISING-MURSCHEL, A FAMILY TRAVEL AND RV LIVING EXPERT.
PIN FOR LATER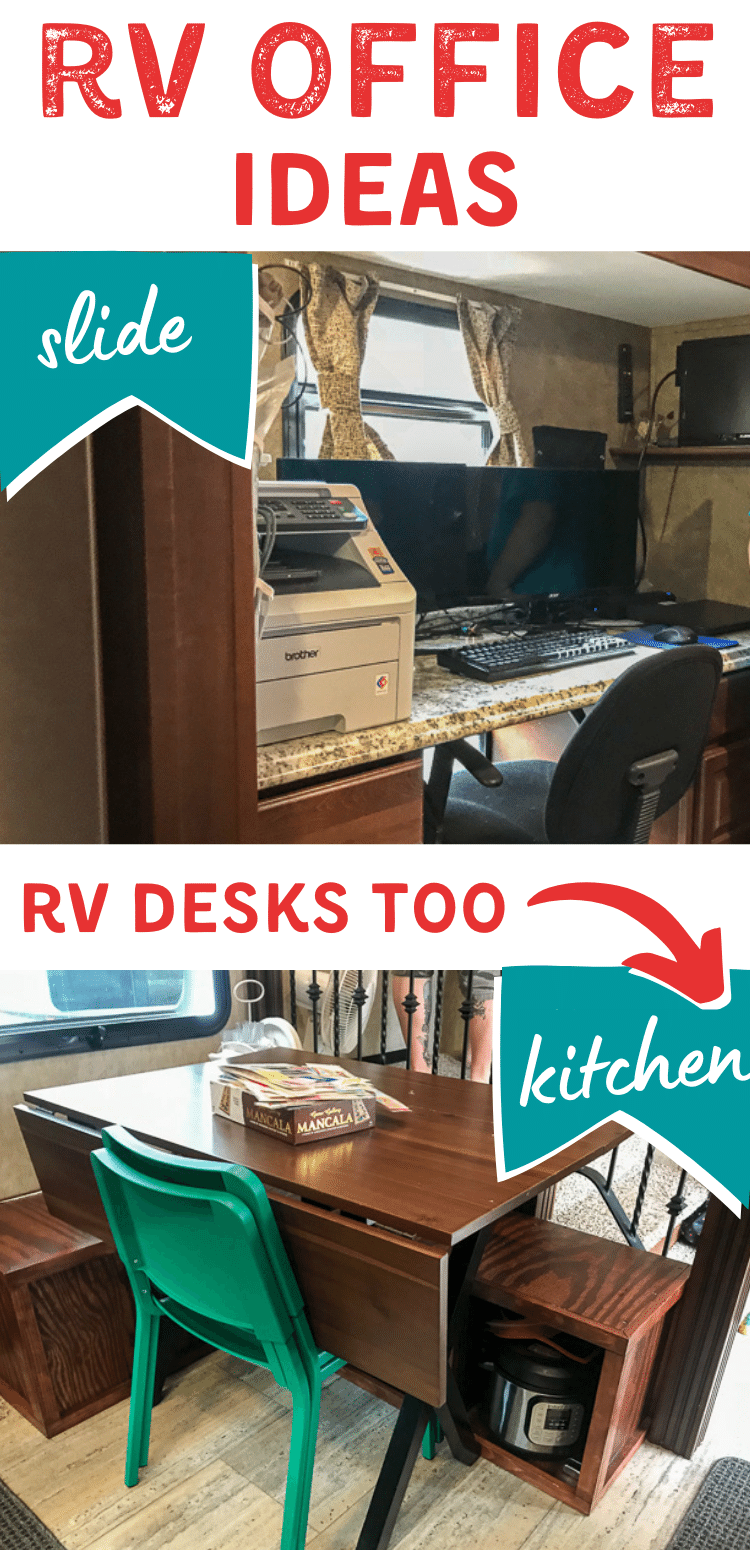 Think Outside The Box With Your RV Office Set-Up
As you contemplate how in the world you are going to have space in your RV to be productive with your work, I want you to take a few minutes to try to think outside the box.
Start by listing out what you NEED each day to successfully make an income to live the travel life you are dreaming of living.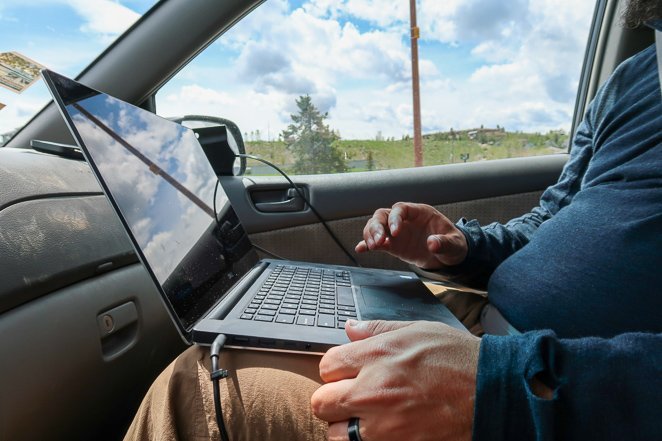 Do you need a silent space without interruptions because you'll be on conference calls with clients who have no idea that you're working from an RV?
Or, will you only have those types of meetings once a week during which time you can send your family and dog outside while you hop on your calls?
Will you be working 40 hours a week on a computer while your partner or kids need to eat lunch at the kitchen table?
Or, does your digital nomad job entail just 2 hours a day where you can take over the kitchen table when nobody is eating?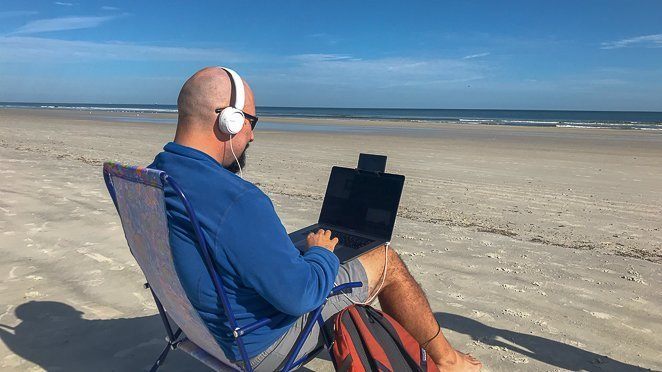 Do you NEED two monitors to get the job done? Or can you work off of a laptop and still make it function for you so that you have more flexibility?
There are many ways to look at your options.
Instead of saying 'I HAVE to have XYZ' you could say 'XYZ is what I'm used to, but I'm willing to think outside the box to find a solution now that we are going to live in our RV full-time'.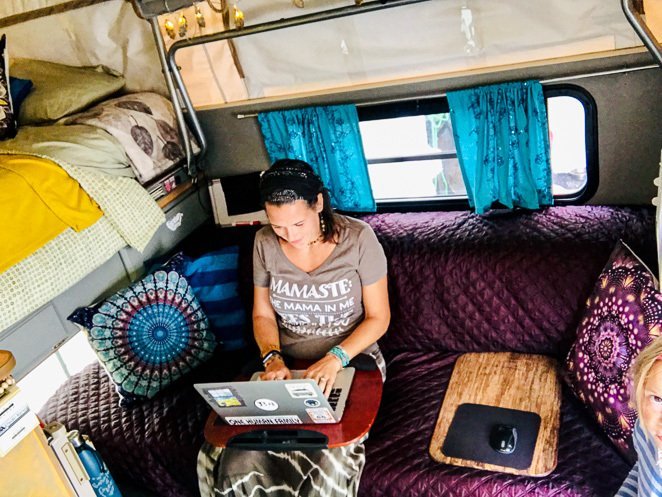 5 Ways To Think Differently About An RV Office:
1. Buy noise-canceling headphones like these so that you can stay focused and get work done, even if the family or pets are making noise in the background.
2. Wake up early to work without interruption for a few hours before the rest of your family wakes up.
3. Work in batches, then take long stretches of time off during the day or week.
4. Try working in the passenger seat while your partner drives on a travel day.
5. Set up your desk over another usable space in your RV each day (multi-use).
7 RV Desk Ideas (with photos!)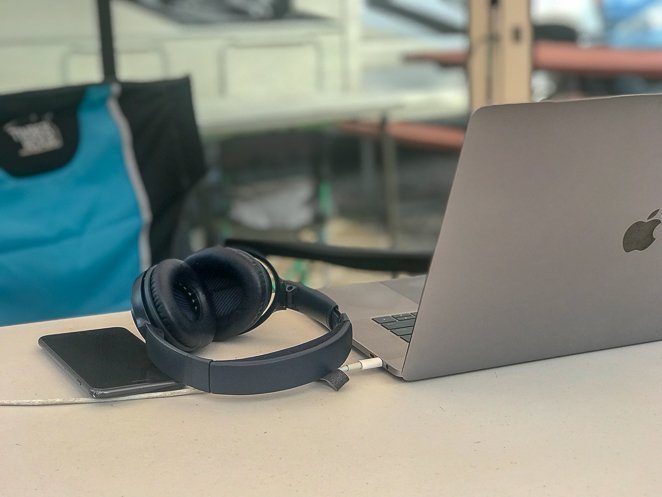 Now that you're on your way to being 'flexible' with your remote workstation, let's dive into some RV desk ideas that might get you thinking a bit about your situation.
Whether you are looking to buy an RV soon, or you already own one, I suggest reading all the way through this post to help you think creatively on how to set up your RV desk or office area.
Create a stand-up desk with

folding tables stacked

on your bed
Use the passenger seat in your motorhome as your desk
Turn your bedroom closet into a flip-down desk for RV life
Use a folding chair that stores away easily
Set up your desk in a screened-in tent outside
Custom build a desk for your RV
Sit at your dinner table
Turn your outdoor TV into your computer workstation
Use your kitchen stove or counter as a stand-up desk
Below, Tony used two folding tables and this laptop stand as his stand-up desk in our back bedroom.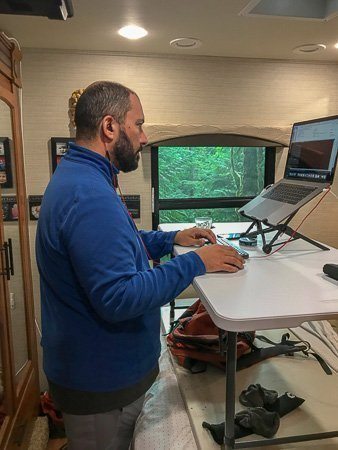 I often use our stovetop in the early mornings as my standing desk for my laptop.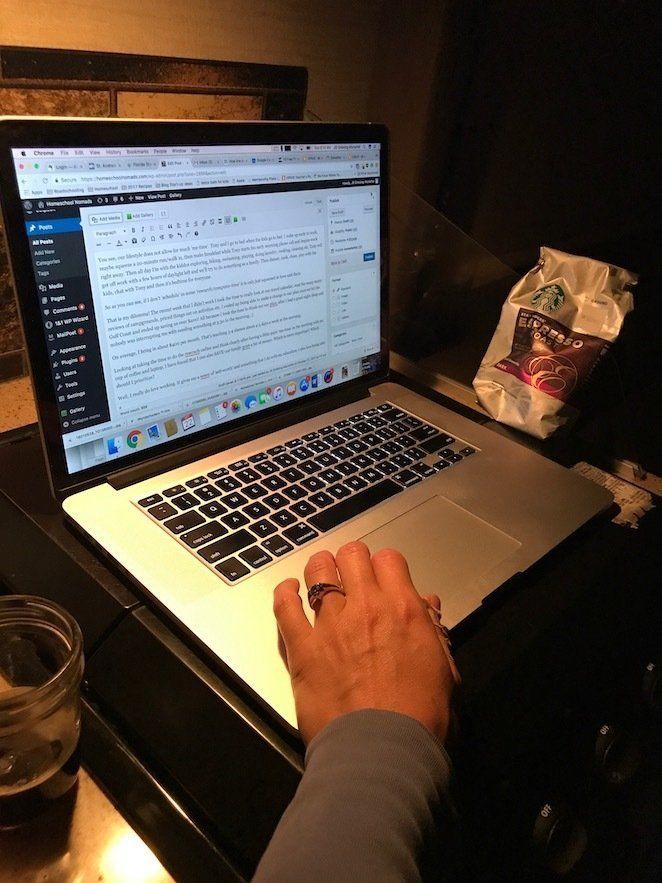 Here are a few more photos to give you ideas of what you could use as an RV desk.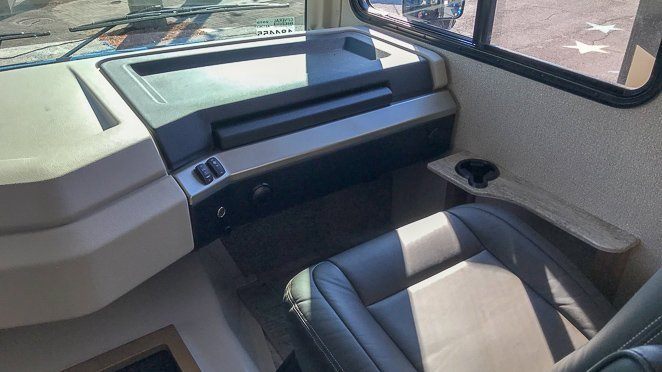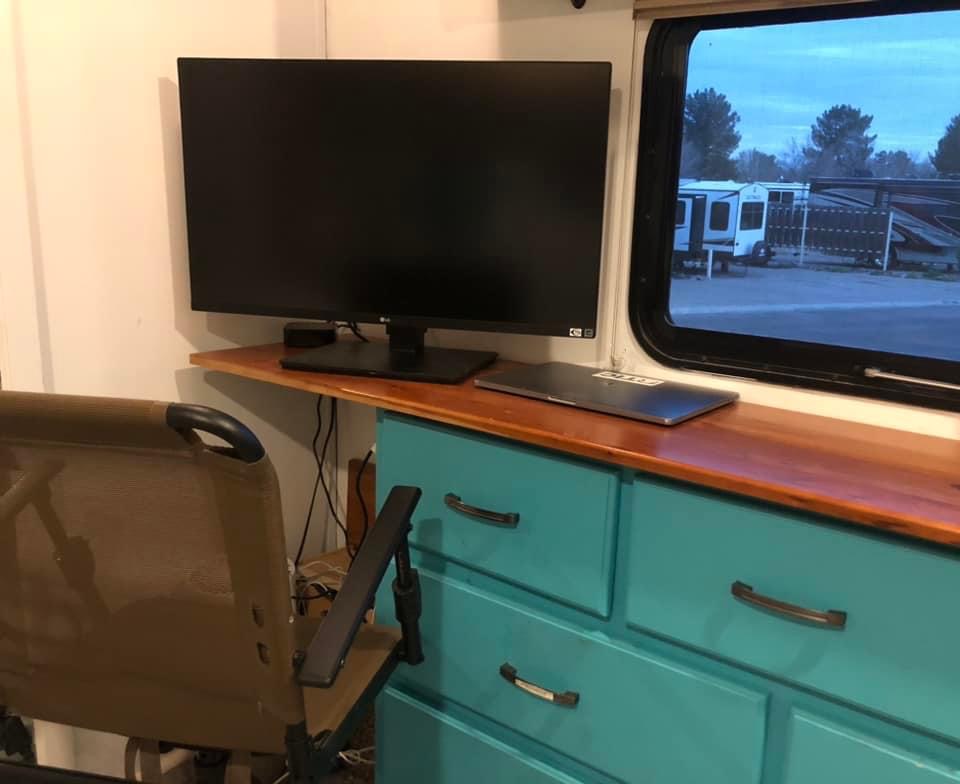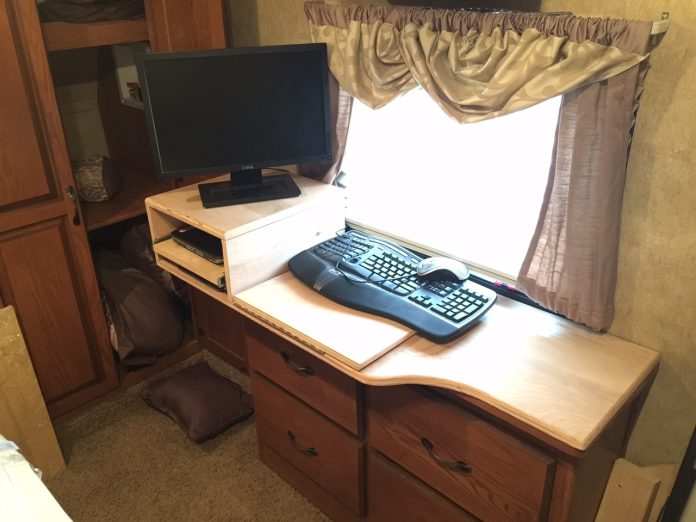 My favorite photo is the one below that my friend Ashley shared with me of her desk in her fifth wheel bedroom. She was able to convert her cabinets into pull-down desk tops. It's one of the best RV desk setup ideas I've seen!
Related blog: RV Cabinet Storage Ideas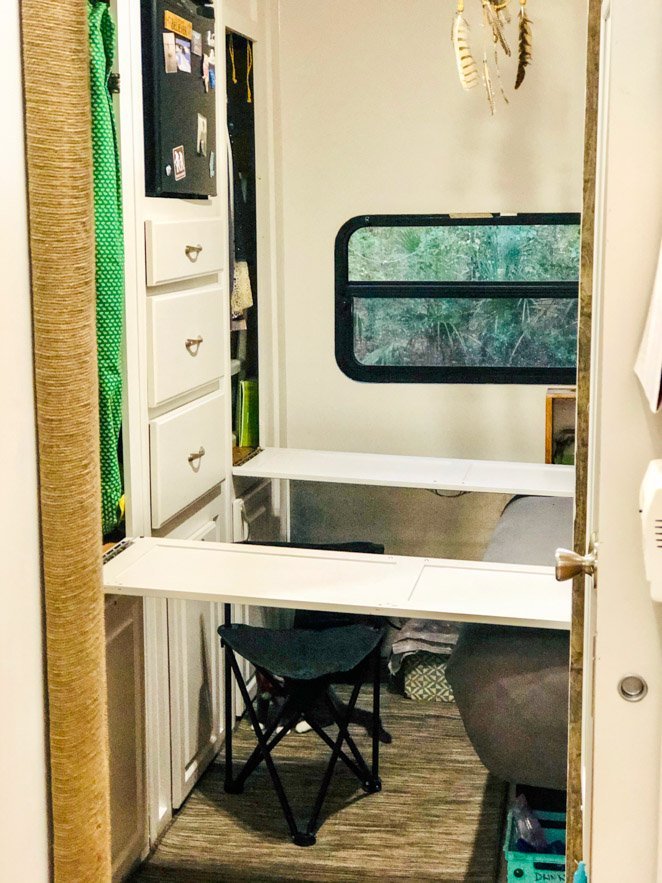 RV Office Ideas
Okay, do you have your creative juices flowing yet? Are you thinking a bit differently about RV desks? I hope so because RV life does require a bit of flexibility.
Now I want you to think about your RV office creatively. Do you actually NEED a dedicated RV office conversion with an RV office chair, like this one? Or are you willing to be flexible here too?
As a digital nomad family who lived in a Class C motorhome, Tony and I learned quickly to switch around our RV mobile office set-up depending on our situation.
For example, if we were visiting an area of the country where it didn't rain much, I would often set-up our Gazelle Screened in Tent. and Tony would use it as his RV remote office for the week.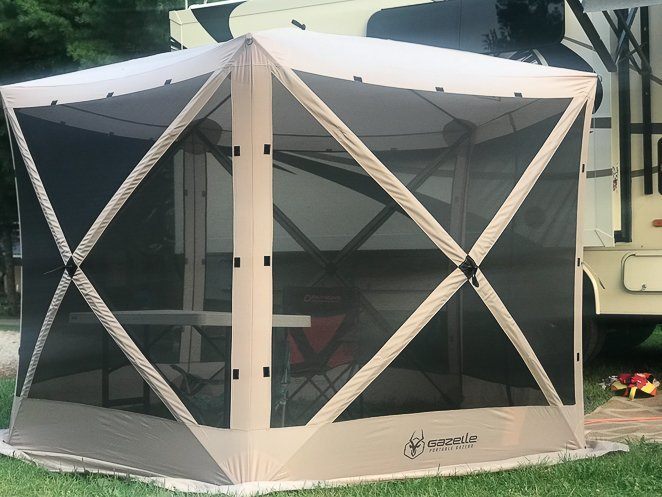 Or, if we were camping in a National Park as we did in Rocky Mountain National Park, we would drive into the city of Estes Park where Tony and I would work from the library. Why? Well, because National Parks do not have much cell signal, and we can't get online inside the parks.
Now, if you need or want to have a stable and consistent RV home office, then keep reading. I recently reached out to other full time RVers to ask for a few insightful contributions in order to help you discover you can set up your RV workstation.
Check out our RV Office Ideas Web Stories here.
5 RV Office Ideas To Keep You Thinking
1. Make your bedroom closet your RV office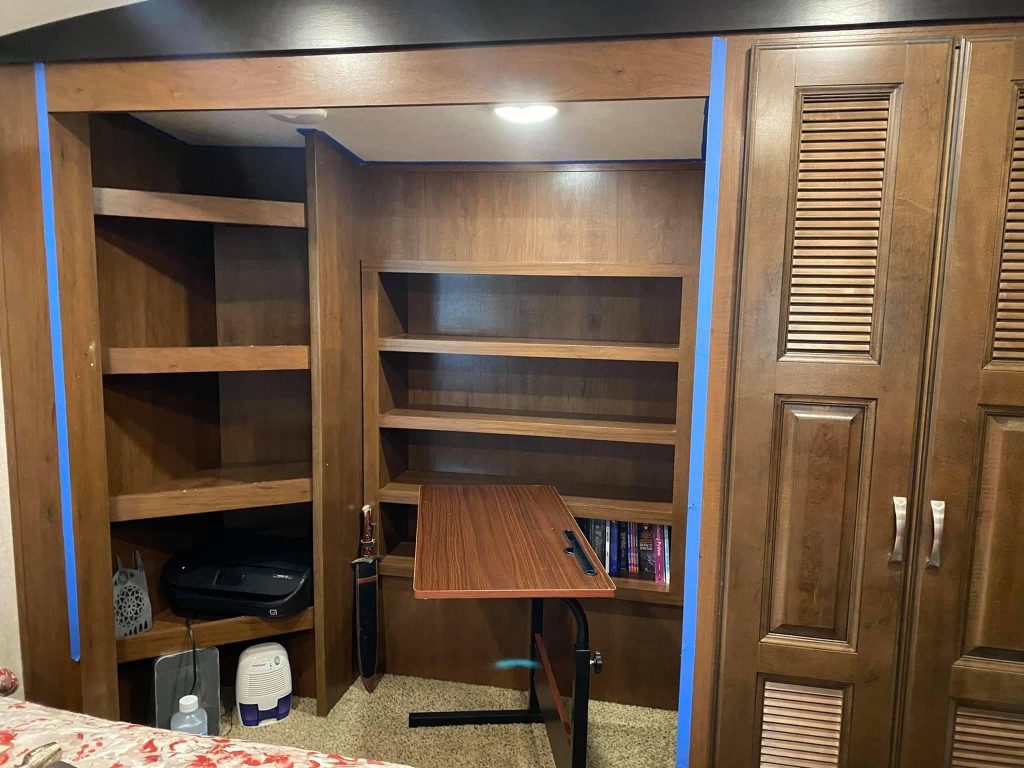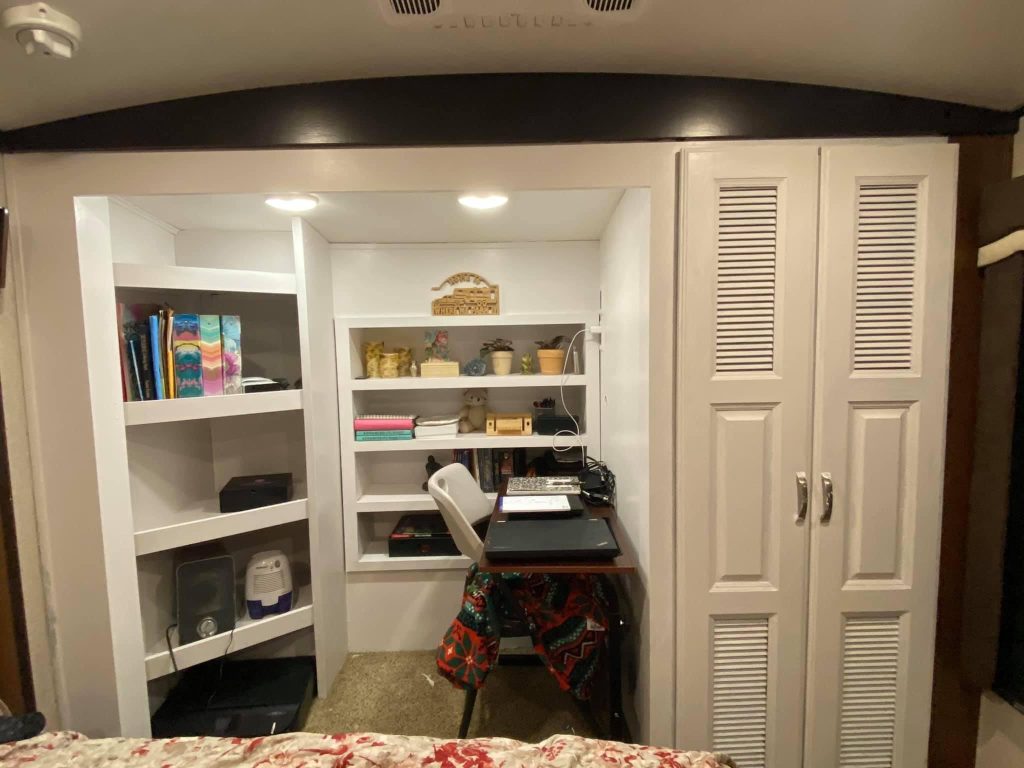 2. Turn your kitchen into your office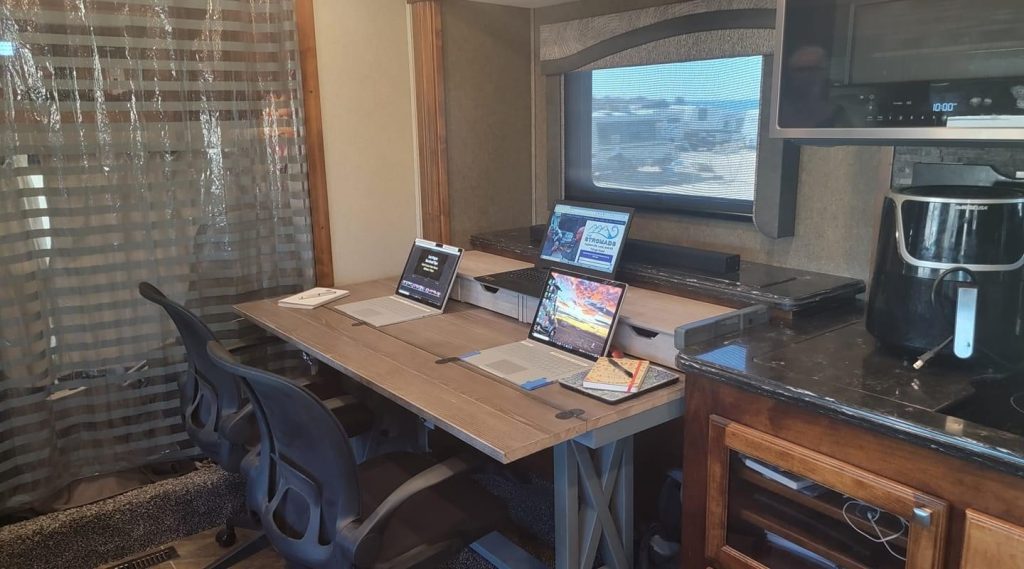 3. Turn your slide into your office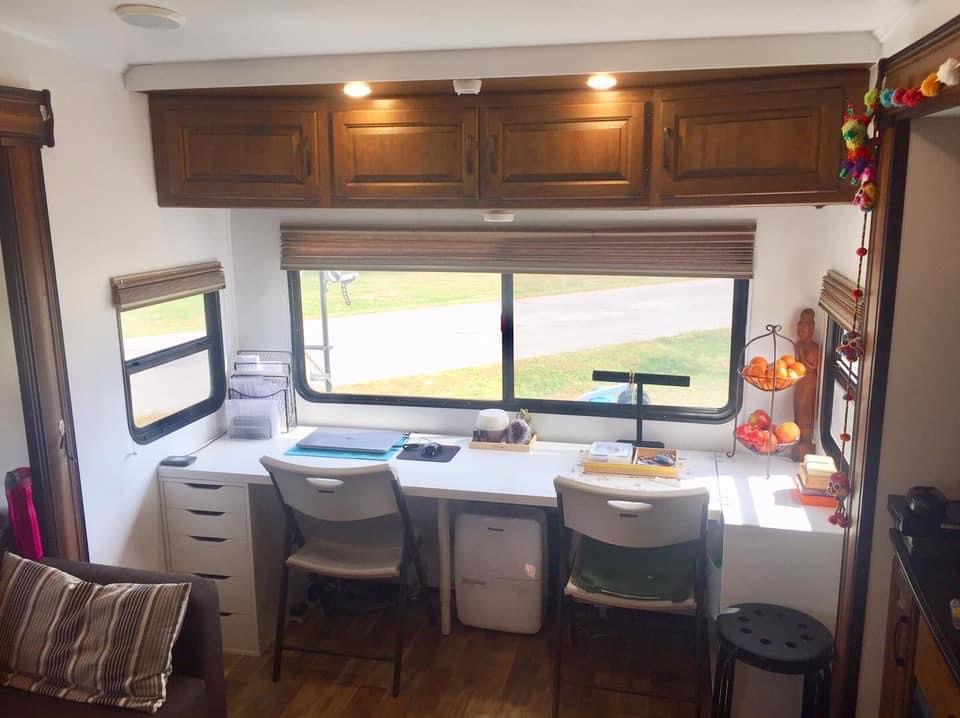 4. Turn a bunkroom into the best RV with office space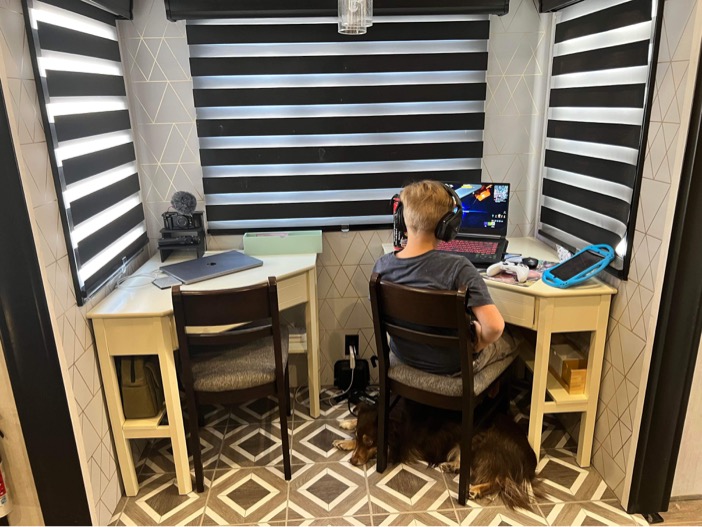 5. Make an RV computer desk in your living room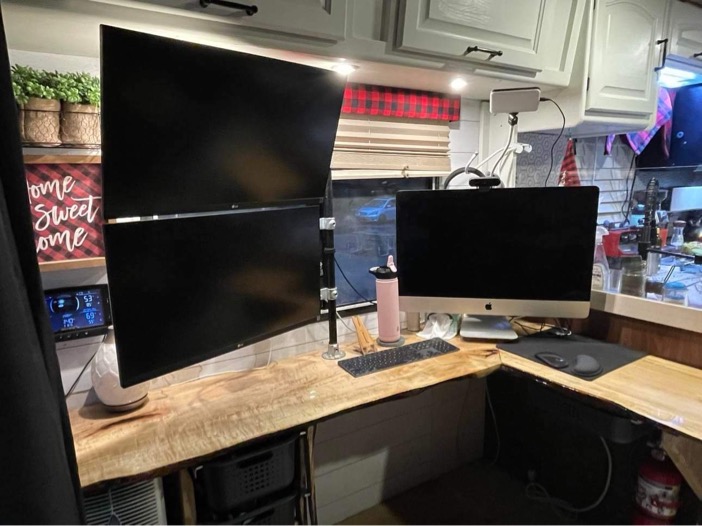 6. Turn a screened tent into a RV with an office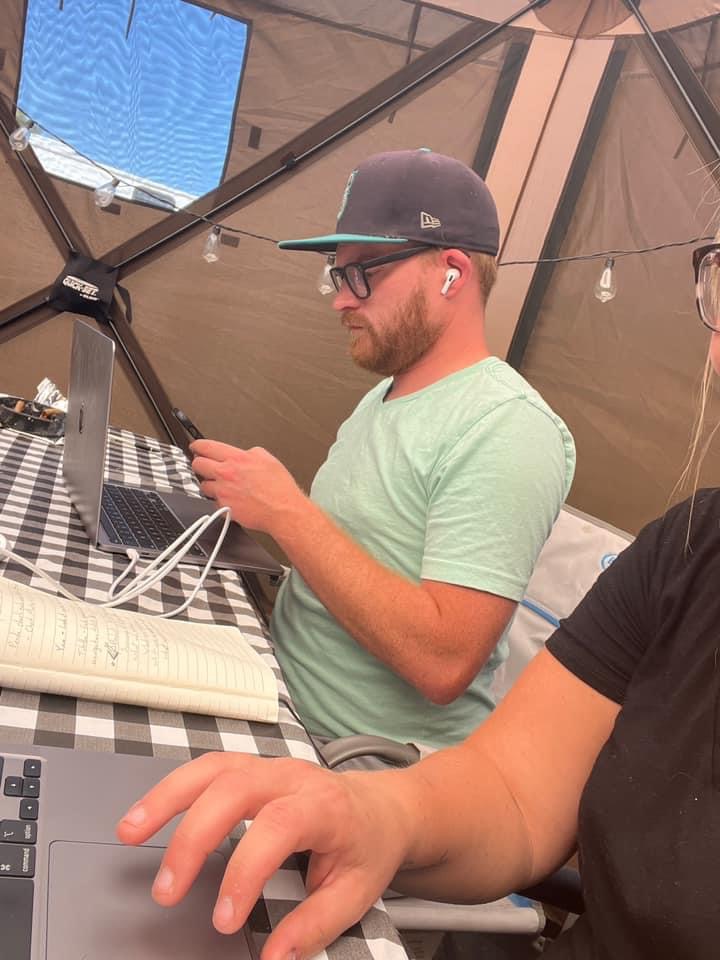 When determining how you want your RV office to be set up, you may want to brush up on how to get internet in your RV in the first place.
Quick tip – cellular data or Starlink. Oh, and this simple device will help with your cell signal.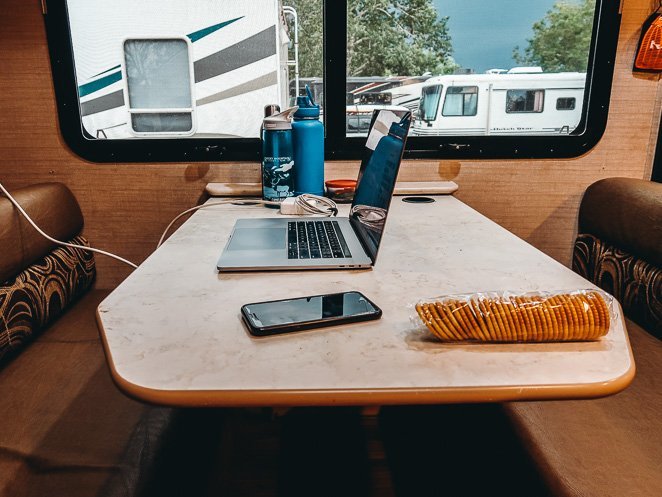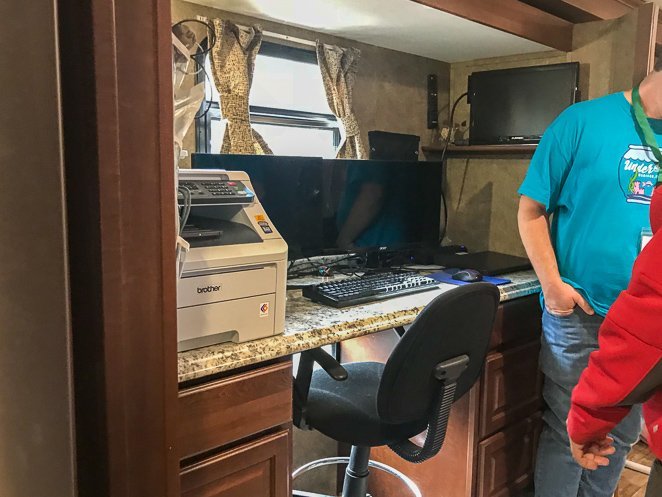 Beyond Your RV Office
Now that you know some great camper office ideas and camper desk ideas, it's time to think beyond working online from the road. I have so many resources that might be able to help you out in your RV living journey. Check out these to get you started:
Grab these RV dry camping essentials if you plan to do any boondocking or free camping. Download our free RV Living Budget bundle here.
If you're looking for ideas on how to keep your RV organized then these RV bathroom storage ideas, RV bedroom ideas, and our ultimate RV organization and storage hacks might be helpful.
Or, if you just want to browse around and learn more about RV living, then start with our RV living page where we list all of our blog posts about the topic.