On the hot, hot days of summer, we look forward to the coldness that winter brings. But snow definitely gives some of us mixed feelings and gets us thinking about where to RV in the winter.
Winter RV camping offers a lot of unique activities that are only possible with snow. Fun things like snowboarding and cross country skiing, to name a few, are what many travelers look forward to the most.
Where To RV In The Winter
Did you know that some RVers will actually camp in the winter snow in a mountain town skiing so that they can hit the slopes? I've met a few!
Living in a camper in the winter is one thing, but if you're curious about finding those snowbird RV parks where you drive south for the winter, then keep reading.
The ice and snow are not always what RVers want to experience. Especially in poorly insulated campers. Be sure to discover a few space heaters for RV living if that is a plan of yours.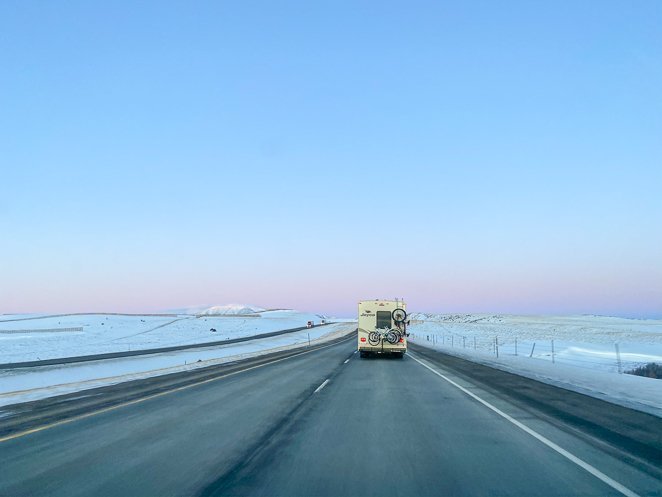 RVers constantly worry about "freeze-ups" when traveling during cold weather, and it's a bit harder to drive when there's snow on the ground. The best solution we have is moving the RV away from the snow.
Follow the sunshine and warmth!
Which leads us to the main question: where to RV in the winter when you're living in your RV?
Just know that you can avoid the heavy snow WITHOUT sacrificing having fun between the months of November and March. Because let's face it, winter campgrounds are great and all, but it's a hassle.
Here, we've listed the places that are warmer relative to other areas in the US so you can enjoy either RVing full time throughout the colder season in the US, or take a winter camping trip.
There are many places that you can choose from for winter RV camping. Most are from the states of Florida, Arizona, Texas, and Southern California. You can plan out your RVing the USA road trip this winter with the tips below.
Check out our list of places to consider for winter RV living and see if any of these resonate with you or spark an idea. Here are some of the best RV campgrounds.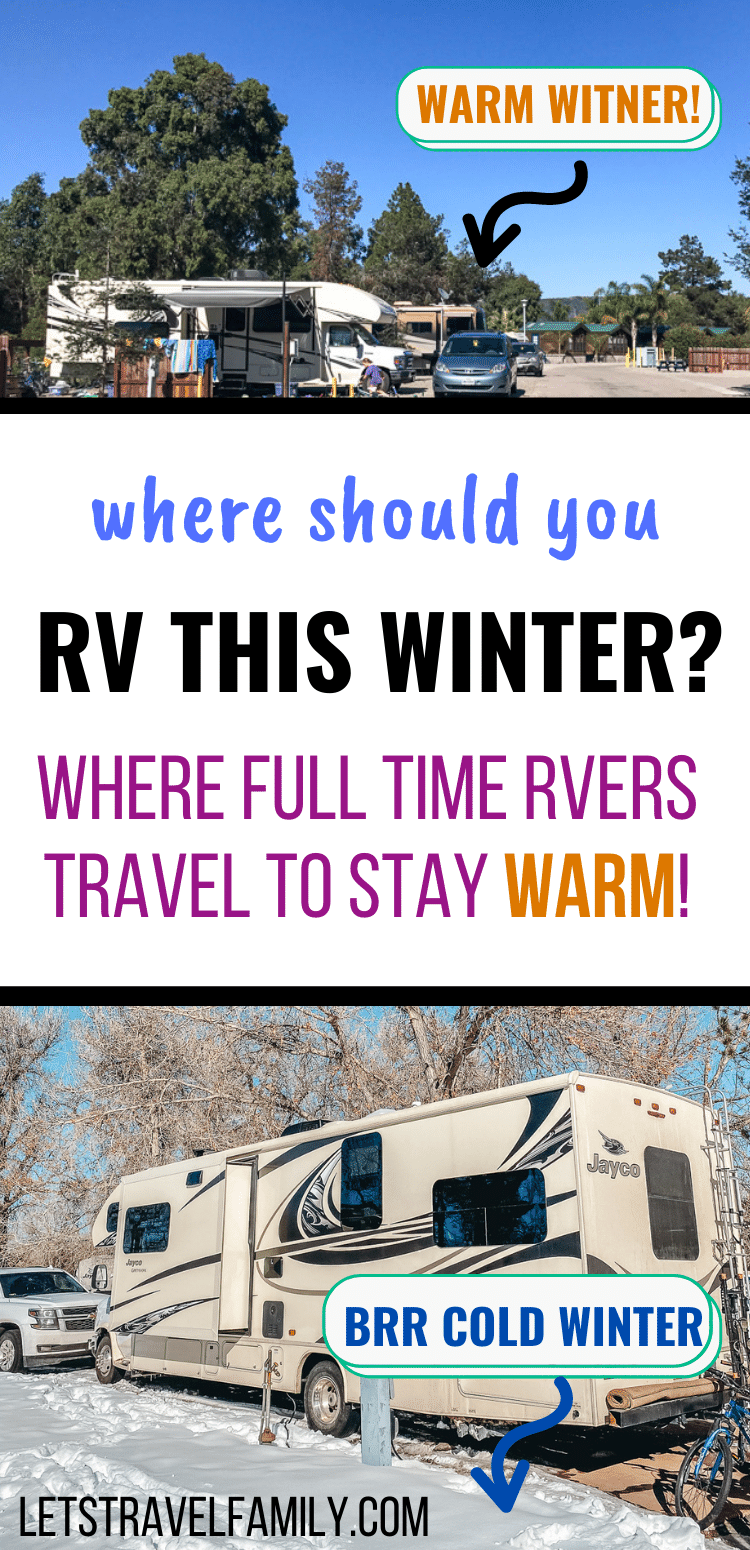 Florida
We all know that the sunshine state makes for a good summer vacation. But did you know that it's a great winter destination for RVers as well?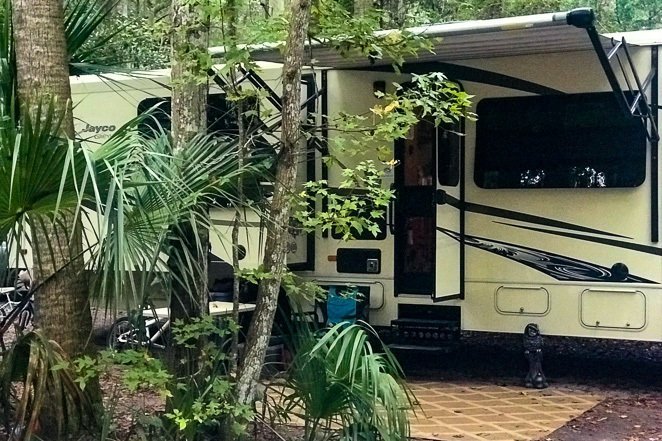 Kathryn Abbey Hanna County Park in Florida
To be honest, I think that after wintering in Florida for two year, the 80's and sunshine throughout the winter months are perfectly comfortable for many RVers.
Most RV families make Florida their winter camping destination because there are many kid-friendly RV parks and activities in Florida.
Here are some Florida destinations to consider for your RV camping experiences in the winter.
Florida Keys
If you want your experience to be warm and tropical, then plan to spend some time in the Florida Keys. One of the many state parks you can visit is Bahia Honda with some great beaches in the Keys.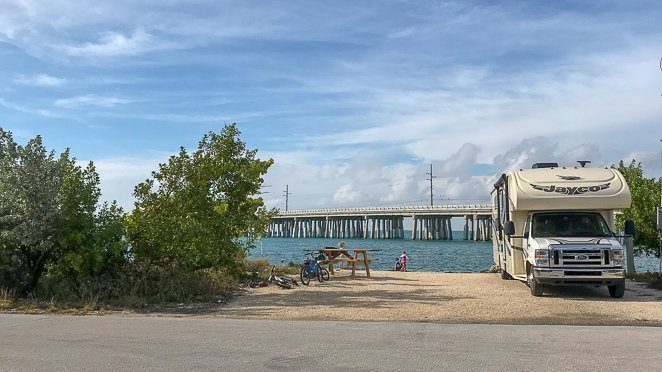 Bahia Honda State Park, Florida Keys
You can fish, swim, jetski, snorkel, and enjoy the sunshine all winter long if you spend time in the Keys. Many winter campers visit here to avoid the chill of the north.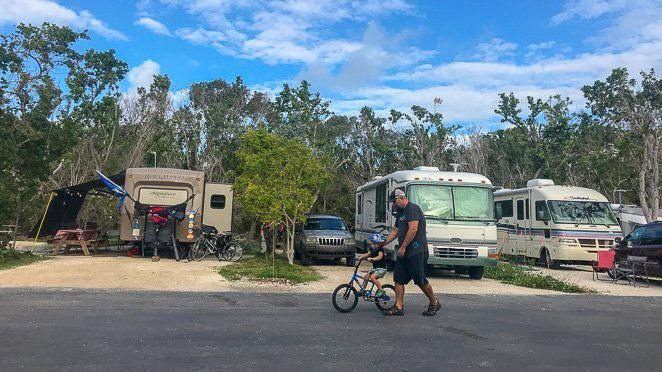 Florida Keys Campgrounds – John Pennekamp State Park
The state parks in Florida are some of our favorite state parks in the country. But keep in mind that the campgrounds need to be booked early as they fill up quickly.
Disney World Orlando Area
Disney World is a haven for all ages, and surprisingly the winter months are less busy than the hot summer months when most kids are on school break.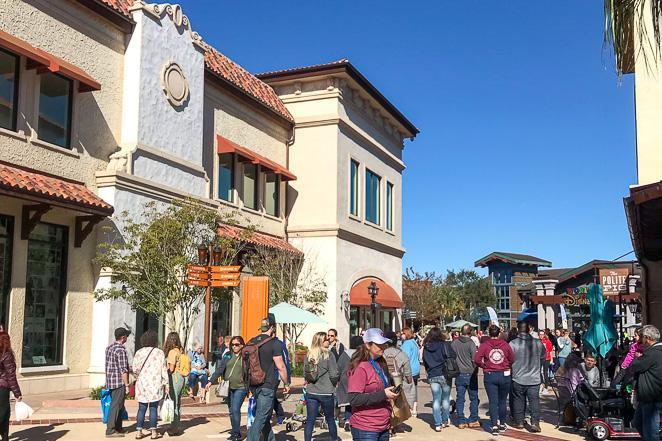 Many RV families choose to stay between a few different Thousand Trails campgrounds in the Orlando area and buy Disney passes for the year. Or, they find discount Disney passes and finds a great time to make it a 'vacation' while full-time RV living in Florida for the winter.
If you're spending time in Orlando and want to find something free to do, you can go to Disney Springs, which is rarely busy, for some window shopping. Or enjoy one of the Disney parks like Magic Kingdom.
You have so many choices.
Use A Thousand Trails Camping Membership
Use a Thousand Trails campground pass to stay in many campgrounds throughout Florida. If you buy the zone pass, you can stay up to 2 weeks in one campground (for free once you pay for the pass) and then you'll need to camp for 1 week out of the system. That's a great time to visit a State Park. Then you can stay at another Thousand Trails park for up to 2 weeks.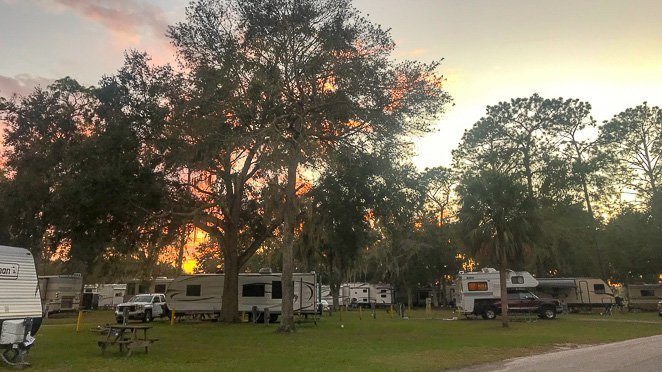 Florida has a few great Thousand Trails parks to choose from that allow you to be near many other full-time RV living families and couples. It's a great place to find community and connect with others.
Fort Myers Beach
A beach that's popular for a winter vacation, is Fort Myers. It's a crowd favorite during winter because of its mild temperature and location in Southwest Florida.
We spent 2 weeks staying at a campground within the extended Thousand Trails system in Fort Myers during our first winter in an RV in Florida. It was winter but the beach felt like a spring break vibe, which might be what you're looking for.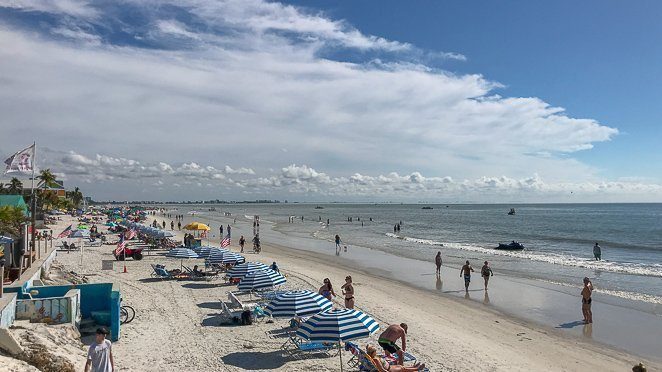 Since it's a favorite, it can be pretty crowded though.
Read this to know how to enjoy a Florida trip when you're on a budget.
Arizona
Arizona's temperature in the winter is ideal for RV camping. The dry climate and sunshine make it very appealing for RV travelers as it keeps the humidity out of your camper and the mold down.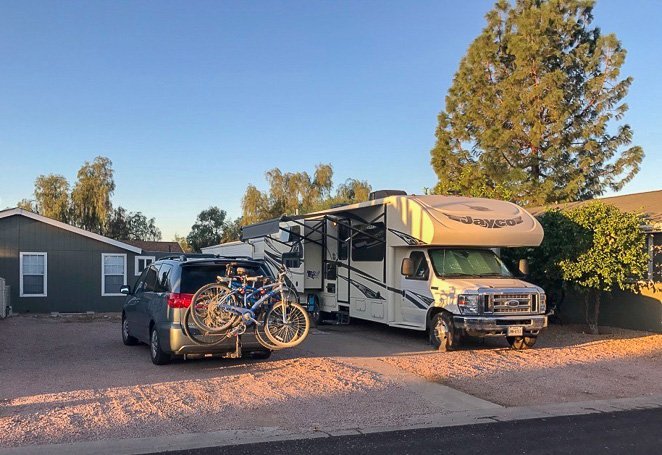 All of the campgrounds are open throughout the winter months too!
Many of the campgrounds only allow people to camp if they are 55 years old or older, limiting it to seniors. So it's safe to say that this is a nice RV destination for retiring and retired couples.
That's not to say that you can't find an RV park that allows families or some excellent boondocking spots in Arizona if you're planning to dry camp.
Cottonwood and Sedona
Cottonwood is a warm area in Arizona that's perfect for camping season in the winter. It's also just 15 miles away from Sedona, a great day trip destination during winter.
Though winter is a slow season for Sedona, it's actually perfect for some winter RVing. Less crowds mean better rates and accommodation availability.
Or, consider looking for a free night using Harvest Hosts in the area.
The landscapes are filled with the red of Arizona's rocks. Also, a plethora of lively activities and programs take place in the winter! There are many other reasons to visit Sedona during the winter so you should add it to your options.
Grand Canyon
One of the few national parks which are open all year is Grand Canyon National Park. The Trailer Village, an RV campground with full hook-ups in the South Rim, is also open all year-round.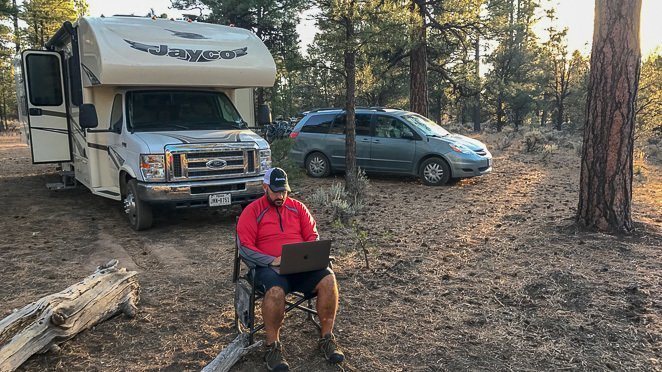 Aside from this, the trails in the park are also accessible despite the season. The wildlife have adapted to the cold so visitors also see more of them now.
As long as you check the weather before visiting, you're good to go!
Click here to see the full list of US National Parks with park summaries.
Tucson
Winter in Tucson means mild weather and the usual sunshine. The city has activities for all ages so families, couples, and even a solo traveler can enjoy a winter stay here.
With RV parks open all year, Tucson is another hot spot during winter in Arizona. Despite having the usual towering buildings, this place is also well-loved for its wilderness and landscapes.
Texas
Texas, with its warm coastal areas, is also well-known for some great destination for snowbirds. There are LOTS of RV parks that are open during the colder season and the rates are affordable as well.
Click here to learn what an average campground usually costs.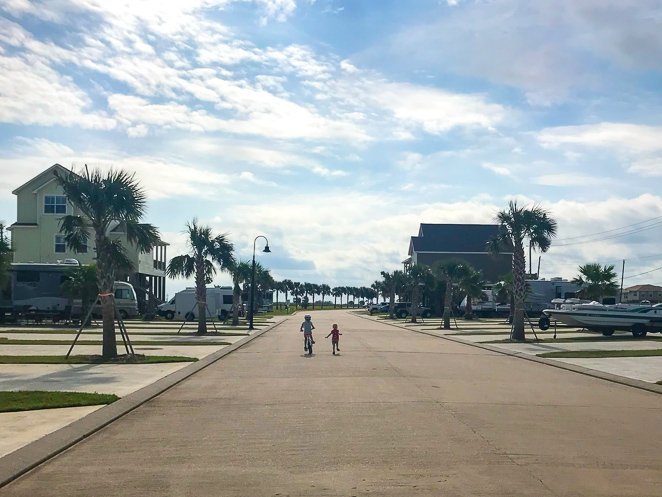 Texas also makes it a point to have planned events for the "Winter Texans" (a term for snowbirds because they only stay in Texas temporarily) which can be really fun!
Corpus Christie
Corpus Christie has many RV parks that are very accessible and even pet-friendly! It's very popular with snowbirds, having more than a million visitors during the season.
It has gorgeous beaches, too! And you can enjoy them without the worry of freezing because of the place's mild winter temperatures.
Many full-time RVers will find some great dry camping spots near the beach in this area too.
Big Bend National Park
Big Bend's winter is accompanied by rare and light snow so you won't have a hard time driving your RV around the area.
Top winter activities in the park include hiking, biking on hiking trails, and taking a river trip on a nearby lake. The scenic landscape is also something to look forward to for your visit.
All three RV campgrounds of Big Bend National Park are open all year-round. Just remember to reserve as soon as possible to secure a campsite for your visit. Keep in mind that there is little to no cellular connection while in the National Park, so if you have to work online, this might not be the place to visit.
California
California is a little less crowded with tourists and has slightly cheaper rates come the winter season. The weather is usually warm even during winter. But if it's a cold day in the area, you can rely on the RV resorts.
San Diego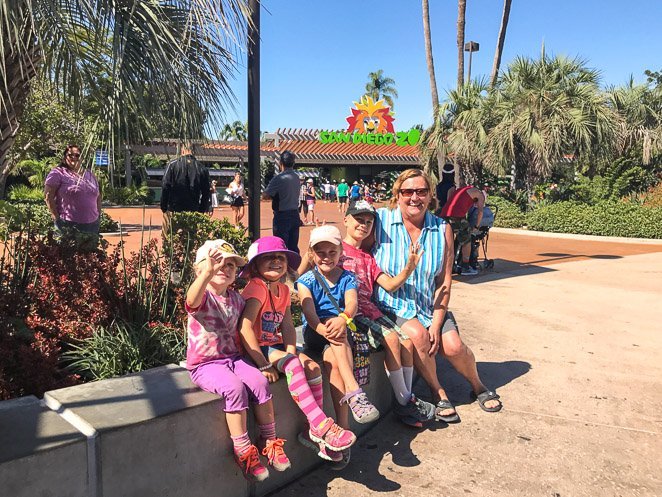 Known for being a sunny city, San Diego is still not prone to the rains and clouds winter brings. A popular city for surfing and enjoying the beach, there are many things that you can do in San Diego during the winter season.
Winter is the perfect season to go whale watching in San Diego.
Swimming and surfing might be what you're looking for and can be great if you can challenge the surf. We've never stayed here, but I've heard great things about Sweetwater Summit Regional Park for great camping.
Death Valley National Park
Having the lowest elevation in North America, Death Valley is known for its extreme heat, which makes it inviting during winter. The temperature is just average and perfect for exploring the vast fields of the park.
It can be quite busy from Winter to Spring so you should reserve the accommodation as early as possible or find some great dry camping nearby.
RV Life In The Winter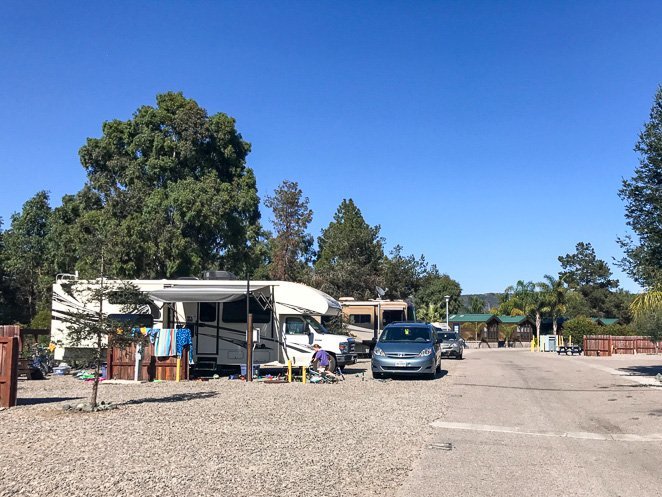 Winter can be a slow season or peak season for different areas of the country. This affects the accessibility of the place and the rates for RV parks. So remember to consider where you'll be more comfortable more than anything.
Another thing to note is that during the winter months, most full-time RVers travel to just these main areas of the country. During the summer months, they are spread throughout all of the 48 continental US. So, be sure to book some RV parks several months in advance.
Have you ever RVed in the winter to some of these places? Where else do you recommend to RV in the winter in the USA? Tell us in the comments!