If you're not careful, RVing can get expensive. With all of our traveling, we're exposed to a lot of temptations that can make our wallets cry.
"Ohhh, those keychains make for great souvenirs."
"Horseback riding seems like a good idea right now."
"That restaurant I read about is in the area, let's go check it out."
Really, it's endless. That's why free activities are such treasures for full-time RVing families.
After almost three years of RVing, we've come across a lot of fun activities that are FREE and I wanted to share them with you.
Check out this list and add it to your RV bucket list.
THIS ARTICLE MAY CONTAIN COMPENSATED LINKS. PLEASE READ OUR DISCLAIMER FOR MORE INFO.
1. Visit National Parks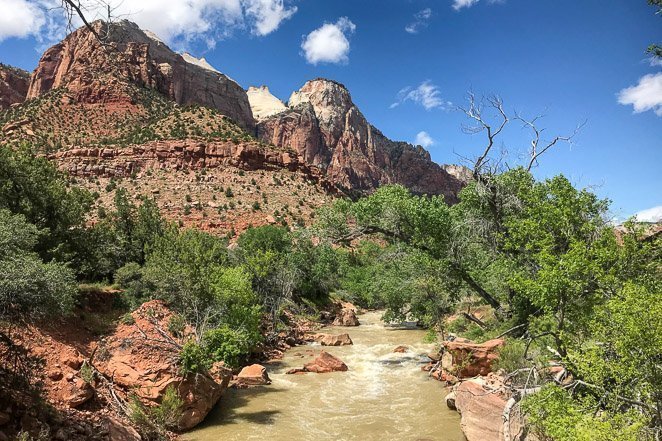 With your free 4th grade pass or a paid annual pass, you can visit US National Parks for free. I know, if you have to pay for the pass it's not free. But, if you already plan to visit National Parks this year during your travels, then add in a few more for free.
An annual pass can be purchased ahead of time from REI here, and they will then donate 10% back to the National Park foundation.
Remember, aside from hiking, there are many more free activities inside each national park. Click here to read our post listing our favorite National Parks to visit as a family.
You could camp in Capitol Reef NP, go sandboarding and sledding in the Great Sand Dunes NP, see the hoodoos in Bryce Canyon NP, or witness the wildlife in Rocky Mountain NP!
All these for free and it gets you outdoors as a family.
2. Let the kids join Junior Ranger Programs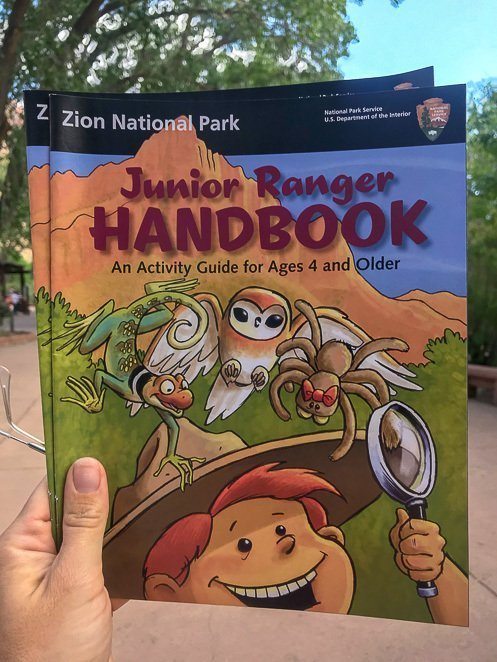 The Junior Ranger Programs at each National Park are just another example of free activities for families. I love that they are educational and that the rangers are always so kind and encouraging at the visitor centers when our kids are completing their Junior Ranger booklets.
Related post: Great Home Education Resources
Almost every National Park and many state parks offer Junior Ranger programs led by a professional ranger. They might do a demonstration with animal skins, take the family on a hike, or lead a stargazing experience in the park.
The kids can then complete their Junior Ranger booklets.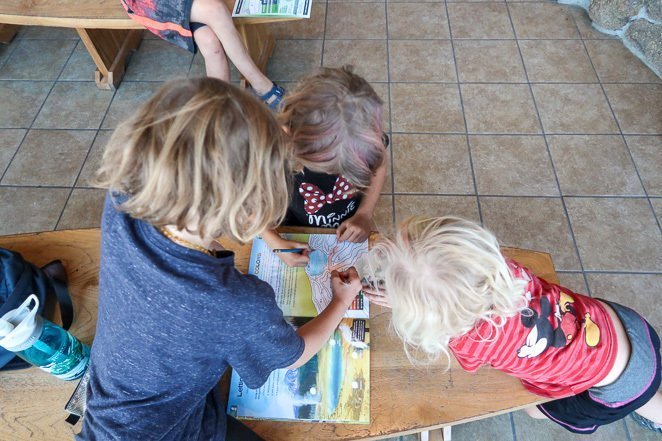 The sequence is like this most of the time:
– Hike a park trail or boardwalk as a family.
– Complete the age-appropriate activities in the booklet.
– Attend a ranger-led activity such as a hike or talk.
Your kids will then earn a Junior Ranger Badge to take home and brag about.
3. Free meals for kids
You may not know this yet, but this is a great life hack: kids can eat free in [some] restaurants!
If you're traveling with kids, this is a great relief for your finances.
Many restaurants allow kids to eat free with a paying adult certain nights of the week. This is particularly common in buffets so better watch out for this promo.
4. Playgrounds!
Never underestimate the power of playgrounds with kids.
You can spend a long time having fun on a playground without spending — except for the occasional ice cream if the ice cream truck stops by.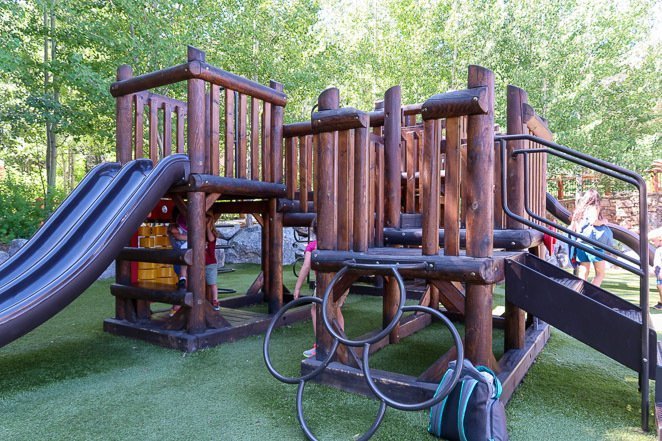 Aside from this, your kids get some time to socialize and make friends with others in the area. Sometimes, when we meet fellow RVing families, we let the kids play with theirs on the playground for a loooong time while we have conversations with the parents!
We'll even drive away from the campgrounds and seek out the best playground in town with other families.
We are so incredibly fortunate to have the abundance of playgrounds here in the USA to choose from for free. When we spent time overseas traveling to places like Bali or Thailand, we rarely saw playgrounds.
5. Hiking Together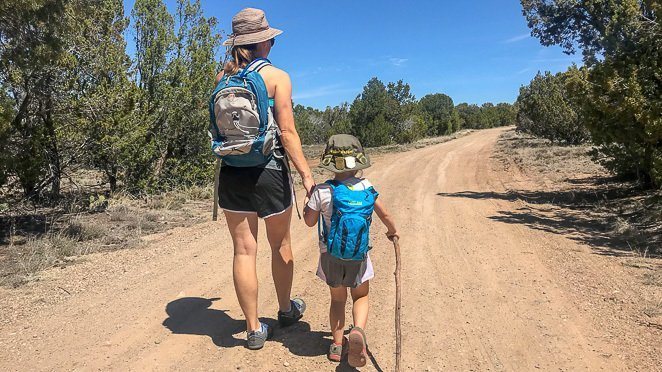 Hiking is a great outdoor activity to do with kids. You don't have to visit National Parks to enjoy a great hike. Many state and county parks have great hiking trails too.
If we're being honest, hiking is one of our favorite activities. If we have friends along for the hike the kids love it too.
It gives us a challenge, fresh air, and great rewards.
6. Visit Libraries for free!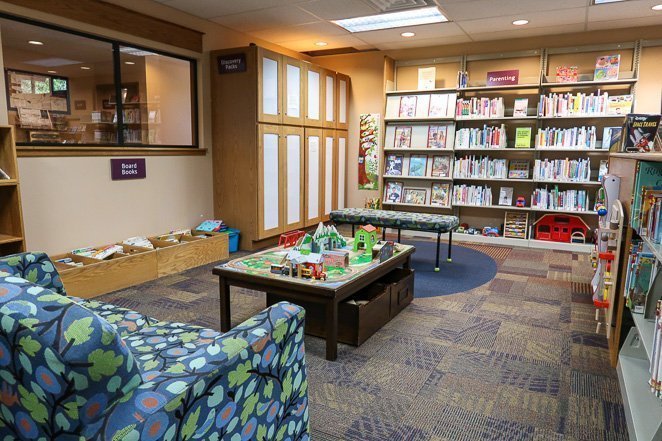 Reading time, programs, and even play areas can be found in public libraries all around the Nation.
If your kids are worldschooling, make it a point to bring them to libraries every now and then.
I know that they could just read on their kindles, but libraries are so much different from the confined space of an RV and offer the kids an opportunity to see many books with their own eyes.
We spent some time in Teton County Library before and the kids were given free snacks in the afternoon. Tony and I were even able to work because of their fast internet.
There's also the Estes Valley Library with their fantastic children's section and so many more.
7. Biking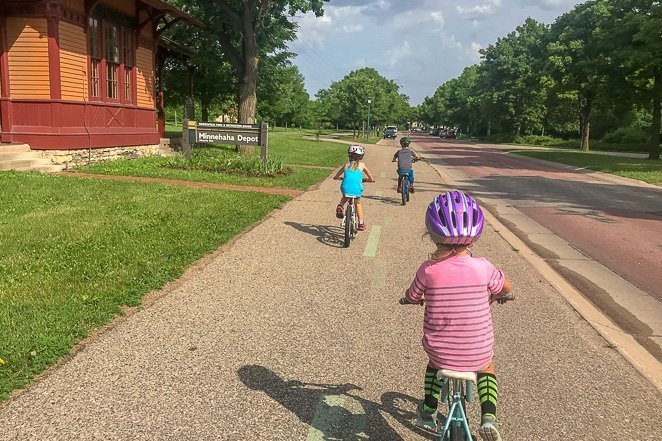 If you own a bike, no one's stopping you from having fun with it. Get out and use it.
If you're an RVing family carrying your bikes around the country, then find a paved bike trail and go on a family bike ride.
When we set up camp, we often let ourselves bike around to familiarize ourselves with the area and the kids like to lead the way.
8. Bonfires – S'mores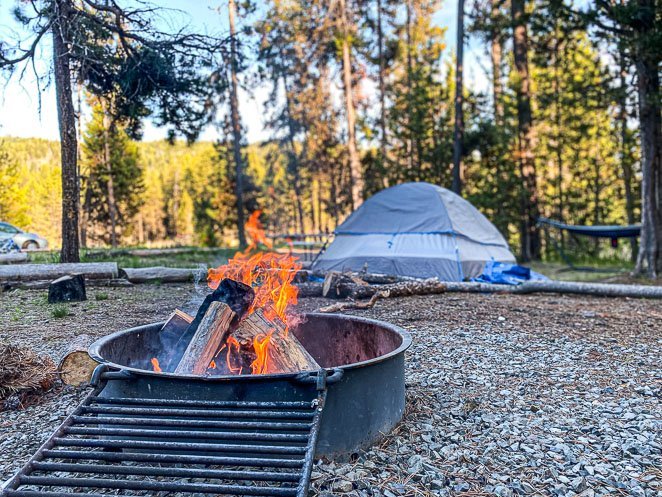 Another thing that kids seem to always enjoy are bonfires with S'mores of course.
Nights spent around a bonfire are great bonding times, not just for our family, but with the other families we meet at campgrounds as well.
Kids get their dose of S'mores while parents take their time relaxing and conversing before parent duty calls again. It's a great time for everyone.
9. Play Games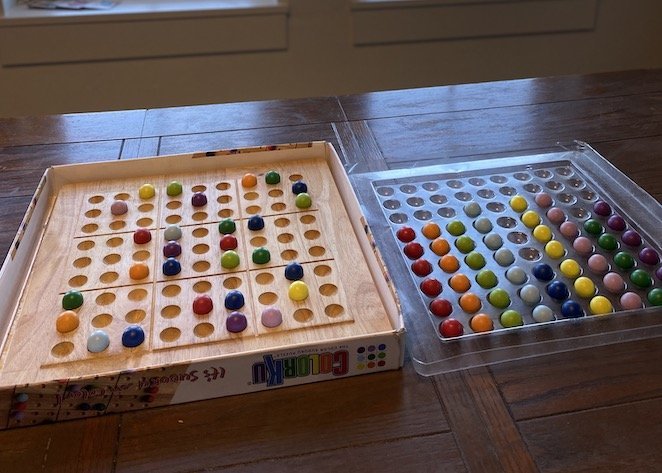 When you bought your RV, did you make sure there was room for board games? As an RV family, we made sure there has always been a cupboard dedicated to board games and cards.
When it's a rainy or cold day and we want to pass the time while inside the RV, we rely on our favorite board games. This includes Colorku, Catan, Uno, Cribbage.
Board games are also great activities for kids to play with new kids that they've just met in the campground.
10. Host a family meet-up at your campsite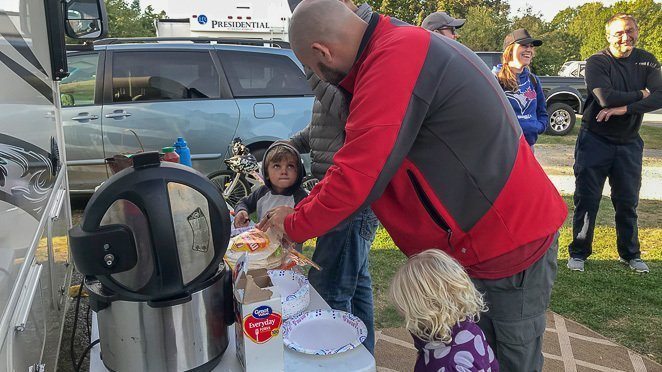 Join FB groups and get the word out that you're hosting a family meet-up at your campsite.
This way, you can catch up with friends you've met on the road and share tips and experiences you've had.
11. Visit A Science or Art Museum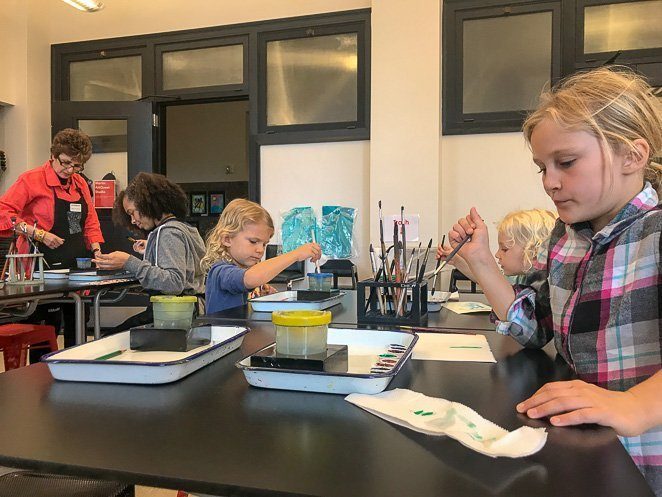 Science and Art Museums are all over the country and the kids often love them.
If you have an annual pass at one science museum in the ASTC network, you will get in free to any other museum in the network. Most science museums have activities targeted at young audiences. This will help your kids learn a lot more through your travels.
I cannot even count the number of science museums that we've visited.
12. Paint Rocks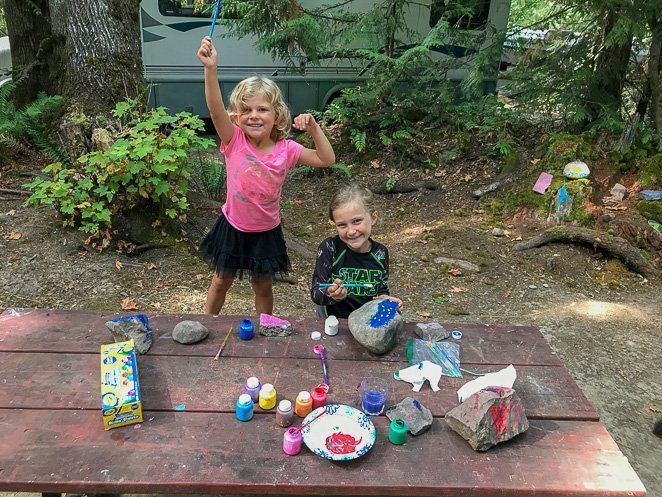 Paint small rocks and leave them for others to see.
It's fun to paint on rocks with the thought that someone will find it later on.
RVing Rocks on Facebook is a group that is dedicated to rock painting, join it if you want to see the artsy rocks RVers have left and found during their trips.
13. Go Fishing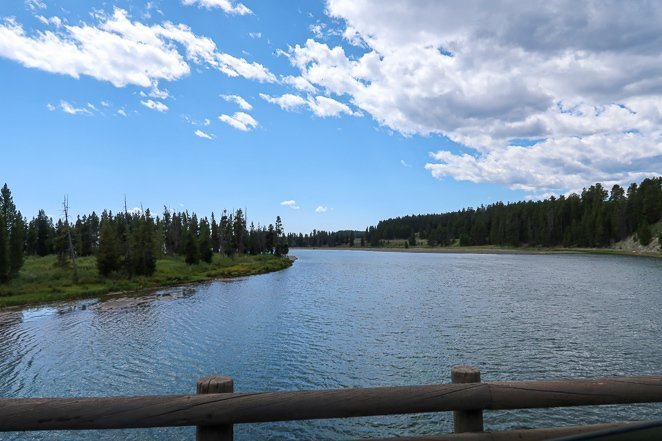 If you happen to come across lakes, another free activity to do with kids is to spend some time fishing. You might even catch something to grill later!
14. Visit Natural Hot Springs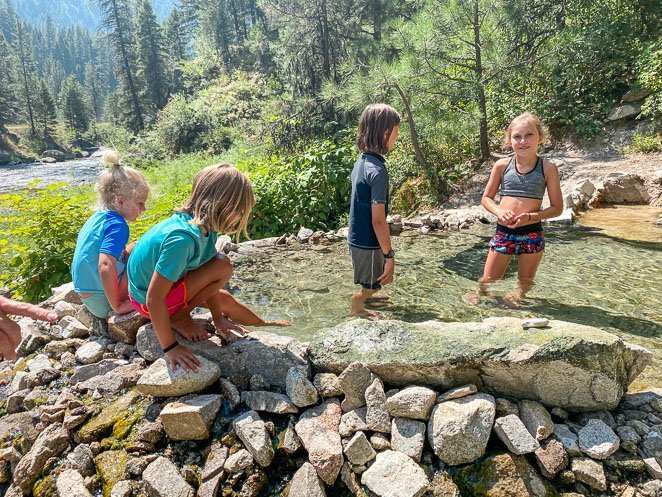 Antoher great expereince is to find Idaho hot springs near Boise and take your family to soak in a few. Or better yet, let the kids do some 'rock scrambling' while you enjoy the amazing feel of the natural hot springs.
15. Have A Water Fight!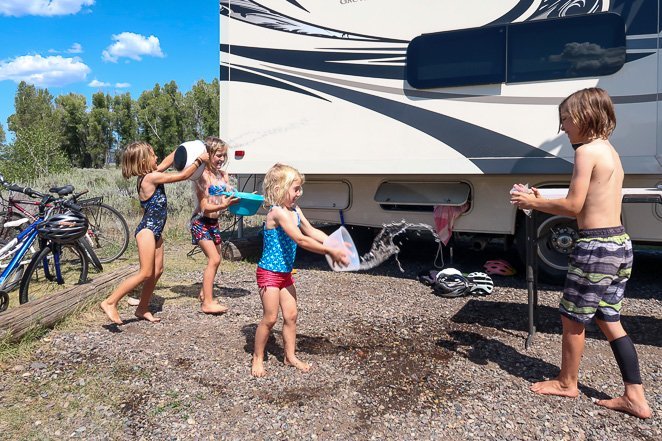 On a hot summer day, even if you're boondocking or dry camping (like we were in Grand Teton National Park), the kids can still have fun playing with bowls and cups of water!
Step outside your comfort zone and join them. Be a kid again and laugh and giggle along with them.
There are a lot of ways that we can make an RV lifestyle easier, cheaper, and more enjoyable with kids. Doing small things like spending time on free activities may have a bigger impact on your lifestyle AND finances than you think.
Don't think twice about doing a thing or two on this list if you've got the time. Who says that free things can't be fun?
They're even better because you know that you're having fun solely on the basis of bonding.
What other FREE activities can you think of that RVing families can enjoy?
Let's Travel Family is a participant in the Amazon Services LLC Associates Program, an affiliate advertising program designed to provide a means for sites to earn advertising fees by advertising and linking to amazon.com, amazon.co.uk, amazon.ca. Amazon and the Amazon logo are trademarks of Amazon.com, Inc. or its affiliates.