There are so many fun things to do while camping. It's what makes the experience so special. Yet sometimes it can be hard to remember all of your options.
If you're planning on taking a camping trip this year, then here are some fun activities to do while camping to make the most of it. Especially if you're new to it!
I hope you don't run out of ideas with this list of thing you can do with kids, your partner, or even by yourself. It's time to get outdoors and make some memories.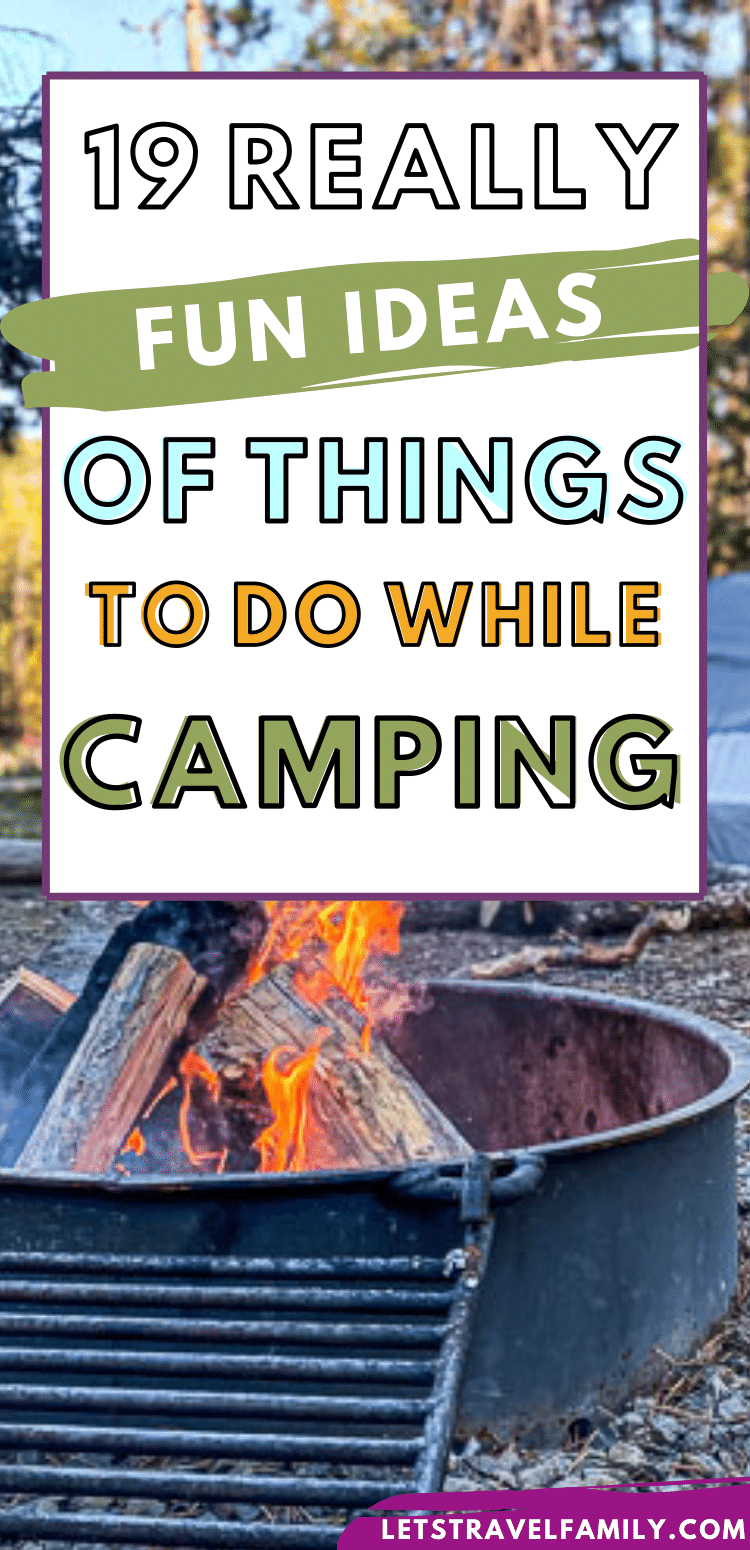 THIS ARTICLE MAY CONTAIN COMPENSATED LINKS. PLEASE READ OUR DISCLAIMER FOR MORE INFO.
19 Fun Things To Do While Camping
Whether you're RV camping or tent camping with your family, there are so many simple and fun things to do. Let's jump into the list of fun things to do when camping so you can get out there and enjoy.
1. Hike A Short Trail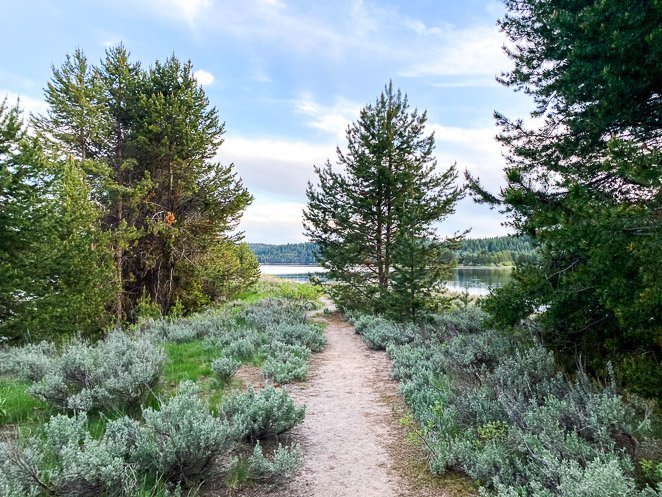 Start easy by finding a short trail nearby your campsite. This is the best thing to do if you're camping with kids or if you haven't been very active lately.
Don't overdo it yourself. Start easy and enjoy getting into nature. The smells, sounds, and sights can be so relaxing.
I do recommend that you bring a few day hike items to be prepared.
2. Hike A Challenging Trail
Step up your game and hike a challenging trail like Angel's Landing in Zion National Park.
Almost all national parks, state parks, and county park campgrounds have trails ranging from easy to difficult.
Remember NOT to push yourself on a trail too challenging. The goal is to come back to camp feeling accomplished.
If you're bringing a friend, partner, or your kids on a hike with you while camping, consider planning ahead to bring them a fun hiking gift as a surprise.
3. Have A Bonfire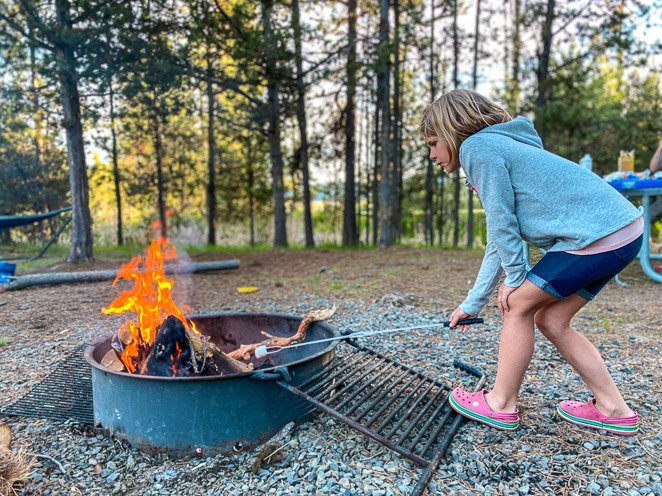 Spending an evening camping is not complete without a bonfire.
Chat with fellow campers, and let your kids play with the other kids in the campground. Play games and sing-along to campfire songs while surrounding a bonfire to make your camping memories.
Honestly, when I think of fun things to do camping, having a fire is at the top.
Related post: Creative and fun camping gifts for everyone.
4. Roast S'mores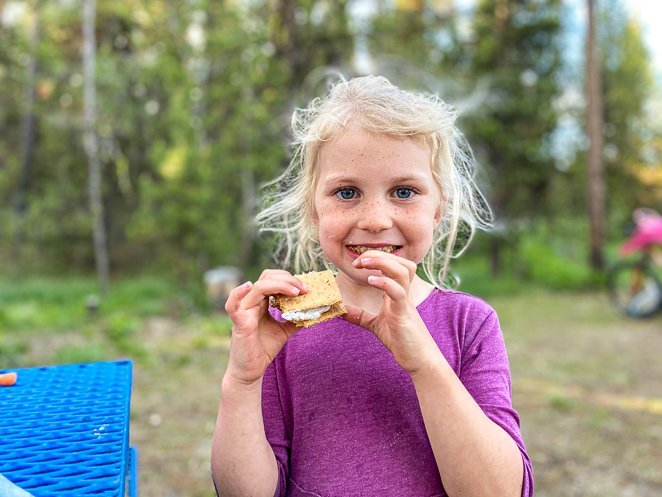 Plan to bring supplies for s' mores! You'll need a bonfire for this, but it's totally worth it. As long as you have a fire, or even a grill, you can roast some delicious sticky treats.
I highly recommend splurging once in a while, even if you're a full-time RV family and camping is the norm for you. Indulge one-in-awhile and have a s'mores night.
5. Go Fishing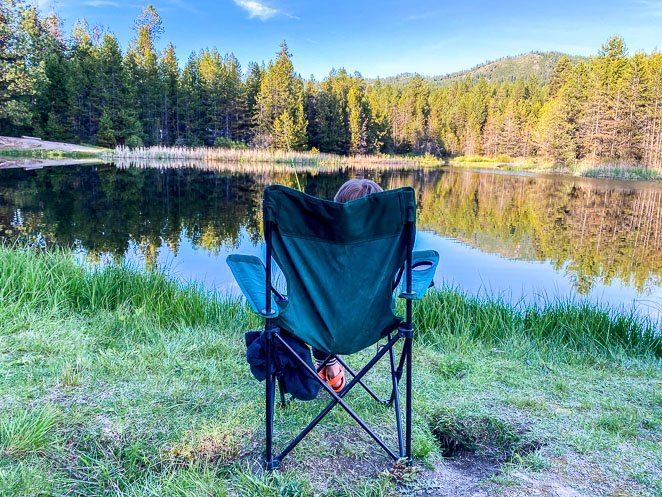 You can pick up a cheap fishing pole at Target or Walmart and enjoy some time on the lake at your campground. If you have kids or grandchildren with you, they can fish without even needing a fishing license.
It would be a bonus if you catch a few 'keepers'. You can grill them up for dinner. Talk about some hard work and patience that you'll be teaching your kids.
6. Go Swimming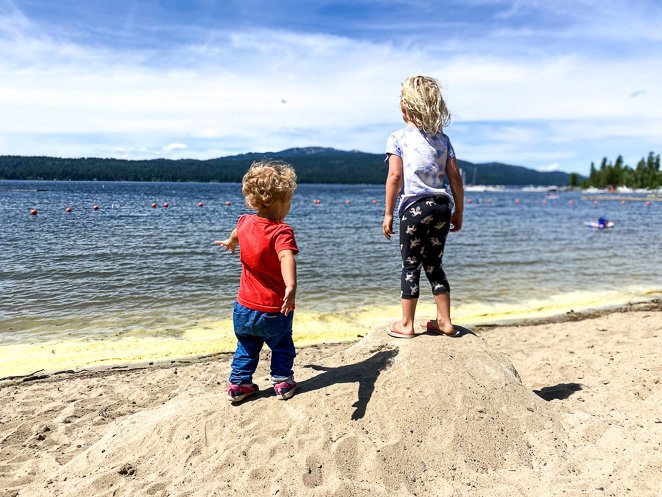 If you plan to camp near the water, be sure to bring your swimsuit. Swimming can be a great way to cool off on a hot day, or even take a natural 'bath' after a long day of hiking.
7. Geocaching
Go on a real-life treasure hunt game by geocaching. It uses GPS and is a great learning tool for adults and kids alike.
There are many geocaching apps on phones or you can ask the visitor center at the local state or national park if they have geocaching available. Sometimes they have GPS devices to borrow for the purpose of geocaching.
8. Enjoy Photography or Videography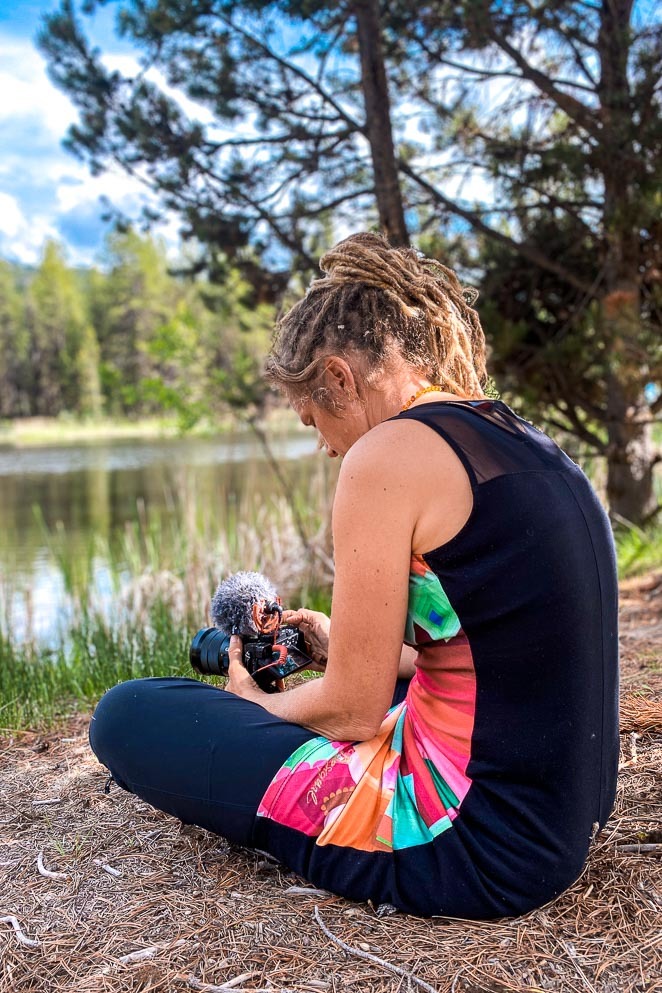 Do you have a GoPro or a nice DSLR camera? If so, then what are you waiting for? Shoot those great photos and videos when you go camping.
Think of all the fun footage you can get while you're out camping. This is the time to take a course on videography or photography, or just watch some videos on YouTube for free to learn a bit about your camera.
You could practice taking long exposure photos of the starry night sky. Or video footage of a great hike.
I love our GoPro Hero 7 and its self-stabilization feature. It's like having a gimble without needing one.
9. Make Shadow Puppets
If you have young kids with you while camping, you can make a fun shadow show at night.
Shadow puppets are common even at home (using a flashlight). You can also do this using the light from huge bonfires or in your tents or RVs at night.
Related post: 25 of the Best Camping Gifts for Kids
10. Play Hide and Seek
Don't forget to play the classic game of hide-and-seek while you're camping. Hide behind trees, crash inside your friend's tent for cover, or conceal yourself in shadows. It's never boring when our family plays this game.
Or, discover some of the best nature gifts for kids that might give you an idea of ways to play together while camping.
11. Play Flashlight Tag
Allow the kids, or the adults, to have fun after dark by playing flashlight tag. Just remember to watch out for animals. We once played flashlight tag in a State Park in Florida, and we came across an armadillo!
12. Use this app to study the stars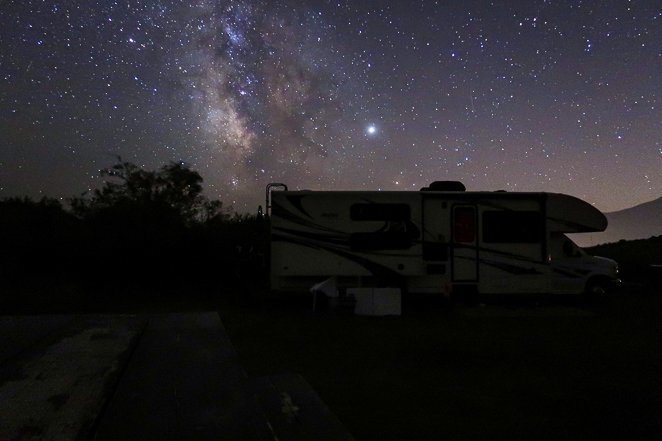 Stargazing is fun. But don't you ever get the urge to know more about these bits of shining light in the night sky that we all love so much?
Then download a great stargazing app so that you can know more about them by simply using your phone.
Star Chart is an app made to give basic star knowledge to those who are interested. It can also be a great tool to introduce astronomy to kids!
Download it here for Android or here for Apple users.
13. Play Cards
For a quick and fun activity, be sure to bring a deck of cards. You can play outside, in your tent or RV, or even on a hike when you take a lunch break.
Or, if you have kids, Spot It for Camping is a great game to bring along and doesn't take up much space.
There are a variety of card games you can play and camping is a great time to learn new games. We especially love the game Uno.
14. Play A Board Game
Among the many activities that you can do while camping, playing board games is a favorite. It's interactive, educational, and kid-friendly.
I always include it in our lists of fun gifts for RVers and outdoorsy people because a good game can make for some great memories.
15. Search For Wildlife During The Day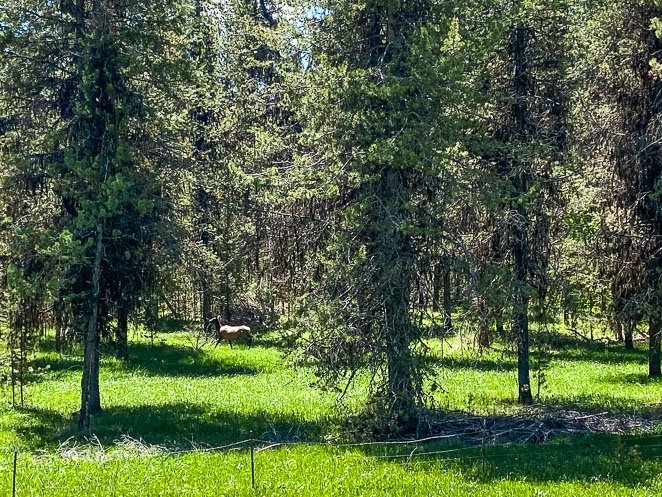 Oftentimes, you can get a glimpse of wildlife by walking or driving around the woods or the parks you're visiting in the early mornings or just before sunset.
Or you can wait at your campsite. Sometimes you get lucky and see them without looking for them, though. We once had a bear visit us and raid some of our stuff without warning!
Friendly tip: Based on experience, there's a higher chance of seeing wildlife in Yellowstone NP and Rocky Mountain NP.
16. Go On A Scavenger Hunt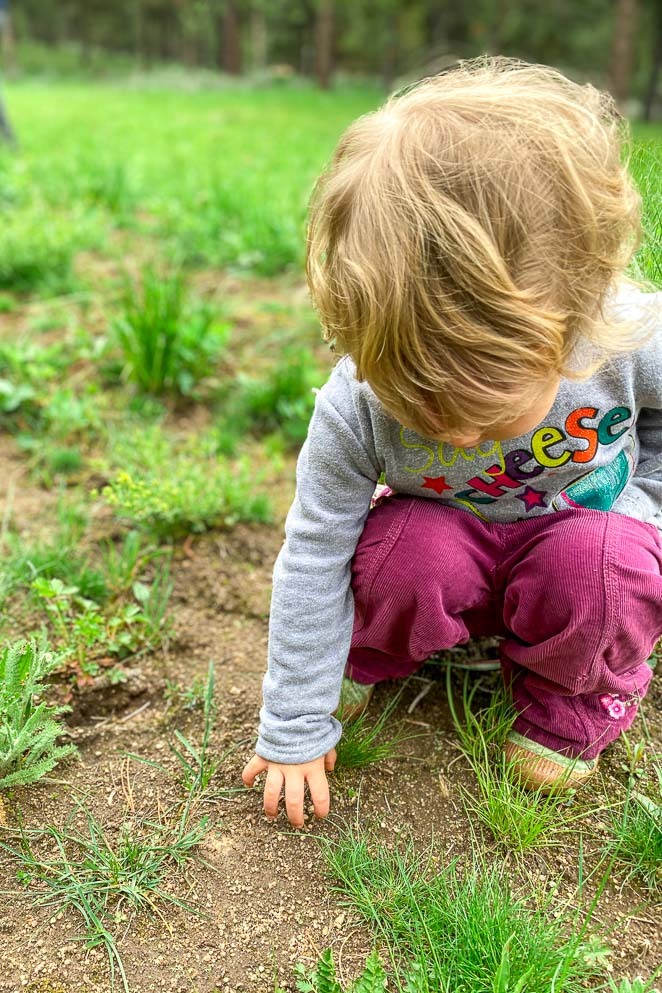 Scavenger hunts can be a blast, with or without kids. You could hide some clues behind the trees, below tents, or under a pile of soil for your kids. Or, you can print a few online scavenger hunts to complete on your own or with friends.
17. Climb A Tree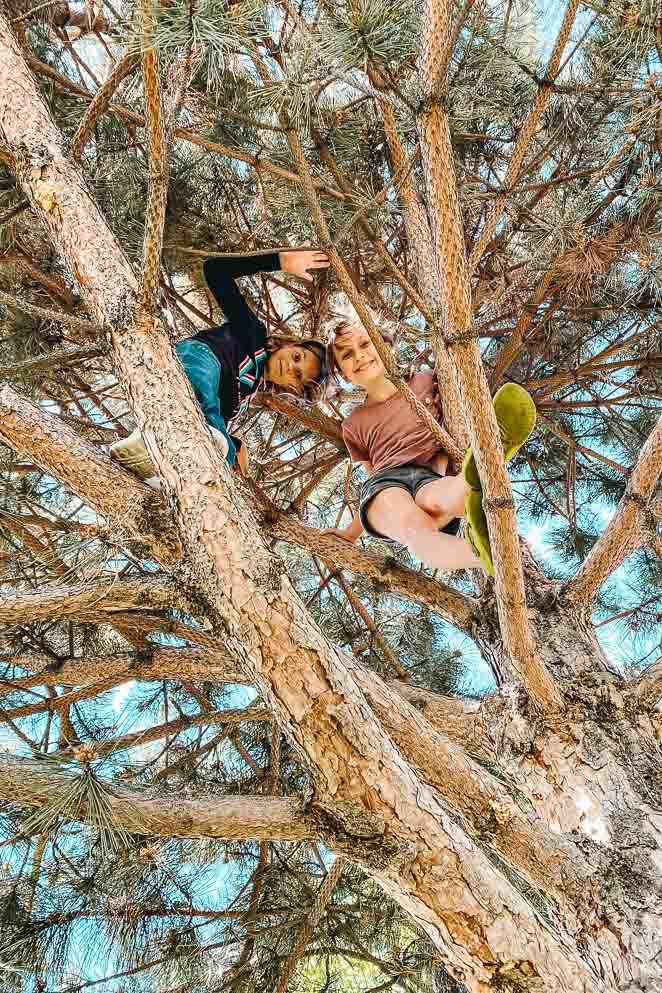 Climbing a tree in your backyard is different from climbing a tree at a campground or out in nature.
Well… the process is kind of the same, but the feeling, once you get to the top, is totally different.
You are never too old to climb, right?
18. Go Canoeing or Kayaking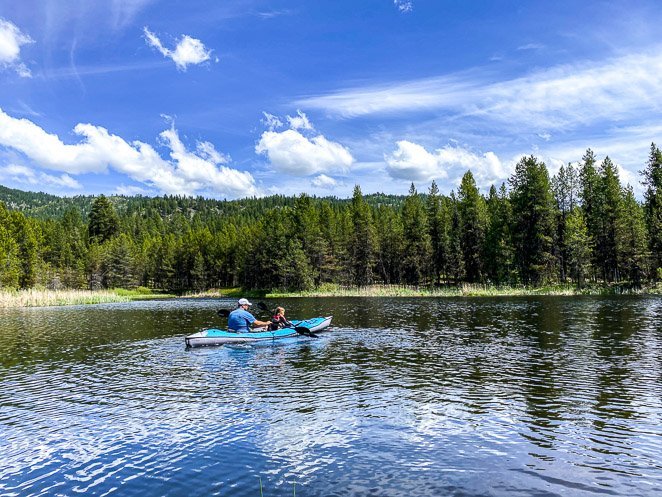 If there's a nearby lake or river, don't miss your chance to go canoeing or kayaking.
There are so many great portable kayaks, canoes, and even SUPs that you can bring along with you.
Or, if you plan to camp near a popular destination they may have some to rent.
We experienced our first time kayaking on Lake McDonald in Glacier National Park by renting out child-sized and adult-sized kayaks during our visit to Glacier in Montana a few years ago.
I love this option for inflatable and very durable kayaks. Our good friend owns one and he's taken it on a 4-day portage with friends and it held up great.
19. Ride Bikes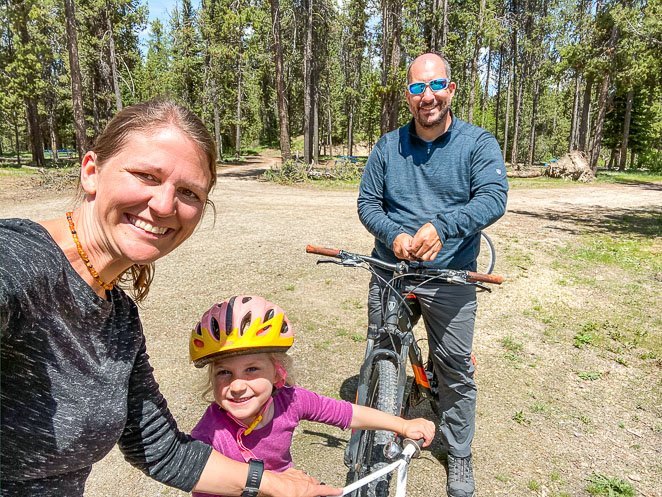 Go for a bike ride while you're camping! Plan to bring your bike, or rent a bike at your campground. If you have kids along, this is a great activity.
It's also helpful to have your bikes along to get around the campground if you don't want to drive your truck or motorhome to explore.
If you want to go extreme, go mountain biking! We loved our mountain biking experience in Moab last year and hope to go back again soon.
Additional Camping Ideas and Tips
There are so many fun things to do while you're camping.
Get out there and start planning by learning what the average cost of camping might be, where you'd like to visit next, and if you are thinking about doing it often or just once a year to take an adventure.
Whether you just want to unwind or you're looking for adventure, camping is the way to go. You can camp in National Parks with these tips or find an excellent State Park nearby.
To know where to camp next, read our list of the top RV campsites we've been in 2 years of travel here.
Let's Travel Family is a participant in the Amazon Services LLC Associates Program, an affiliate advertising program designed to provide a means for sites to earn advertising fees by advertising and linking to amazon.com, amazon.co.uk, amazon.ca. Amazon and the Amazon logo are trademarks of Amazon.com, Inc. or its affiliates.